Back to Stories
June 13, 2019
365 Days Of Great Wildlife/Nature ArtExploring the visual boundaries of how we think about the West. Check in every day for a new image.
Mountain Journal will feature visual imagery that celebrates the visual interpretation of our natural world. With the Greater Yellowstone Ecosystem positioned as a prominent artistic muse for multimedia artists, we hope you will enjoy this feast for the eyes and learn more about the artists featured, below. —MoJo eds
Day 28: "Painting from nature is not copying the object; it is realizing one's sensations." —Paul Cezanne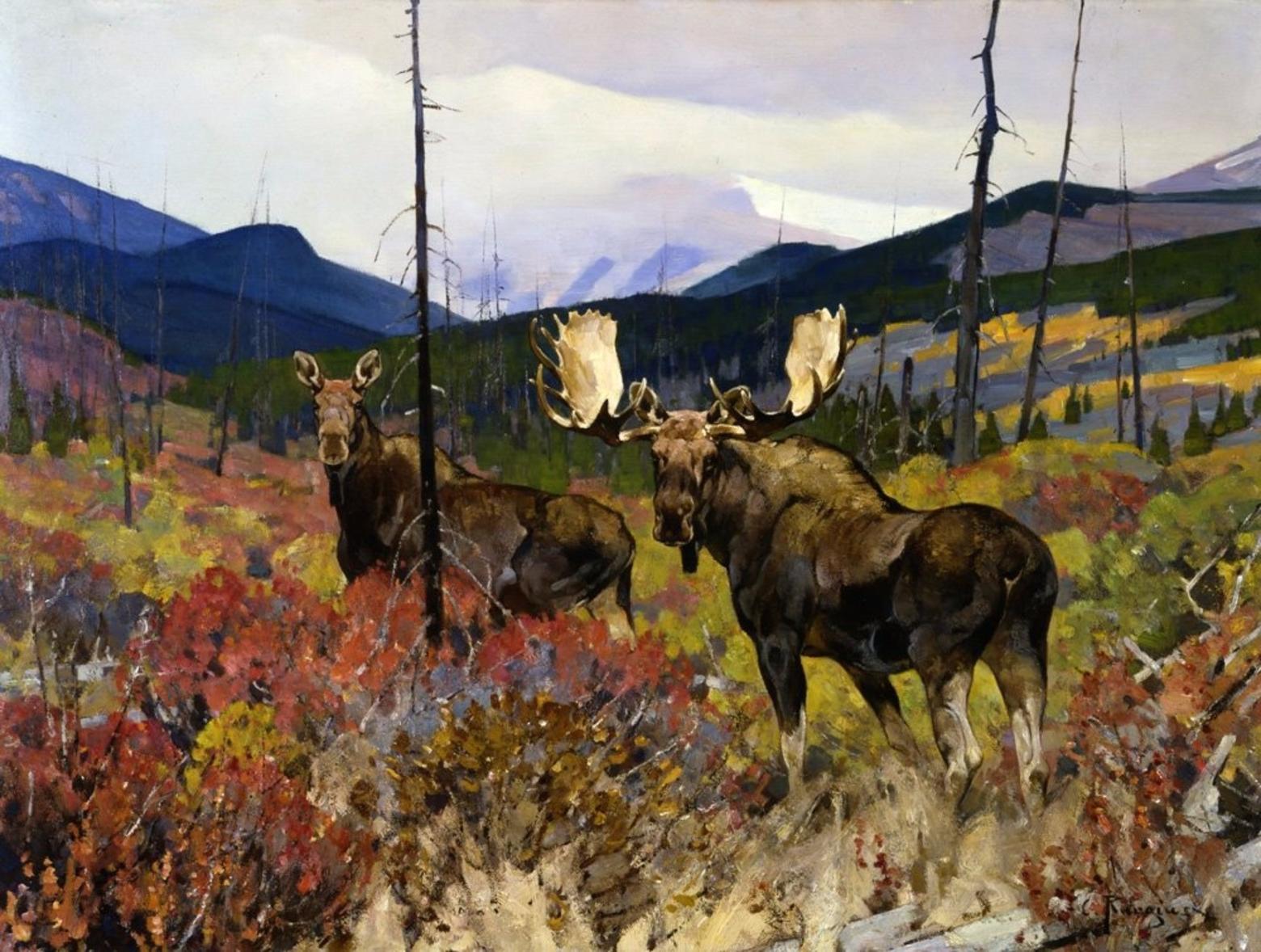 "Upper Ram River Valley" (1935) by Carl Rungius, widely considered the most talented painter of large North American animals. The National Museum of Wildlife Art in Jackson Hole is currently celebrating Rungius' 150th birthday with a special exhibition. The museum holds the second largest public collection of Rungius works in the world. This work resides in permanent collection of Whyte Museum, Banff, Alberta, Canada.
Day 27: "For the animal shall not be measured by man. In a world older and more complete than ours, they move finished and complete, gifted with the extension of the senses we have lost or never attained, living by voices we shall never hear. They are not brethren, they are not underlings: they are other nations, caught with ourselves in the net of life and time, fellow prisoners of the splendour and travail of the earth." —Henry Beston
Day 26:
"When despair for the world grows in me and I wake in the night at the least sound in fear of what my life and my children's lives may be, I go and lie down where the wood drake rests in his beauty on the water, and the great heron feeds. I come into the peace of wild things
who do not tax their lives with forethought of grief. I come into the presence of still water. And I feel above the day-blind stars waiting with their light. For a time I rest in the grace of the world, and am free." —Wendell Berry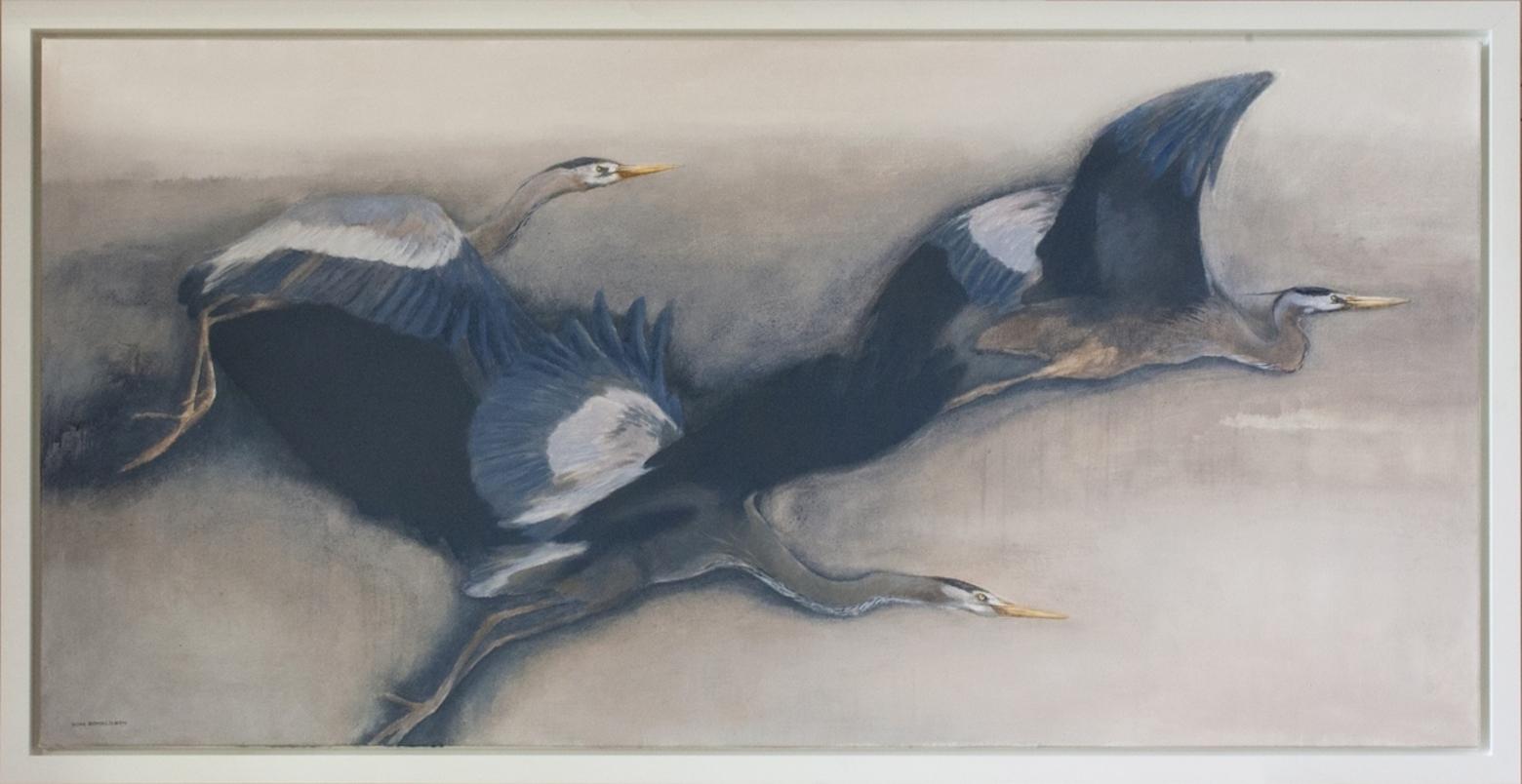 "Flight of the Giant Blue" by Kim Donaldson. Donaldson is one of the most dynamic multi-media nature artists in the world. This portrayal of migrating Great Blue Herons demonstrates his sophisticated grasp of color and design. For more information go to https://www.nativevisions.com/artists/kim-donaldson
Day 25:
"Exclude women from Western history, and unreality sets in. Restore them, and the Western drama gains a fully human cast of characters— males and females whose urges, needs, failings, and conflicts we can recognize and even share.'' —Patricia Limerick in her book "
The Legacy of Conquest
"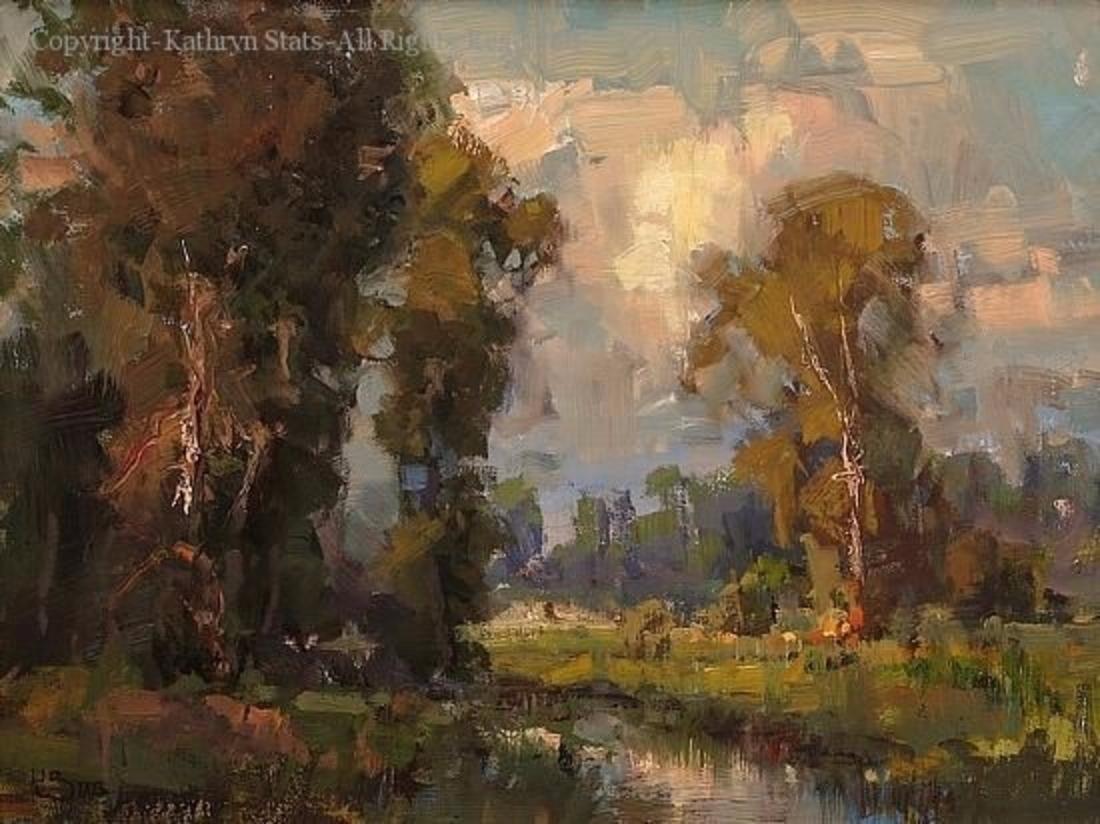 "Idaho Pastoral" by Kathryn Stats. Had the French Impressionists known how to handle the light and atmosphere of the American West they might have sought a compass point in the remarkable work of Stats. Utah has a proud tradition of producing exceptional artists and Stats puts an exclamation point on it. For more information go to http://www.kathrynstats.com
Day 24:
"We don't see things as they are, we see them as we are." —Anaïs Nin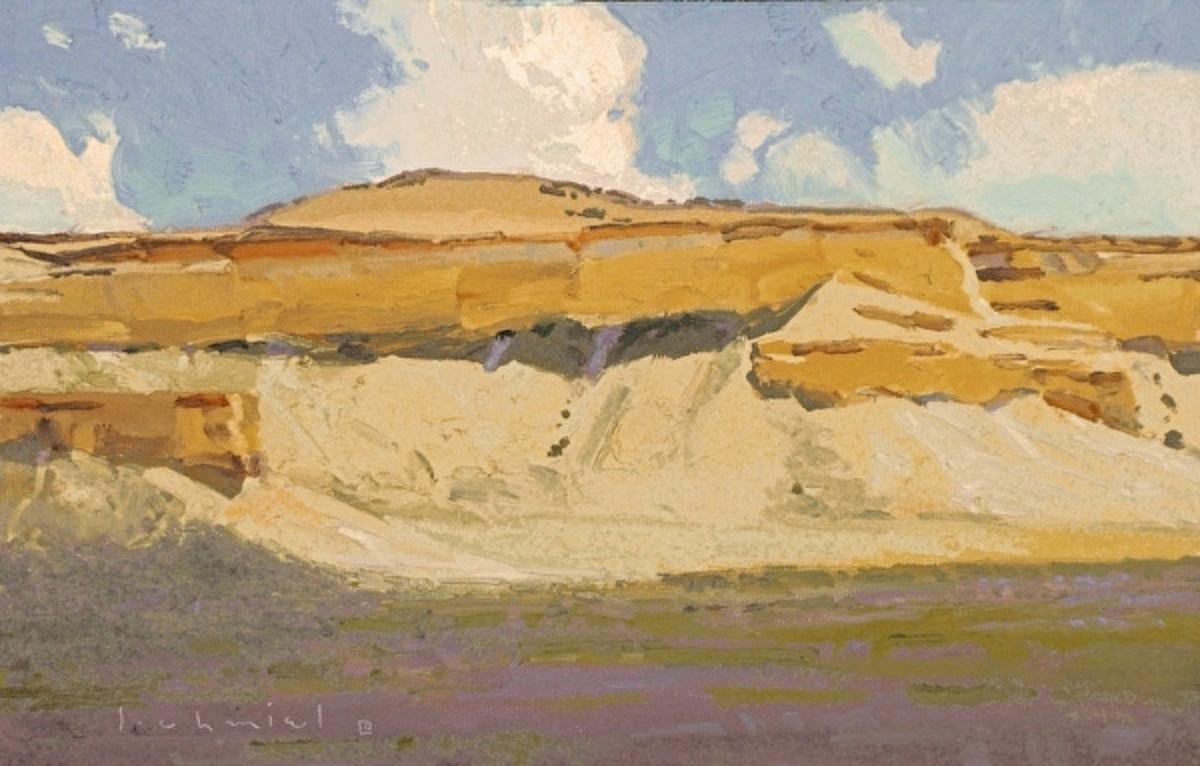 "Afternoon Buildup" by Len Chmiel. Celebrated as a plein air painter, known for his distinctive palette and striking compositions, the Colorado-based Chmiel was featured in 2019 at the Masters of the American West exhibition hosted by the Autry Museum in Los Angeles. The one-artist event is titled "Len Chmiel: An Authentic Nature." For more information on new works go to
Day 23: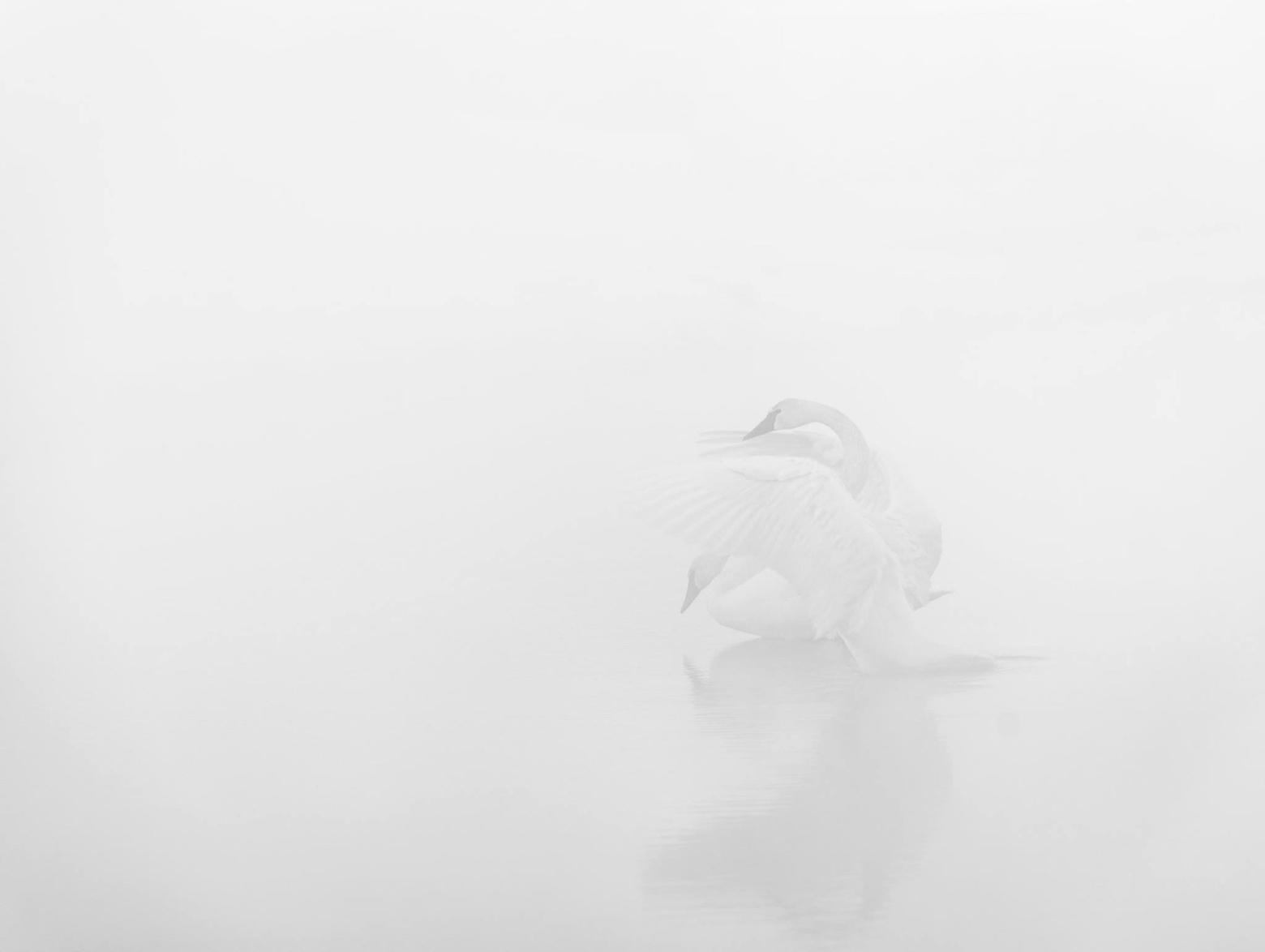 "I Will Love You, Forever," a photograph of two trumpeter swans by David Brookover. The Greater Yellowstone Ecosystem played a key conservation role in the rescue of these elegant birds from oblivion. An image that epitomizes the Zen notion of less being more and less detailed color fields (in photography, as in painting) setting moods, it reminds us how Brookover shines as a fine artist illuminating the natural world. He also is known for his dramatic ski photography. He makes his home in Victor, Idaho and has a gallery in Jackson, Wyoming. For more information on his work go to www.brookovergallery.com
Day 22:
"Animals praise a good day, a good hunt. They praise rain if they're thirsty. That's prayer. They don't live an unconscious life, they simply have no [human] language to talk about these things. But they are grateful for the good things that have come along." —Mary Oliver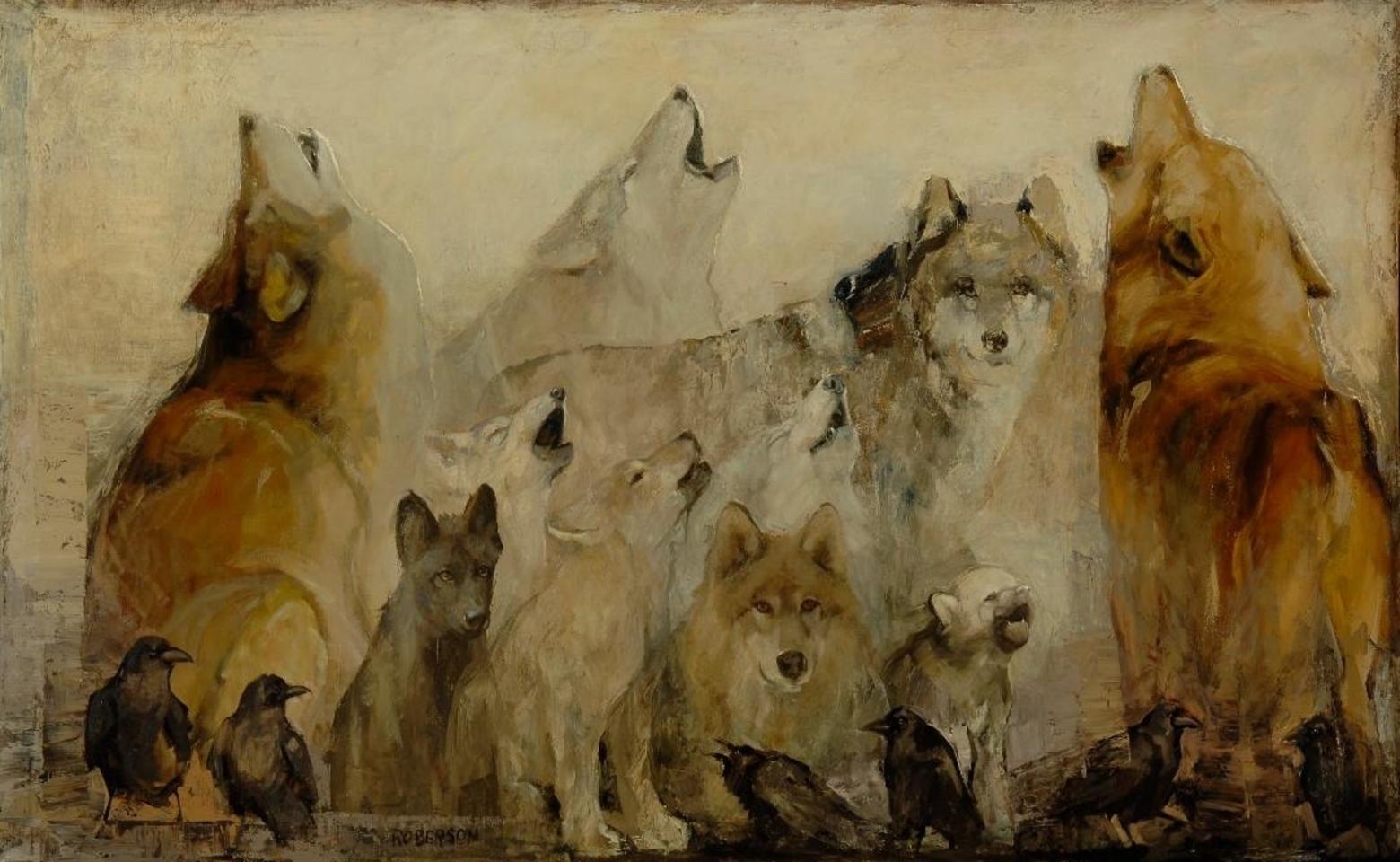 "Howling 101" by Mary Roberson. Airy and empyreal, Roberson's painting style blends her reverence for the natural history of fellow sentient creatures and a feel that seems to emanate out of the Renaissance. This painter from Idaho, who draws inspiration from the Greater Yellowstone Ecosystem, invites us to bask in the ethereal light. If only her works came with a soundtrack, we could hear the chorus of lobos. Check our her work at maryroberson.com
Day 21:
"Whosoever is delighted in solitude is either a wild beast or a god." —Sir Francis Bacon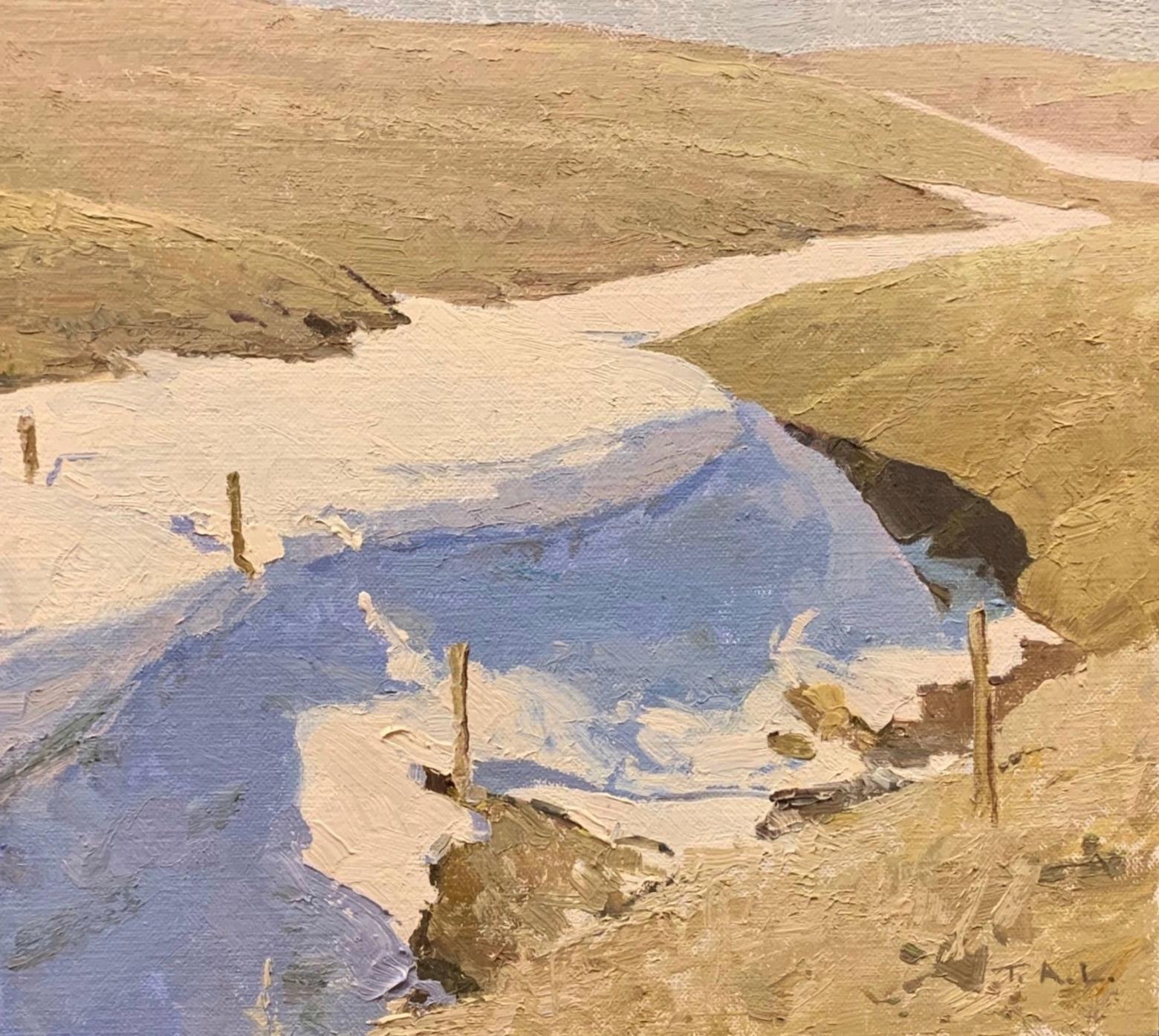 "January's Deposit" by T. Allen Lawson. Lawson, who grew up in Sheridan, Wyoming and divides his time with Maine, is acclaimed today as one of America's most respected contemporary nature painters. He eschews obvious iconic landscapes; instead, as demonstrated in this study, he calls our attention to more subtle—and often, more profound—beauty set in place we may take for granted. A major retrospective of Lawson's work, "Mood and Tone: The Art of T. Allen Lawson," is now up at the Booth Museum in Cartersville, Georgia through the end of April 2019. For more information go to https://boothmuseum.org/exhibitions
Day 20:
"We shall not cease from exploration, and the end of all our exploring will be to arrive where we started and know the place for the first time." —T.S. Eliot
Day 19:
"If a fish is the movement of water embodied, given shape, then cat is a diagram and pattern of subtle air." —Doris Lessing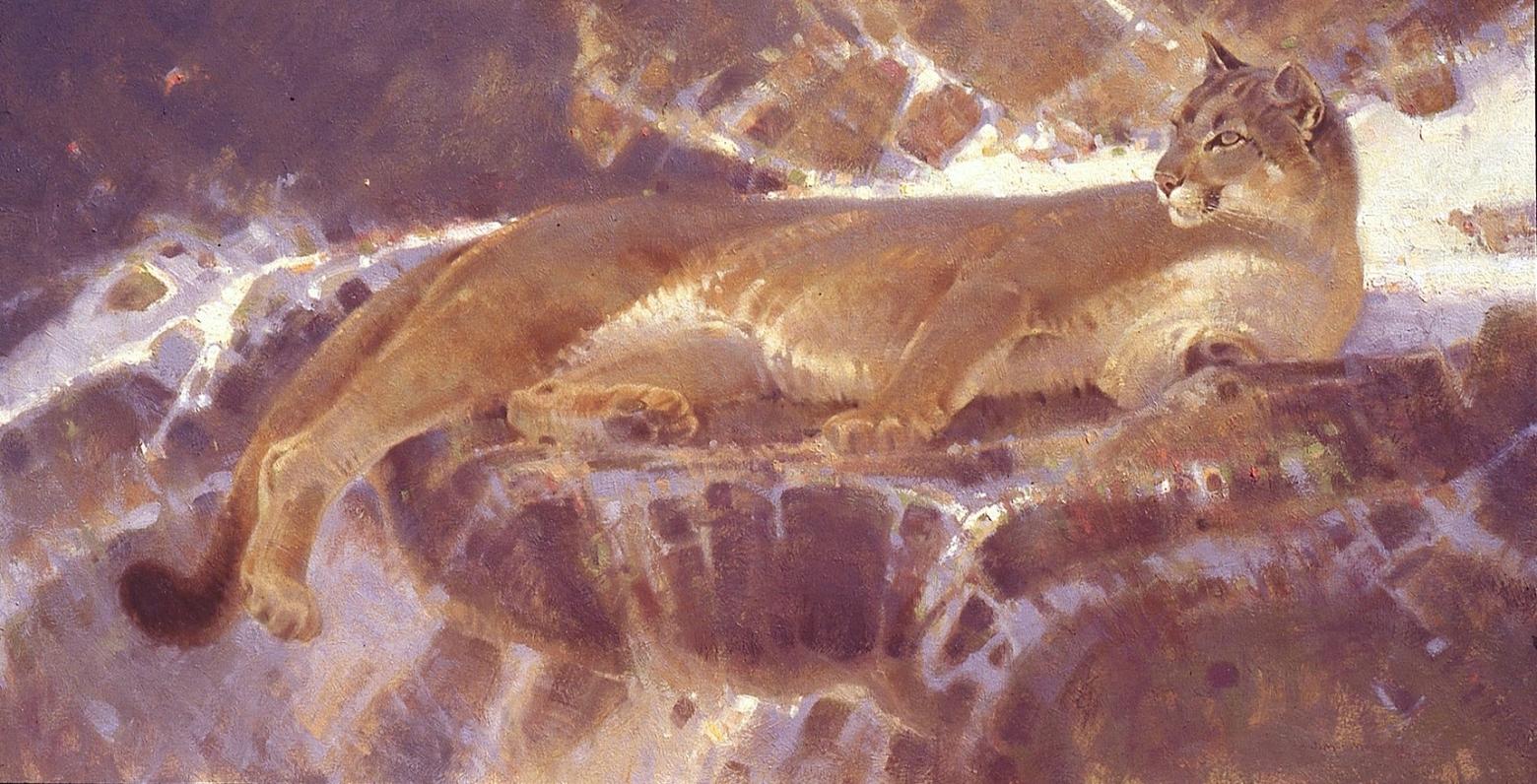 "Lady of Leisure" by Jim Morgan. Considered one of the most talented contemporary wildlife artists in America, Morgan's style is authentically his own. His work is the subject of a major retrospective at the Steamboat (Colorado) Art Museum this winter and up until mid April 2109 It has received rave reviews. For more information, go to
Day 18
:
"Like music and art, love of nature is a common language that can transcend political or social boundaries." —Former President Jimmy Carter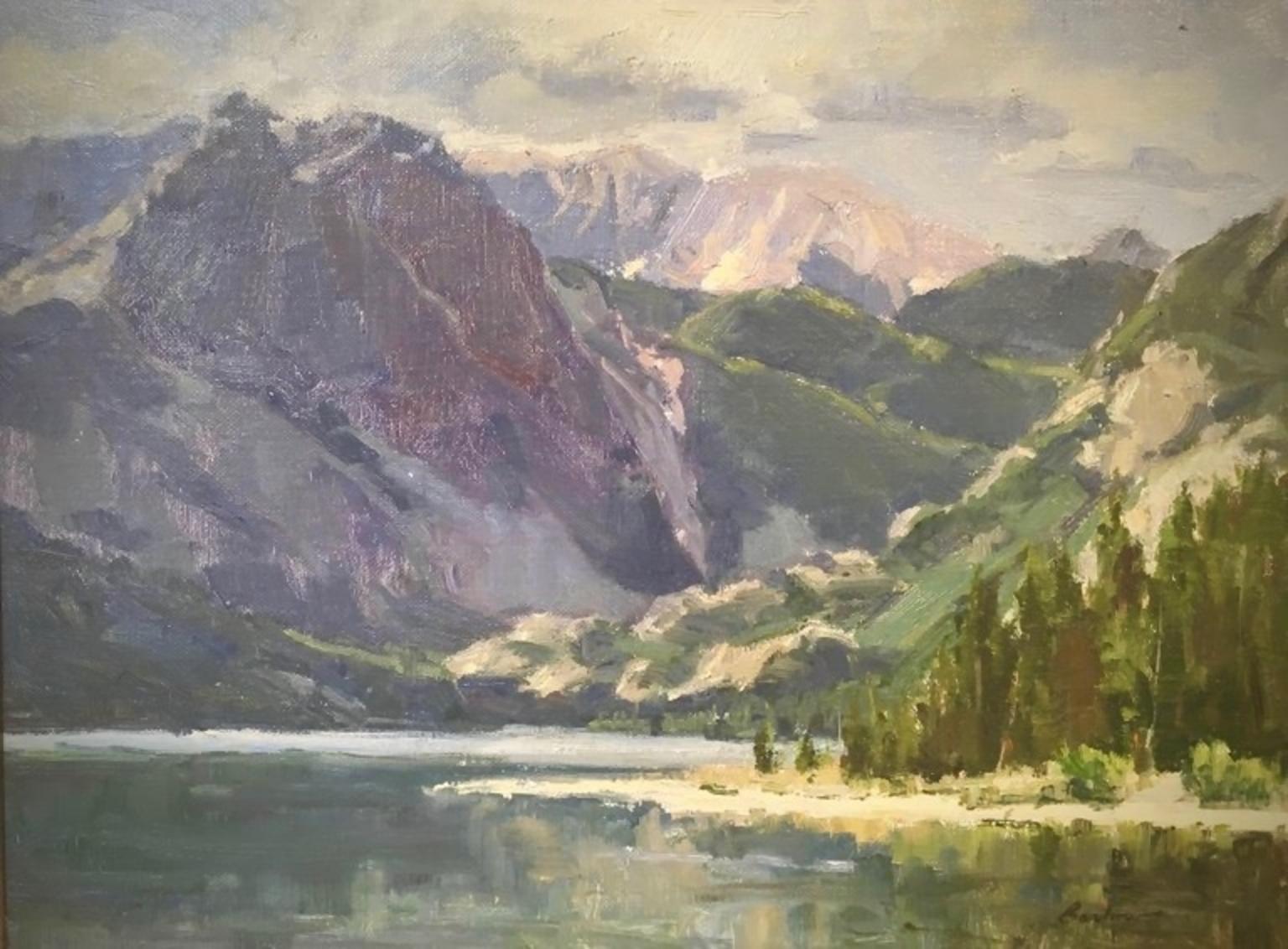 "East Rosebud Lake" by Bob Barlow. Barlow is known for his painterly tributes to wild and pastoral landscapes throughout Montana and Wyoming. This painting is significant because it showcases the lake which serves as the major source for one of America's newest additions to protection under the federal Wild and Scenic Rivers Act. Some 20 miles of East Rosebud Creek passes spectacularly through a stretch of the Absaroka Mountains dubbed "the Alps of Montana." It is now protected thanks to bi-partisan support. For more information on Barlow's work go to www.bobbarlow.com
Day 17:
"The other creatures with which we share this world have their rights, too. but not speaking our language, they have no voice, no vote; it is our moral duty to take care of them." —the late Roger Tory Peterson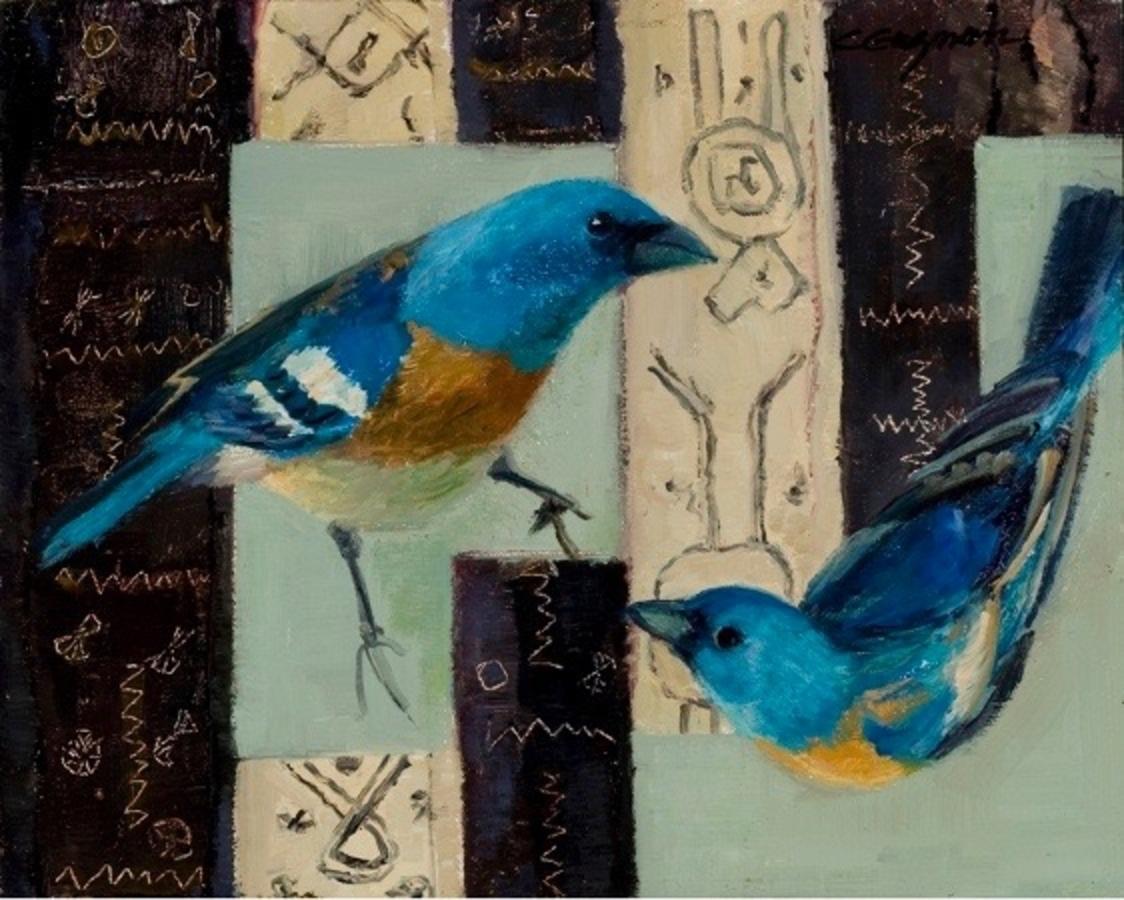 "Two Lazuli Buntings" by Carol Guzman. It's easy in winter to forget about the splashes of color that springtime brings with the return of neotropical birds heading back north to their breeding grounds in our northern Rockies—more hueful expressions of the region's biodiversity and reminders of the need for protecting their forest and meadow habitat from fragmentation. Guzman is known for her zesty contemporary portrayals of wild birds. To learn more about the work of this Bozeman artist, go to http://www.carolguzman.com
Day 16:
'While Indians appear not to have feared the Yellowstone geyser regions, we know that many tribes revered them. Revere and fear are two different things, reverence referring to beliefs in something sacred. A number of tribes... used the Yellowstone country as a vision-questing, prayer-making, and gift-bequeathing place." —Yellowstone historian and writer Lee Whittlesey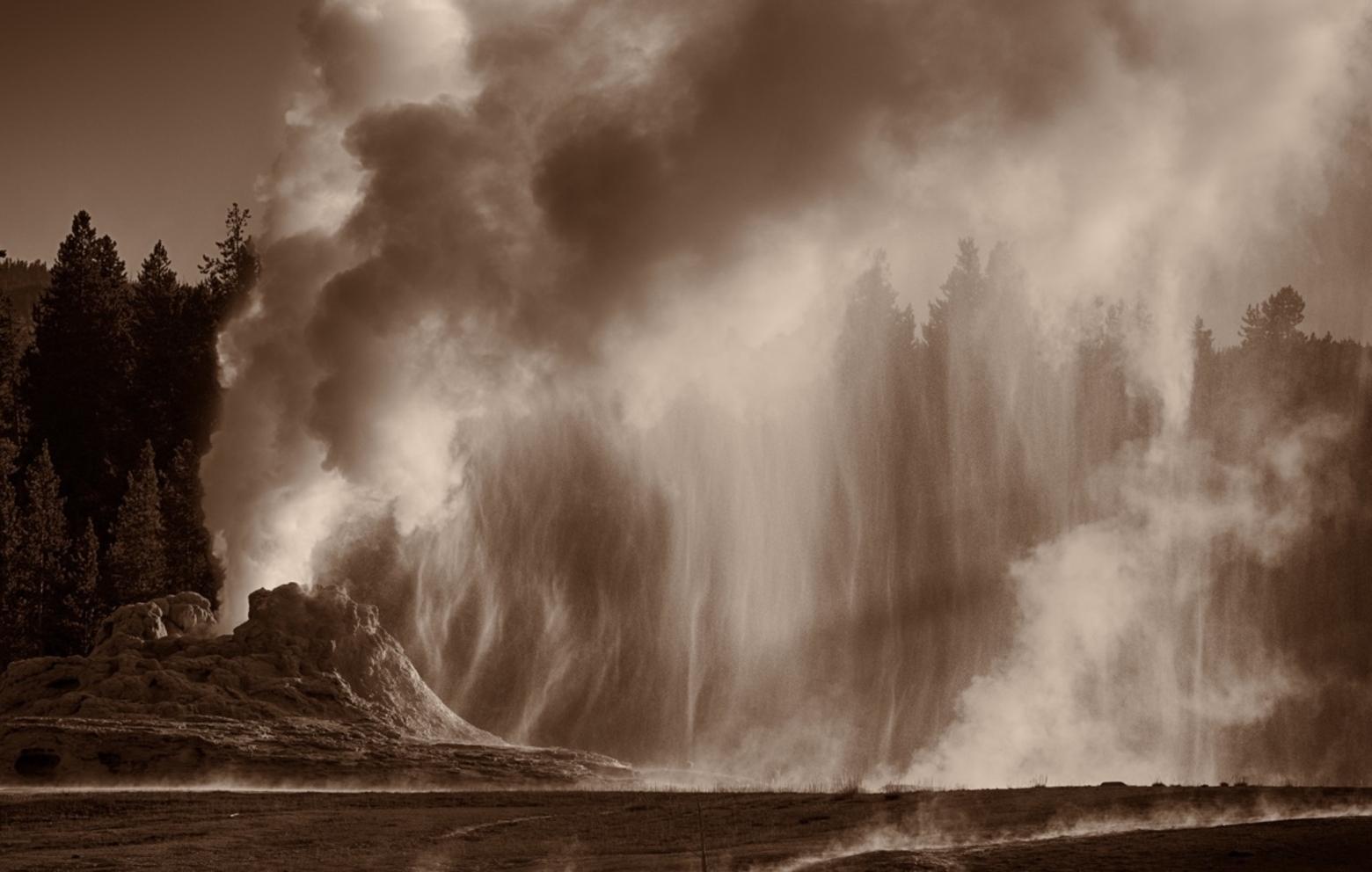 "Castle Geyser Geysering," a photograph by the late David Joseph Swift (Oct. 13, 1948-Jan. 16, 2018) of one of Yellowstone's famous geysers. Swift was more than a great photographer—skilled, perceptive and sensitive with all subjects, nature or human, he connected people. A longtime resident of Jackson Hole, he also was one of Mountain Journal's inaugural columnists.
Day 15:
"The environment, after all, is where we all meet, where we all have a mutual interest. It is one thing that all of us share. It is not only a mirror of ourselves, but a focusing lens on what we can become." —Lady Bird Johnson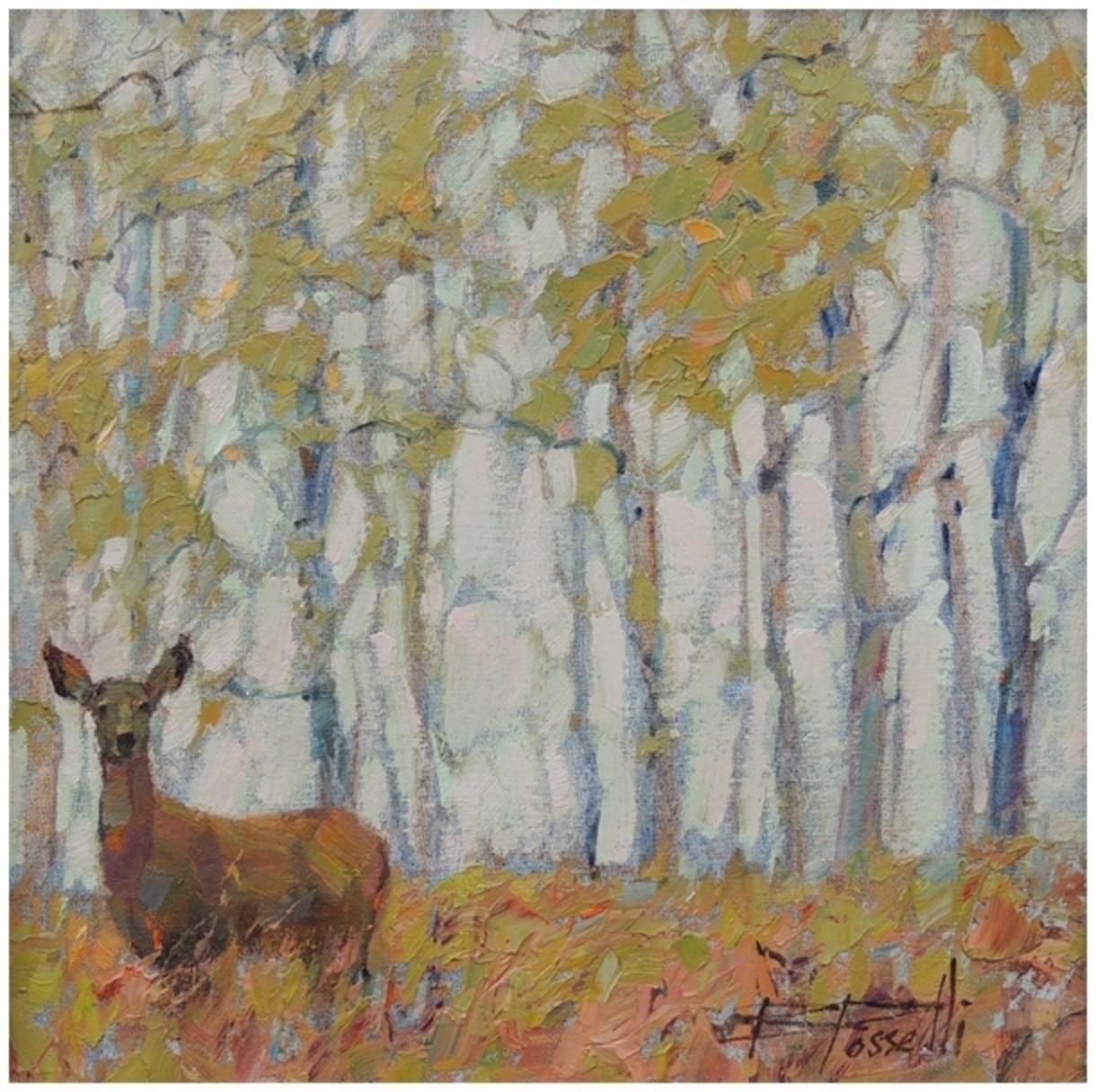 "Quiet Reverie" by Bonnie Posselli. Posselli may be lesser known to art collectors in Greater Yellowstone but she is one of the finest contemporary Impressionists, focused on the interior West, in America. She is renowned for painting redrock landscapes in Utah and pastoral valleys. To learn more about her work, go to www.bonnieposselli.com
Day 14:
"Shakespeare said that art is a mirror held up to nature. And that's what it is. The nature is your nature, and all of these wonderful poetic images of mythology are referring to something in you. When your mind is trapped by the image out there so that you never make the reference to yourself, you have misread the image." —Joseph Campbell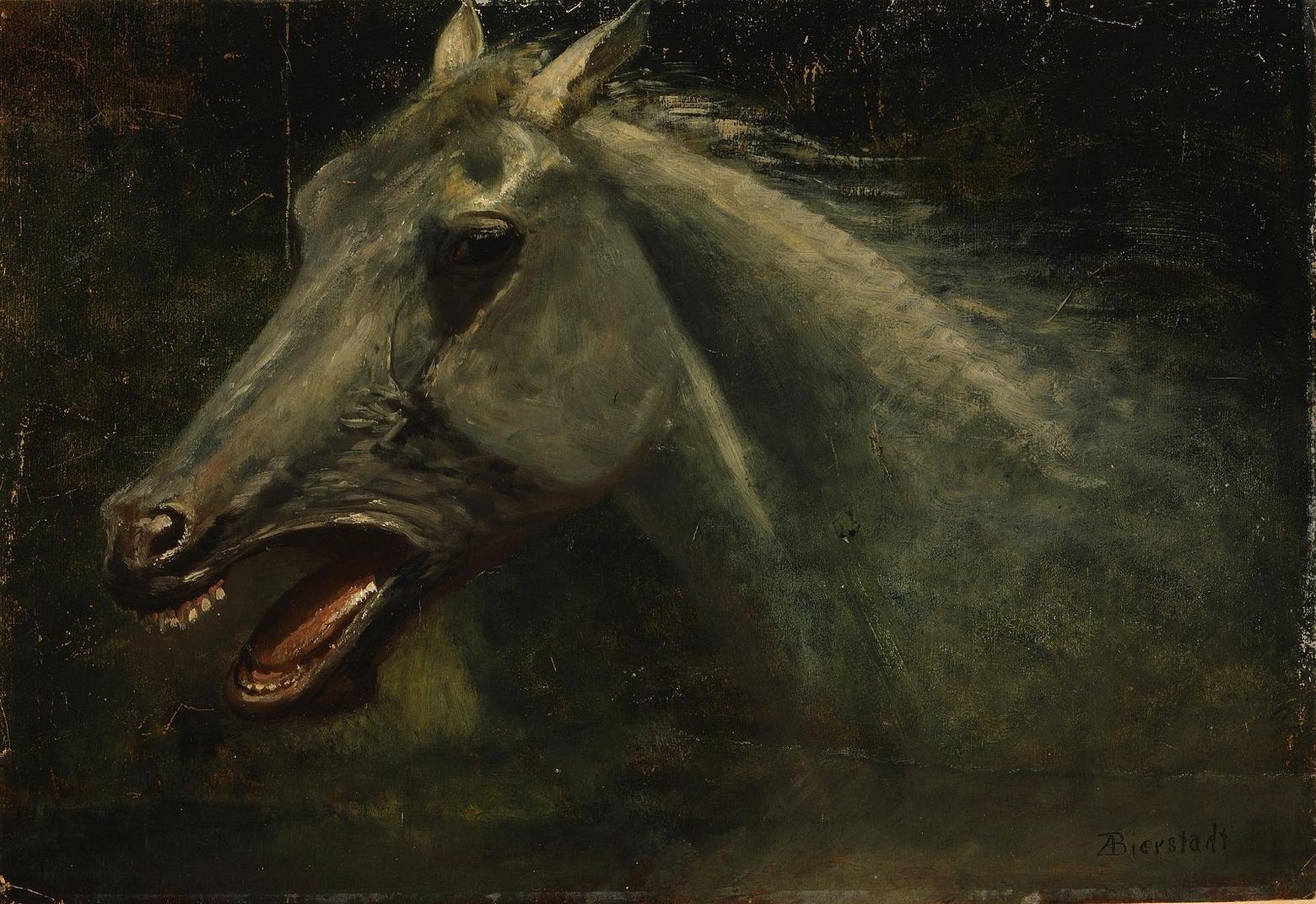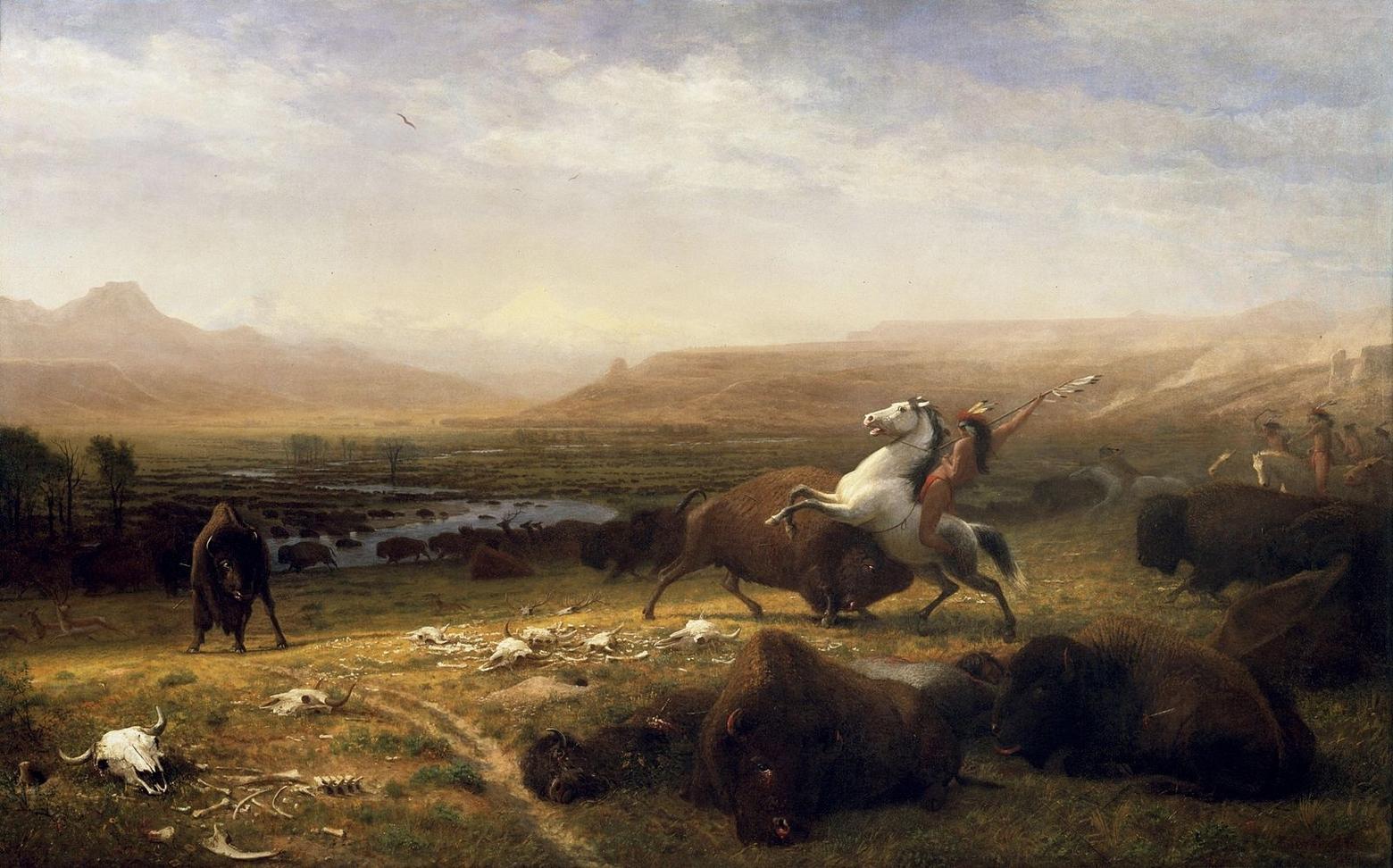 Top: "Portrait of a Stallion" by Albert Bierstadt. Here's a fun fine art anecdote. Bierstadt, among the most revered romantic painters of his time and icon of the Hudson River School, completed the sketch of the white stallion as part of his quest to gather information for his masterwork, "The Last of the Buffalo." The latter is a showcase work and part of the permanent collection at the Whitney Gallery of Western Art at the Buffalo Bill Center for the West in Cody, Wyoming. The sketch, remarkably, is also in the collection. Images courtesy Whitney Gallery of Western Art.
Day 13:
"You can't be unhappy in the middle of a big, beautiful river." —Jim Harrison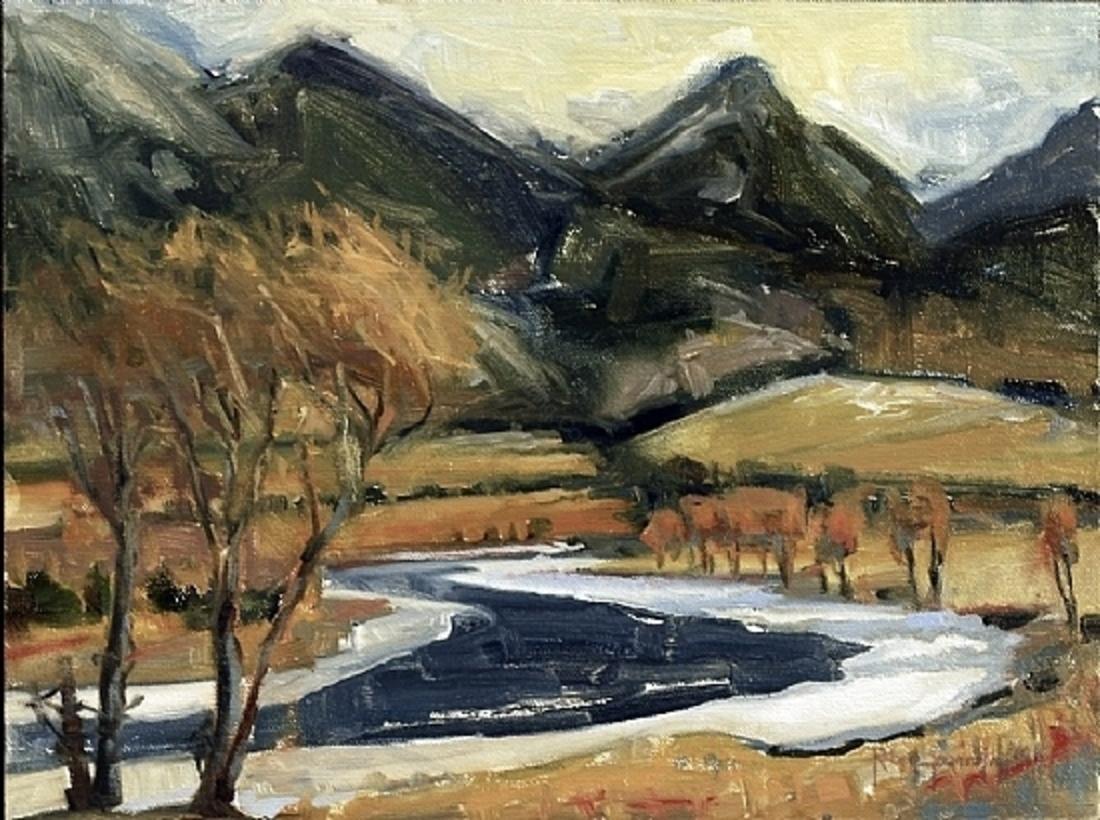 "Winter day—Paradise Valley, Montana" by Robert Spannring. The Yellowstone River, which begins in the mountains south of Yellowstone National Park and swings north then northeast until it marries the Missouri River, is the longest river without a major dam on it in the Lower 48. That's a miracle. Painter Robert Spannring gives it homage as it twists through Paradise Valley where he has spent many a day. To learn more about Spanning's art, go to
Day 12:
"The wild ram embodies the mystery and magic of the mountains, the rocky canyons, the snowy peaks, the fragrant alpine meadows, the gray slide rock, the icy, dancing rills fed by snowbank and glacier, the sweet, clean air of the high places, and the sense of being alone on the top of the world with the eagles, the marmots, and the wild sheep themselves." —Jack O'Connor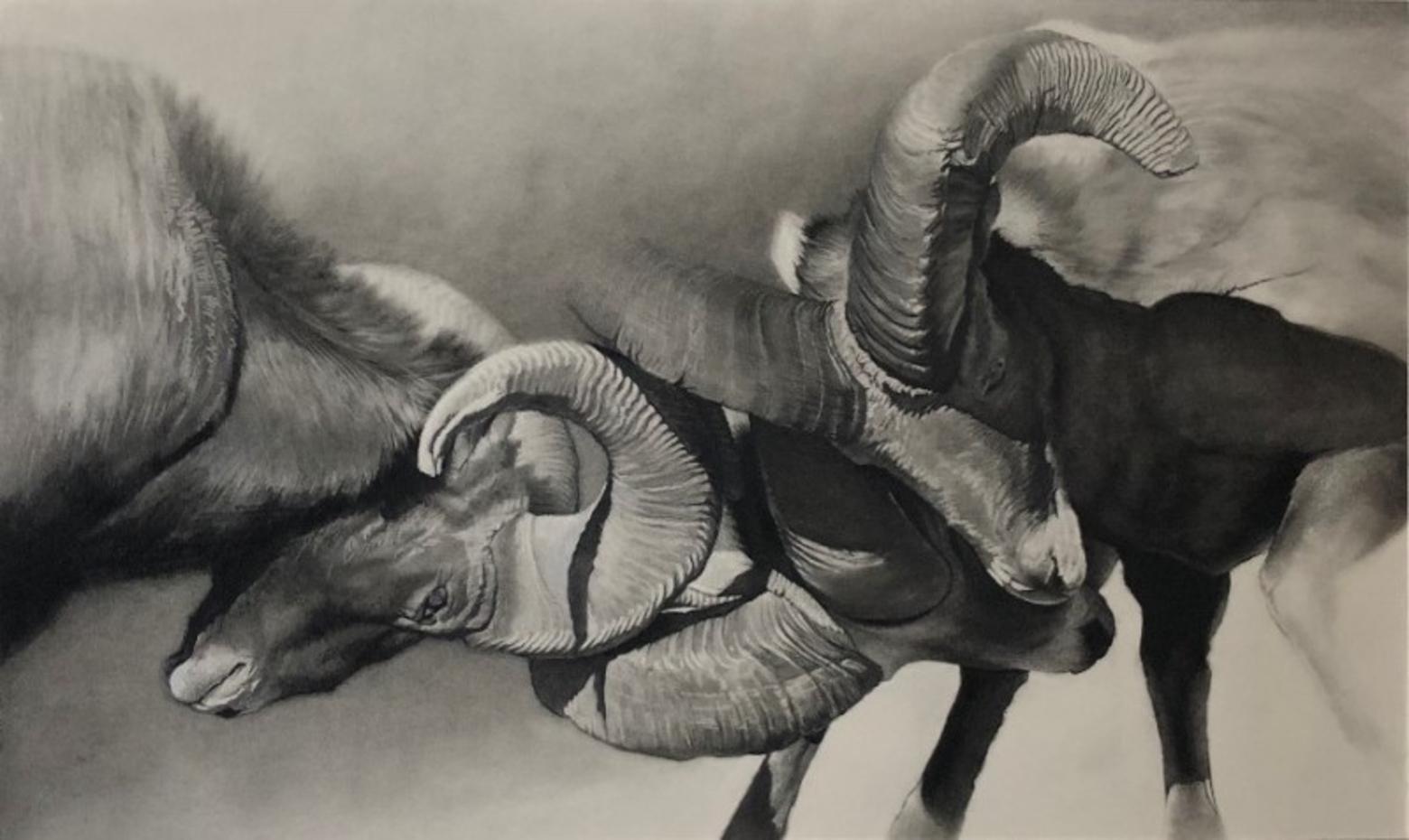 "Bighorn Rams" by Cole Johnson. No, it's not a black and white photograph. And yes, it's hard to believe that someone could deliver a scene so vivid, dramatic with light, shadow and value, and do it in graphite and charcoal. But Johnson brilliantly does it here. He can't get enough of the Greater Yellowstone Ecosystem and its animal inhabitants. To learn more about him and his work, go to http://www.colejohnsonart.com
Day 11:
"Somber Yellowstone Park and its colored hot springs, baby geysers, rainbows of bubbling mud - symbols of my passion." —Vladimir Nabokov

Day 10:
"Let the beauty of what you love be what you do." —Rumi
Day 9
:
"I can tell that the Greater Yellowstone from the Tetons, to the Lamar Valley where wolves howl and grizzlies roam, acts as my spine, my range of memory that ties me to landscape of Other." —Terry Tempest Williams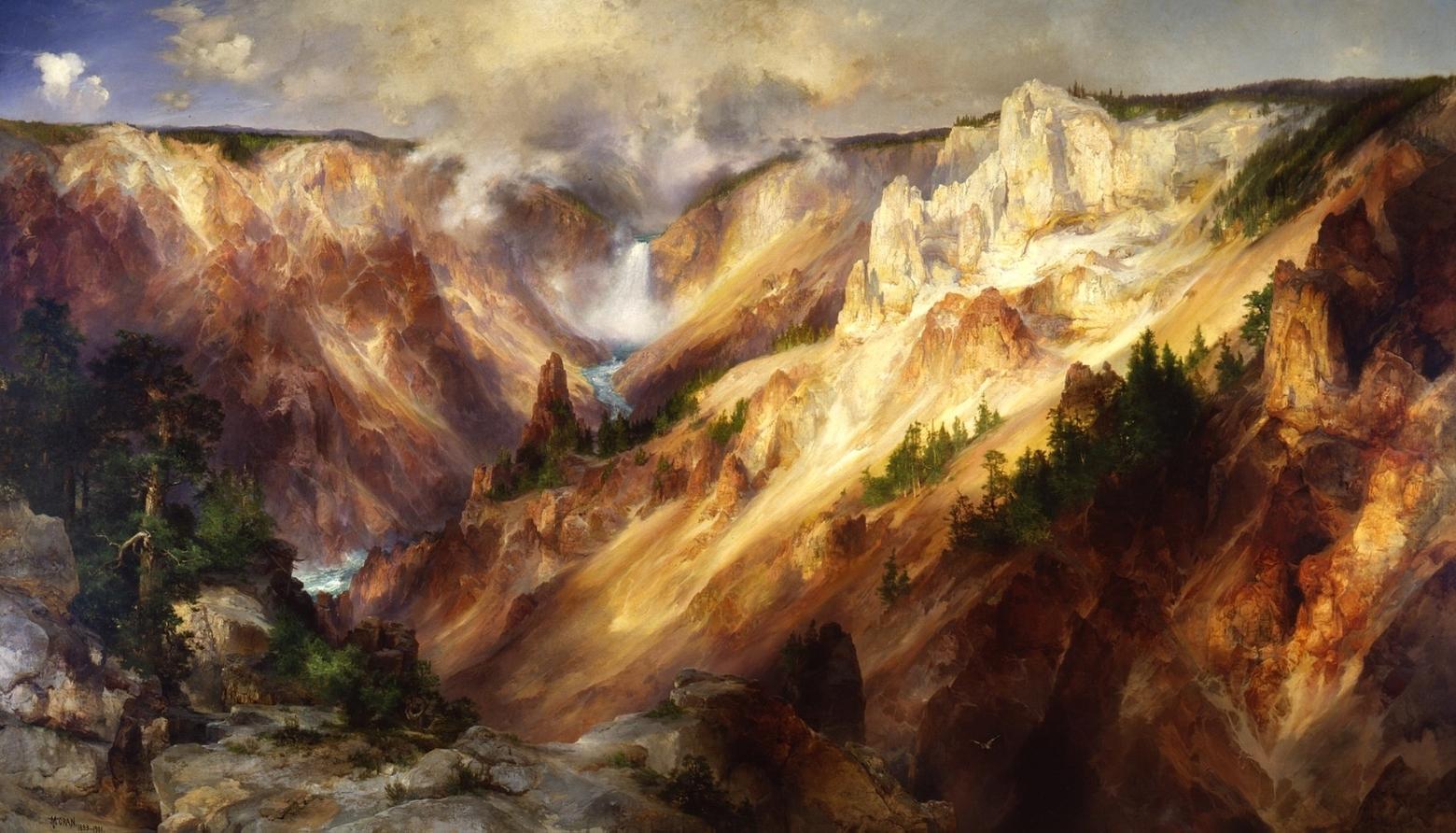 "Grand Canon of the Yellowstone" by Thomas Moran. This is a reinterpretation of the most famous and consequential land-protection painting in the world, for the original made members of Congress swoon and ignited the global national park movement that started with the creation of Yellowstone on March 1 in 1872. The original painting can be viewed, as part of your own heritage, at the Smithsonian's American Art Museum in Washington, D.C.
Day 8:
"I plan on going out every day to sketch these mountains no matter what sort of weather is brewing. Because this is really what a mountain painter does—he catches, if he can, the essence of the moods, as they come across the mountains, hoping he can pass them on to others." —Conrad Schwiering (1916-1986)
Day 7:
"Good company in a journey makes the way seem shorter." —Izaak Walton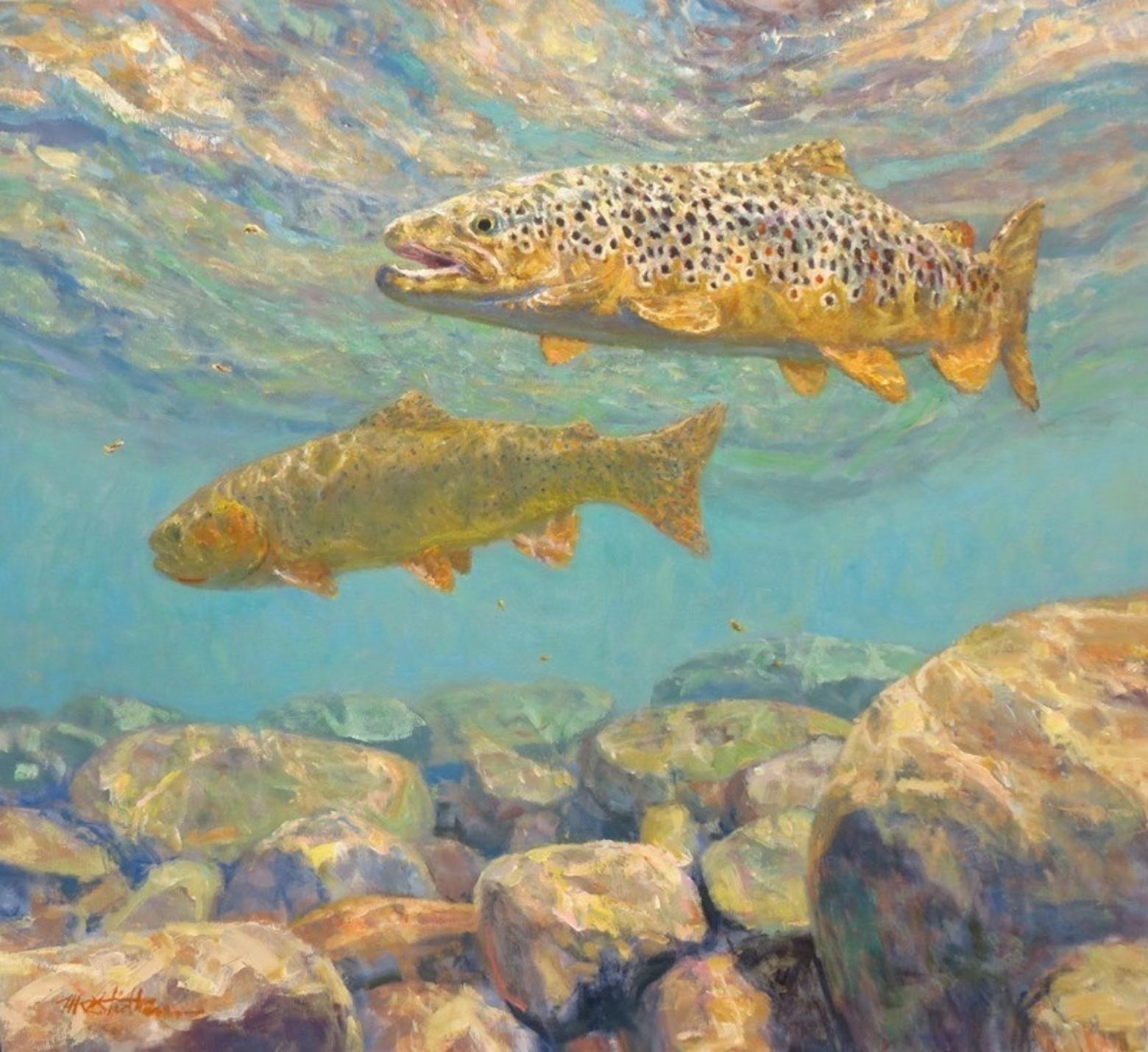 "South Fork Gold" by Utah artist and fly fisherman Michael Stidham. Stidham has been called one of "the greatest fish-painter impressionists of his generation" and his work is collected by avid anglers and non-anglers throughout the world. He has a special affinity, he says, for the waters of Greater Yellowstone Ecosystem, as evidenced by this reference to the South Fork of the Snake River in eastern Idaho.
Day 6:
"Where thou art, that is home." —Emily Dickinson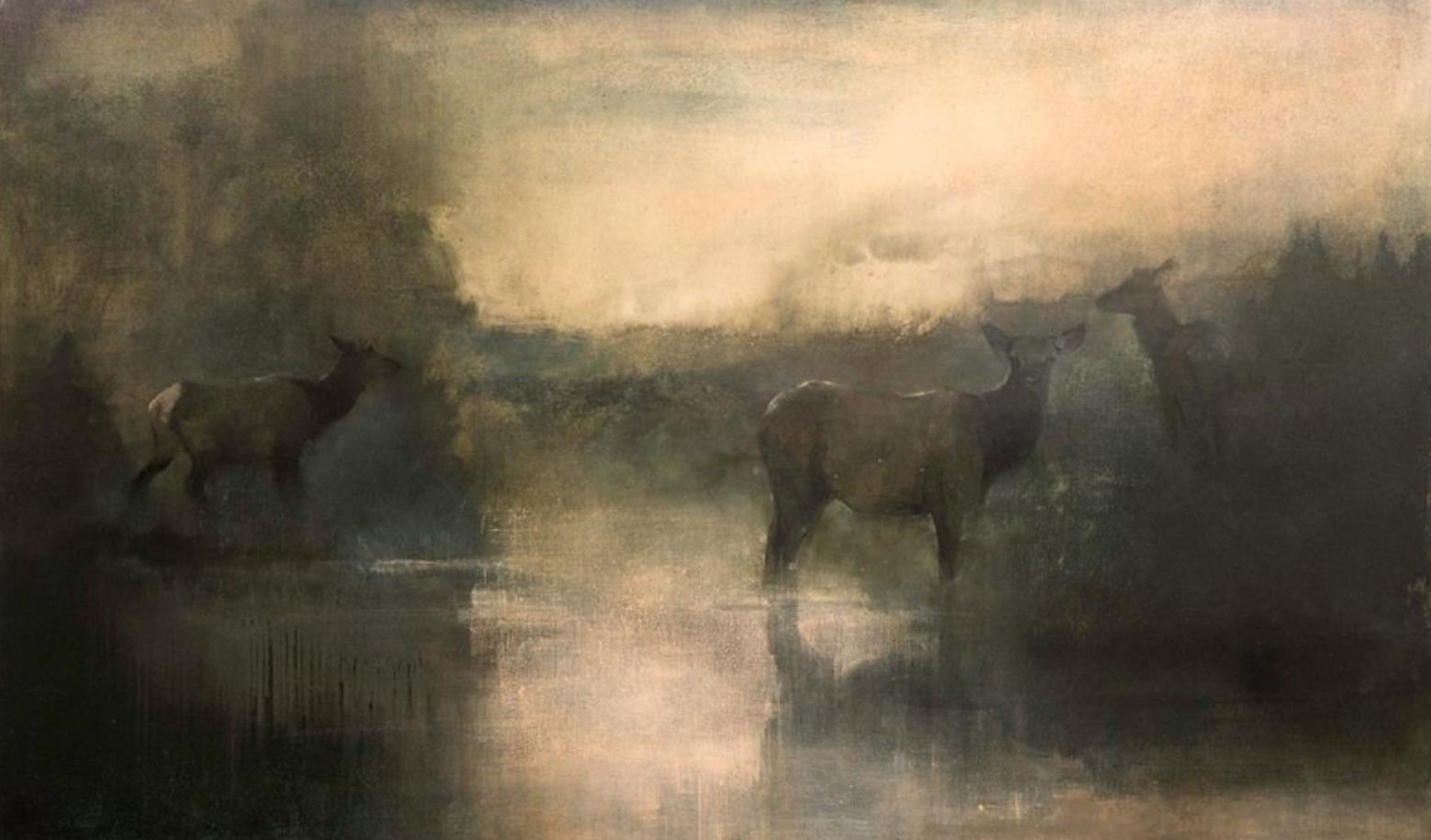 "Three Matriarchs" by Kathryn Turner. Turner, whose family runs a historic dude ranch in Jackson Hole, has grown up with nature exerting a mighty influence. She is among a group of painters who are giving American wildlife art a new visual vocabulary. Often, wildlife paintings feature male animals; this work celebrates female elk who hold the herd together. For more information about Turner and her work, go to turnerfineart.com
Day 5:
"There were all kinds of things I was afraid of at first, ranging from grizzly bears to 'mean' horses and gun-fighters; but by acting as if I was not afraid I gradually ceased to be afraid." —Theodore Roosevelt
Day 4:
"To use the power of the bison, I had to perform that part of my vision for the people to see." —Black Elk
Day 3:
"Horses lend us the wings we lack." —Anonymous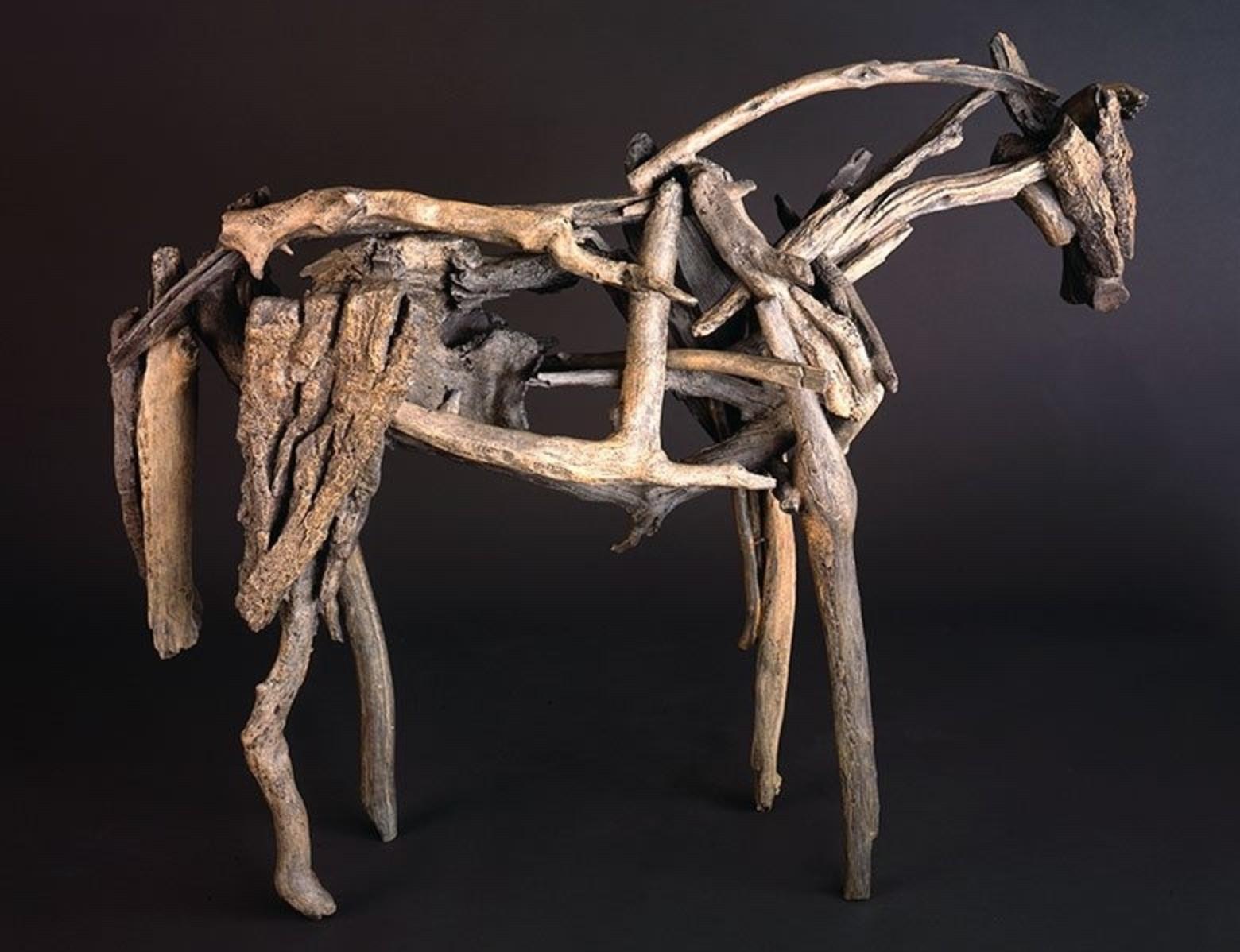 "Berliner" by Bozeman-based sculptor Deborah Butterfield, renowned internationally for her innovative use of found and organic natural materials in creating horse sculptures. This piece is part of the permanent collection at the Whitney Western Art Museum, part of the Buffalo Bill Center of the West in Cody, Wyoming. It was gifted to the museum by Mr. and Mrs. W.D. Weiss.
Day 2
"All great artists draw from the same resource; the human heart, which tells us we are a lot more alike that we are unalike." —Maya Angelou
"This Is A Stereo" by painter Michael Two Bulls (Oglala Lakota). This piece is part of a series that Two Bulls, a leadership fellow of First Peoples Fund (
firstpeoplesfund.org)
created to challenge stereotypes viewers have of indigenous people.
Day 1
"A picture is a poem without words." —Horace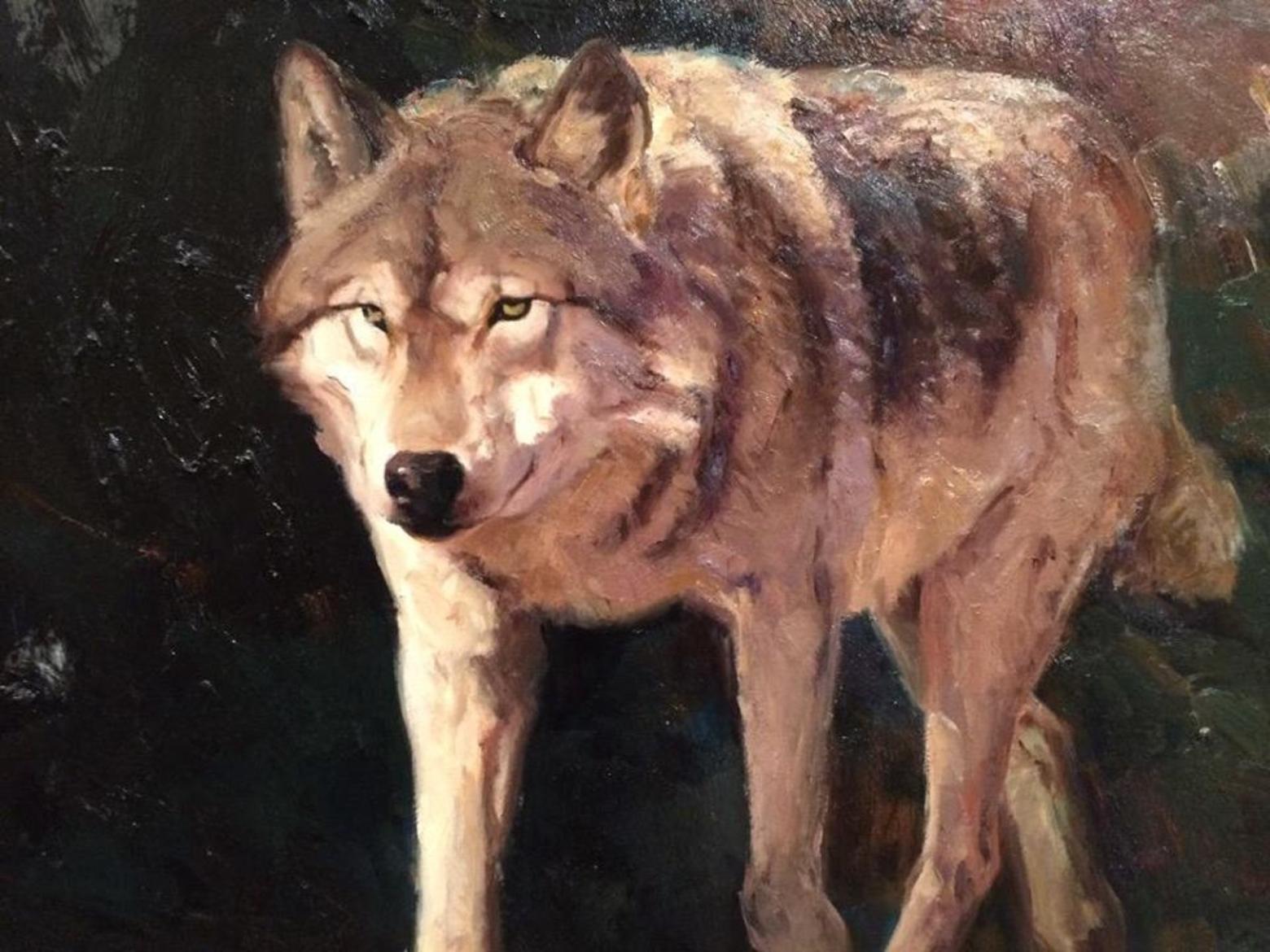 "Wolf" by painter Ken Carlson. This piece is in the permanent collection at the National Museum of Wildlife Art in Jackson, Wyoming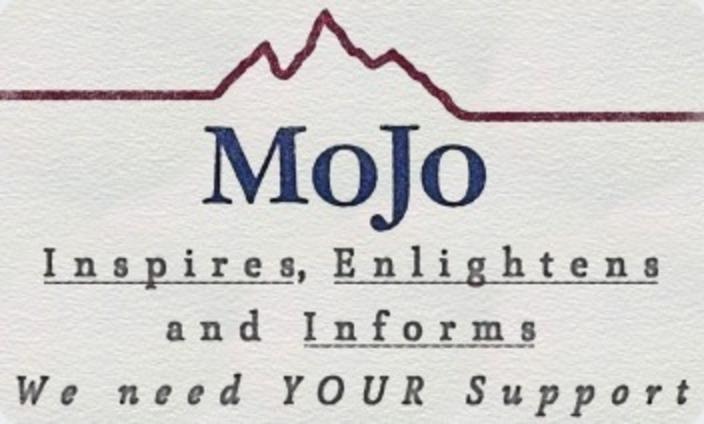 PLEASE SUPPORT US
: Mountain Journal is committed to giving you reads you won't get anywhere else, stories that take time to produce. In turn, we rely on your generosity and can't survive without you!
Please click here
to support a publication devoted to protecting the wild country and the wildlife you love.