Back to Stories
January 7, 2018
A Life In WonderlandYellowstone's Legendary 'Winterkeeper' Steven Fuller Takes MoJo Readers On An Intimate Exploration Of The World's First National Park
January 7, 2018 —The Beginning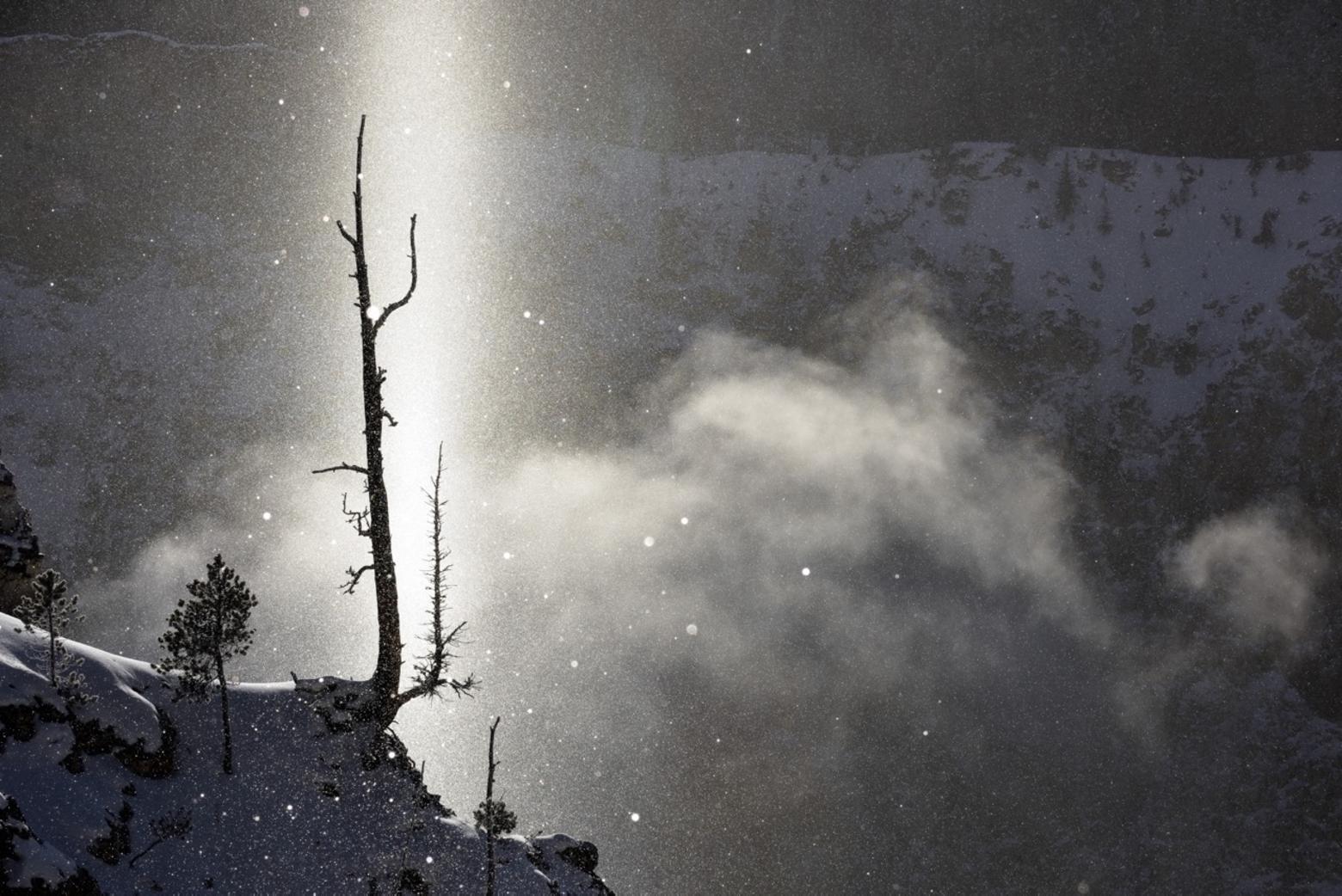 Steven Fuller will be telling the story of his life in Yellowstone through photographs, essays and extended caption. The image featured here is titled "Sun Pilar" and, in describing why its been a regular muse, he writes, "On a sub-zero cold morning an ephemeral vertical pillar of light appears below the rim of the Canyon at sunrise. Hexagonal crystals of frost, each a tiny mirror, float in the still air. The crystals orient themselves horizontally as they float in the still air where they reflect the light of the rising sun back and forth, each amongst the others, creating a crystalline synergistic crowd sourcing that manifests an extraordinary visual phenomena."
I'd like to share my inaugural dispatch by sending warmest greetings from this place called Yellowstone, which for nearly half a century has been my home.

For years I have sent occasional emails to friends and family with a few snapshots of some of the remarkable things I had seen in my neighborhood located as it is in the center of the park.

When my old friend Todd Wilkinson launched Mountain Journal, I was delighted at first sight with the quality of the journalism and its' pertinent focus on the escalating friction between the secular and the natural in the region and with its' recognition of the fragility of the Yellowstone Park core of the region. A core that has been at the heart of my adult life.

Our culture insists that our individual being is enclosed in a skin bag that defines the boundary between our self and the environment. What is on the inside is "me", what is on the outside is "other".

Over my years in Yellowstone, my sense of self has expanded beyond my personal physical boundaries and even beyond my surrounding intimate landscape. Tat Tavam Assam, "That Art Thou", says the ancient Hindu wisdom.

"That" is my beloved place, and that beloved place is the greater me. It is a truth so deeply felt, that the mutilation of my place simultaneously wounds me, not intellectually but emotionally.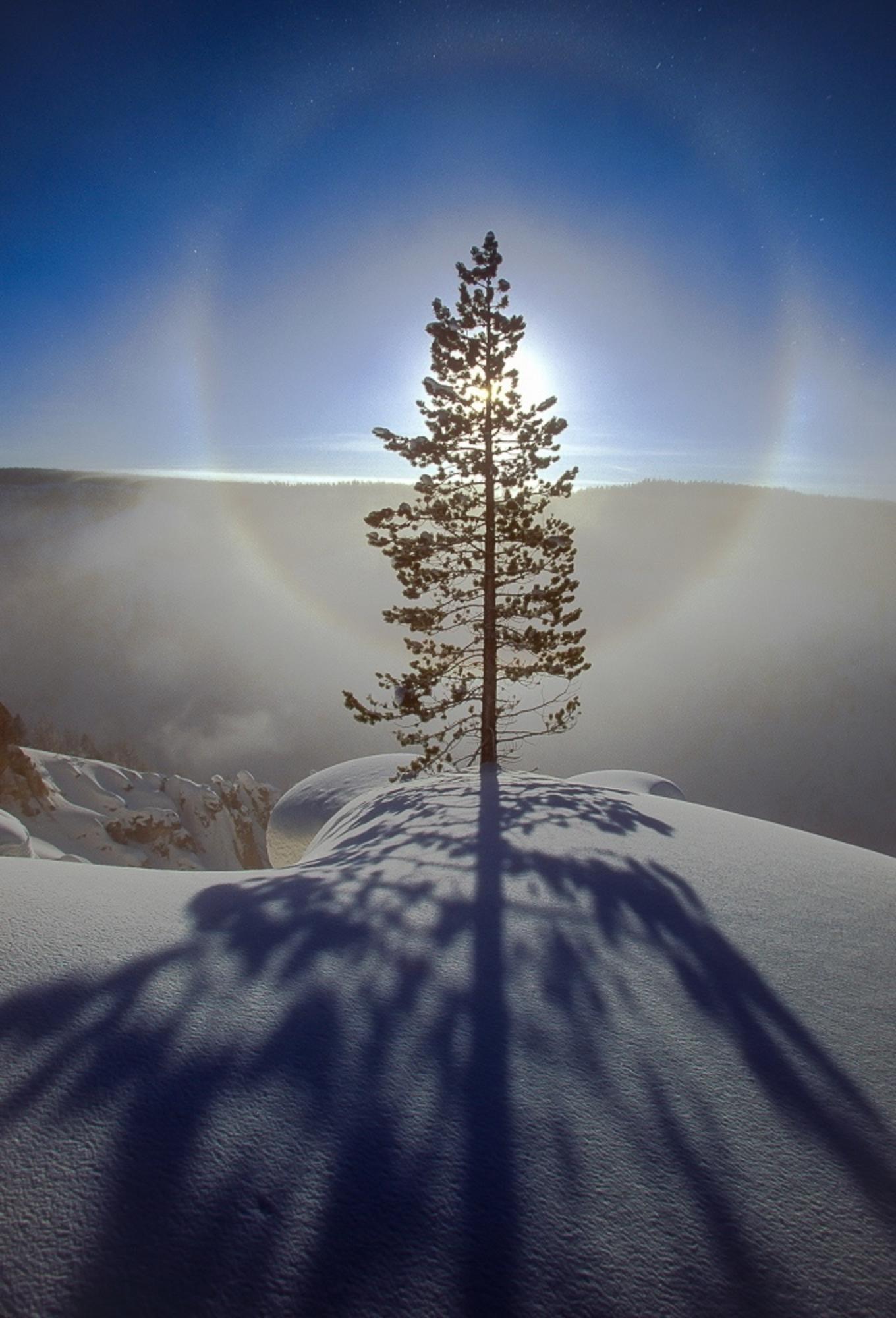 Fuller writes of this photographed titled, simply, "Cock's Eye Halo": A 22-degree halo created by 'diamond dust'. The halo is the child of several forms of crystals floating in the sub-zero air. Some of the crystals act as mirrors that reflect the light as they tumble through the air, others shaped differently, act as prisms that refract the light into its rainbow colors. Voila! On foot or on skis there is magic, wonder…despite the pain of the cold, to behold such plays of light, ephemeral aerial optical manifestations. Thanks to HAL, aka Goggle, I just learned that the Cornish, those fey Celts west of the Tamar on the Lizard Peninsula—since the English conquest the furthest southwest of England—a halo round the sun was called a 'cock's eye'; presumably, they were domesticated fowl folk."
In time, among a fortunate few, this comprehension grows to encompass all the creation, which is what the Hindus meant by Tat Tavam Assam all along. In my experience this is one of the profoundest core insights humanity has ever put into words (as alien, even as incomprehensible to many as it may seem in our contemporary shared paradigm of estrangement).
As Americans we pride ourselves on our mobility. According to Google, typically an American moves more than eleven times in their life. Not much opportunity for most of us to experience osmosis let alone intercourse with a place.
For what it is worth, as a consequence of living year round for more than forty-five years in the heart of this ecosystem, I fancy I enjoy a connectedness with this place.
Prior to the recent modern age, our predecessors throughout the world had the advantage of incorporating not only their own experience but the wisdom of countless previous generations into their understanding and connectedness with their place. One profoundly personal piece of that connection for me is not only the bond I feel for Yellowstone, but that the park is forever imprinted on the identity of my now-grown daughters and may it always represent a homecoming for them.
Here I am a grandfather with no opportunity, other than with friends, to share whatever I have gleaned in a few decades living intimately in this Yellowstone world. I hope through words and images to share something of my sense of connection with you, my fellow friends of Yellowstone, a place of mutual belonging. I look forward to our regular meetings. Meantime, join me as we explore together the known and unknown.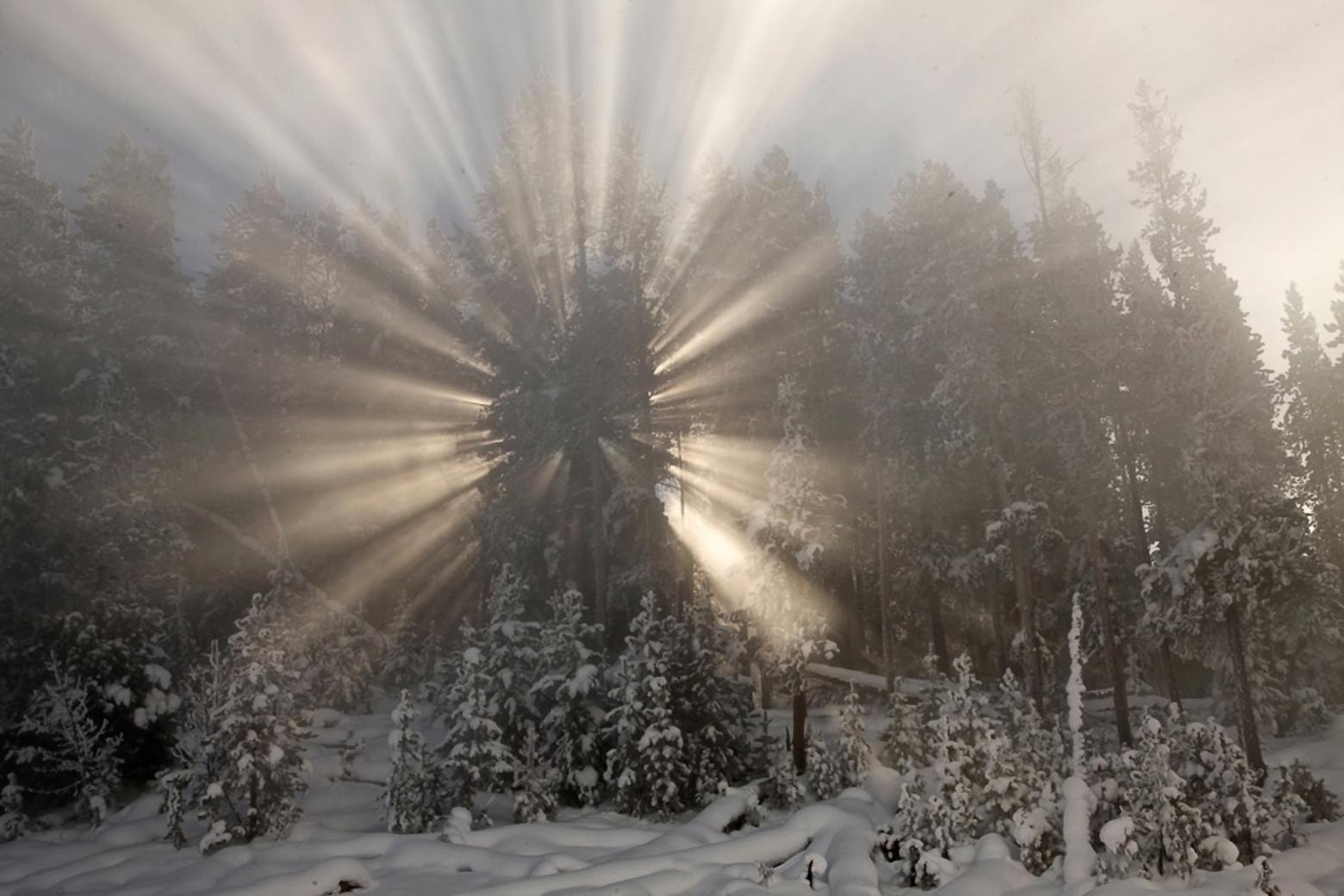 Of this image, titled "Crepuscular", Fuller observes, "As the sun rises crepuscular rays stream out of the light and shadows created as 'steam' from nearly hot springs drifts through nearby trees. The rays radiate like the spokes of a wheel spreading from the hub of the sun at the center. Crepuscular refers to twilight, that magical transformation of day to night, of light to dark, and of night to day, of dark to light."
January 10, 2018—"Bison People" At The Front Door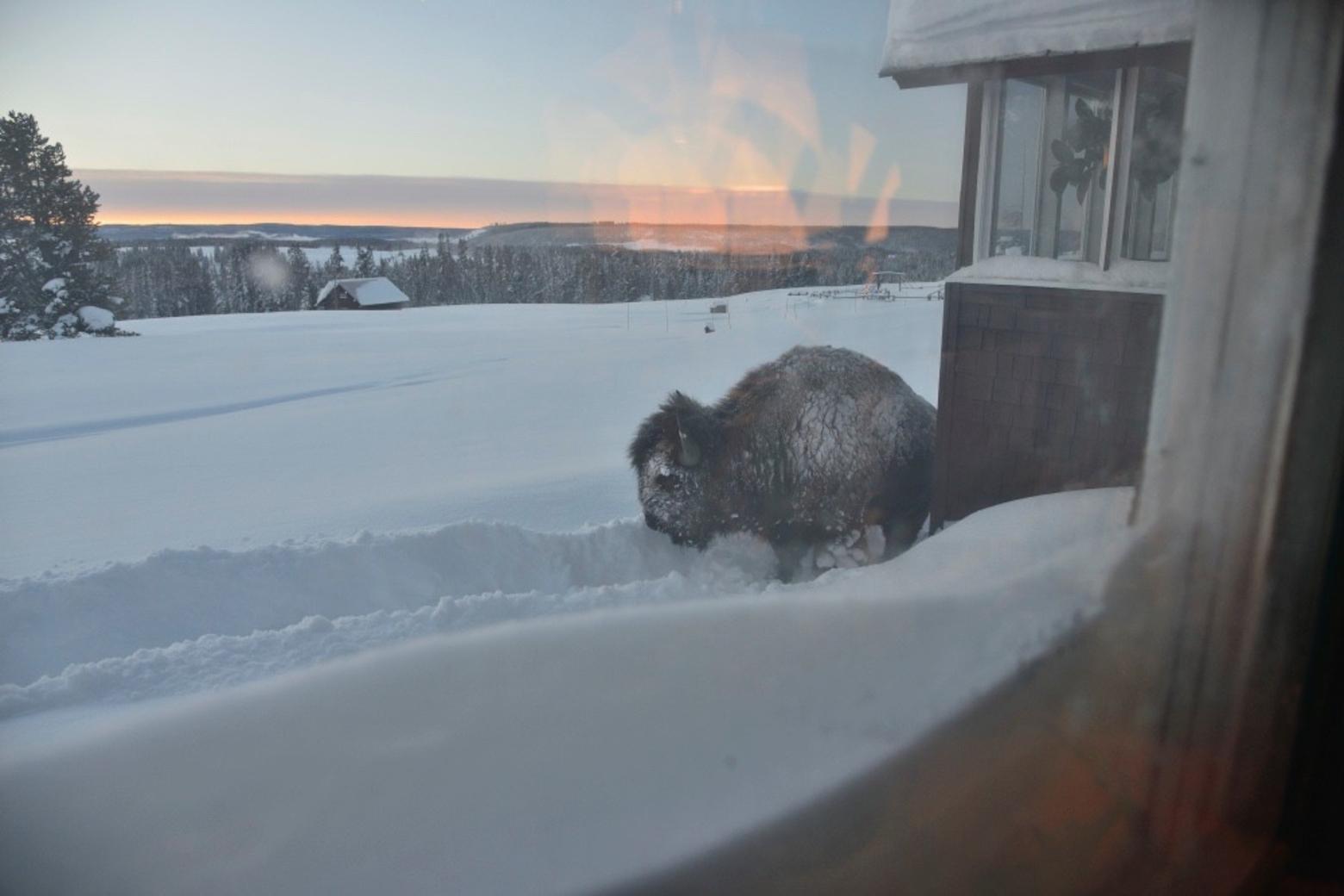 Steven Fuller observes: "Early in the winter some of the half dozen bull bison/buffalo that hang on in the meadows around the house come up right next to the house to take advantage of the summer sun dried graze that is accessible in the shallow snow shadow around the perimeter of the house, as seen through my living room windows."

Buffalo have been at home in the sunlit meadows on which my house sits since the blooming of the Holocene Spring and the greening of the central Yellowstone Plateau that followed the melting of the most recent North American glaciation 11,000 years ago.

I have had the pleasure of living in some degree of intimacy with buffalo these past 45 years and without exception I have found them to be most tolerant and agreeable neighbors. I respect their bubble of space and read their body language which is the means by which they communicate with their own kind as well as with us alien species. We have enjoyed a congenial, convivial relationship during my brief tenure here.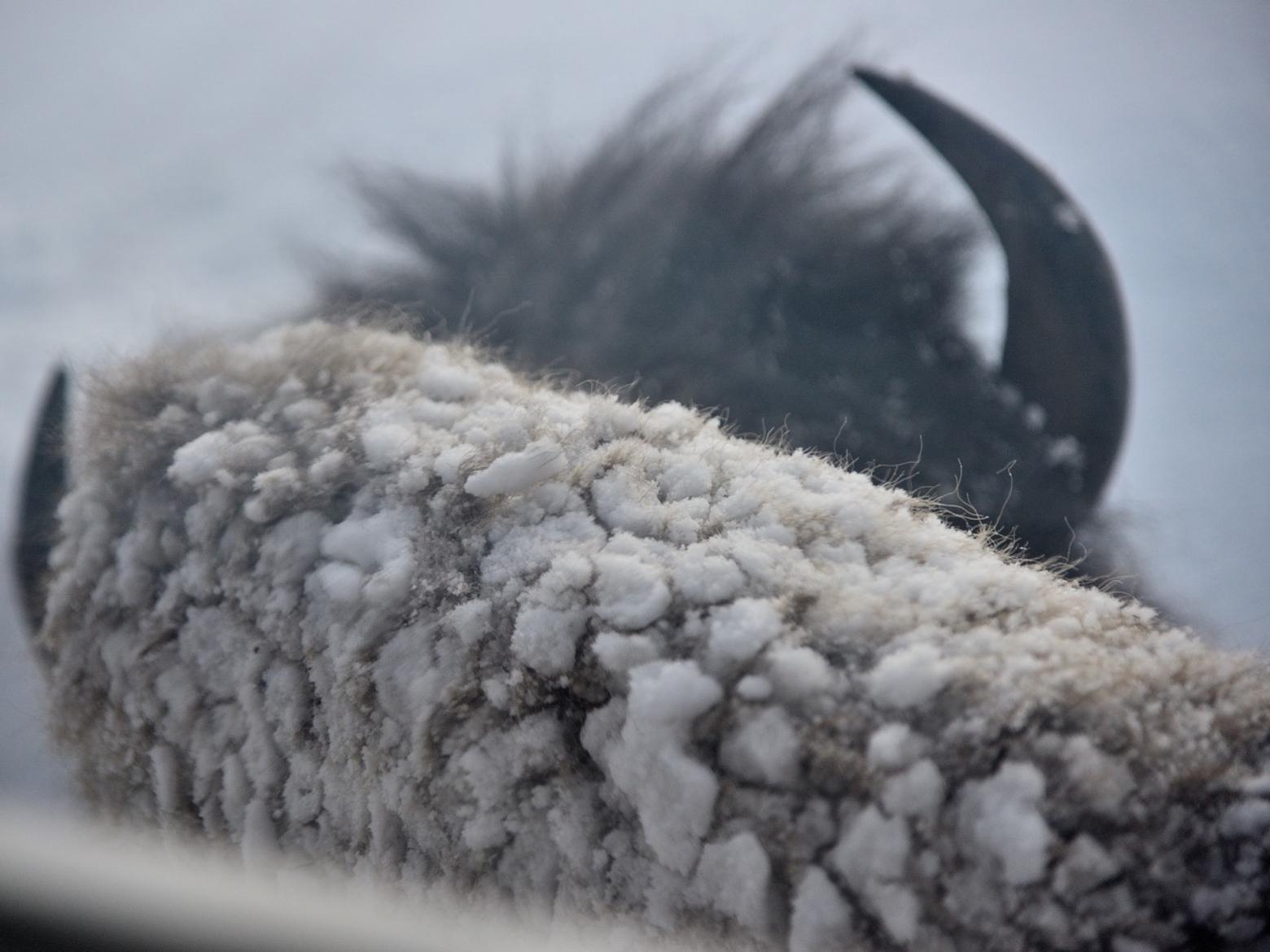 "Recently, as I was grinding my morning coffee beans in the kitchen, my cats indicated that there was a being of interest directly below the windows on our enclosed front porch," Fuller shares. "Pressing my face against the glass I saw, then could hear this bull grazing directly below me. Occasionally his horn bumped the exterior wall of the house below my feet. But for the window glass I could have reached out and touched his back." Photo by Steven Fuller

The American bison survived specicide by a whisker and Yellowstone, only by its isolation, was a last refuge. But like all of the creation, in this narcissistic anthropocentric end of times in which we find ourselves (know it or not), all beings and places survive only by our benefice. All things, secular and holy, are monetized, tis the only criteria of value. So deconstruction of the Creation is deductible from our bottom line. Mammon is our idol.

And so, bison are anathema around the perimeter of the park to the traditional livestock interests "bar room vs. science biology" as well as to the wealthy urban newcomers who are fearful of the nature they have come to enjoy.

Unfortunately, few visitors to Yellowstone speak "Buffalo" and so what we got here is a failure to communicate with the result that more park visitors are injured by bison than by any other animal.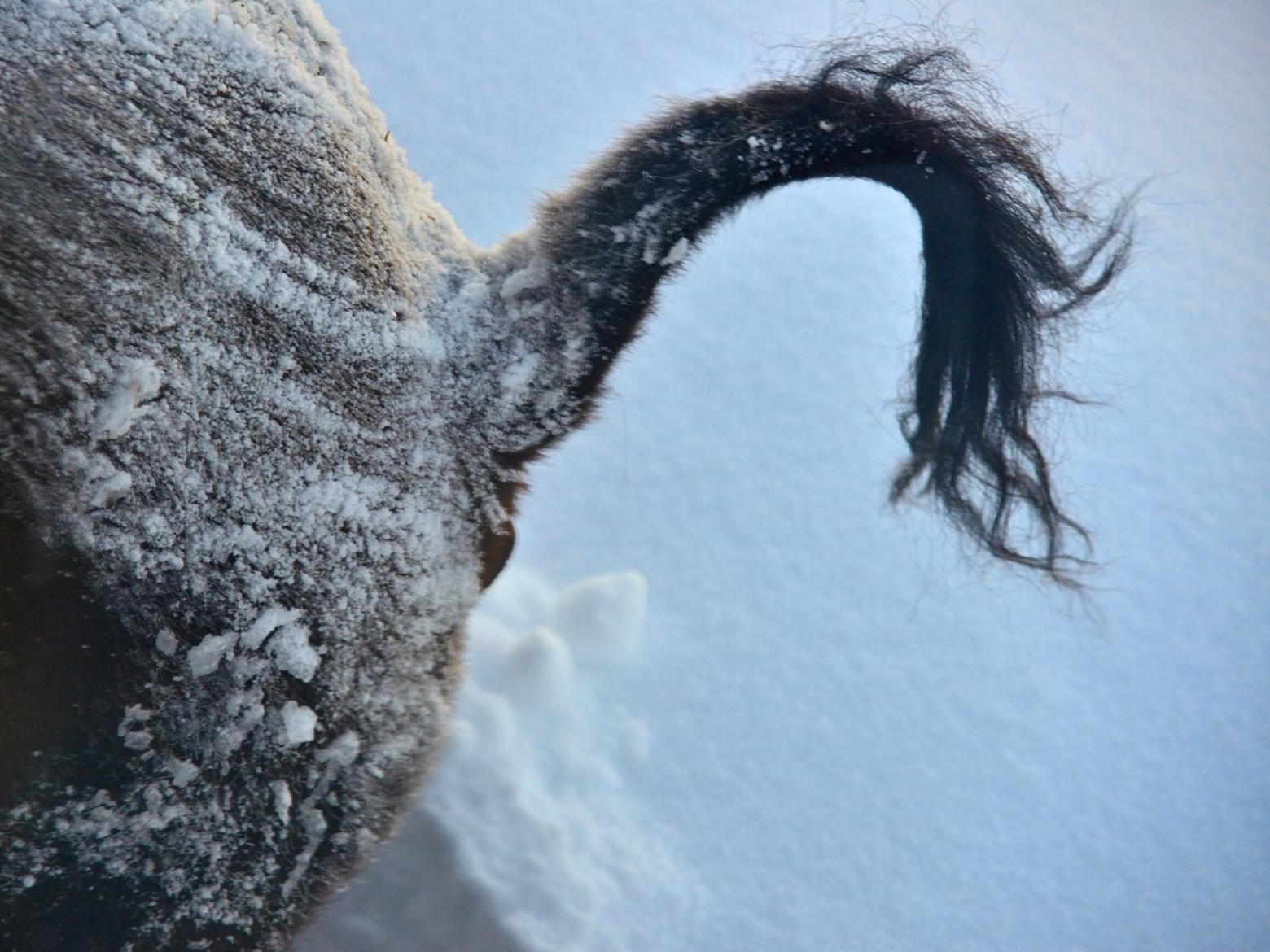 "Tails are wonderful appendages," Fuller offers. "They are signal flags that communicate an animal's state of mind and a fly whisk to protect vulnerable portals. Pity we have lost ours but for the vestige coccyx, which has no independent wag left in it. Since wolves were re-introduced buffalo with only a stub of tail are a not an unusual sight…I presume they lost their tails when they were young to raw jerky stick loving wolves that enjoyed the sport of snatching tails…capture the flag!."

Visitors quite naturally are thrilled by the sight of this archetypal animal who in summer is usually day bedded in a dust wallow, chewing cud and, swishing tail to discourage annoying insects. But, exuberant visitors inevitably mimic a Paleolithic hunting party as they surround the poor beast in search of their perfect selfie. And so, some naive souls end up horn tossed into a tree or onto a distant spot in the dirt, sometimes having had their groin impaled upon a very large horn.

Buffalo live in the moment, their concerns and the current state of their minds at the moment. When we do not understand their communications they may flee or they may boil up emotionally at our ignorance, and severely punish us for our lack of understanding, or in their view, for our bad manners.

The American poet John G. Neihardt's published "Black Elk Speaks" in 1932. It is the story of a Lakota Sioux who as a boy followed the buffalo with his people and as an old man sequestered to a reservation wearing trousers, eating corn meal and slow elk.

Black Elk, through Neihardt, spoke of the winged people (birds) and the buffalo people…and of the other beings who share the creation. Literal anthropological authenticity be damned, the poetry of the book illuminates an alternate reality and reveals some of the hollow places within us.

Speaking as a west European descended American male I have long felt that our relationship with the buffalo is a touch-stone for a useful self examination of ourselves as a people. a meditation if you please, for retrospection on our larger relationship with this bountiful America of purple mountains and amber fields of grain, this richly endowed continent that we have consistently abused and raped, with occasional gestures to preserve and protect small surviving fragments of an expropriated endowment.

The buffalo people are a useful touchstone for this self examination. That famous notorious photographed mountain of buffalo skulls, let alone countless undocumented pyramids of skulls… "Alas, you poor Yoricks! We never knew you well" and we killed your millions casually, without comprehension or care.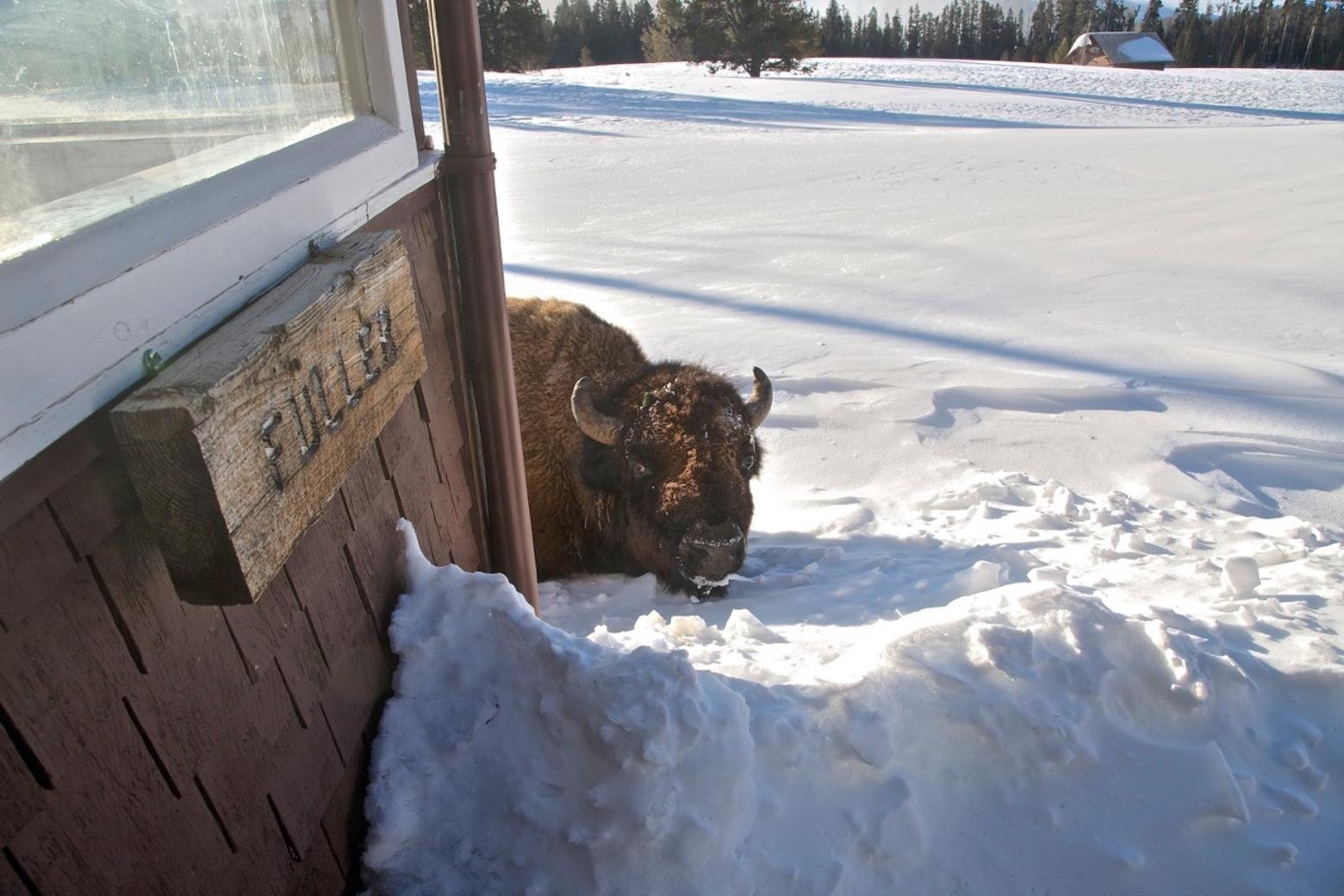 "One of several bulls that spend much of the year, often within sight of the house, and sometimes within a few yards of the door. This bull and I have known each other, that I am aware of, for four years now. He might dispute this and say it has been six or eight years and certainly he would be the more knowledgeable," Fuller says.
Related Stories
September 18, 2017
What's In A Yellowstone Place Name? A Man Of Infamy, It Turns Out
Mountain Journal columnist Jesse Logan says Army Col. John Gibbon, who has a river and meadow named after him in Yellowstone...
January 14, 2018
The Hayden: Yellowstone's Great Sensuous Valley
For winterkeeper Steven Fuller, this vast vale in the middle of America's first national park always delivers geographic center
November 16, 2017

Chronic Wasting Disease Strikes Montana And Continues Its March On Yellowstone
Part 3 in Mountain Journal's ongoing series on Chronic Wasting Disease. With ultra-deadly CWD now in Montana wildlife for first time,...