Back to Stories
October 27, 2022
Why 'Yellowstone' Rancher John Dutton Says 'Progress' Is Destroying The Wild Rural WestThe only way Greater Yellowstone, America's most iconic wildlife ecosystem, stands a chance of being saved is if there's a game plan. Glaringly, none now exists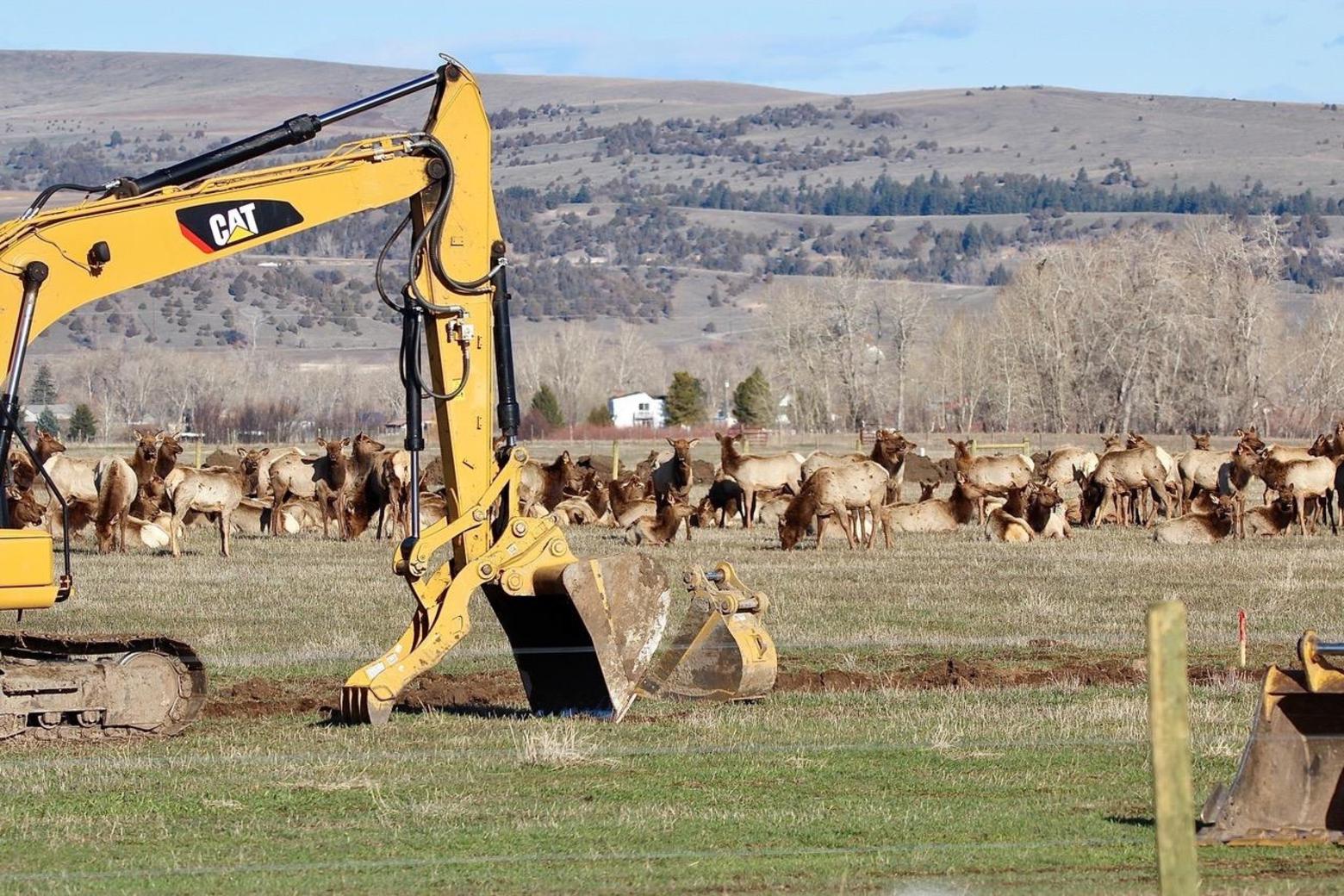 The so-called "balance" between private land development and conservation is landing hard on some of America's most famous wildlife populations in the Greater Yellowstone Ecosystem. And, for the most part, scientists say, leaders on many fronts are failing to prevent it from happening. Photo of elk and their habitat being impacted by development in Montana's Gallatin Valley near Bozeman by Holly Pippel.
by Todd Wilkinson
In Taylor Sheridan's modern Western melodrama
Yellowstone
, fictionally set in Paradise Valley, Montana, the biggest environmental villains are not miners, loggers or wolf-loathing ranchers, but developers backed by capital investors from New York City.
Smugly regarding local elected officials and land-use planners as bumpkins in the backwater, real estate raiders know they can make a financial killing by gobbling up parcels—and they believe ranchers and citizens, for that matter, will sell their souls and heritage for the right price.
In Yellowstone, the ambition of the corporate masters of the universe is to shamelessly build a Big Sky-like destination resort literally on the front doorstep of Yellowstone National Park.
There is, of course, a complication.
° ° ° °
While we often hear our neighbors express shock at the pace of construction and new structures going up daily in Greater Yellowstone, the transformation, demographers say, is merely a prelude for what is yet to come based on the present trajectory. Thousands upon thousands of undeveloped private lots, invisible to uninformed passersby, exist on what realtors describe as "raw" and "vacant" open space. A visual jolt will be realized, planning experts note, when infill happens on tracts already subdivided though not yet developed—and then there is no going back.
Of course, the rural land being gobbled up is hardly vacant; it is both a home and highway for Greater Yellowstone's four-legged denizens that people from around the world come to see. The unparalleled ecological richness of Greater Yellowstone, as expressed by the presence of its wildlife in this region, is in danger. Places most vulnerable are Bozeman/Gallatin County; Jackson Hole, Wyoming/Teton Valley, Idaho; Big Sky/Ennis/Madison Valley, Montana; Island Park, Idaho; the North Fork of the Shoshone River west of Cody, Wyoming; Carbon County and Red Lodge, Montana set at the foot of the Beartooths; and the Hoback Junction, Star Valley/Afton and Pinedale areas south of Jackson Hole.
Since at least the 1990s, as we shall see, those groups whom the public expects to care most about the future of Greater Yellowstone have been cognizant of a burgeoning growth problem.
A global marvel, Greater Yellowstone is the only bioregion left in the 48 that still has all of its original species which were present on the land here in 1491, the year before Europeans arrived on the continent. Animals such as wild bison, grizzly bears, mountain lions and wolves, elk, pronghorn, mule deer and moose, wolverines, an array of raptors and other avians, and critically imperiled black-footed ferrets—all brought back from the very brink by earlier, deliberate conservation efforts.
What spared Greater Yellowstone in the past was its relatively small human population, the large number of farms and ranches and its geographic remoteness (it was considered part of the boondock flyover). But improved airports and expanded air service, along with the fact that people now can live anywhere in the world and still be connected to the workplace—have been game changers.
It is the conclusion of many experts that Greater Yellowstone's special status on Earth is at a pivotal juncture. It can only be saved, they say, if elected officials, public land managers and environmentalists step up their efforts and consciously avoid repeating mistakes that have occurred in the rest of the country. Rhetoric must be met with decisive action, for only courageous, bold visionary thinking will spare Greater Yellowstone from what some have dubbed "the fate of elsewhere."
Yet every day, and indisputably, the private-lands fabric of Greater Yellowstone is being lashed by what former Yellowstone science chief Dave Hallac describes as the ecosystem's "death by 10,000 scratches." From new subdivisions to busier recreation trails, from highway wildlife roadkill to animals being displaced from vital terrain, the fraying is relentless and picking up speed. The science is clear: what happens on 6 million acres of private land in Greater Yellowstone can devastate or impair the ecological function of 18 million acres of public land adjacent to it; understanding this, in fact, is the modern cornerstone of true ecosystem thinking, of which Greater Yellowstone is held up as a paragon.
° ° ° °
When it comes to weak land-use planning—and little zoning with teeth—the collective might of the environmental movement has been missing in action in trying to correct it, its leaders turning evasive or defensive when pressed to explain why. Indeed, try to remember the last time you read a story about a prominent regional or national conservation organization tackling planning and zoning issues with any tenacity in Greater Yellowstone.
Often, leaders of some conservation organizations involved with consensus and collaboration go out of their way to avoid using the word "zoning" because they claim it is taboo and might upset people they work with, but, as the scientific study of elk habitat mentioned above illuminates, it does not diminish the need for zoning. Running away from talk of zoning has been tried for decades and made conservation problems worse, not better.
If professional conservation advocates who often boast of their political influence aren't being vigilant and outspoken in highlighting the ecological costs of development occurring in Greater Yellowstone right before our eyes, then it seems fair for citizens to reasonably wonder: If environmental, conservation, hunting and fishing groups aren't in the lead confronting this prolific threat to wildlife health, then who should be?
There is no proof to support these contentions; in fact, there is plenty of evidence piling up to refute it. Believing that we in Greater Yellowstone can somehow buck well-established development trends that have become deeply cemented into other landscapes where growth overwhelmed wildlife and its habitat is at best foolhardy, if not myopic and willfully ignorant. This is what the late Michael Soule, pioneer of modern conservation biology, told me in the years before he passed.
Today, billions of public and private dollars are being spent in other regions to retroactively "re-wild," i.e.: trying to restore species and landscape health to places where both are in triage. In the Pacific Northwest, billions have been expended attempting to retrofit dams to make them again conducive to salmon and steelhead spawning as an alternative to removing the fish-annihilating barriers. In Southern California, upwards of $100 million will be spent to erect a wildlife overpass across a freeway to keep viable the movements of a relatively small number of cougars.
Wildlife crossings are being installed in many states and Wyoming, to its credit, has been a leader. In east-central Montana, the American Prairie Reserve laudably is raising hundreds of millions of dollars to re-establish, over local resistance, long-lost prairie species, anchored by bison, reaching one day 3.2 million acres of private and public land. In Florida, billions are being spent trying to restore the broken hydrological function of the Everglades, but most write that off as an impossible task in light of population pressure and the disruption that already has occurred. This doesn't even include the added challenges and costs of climate change.
Greater Yellowstone is what the Pacific Northwest, Southern California, the American Prairie Reserve, and Florida all dream of recovering in terms of their full healthy complement of wildlife diversity—and it is a sighing Anthropocene reminder of what most regions will never be able to re-achieve.
° ° ° °
One example of the problem of anti-science and ecological illiteracy, observers say, was recently demonstrated in Helena, Montana, the state capital, and it involved one of Montana's top elected legal officials, Attorney General Austin Knudsen. Knudsen is a member of the Montana Land Board which approves proposals made by the Montana Department of Fish, Wildlife and Parks to acquire vital habitat for wildlife and lands for outdoor recreation.
Another expression of Knudsen-like thinking appeared recently in the southern reaches of Greater Yellowstone, in the Upper Green River Valley located along the eastern slopes of the Wind River Mountains. The Upper Green and Red Desert are home to a world-famous migratory herd of mule deer and provide key habitat for pronghorn, elk and imperiled Greater Sage-Grouse, among other species.
Bousman, also a rancher, said that rules designed to protect wildlife migration routes should not apply to private land, a position that reflects a prevailing attitude that nonregulatory methods are adequate to prevent ancient animal corridors from being erased.
Knudsen's and Bousman's mentality also are illustrations of Greater Yellowstone's death by 10,000 scratches. In his report, Koshmrl referred to a conversation with a citizen concerned about private-land development and the corridors not being treated as inviolate; "Meantime, Sublette County wildlife advocates are lamenting what they see as a series of defeats," Koshmrl wrote. "Bondurant resident Dan Bailey said the commissioners' approval of the therapy center, in defiance of their planning and zoning board's recommendation, was a 'tragedy.' "It's blind to think our development is not going to have a huge impact," Bailey said. "We're going to lose what's special about Wyoming unless we wake up."
Greater Yellowstone has one of the largest per-capita concentrations of paid environmental and conservation work forces in the world. Ironically, one of the biggest enablers of fragmented thinking is Greater Yellowstone's conservation movement. There are lots of groups out there but no critical mass of them coming together in a cohesive effort to confront private-land sprawl. Except for a handful of local green voices, no major national or regional conservation organization is calling out the huge incremental negative impacts of private-land development nor of rising outdoor recreation pressure on public lands.
Yellowstone and Grand Teton national parks, as well as the region's wildlife and the multi-billion-dollar nature-based economy wouldn't exist today, he says, if earlier iterations of conservationists had not pushed politicians and public-land managers like him out of their comfort zones and forced them to think beyond the narrow interest of their own time. "At several points in my career, I was grateful when conservationists sued me and my agency [the National Park Service] to force us to comply with the law when members of Congress and the industries that got them elected didn't want us to be vigilant. I didn't think those groups were being litigious or radical. They made me do my job better on behalf of citizens and the winner was the resource."
Today, no one regrets the vigilant efforts of those conservation-minded ancestors who staked out what were, in their day, unpopular positions among their contemporaries. Is it radical insisting that steps be taken to hold the line in safeguarding a world-class wildlife ecosystem? Indeed, those earlier advocates, Finley said, held the line. They said no to damming the Yellowstone River and treating forests as tree farms; they opposed mines and oil and gas developments proposed in many of the region's most spectacular settings; they refused to allow grizzly bears and bison to disappear; and they advocated for tougher laws and went to court to insure public-land managers and proposed resource extraction projects brought by private companies adhered to environmental codes created in the public interest. They also said yes to defending the highest quality of lands that qualify as wilderness. In Greater Yellowstone, wildness is an expression of the kind of terrain where a diversity of wild species can still thrive.
While a handful of local groups today are raising alarm about growth and development trends, many of the most prominent regional and national groups that have offices in Greater Yellowstone are conspicuously absent when it comes to perhaps the singular issue—planning and zoning—that is most crucial to the ecological health of Greater Yellowstone's wildlife on private and public lands.
What kind of conservation is it in Greater Yellowstone if wildlife conservation is subordinated or becomes a casualty to human thinking that expects wildlife, whether from each new subdivision or constant compromise, to steadily be squeezed into smaller areas? "That's not the kind of conservation I believe in," Finley said.
° ° ° °
Once upon a time, as you'll read below, the Greater Yellowstone Coalition was in the vanguard of touting the importance of private lands and it was out front in its advocacy of wildlife. It pulled no punches in holding public land managers and resource extraction industries to account but mystifyingly, in recent years, it has not applied the same level of scrutiny to land use planning and the tentacles of the outdoor recreation industry.
A quarter-century ago, GYC played a key leadership role in working with local grassroots groups which were part of a network—e.g.: coalition—to monitor planning decisions in some of Greater Yellowstone's 20 counties. That no longer happens, GYC's critics, including Finley, say, and its absence couldn't be occurring at a worse time.
GYC, founded in 1983, has grown to become a juggernaut; it has a staff of 30 people and a multi-million-dollar annual budget, but it has largely taken a hands-off approach to dealing with the ballooning human footprint on private lands. At best, its scrutiny of development trends has been piecemeal and inconsistent. For example, GYC challenged a controversial glampground proposed for the Gallatin River but there was little outcry about other developments that line rivers.
Consensus and collaboration is a concept based upon the virtuous premise that it is always good to begin discussion of contentious issues by bringing people together around shared values, talking and listening to each other and developing trust in a search for compromise. Consensus and collaboration has a nice ring to it and employs a vocabulary of vague, sanguine-sounding terms like "conservation," "sustainability," "balance," "stakeholders," "equity," and "shared values and spaces" that quickly lose their meaning when they are applied to what's really in it for wildlife that has already given up so much.
Look no further than Bozeman and what's occurring now to the famous Gallatin elk herd that, long before settlers arrived, used the Gallatin Valley as a destination and pass-thru for seasonal movement to lower elevation habitat essential for enduring winters.
Right now, if you drive southward from Bozeman toward the Gallatin Mountains, you may see bands of elk moving through a tightening labyrinth of scattershot sprawl. Stressed wapiti must dodge subdivisions, traffic and fenced properties. Mothers and calves, sometimes exhausted, lay down to catch their breaths in ag lands being rapidly converted to homes and condos.
Farmers and ranchers are as imperiled as elk and other species.
One might think that in Bozeman, the capital city of the greatest wildlife ecosystem in the West, GYC and the national groups based there would be overtly present vocally and vigilantly scrutinizing land-use planning decisions.
You might think, as advocacy organizations, they would be pressuring city, county and public-land officials to create one of the most foresighted land-use plans in America for dealing with the cumulative effects of growth on a world-class wildlife setting. And one might think they would be among the groups out front educating the public.
If conservationists aren't setting an example worthy of emulation in their own backyard, then what hope is there for saving other valleys? A parallel scenario to elk in the Gallatin Valley and Colorado exists for moose, wapiti and grizzly bears in southern reaches of Jackson Hole where traditional ranches are being developed, some under the dubious ruse that greenlighting more luxury homes and providing a token number of affordable housing units will fix both the unfordable housing crisis and absence of enough long-term affordable rentals.
There are rumblings that legislative efforts may be advanced in Congress to divest federal public land to create more room for private-land development and affordable housing in mountain towns, but there is no proof it would work in Greater Yellowstone and beyond. Certainly, not without huge ecological cost. Such a precedent, experts say, would only exacerbate disruptive impacts on wildlife already reeling from the bulge of people, homes, recreation trails and monetization of the backcountry.
As one county commissioner in one of Greater Yellowstone's highest-growth counties told me: "There's little evidence the free market, which is always seeking to weaken regulations, helps alleviate the imbalance of affordable housing, especially when new hotels and businesses requiring workers are being built and there's no requirement for those businesses to provide housing for their employees. The prevailing evidence is that, at any density, the free market primarily serves wealthy retirees, second homeowners who spend only a few months in their places and highly paid remote workers who are tied to the global economy."
Moreover, many important things in wildlife and land conservation do not "make economic sense" from purely a market perspective. If conservation had to justify itself on economics, many imperiled species would never have been brought back from the brink. And as a cautionary rebuttal to PERC's position, think of it this way. In 1975, when grizzlies were given federal protection, the states looked upon bears as mostly economic liabilities, not great assets. Economists stand accused of "knowing the price of everything but the intrinsic value of nothing." The notion that preservation is valid only if the public is willing to pay for it has fueled efforts to monetize as many "natural resources" as possible—including the rise of industrial outdoor recreation— which has led to negative consequences for nature.
Consider: Greater Yellowstone today yields billions annually in nature-tourism dollars and grizzly bear watching is a big part of the attraction. Grizzly recovery in Greater Yellowstone would not have happened without public lands, environmental regulations and a nearly 50-year ban on sport hunting. In 1975, bears might not have been listed under the Endangered Species Act if, in those years, lawmakers had adopted PERC's reasoning that wildlife worth recovering are animals that represent little liability. Going forward, experts say, the bear recovery story on both public and private lands, which has been touted as one of the greatest wildlife conservation successes in history, could be hampered mightily if exurban sprawl is not addressed.
So, let us return to the question: If major regional and national conservation groups aren't tenaciously involved in planning and zoning issues, doing it to protect wildlife and wildlands, then who should be filling the void? If groups aren't pressuring agencies like the U.S. Forest Service to acknowledge how private-land development is impairing its ability and legal responsibility to conserve species, then who?
Calling out the conservation movement is not a condemnation or a blame game; rather it is a statement of truth and immediacy, based upon evidence of what's happening or not happening on the ground. Doling out of tough love—that conservationists and those who fund the groups—but do better and even more, says Finley, who served on the GYC board.
Back in the 1990s, GYC produced a document titled "Blueprint for the Future," informed by the thinking of prominent landscape conservationists. They identified private-land protection as being pivotal to the persistence of wildlife. This was years before Blueprint's conclusion came to be corroborated by recent development trends and the growing mound of scientific evidence related to climate change—both of which underscore the need to preserve the largest healthiest habitat that still remains.
GYC's Blueprint also noted that conservationists needed to be closely involved with watchdogging land-use planning—and advocating for countywide zoning—in Greater Yellowstone's 20 counties. Zoning, GYC noted, allows counties to grow in a predictable and organized way instead of helter-skelter. GYC itself noted that conservationists need to pay close attention to new developments being proposed, attending planning and government meetings and being informed to ask good questions to make sure ecological impacts are acknowledged. Most of all, GYC called for identifying the best habitat local governments and adjacent public-land managers need to protect on behalf of their wildlife and clean water-loving constituents. It also meant having a robust presence in state capitals. GYC has been a major advocate of the Montana Headwaters Legacy Protection Act, sponsored by U.S. Sen. Jon Tester (D-Mont.), to protect 377 miles of the Gallatin, Madison and Smith rivers, which are actually under less threat than the private land valleys they flow through.
An anecdote worth mentioning here is that, in the 1990s, when Gallatin and Madison counties in Montana held public hearings on proposals to build the ultra-exclusive Yellowstone Club and the neighboring Spanish Peaks gated communities in Big Sky, just one conservationist showed up. Dennis Glick, a private-land conservation specialist who had authored the Blueprint for GYC testified about concerns relating to wildlife habitat, water-quality issues and what would become soaring costs of services.
As Glick and Finley say today, of any group in the Greater Yellowstone Ecosystem, given its name and large human and financial resources, GYC ought to be putting as much effort into planning and zoning to protect wildlife as it does into its soft conservation efforts—including its advocacy for industrial strength outdoor recreation.
Just a few local groups—Park County Environmental Council and Friends of Park County in Montana; Valley Advocates for Responsible Development in Teton County, Idaho; and the Jackson Hole Conservation Alliance—are involved in vigorous hands-on, day-to-day scrutiny of county land-use planning issues where the most important decisions shaping the future of the ecosystem are being made.
Those to dozen former GYC founders, board members and staff say GYC should be rising to the meet the threats of private-land development. Not incidentally, roughly half of the people I spoke with were women and the other half men. The organization of old, they said, represents a stark contrast from what it has become today. Among the prominent individuals who voiced a vote of no confidence in GYC are Mike Clark, who served as GYC's executive director on two different occasions, including its successful campaign to stop the New World Mine from being built near Yellowstone; Thomas McNamee of Livingston, Montana, a noted author who served as GYC's board chair; and Finley. All of them have had conversations with either GYC's staff leadership or members of its board.
Had the Duck Creek decision been left to a consensus and collaboration process between conservationists, the developer and Gallatin County, some part of the residential development would likely be on the landscape today and it would have set a precedent for approving other development nearby leaving the corridor severely impacted.
° ° ° °
Land trusts of various kinds are doing their heroic best to secure conservation easements from willing ranchers and farmers but because of limited funds and the volunteer nature of their relationships with individual landowners, adoption of easements is not keeping pace with what needs to be protected, resulting in a net loss of landscape function. Some easements, due to lax and poor planning from counties, have turned into islands of protected space surrounded by sprawl and possessing diminished value for migratory wildlife.
Sarche's story was prompted by a pamphlet published by, yes, the Greater Yellowstone Coalition under the supervision of Glick. He said then that uncontrolled or poorly managed growth would ruin the essence of the region. "We've got people coming here to enjoy the quality of life, but when they get here, because of sort of the lack of planning, there's a good chance that they will actually degrade that quality of life by where they build their homes and the other associated development that they need," he said. Zoning was mentioned as one of the urgent measures badly needed.
"If all these people were moving close to town, that's one thing. What we see a lot of is a lot of people that want their five, 10 or 20 acres. They want to be out in the country or next to the national forests, which happens to be in the elk winter range," Glick told Sarche. "Now the pattern is very environmentally destructive and fiscally very destructive." Glick was one of the pioneering promotors of consensus and collaboration in Greater Yellowstone. Now, three-and-a-half decades later, that style of public engagement has proved to be inadequate in getting private land protected, and crucial time to act has been squandered.
If people were all alarmed then, what about today when the regional human population has tripled and our footprint has expanded several times over?
helped orchestrate one of GYC's most notable victories in the 1990s: halting a Canadian company from building the massive New World gold mine just off the northeast corner of Yellowstone. GYC made such a compelling case about its threat to the integrity of the ecosystem and America's mother national park that it attracted intervention from a U.S. president to stop it. Clark says that, right now, exurban sprawl is exacting a toll in every high-growth valley as serious to New World and with a permanent imprint that will only expand and expand.
Professional land-use planner Lee Nellis, who has advised a number of counties over the years, co-authored the GYC pamphlet with Glick in 1997. Time and again, Nellis said in a recent interview, consensus and collaboration faltered in addressing private-land issues. The most effective strategic tool, which can provide incentive rewards to property owners, give counties predicability they don't have now, benefit wildlife and help keep ranchers and farmers on the landscape, is zoning.
"The problem has to be very visible before people change their longtime way of doing business and before they're willing to do something about it," Nellis said 35 years ago. "One of the most important things about the tools listed is that none of them will help you very much if you don't have clear goals. But only a handful of jurisdictions in the area have gone beyond saying, 'Oh my gosh, this is happening,' to having a set of clear goals."
Again, that was in 1997. Today, there are no clear goals being promoted or embraced that flow across jurisdictional boundaries, and no conservation group or government entity is leading the charge for a regionwide vision. I recently spoke with a current GYC board member who said the organization acknowledges land-use planning is an "important emerging issue."
The epic problems gripping Bozeman/Gallatin County, Jackson/Teton County, Wyoming, and Big Sky ought to provide a stark wake-up call to the good residents and planners of Livingston/Paradise Valley, Ennis/Madison Valley, and Victor/Driggs/Teton Valley, Idaho. In the latter, Grand Targhee Resort is seeking to expand its operation on land managed by the Caribou Targhee National Forest saddled in the west side of the Tetons. What will happen to that crucial biological corner of the ecosystem if Grand Targhee's expansion, coupled with sprawl sweeping along the stretch of Driggs-Victor-Tetonia morphs into another version of Big Sky?
The net effect, Nellis told me, is certain to spur more growth and hasten construction of more trophy homes, which engulf even more acreage and often are built at the edge of forests and along the rivers. The commercial airfields in Bozeman and Jackson Hole (the latter located inside the boundary of Grand Teton National Park) are already, by far, the busiest airports in their states and will be busier.
How will we—those of us who live in Greater Yellowstone or relish visiting here because of its wildlife—look back upon these crucial years in a region that stands apart not only in the Lower 48 but on the planet?
"If it's true that GYC has decided not to place an emphasis on growth-management issues, that has me scratching my head," says Don Bachmann, former associate program director at GYC. "It means they are ignoring the most significant, immediate threat to the well-being of the Greater Yellowstone Ecosystem." He noted that the organization must do more than just pay lip service to growth issues. The history of the conservation movement's success in Greater Yellowstone, Bachmann added, is one of rallying the public behind ambitious, inspiring proposals for land and wildlife preservation, not of letting politicians, meek land managers, profiteers or others hostile to the environment set the agenda.
Finley says consensus and collaboration, which he dubs "conservation lite," may slow the steady unraveling, but that it is futile. Wildlife migrations provide a framework for identifying the bare minimum of private ground that needs to be protected, but of equal importance is where development should not be approved.
° ° ° °
At the same event, I publicly posed a question to Mary Erickson, supervisor of the Custer Gallatin National Forest headquartered in Bozeman, who was part of a panel discussion with Jenkins and Yellowstone Superintendent Cam Sholly. I asked Erickson whether the Custer Gallatin under her command was considering the negative impacts of rapidly expanding exurban sprawl encircling three sides of the Gallatin Mountains into its management strategy. Knowing that crucial habitat for wildlife is being eviscerated, I wanted to know if the Custer Gallatin adjusted its strategy for protecting wildlife, as spelled out in its forthcoming management plan which will guide its efforts for two decades going forward.
In front of the crowd, Erickson said the Custer Gallatin is not factoring the cumulative negative impacts of subdivisions or increasing traffic, people, dogs, fences, ranchettes, yard lights, and human bustle into the challenges facing wildlife that spend part of the year on the national forest and then moves to lower ground in winter.
Erickson said it's not the purview of the national forest to critique what's happening on lands adjacent to it.
Several people afterward, including Finley, said they were astounded to hear of Erickson's response—her seeming to suggest that what happens on one side of an invisible line is not of major consequence to the other side. That is the antithesis of what land managers in the Greater Yellowstone need to be championing but, ironically, Erickson is now chair of the Greater Yellowstone Coordinating Committee that, comprised of federal land managers, is supposed to be the guiding light of ecosystem thinking.
In contrast, if a major hardrock mine were proposed on the border of a Greater Yellowstone national park or national forest, an Environmental Impact Statement would be required—and demanded from conservation organizations—to assess the negative impacts on public wildlife and things like water quality. In every major valley at the edge of Greater Yellowstone's national parks and forests, subdivisions are spreading across private land that, over time, will have a net greater negative ubiquitous effect on public wildlife than any gold mines.
° ° ° °
Yellowstone's 1974 master plan is obviously the product of a less informed era, ecologically speaking. Bears were still feeding at garbage dumps, catch-and-release fishing regulations and bans on bait fishing had yet to be implemented, wolves had not been restored, and grizzly numbers were spiraling downward.
Under a heading titled "Coordinated Planning," Yellowstone's master plan reads: "In the face of visitor projection figures, all planning for public use of national parks must give priority to the preservation and maintenance of the natural values for which each park was established. Inherent in this concept is the need for regional planning: national parks do not exist in a vacuum. The creation of a national park and its subsequent development and public use have a significant impact on the regional community. Conversely, the location, availability, and the quality of services and accommodations within the region have an effect on the park. Efforts must be intensified to upgrade coordinated planning for land and water resources within the region surrounding each park, and these efforts should involve the states, counties, municipalities, and appropriate federal agencies."
Coordinated planning across public and private boundaries is different than consensus and collaboration. Those who promoted the idea of coordinated planning envisioned an ecosystem-wide management strategy that possessed authority and was not just advisory.
Yellowstone's master plan later states, "Without coordinated planning for land and water resources within the region surrounding the park, mutual resource management problems would not be resolved and the region's collective capacity to serve the requirements of the public would not be realized. Disorganized, inefficient, and noncompatible use of the lands could result in adverse results such as visual intrusions, pollution problems, traffic congestion, resource deterioration, and similar impacts."
Today, we know a lot more about the secure habitat needs of wildlife than we did then and the pressures of death by 10,000 scratches have increased exponentially. When Yellowstone's master plan was written in 1974, there were 2 million annual visitor days notched in the park; two years ago, in 2019, Yellowstone counted 5 million. Yellowstone estimated in '74 that tourism was worth $60 million to local economies; in recent estimates, that annual number has swelled to a cumulative economic benefit of $834 million, much of that driven by visitors desiring to see wildlife.
In the 1970s, the counties encircling Yellowstone were overwhelmingly rural with few subdivisions or thousands of scattershot vacation homes located outside of gateway towns. Big Sky was then a tiny blip on the landscape with a couple hundred people. Today, according to the Big Sky Chamber of Commerce, 15,000 people a day frequent Big Sky for weeks at a time during peak seasons and the footprint of development has exploded and is a perilous place for wildlife. Bozeman's population was fewer than 20,000 in 1974. Today, Bozeman and Gallatin County are at 120,000 and within a generation that is expected to double; by the 2060s, demographers say, that could double again. In Park County in Paradise and the Shields valleys beyond Livingston, today there are over 5,000 subdivided parcels of various sizes. All this development, notably, enwraps the Gallatin Range which presently holds among the highest levels of biodiversity in the West; most of it is managed by the Custer Gallatin National Forest. And yet the supervisor of the Custer Gallatin said publicly she does not factor in those cumulative effects in pondering wildlife security on land she oversees.
Apparently, however, whoever did the computer modeling for the Forest Service did little ground-truthing. The Northern Gallatin Range is met by intensifying exurban sprawl in both the Gallatin Valley and on both sides of U.S. Interstate 90 over Bozeman Pass. Any viable corridor that the Forest Service claims to exist is shrinking fast and will not be rescued by a wildlife overpass or underpass along I-90. Meanwhile, the west side of the Bridger Range, too, contends not only with leapfrog development impairing wildlife habitat but it incurs heavy recreation pressure and unmapped "user-created" trails. A quarter century ago, wildlife researcher Dave Pac warned that private land sprawl occurring on both sides of the Bridgers was harming mule deer and habitat—and sprawl has expanded much since.
But it's not just the Custer Gallatin's attitude that is problematic. Is the Caribou Targhee National Forest considering the negative effects of private land sprawl emanating from Teton Valley and Island Park? Is it adequately scrutinizing the impacts on wildlife and the public interest if it approves a proposal from Grand Targhee Resort to expand its footprint on public land? Are the Bridger-Teton National Forest and Bureau of Land Management considering the impacts of private-land development extending from Jackson southward to Star Valley and Pinedale next to federal land?
° ° ° °
What matters is the big picture and although there are many variables related to climate change, growth is something whose affects can be directed. So, let's return to the question posed to elected officials, public-land managers, conservation leaders, outdoor recreation groups and a business community which prospers from healthy lands: what is Greater Yellowstone honestly going to look like in 20 to 30 years and what does it mean for wildlife?
Those who claim Greater Yellowstone will be better or that it's going to look and function ecologically pretty much the same are either naïve or grossly underexposed to the patterns of species loss happening in the rest of the world. Most of us know what is coming with increasing numbers of people on private and public land yet there is no cohesive strategy to deal with the influx, no clear leadership coming from the conservation community nor from government agencies.
Despite slow-moving grandiose talk of preserving wildlife migration corridors and building wildlife overpasses and underpasses, exurban development already is squeezing vital wildlife habitat in valleys beyond the national parks, meaning animals soon will be forced to use ever shrinking corridors; some may stop migrating at all. At the same time, traditional ranches are changing ownership hands and many of those ranches are vulnerable to subdivision, especially in the absence of zoning or conservation easements.
Overpasses and underpasses are revolutionary advancements, but they are no panacea if the tendrils of sprawl continue to grow on either side of a busy highway. There's never been an effective wildlife crossing built over a large subdivision. Moreover, will those wildlife crossings accommodate a flow of healthy wildlife populations or mere remnant trickles, comprised of habituated, half-wild animals specially adapted to roaming the suburbs?
In fact, there are thousands of homes already built or going up at the edge of valleys all around Greater Yellowstone, located in what's called the "wildland-urban interface." Not only are those structures vulnerable to fires—with risks similar to homes built in flood plains or coastal areas likely to be damaged from rising water—but the WUI provides essential transitional "edge" habitat between public and private lands that is among the highest value for wildlife.
Half of the U.S. Forest Service's national annual budget is spent on fighting wildfires to protect private homes, most of it burned up along national forest borders. Firefighting costs, which would be reduced if fewer people built dream homes on the edge of forests, are now diverting away crucial funds that otherwise would go to wildlife research, and putting more personnel into the field to better manage resources. That includes having enough people available to address a huge and growing problem of user-created recreation trails in national forests, including wheeled recreationists illegally trespassing in wilderness and wilderness study areas with little enforcement coming from the Forest Service.
From Bozeman to Gardiner, Montana, on the front doorstep of Yellowstone Park, and in Jackson Hole, Teton Valley, Big Sky and enclaves close by, adequate "affordable housing" for essential professionals and employees, vital to keeping those communities and businesses operating, does not exist. There is scant evidence to suggest the free market, led by anti-regulatory zealots who fight county zoning, will move these communities appreciably closer to closing the gap.
If it hasn't happened already, and if it doesn't involve government mandates and subsidies, the problem of affordable housing in attractive mountain communities like those in Greater Yellowstone never will be solved. The free market has not only fueled sprawl that is destroying wildlife habitat and views, led to soaring firefighting costs to the Forest Service and rising service-related taxes for citizens, it continues to displace working-class human beings at a far faster rate than meager amounts of "affordable housing" are being added. Fascinating is how so many self-avowed free marketers who espouse freedom, liberty and property rights reside in gated communities or subdivisions where there are strict covenants spelling out what residents can and cannot do in order to protect property values. How is that not a form of zoning?
Regarding private property rights, what kind of personal freedom and liberty worth having would lead to sacrificing the integrity of the most iconic wildlife ecosystem in America? In Gallatin County, as a result of weak land-use planning and free-market forces, the 15-mile drive south from Belgrade to Four Corners on Jackrabbit Lane/U.S. Highway 191 has been called by proponents of smart growth, "one of the ugliest strips of development in Montana." Big Sky is the glaring case study for what happens when a mostly uncoordinated, free-market, laissez-faire approach to planning on private land is carried out with little foresighted deference given to wildlife, sewer, water and wildfire concerns.
Apart from the above, what are some of the biggest obstacles to achieving possible durable solutions? Answer: state legislatures and other officials—again, read Montana Attorney General Austin Knudsen's comments above—have continuously hamstrung any hope of saving the natural essence of Greater Yellowstone. State representatives and senators have passed bills, signed into law by governors, that make it extremely difficult for local counties to enact countywide zoning. Undermining the very foundation of democratic principles relating to local control, they also will not allow citizens in Bozeman and Gallatin County, for example, to go to the ballot and approve taxes that would be imposed on millions of people who come to the region each year and use local services and infrastructure. Legislators will not consider a real estate transfer tax—really, a land consumption tax—that would be paid mostly by those who can afford to live and build here.
Such tax dollars could be used to provide much needed economic rewards to farmers, ranchers and other landowners for protecting key habitat and open space, thereby reducing temptation to sell their land to developers. The revenue could be applied to incentivize affordable housing and be directed toward maintenance of existing city and county infrastructure and enabling reductions in property taxes that are hitting working families hard.
"The question is what you do and who you are. I'll tell you the land's only hope is for them [developers] to be a steward. The ugly truth is they want the land, and if they get it, it will never look like our land again. That's progress in today's terms. So, if it's progress you seek, don't vote for me. I am the opposite of progress. I'm the wall that it bashes against. And I will not be the one who breaks." —A soliloquy by fictional ranch patriarch John Dutton in the TV show Yellowstone as he announced a run to be governor of Montana
Without a course correction soon, what will people be saying in 30 years? That's easy and it will likely go something like this: As our local elected officials, public-land managers and conservation groups in high-growth areas of the Greater Yellowstone Ecosystem slept, or became defensive and made excuses for not saying what needed to be stated or taking action, the character of Greater Yellowstone turned into Colorado.
Almost imperceptibly at first, wildness vanished, and then with the arrival of those Covid years and the twin inundation of new development and visitors, futile half-hearted measures were tried too late and failed. Those in the future will wonder why people didn't act sooner?
They can't claim they didn't see the crises coming or that they were powerless. In one of the last discussions I had with him, Rick Reese said they're not acting now because they've convinced themselves that being bold and visionary will impair their chances of being re-elected, or that it might, if they work in government, anger a superior and jeopardize their promotion and retirement prospects, or, in the case of conservation groups, they fear it might hurt their funding prospects from foundations and individuals who do not understand the level of urgency before us. Such rationalizations are more than sad, Reese said; they're the reason why passionate citizens eager to support a rally to save this place are losing hope.
In the scientific paper cited earlier and published in 2022, notably two months before Custer Gallatin Forest Supervisor Mary Erickson said publicly her new forest plan did not factor in existing and future impacts to wildlife on adjacent public land, the authors note: "In the future, successful conservation of migratory ungulate populations within the Greater Yellowstone Ecosystem will require greater coordination across federal, state, county and local levels, but habitat conservation both on federal and private lands make multi-level coordination imperative." At present it isn't happening in any deep and implementable way. Again, Erickson is now chair of the Greater Yellowstone Coordinating Committee which is supposed to be at the forefront of advancing conservation on public land and educating the public. How many citizens realize how much in jeopardy the well-being of the region's peerless migrations are?
"Although the Greater Yellowstone Ecosystem is often viewed as a conservation success story because of the sheer size of area protected, private lands have been critical to this success as well," the scientists write in what vocal wildlife advocates say should be a sobering wake-up call. "However, future development and land use change threaten to upend the role of private lands in sustaining wide-ranging wildlife in the system. As the Greater Yellowstone Ecosystem continues to experience increasing human population and human development, and land use change, the need to sustain migratory connectivity is critical. The challenges and opportunities associated with conserving [wildlife] populations across such a large scale can also be applied to other migratory species in the Greater Yellowstone Ecosystem."
The take home message: Greater Yellowstone's wildlife cannot afford to lose much more private land habitat in key areas; habitat is finite and shrinking; and the crisis is deepening now, meaning action cannot be put off. A recent public opinion poll shows that Montanans are unimpressed with the kind of prosperity and pretension being brought by developers and wealthy outsiders who have little regard for what existed here before they arrived. Their attitudes are reflected, below. Were similar polls conducted in Jackson Hole and eastern Idaho, it probably would reveal similar results.
In one memorable episode of Taylor Sheridan's Yellowstone, it's the arch-hero who offers one glimpse of a defiant perspective absent in some corners of Greater Yellowstone's venerable environmental community—a refusal to surrender without a fight.
Fictional Paradise Valley ranch patriarch John Dutton gives a speech when he announces a run for governor of Montana. In his short soliloquy, Costner's character says: "The question is what you do and who you are. I'll tell you the land's only hope is for them [developers] to be a steward. The ugly truth is they want the land, and if they get it, it will never look like our land again. That's progress in today's terms. So, if it's progress you seek, don't vote for me. I am the opposite of progress. I'm the wall that it bashes against. And I will not be the one who breaks."
What Dutton said leads to important real-life questions and how we answer them, as citizens, communities, elected officials, land managers, conservationists, businesspeople and recreationists, will determine the fate of Greater Yellowstone in the years ahead.
Those questions: What are progress and prosperity really? Progress and prosperity, for whom, for what, and to what benefit compared to the real costs of what we're giving away?
Greater Yellowstone is rightfully held up as the cradle for wildlife conservation in America. Wildlife conservation, of the kind needed to perpetuate the caliber of wildlife here, necessitates proscribing limits on how we humans consume land directly or indirectly. It is a farce for organizations which claim to be in the vanguard of public-land protection to not be confronting the biggest immediate threat to those public lands. If wildlife conservation isn't the top priority of conservation in this ecosystem, then what kind of conservation is it? What is wildness worth having if it exists in the absence of wildlife?
EDITOR'S NOTE TO READERS
: If you value the Greater Yellowstone Ecosystem,
Mountain Journal
delivers investigative reporting you won't find anywhere else. If you believe reporting like this is important,
please support us
. Help us expand our capacity to deliver more. Below is a video short made by Outlaw Partners media in Big Sky about the crisis facing elk in the Gallatin Valley. It was co-produced by Joseph T. O'Connor who is now managing editor at
Mountain Journal.