Back to Stories
November 29, 2022
How Do We Prevent Wild Greater Yellowstone from Unraveling?Special report: What can be done to save the Yellowstone ecosystem? If we're serious and want to have a reason for hope, here are several big ideas for how to do it
by Todd Wilkinson
On its present trajectory, with a rapidly expanding human development footprint being cemented on private land, soaring outdoor recreation pressure on public land, and deepening negative effects from climate change, the Greater Yellowstone Ecosystem, experts say, is at high risk of losing its healthy, world-class wildlife populations.
The prime culprits: destruction of secure habitat due to proliferating human presence and disruption of wildlife migration corridors. On top of it, climate change is altering the hydrology of the region and fostering conditions ripe for exotic weeds and invasive species to flourish, which further compromises the ability of the land to sustain native animals and plants.
In its reporting,
Mountain Journal
has continuously identified the challenges
. In turn, readers have asked what positive steps can be taken now to prevent Greater Yellowstone from following the same patterns that resulted in species extirpation or population-level declines elsewhere. Many
of the easy and convenient things—including having blind faith that the free market and lack of regulation will yield adequate wildlife conservation—have either failed or proved to be woefully inadequate in the face of proliferating growth impacts.
Below are several big ideas, not pie in the sky notions, that could be pursued.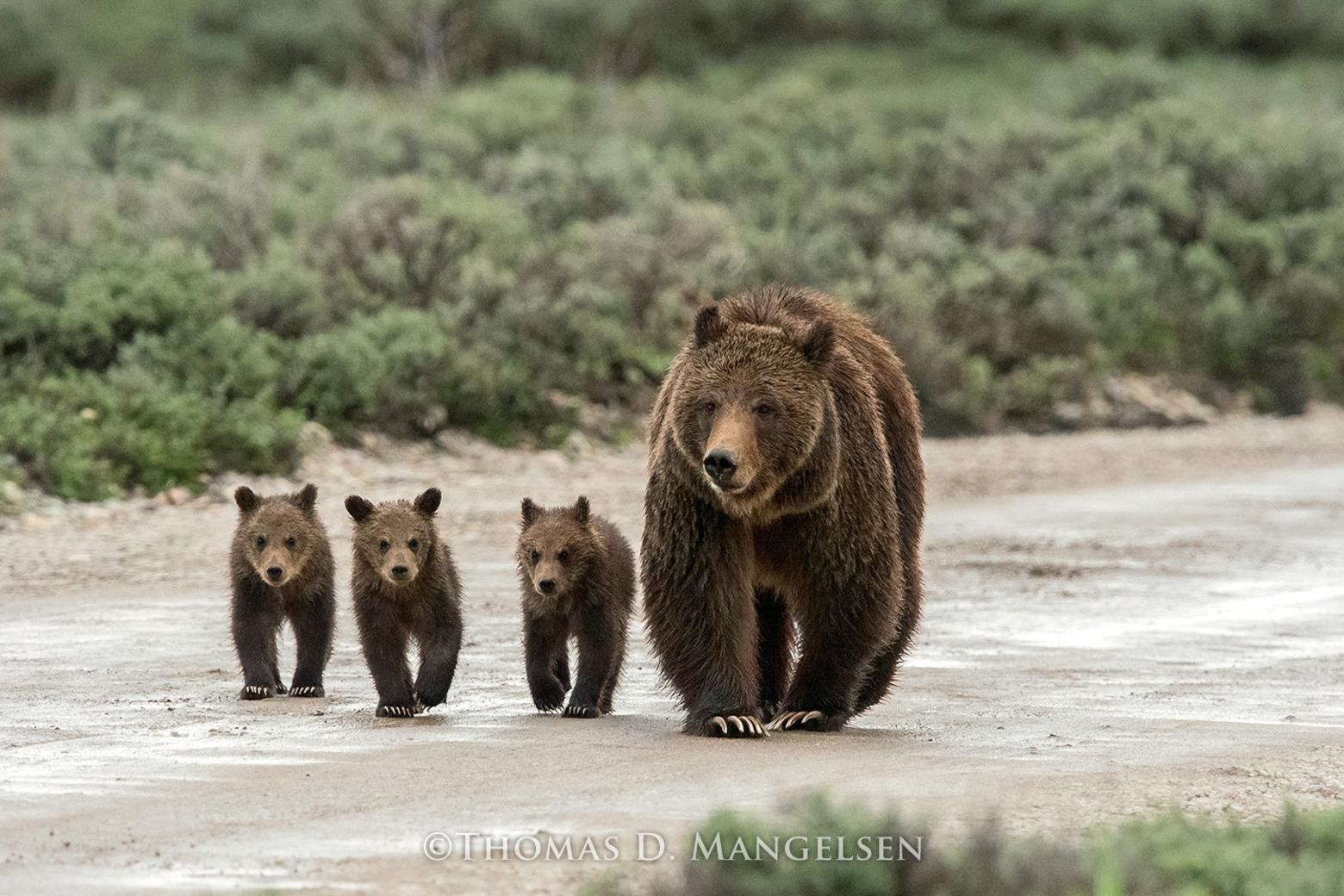 Grizzly 399 and her first set of triplets. Nature tourism is a multi-billion dollar industry in Greater Yellowstone and the Northern Rockies and one of the biggest drivers is wildlife watching. Two of the top attractions are grizzly bears and wolves in Yellowstone and Grand Teton. However, those two national parks are not large enough, by themselves, to sustain wildlife that migrates and has large home ranges. The health of public wildlife depends on the ecological health of private lands surrounding public lands. "Teton Rush Hour" photo courtesy Thomas Mangelsen. To see more of his collectible photography go to mangelsen.com
Truth: Wildlife, not outdoor recreation or resource extraction opportunities, are what sets Greater Yellowstone apart as the cradle of American wildlife conservation. Without a plan to protect native species, declines are inevitable.
Greater Yellowstone is the only ecosystem left in the Lower 48 that still has all of its native species that were present in 1491, including large mammal populations and predators and prey that can still roam widely across unfragmented landscapes. The good news is that public concern for wildlife is ubiquitous and a powerful focal point that brings people together.
The superstructure of 21
st
-century cross-boundary thinking would be a unified strategy that prioritizes the protection of wildlife, the habitat it needs and vital migration corridors that exist at scale nowhere else.
Such a plan would make wildlife protection a top goal and it would involve federal and state land management agencies that oversee 18 million acres of public land coming together with elected officials in towns and 20 counties that influence the development patterns on six million acres of private land.
Other necessary advocates include representatives of the conservation, agriculture, business and recreation communities embracing a game plan for the three-state region. Without a strategy, there is little hope that present uncoordinated fragmented decision making can protect enough vital lands to sustain Greater Yellowstone's amazing array of species. Every day, windows of opportunity to advance conservation are closing.
Even as a red state, Wyoming has been a leader in thinking about large landscape conservation. For whatever reason, Montana and Idaho lag far behind the curve. In addition to tracking wildlife, cutting-edge technology enables researchers to take water samples from rivers and lakes and identify DNA material to show what kinds of species live in a given watershed. One vital rule of thumb: If you don't know something exists, or deny its presence, it's hard to incorporate smart conservation into your decision making.
Sadly, in Bozeman and Gallatin County, Montana—capital of Greater Yellowstone—no mayor or county commission, conservation organization or land-management agency, has ever held public meetings focused on celebrating and protecting the area's biodiversity. Bozeman and Gallatin County aren't alone.
At present, state legislatures prevent the creation of a real estate transfer tax, which is a modest tax applied whenever real estate is bought and sold. The idea is that people buying up large parcels and building trophy homes are in a financial position where they can afford to pay. Think of a real estate transfer tax as a habitat and open space "consumption tax" in that development consumes wildlife and scenic views valued by the community. Since the arrival of Covid, billions of dollars' worth of real estate has changed hands in Greater Yellowstone. A modest tax of even 1 percent would over a short time generate hundreds of millions of dollars that be applied to conservation, affordable housing and existing infrastructure challenges in towns and counties dealing with rising maintenance costs owed to growth. And, in some towns and counties, the money could help reduce property taxes. Realtors and land brokers need to stop standing in the way. They, who have benefitted so much from land development, need to support funding sources that benefit nature.
The time has come and there's no time to waste. The outdoor recreation industry and manufacturers proudly state every year that outdoor recreation is approaching $1 trillion in economic worth. For many decades, hunters and anglers have been assessed modest taxes whenever they purchase gear, ammo, tackle and other products related to their pastimes. Those taxes have been an incredibly important funding source for both habitat protection and helping to support the U.S. Fish and Wildlife Service and state game and fish agencies that today are cash strapped amid huge budgetary challenges. A modest backpack tax, which is a tax that would be levied on all outdoor products, from apparel to backpacks, skis and other recreation gear, would generate billions over time.
Many airports in the country levy enplanement fees, or small taxes on air travel. People who can afford to fly can afford to pay a modest surcharge when they land or take off. The revenues of this fee would be dispersed. Between the airports at Bozeman and Jackson alone, which are the busiest in Montana and Wyoming, around 1.5 million passengers come and go annually. If a $5 landing and a $5 departure fee were levied at just those airports, it would generate $15 million annually that could be spread around in the region to incentivize conservation, help create affordable housing and pay for infrastructure challenges. In addition, impose a tax on commercial bus tours, which every year carry hundreds of thousands of passengers to Greater Yellowstone. Some of the money generated could go to building more wildlife overpasses and underpasses.
Should local citizens through property and other taxes subsidize the profits of developers? There is spartan evidence that backs up assertions from the building and trade, commercial real estate and development communities that higher impact fees imposed on business that bring burdens on local services would cause a significant economic slowdown in high-growth counties.
Growth is already taking a serious toll on wildlife and habitat. More development has increased traffic problems and road maintenance costs, exacerbated employee shortages and the affordable housing crisis, and resulted in higher taxes to pay for new schools, expanded police, fire, emergency services and water treatment costs, elevated water concerns, and impacted local quality of life. If taxes keep going up and are imposed on property owners who do not like watching their communities undergo dramatic changes, then it's another sign that growth is not paying for itself. Profits are being internalized by developers yet the costs of doing business are being externalized on the community.
Contrary to claims that a sale tax would penalize working-class people, certain essentials could be exempted such as groceries. Instead, the sale tax would be aimed at the millions of visitors who wouldn't think twice about paying a modest tax on lodging, eating out in restaurants, car rentals and tourism services. Millions would be generated annually.
Reorganize Yellowstone and Grand Teton national parks, the five different national forests and Bureau of Land Management lands into one management region. A remarkable ecosystem like Greater Yellowstone is worthy of special status. This reorganization would allow different agencies that now report to regional bosses in different states and would reconcile conflicts that exist in "multiple use" philosophy. Land managers, local communities and counties need to do a far better job of understanding negative cumulative effects instead of turning a blind eye.
Bringing agencies together around a bioregional strategy would prevent them from working at cross purposes (which wastes tax dollars), would save money through greater efficiency, and allow them to better harness resources. Agencies, gateway towns and counties should be financially incentivized to work together. A key component: the Greater Yellowstone Coordinating Committee, which comprises the National Park Service, U.S. Forest Service, Bureau of Land Management, U.S. Fish and Wildlife Service, and other agencies needs to take a leadership role in acknowledging and assessing the negative impacts of private land development on adjacent public land. To date, GYCC has failed to do that.
A study reveals that over $239 million is spent in Park County, Montana by out-of-state travelers and visitor spending creates 3,270 jobs. A major contributor to that surrounds people's desire to see wildlife.
Wilderness study areas represent some of the most important wild country in Greater Yellowstone and the rest of the West that remain. There isn't any more high-quality natural land like this being made and once it's gone, it's gone for good. Yet there are some who would like to open up these areas to traditional resource extraction of old, along with road building and industrial strength outdoor recreation—all that could at the expense of wildlife.
Right now there is a proposal from the US Forest Service and an entity called the Gallatin Forest Partnership to do away with the 155,000-acre Hyalite Porcupine Buffalo Horn Wilderness Study Area in the Gallatin Mountain Range between Bozeman and Yellowstone Park and replace it with about 100,000 acres of designated wilderness and a pair of new less protective land classifications. The Hyalite Porcupine Buffalo Horn is home to one of the most complete and intact mammal populations left in the Lower 48, including grizzlies, wolves, wolverines, bighorn sheep, moose, bison, native trout and the world-famous Gallatin elk herd. Ironically, maintaining the Hyalite Porcupine Buffalo Horn as a Wilderness Study Area guarantees better protection for wildlife than doing what the Forest Service and Gallatin Forest Partnership propose. Wilderness study areas also hold tremendous value as buffers against the effects of climate change and suburban development squeezing the ecological function of public lands.
At a time when large sums of money are being spent elsewhere trying to recover biodiversity and wildness that has been lost, and in an age when wilderness-caliber lands are coming under increasing human pressures, why would anyone want to leave lands that make Greater Yellowstone a beacon for the world with less protection?
Towns and counties in high-growth areas ought to have a professional wildlife ecologist on staff who is seasoned and an expert in large landscape conservation. The scientists would need to be given free rein, much like an internal auditor who is protected from political interference and pressure from developers. The person could provide honest assessments on impacts of proposed development and help educate elected officials, members of planning staffs, and the public about the location of key wildlife habitat. Ecological issues don't factor into decision making if they don't have visibility. Such knowledge could be the cornerstones of truly enlightened planning.
Compel those having the biggest impact on the landscape to at least be knowledgeable about ecosystem issues. State regulatory agencies could require that people involved in the building and trades, real estate and architecture industries take remedial classes in wildlife ecology as part of their business-license renewals. The cause of raising awareness and enhancing public ecological literacy extends to all of us who recreate. Remember, there are animals living in the places where we go to play and they have no other home. We can leave and we have plenty of places to have fun or work out; wildlife does not, and its habitat is finite.
Living in Greater Yellowstone ought to be a source of regional identity and pride. And an investment should be made in reaching groups that have felt excluded or unwelcome. Make classes that highlight the unique nature of the Greater Yellowstone Ecosystem part of the essential core curriculum of education in the public schools from elementary onward into college. Give every student an ecosystem wall map to take home to their families.
Why isn't this happening already? An easy move is to initiate regular planning and information-sharing sessions at least once a year between towns and counties dealing with high population growth. At present, leaders in Bozeman/Gallatin County, Montana, and Jackson/Teton County, Wyoming, almost never get together and certainly not without all commission members and planning staffs present. There's a lot of intelligence and hard lessons that could be shared. Plus, there is a lot that adjacent areas such as Teton Valley and Island Park in Idaho; Park County in Wyoming; Big Sky, Livingston/Gardiner/Paradise Valley in Montana, along with Madison, Beaverhead and Carbon counties, and others could learn from each other.
Do this on a massive scale. There should be regular, centralized meetings of conservation and hunting organizations and business leaders to both harness their insights and strengths and fine tune approaches that revolve how healthy environments support healthy economies and vice versa. NOTE: Greater Yellowstone urgently needs more conservation groups working in the space of land-use planning. Why aren't more doing it? While it is among the hardest work, it has the most important implications for saving the region. Imagine if all of the national, regional and local conservation organizations together touted the need for a Greater Yellowstone vision and devoted themselves to scrutinizing private land development and holding local cities and counties accountable for bad decisions that are destroying wildlife and their community way of life.
State legislatures need to get out of the way
and stop their rhetorical hypocrisy
While state legislatures in Wyoming, Montana and Idaho claim that they support local control and governance that happens closer to the ground, they have hamstrung the ability of local communities to tax the millions of tourists who are bringing impact and using the best planning tools available.
Getting outdoors is good for our physical and mental health. People who care about wildlife are more inclined to protect it. You don't have to live, visit or play in Greater Yellowstone to be an advocate for protecting the animals that live here. Sometimes the most profound thing we can do is a little thing, such as setting aside space for wildlife and not having to take it for ourselves. People don't need the permission of others to care about the survival of wildlife. To all young people out there: Get involved, run for public office and challenge the status quo by bringing brave new ideas forward. We need you!