Ripple Effects: How to Save Yellowstone and America's Most Iconic Wildlife Ecosystem
by TODD WILKINSON
Greater Yellowstone, a wild ecosystem much beloved by local Westerners, and part of the common heritage of all Americans, is facing unprecedented threats that stand to transform it forever. Ripple Effects, a new book, from Todd Wilkinson and Mountain Journal, is intended to inspire people who care and arm readers with the facts they need. Every single one of us can cast a positive ripple effect.
ISBN: 978-1-948018-73-9
6 x 9, 212 Pages
Softcover $22.00
eBook $9.99
Pub Date: April 22, 2022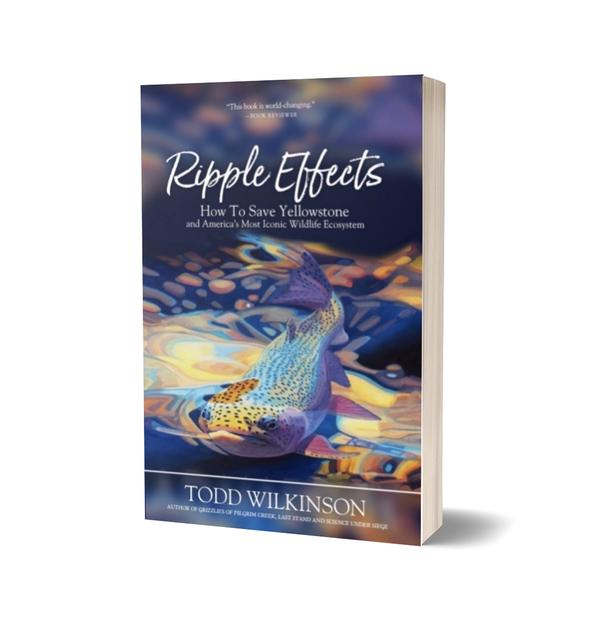 We're honored to have worked with Wyatt-MacKenzie Publishing and Yellowstone Forever to launch Ripple Effects: How to Save Yellowstone and America's Most Iconic Wildlife Ecosystem now in this, the 150th anniversary year of the founding of Yellowstone National Park

Wyatt-MacKenzie Publishing
is an award-winning independent press that has been publishing fantastic books for the last 25 years. Nancy Cleary, Wyatt-MacKenzie Publishing's founder, currently runs her hidden gem of a publishing house on the Oregon coast in the town of Deadwood. Cleary provides extraordinary author care and complete publishing services—including graphic design, packaging, and branding.
When you buy a copy of Ripple Effects, proceeds go to Mountain Journal, (a non-profit, public-interest journalist entity), to help us bolster our reporting staff. We operate with the motto: "Our Summit Is Truth." Plus, we are proud to be working with a friends group of Yellowstone National Park called.
Yellowstone Forever
.
Yellowstone Forever is the official non-profit partner of Yellowstone Park. They "protect, preserve, and enhance Yellowstone National Park through education and philanthropy." To us, there are precious few nobler causes.
About The Author
Todd Wilkinson, founder of
Mountain Journal
, has had a long and prominent role in American journalism. His writing has appeared everywhere, from National Geographic and The Guardian to The Washington Post and Christian Science Monitor. Wilkinson predominantly writes on environmental, artistic, cultural, and business-focused topics.