Want A Great Summer Read? Ripple Effects: How to Save Yellowstone and America's Most Iconic Wildlife Ecosystem
by TODD WILKINSON
"In a cascading moment of all we stand to lose, what we gain by reading Ripple Effects are insights into community of committed citizens from brave biologists to business visionaries who care. If hope is a force field, Todd Wilkinson creates a force field of stories capable of true change and cultural transformation in the service of the wild." —Terry Tempest Williams

Are you among the millions on Earth who love Yellowstone and the Tetons? Do you care about the future of grizzly bears, wolves, bison and wildlife migrations that have been called an American version of the Serengeti? Yellowstone National Park is the geographic heart of the richest large mammal ecosystem remaining in the Lower 48 states.
Ripple Effects, a new book, from Todd Wilkinson and
Mountain Journal
, will both seize your attention and inspire you to care for this region that is a national
treasure.
Every single one of us can cast a positive ripple effect. You can order the book by clicking here or buy it from your favorite local bookseller.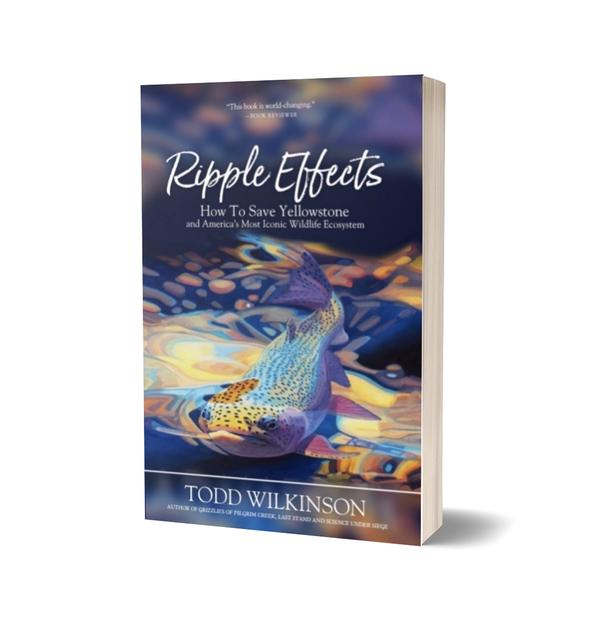 Do you wanna cast a positive ripple for nature? Ripple Effects: How to Save Yellowstone and America's Most Iconic Wildlife Ecosystem is released in time for summer and the 150th birthday year of Yellowstone National Park. Here's what some are saying about the book:
"Yellowstone is more than a park, as Todd Wilkinson reminds us in this deeply reported, important, passionate book. Yellowstone is more than an ecosystem. Yellowstone is a grand idea that America had, a hundred and fifty years ago, and retains—that nature, big and wild, is an essential part of our country. That idea can't survive without defenders." —David Quammen, author of Breathless, a forthcoming book about Covid, and the critically-acclaimed Spillover: Animal Infections and the Next Human Pandemic; and The Song of the Dodo.
When you buy a copy of Ripple Effects, proceeds go to Mountain Journal, (a non-profit, online, public-interest journalist publication), to help us bolster our reporting staff. We operate with the motto: "Our Summit Is Truth." Plus, we are proud to be working with a friends group of Yellowstone National Park called
Yellowstone Forever
.
About The Author
Todd Wilkinson, founder of
Mountain Journal
, has had a long and prominent role in American journalism. His writing has appeared everywhere, from National Geographic and The Guardian to The Washington Post and Christian Science Monitor. Wilkinson predominantly writes on environmental, artistic, cultural, and business-focused topics.