Back to Stories
March 24, 2021
Is Gallatin County Willing To Sacrifice Its Namesake Elk To Rural Sprawl?The amazing images of Holly Pippel, a nature photographer from Gallatin Gateway, Montana, remind us what's at stake as Bozeman's boom threatens the persistence of wildlife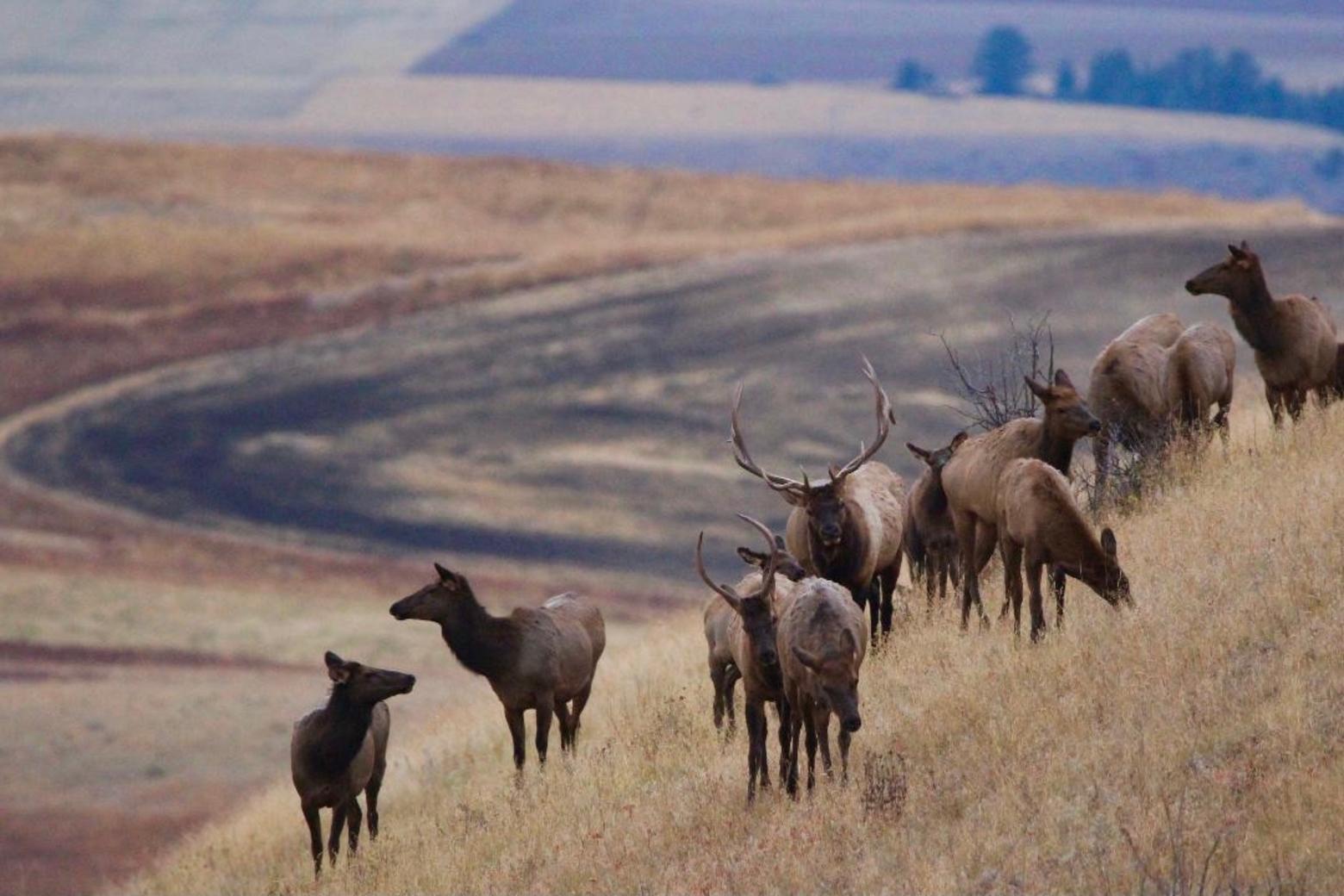 As sprawl fragments the Gallatin Valley what is likely to disappear first from the outskirts of Bozeman: elk or viable ag? In many ways, their fates are intertwined. Photo by Holly Pippel. Click on image to enlarge.
By Todd Wilkinson
Holly Pippel has seen amazing things. Across her home dale when most people seem too busy to pay attention, she's observed lines of elk trailing over ridgelines at sunrise and under the full moon with their regalness pronounced as they pause in silhouette. She's been out there at calving time, witnessing wapiti mothers coming together and giving birth to their calves in spring, then forming nursery bands. She's stood freezing in darkness, listening to elk bulls bugle and spar during the autumn rut.
Pippel has put in countless hours moving throughout the Gallatin Valley which enwraps Bozeman, Montana and is experiencing one of the fastest per capita human population growth rates in the rural West. What Pippel has chronicled is enough to make the heart swoon and should simultaneously be interpreted as a clarion call of alarm.
Pippel and a growing number of residents don't want that to happen. If you ask her who she is, Pippel will offer a self-deprecating bio: "Holly Pippel has lived in the Gallatin Valley 26 years and is an avid outdoors woman, photographer, equestrian and fisherman." And then she'll add: "I just don't want people to think I have a degree in Biology, but instead am just a concerned citizen and advocate of the flora and fauna. I am an amateur photographer with patience and drive."
The truth is that one doesn't need a degree to appreciate Holly's growing body of work nor the fact that her corner of the Gallatin Valley, from a human footprint perspective, is rapidly becoming fragmented with leapfrog development that has never been approached in a way that respects elk migrations flowing across it.
Montana has more wild, free-ranging elk than at any point going back at least 140 years. The irony is that northern offshoots of the famous Gallatin elk population which spill out the Gallatins into the Gallatin Valley at certain times of the year could become small remnants or worse, disappear, as develop pushes out inexorably from Bozeman. Will elk that come out of the northern Gallatins soon be unable to reach Ted Turner's Flying D Ranch west of US Highway 191?
Gallatin County has for the last half century been notoriously anti-planning and zoning, noted for allowing visual blight to creep along roadsides, enabling a proliferation of individual septic systems, some of which have failed over time, and its laissez-fair, permit-almost-anything attitude earned it distinction as "the gravel pit capital of Montana."
A question now facing elected officials and planners in Gallatin County, as well as state wildlife managers, conservationists and citizens is do you wait until wildlife issues reach a crisis point where problems are intractable or do you prevent the worse from happening?
Pippel makes her home today in the outskirts of Gallatin Gateway and whenever possible works with farmers and ranchers interested in trying to protect their land in perpetuity. Not long ago, I became aware of both her extraordinary photographs and her own backstory. Our conversation begins below.