Back to Stories
July 16, 2020
Chasing The Dream: When Opportunity Arrives, Trying Not To ChokeEddy Prugh was a soccer phenom in backwater Bozeman, Montana. Then, on the way home from Bolivia, two emails gave him butterflies in the gut
EDITOR'S NOTE
: You might think of Eddy Prugh's quest as that of climbing a nearly impossible mountain. Many talented kids in remote out of the way places get caught up in the the reverie of playing major college sports or going pro. Along the way they are confronted with a variety of challenges and choices. In this piece, part three of his unlikely rise, he talks about coping with opportunities and wondering if he's ready to seize them. His is a story that will resonate with any who ever played the game.
by Eddy Prugh
Every athlete dreams, but not everyone has felt the euphoria of a dream come true.
For me, it came in the form of an email. In fact, I was so spoiled that I received two emails in the space of a week that both carried news my longshot bid had hope of happening. You might think of it as a reverie fulfilled.
Picking up where we left off, I had left my Division III college soccer program at Whitworth University to return to Bolivia and continue to train at the Tahuichi Aguilera Academy. My ambition was finding a Division I soccer program that would have me—something that had seldom happened before for a product of Bozeman youth soccer. One of the guys who preceded me by a couple of years, Henry Graham, went on to be a D-I goalkeeper but such ascents were few and far between. (In recent years, Sam Werner and Averie Collins both played for the Stanford Cardinal on their NCAA national championship teams and both today are in the pro ranks).
Yes, not only was a I dealing with my own self-doubt, the voices that sometimes whisper in your head, and there were a few naysayers who believed it could never be done.
This time period had me drenched in anxiety, knowing that if I wasn't able to find a Division I program, I would likely be left without any team at all. The paradox was that as I pushed myself to reach the dream, I realized that if I didn't make it the dream would come to an abrupt end. I had invested so much time, focus, hope into playing soccer and trying to position myself for the next move up, it was difficult to imagine doing anything else.
After six months, I boarded my flight home and when I landed in Miami I had two emails waiting in my inbox that would be a reward well worth the risk I had taken by leaving college and immersing myself in a soccer-crazed Latin country that determine if I had a chance.
As I mentioned earlier, the experience of playing club soccer in Montana was often actually a painful affair—particularly when leaving the state and seeing how other regions of the country were factories for churning out skilled players who made you realize your ability to put balls in the net was not the work of a prodigy. The first test was landing on a college team.
After my freshman season at Whitworth, I would get to experience things from the other side of the fence. My coach, Sean Bushey, made a phone call to his brother who was a coach for the Colorado Nike Rush, one of the biggest youth clubs in the western United States. It was the kind of club team that would run up the score to 12-0 against teams from Montana.
For my final year of club soccer (Under-19) I would get to play with one of the best. You often wonder how it would be to have a roster spot on a team like that but then you have to prove yourself and realized how it takes more than a few skilled players to carry a team.
Whether I knew it or not, the second piece of news that arrived in my email was an offer I'd been waiting for ever since I started kicking a ball at the age of three in the backyard. Oregon State University reached out and said they had a roster spot for me for the 2010 season.
Yes, a Pacific Athletic Conference school, from a conference that, over the years, had sent several players to the national team. I would get to play against the likes of Stanford, Cal Berkeley, UCLA and University of Washington.
For me, this was the definition of reaching the next level. Needless to say, my flights from Miami to Montana were the most enjoyable hours I've ever spent in an airplane. Soon, the pressure set in. I went through my work-out regimen and kicked the ball around with friends in Bozeman. What I worried about was losing the mental edge, of being able to have my head in the game, to be ready.
For the summer leading up to my transition to Oregon State I moved to Denver and played with the Colorado Rush team. It was made up of almost entirely Division I players, two of whom would eventually make it to Major League Soccer.
In order to qualify for the regional tournament we would have to win the state tournament first, which we did with relative ease. I felt as if I found my groove, become part of the team rhythm. I didn't feel out of place but in it.
To make a long story short—we would also go on to win the daunting Far West Regional Tournament after defeating, first, Southern California, then Montana (and all my friends), followed by Oregon, Hawaii, Northern California and finally, Southern California again in the final. Traveling to the regional tournament and not losing a game by 5-plus goals was amazing but actually winning the whole thing was something beyond belief after playing my club soccer in Montana for so many years.
You never forget where you come from and it felt as if those from Montana knew I was, in some ways, an extension of them and they were cheering for me.
Winning regionals meant that we would travel to the national tournament and face the winners of the other three US regions: Maryland from Region I, Georgia from Region II and Indiana from Region III. Some of the best player in the country were converging upon the same pitches. I had the good fortune of putting a few balls in the net and assisting on a few other goals.
We would finish in third place after a win, a tie and a loss. Although there was no official award associated, I was in a bit of a daze for the next couple weeks after being informed that I had scored more goals throughout the regional and national tournament than any of the players from the other teams. In total, there were eight future MLS players at the national tournament.
To achieve something at that level gave me the affirmation I needed to realize that I belonged there. It felt like I had finally shirked the stigma of underratedness that was leashed to being from a place like Montana. I had been given a chance to play with the top players in the country and I had kept my shoulders at their height. The time for training camp soon approached in Corvallis.
The whole experience of playing with such a big club team gave me the confidence to step onto the field with the Beavers of Oregon State University. In my mind, the fact that I was from Montana was trivial at this point. I was incredibly grateful to OSU coaches Dana Taylor and Paul Meehan for giving me the opportunity to play in the PAC-10.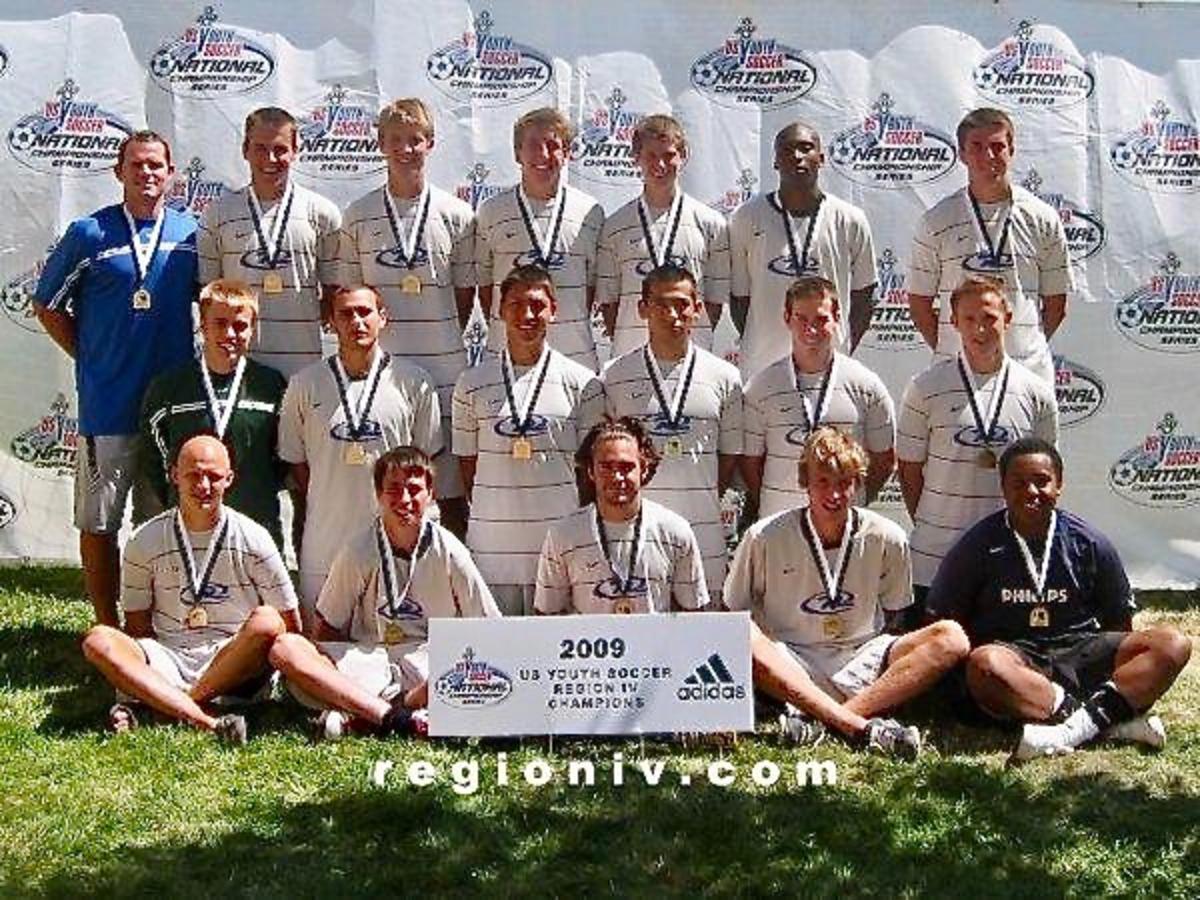 A photo of champions after the select Colorado Nike Rampage won the far western regional tournament, beating teams from soccer crazy California. On Prugh's team wew Matt Hedges ( who went on to be a MLS All-Star, captain of FC Dallas and made five US men's national team appearances) as well as Ray Gaddis who has made 200-plus appearances in the MLS for Philadelphia Union.
Every time I stepped on a field with a player whose reputation preceded them—as a teammate or opponent—I can't deny that I would be excited to find out what gave them such a distinction. During my time in Bolivia I played with three players who would win contracts with big clubs in Europe. They were good players; hard working and technically sound, but I wasn't in awe.
While playing for Colorado I had two teammates (as I mentioned earlier) who were future MLS players and at the national tournament I would line up against six others. With all due respect to those players, I wasn't intimidated by any of them. In fact, I never faced or played with a player who literally blew me away until I arrived at Oregon State.
Long before I was recruited there I had heard the name.
Danny Mwanga
. A striker, he was going to be a sophomore like me but while my freshman year had yielded seven goals in Division III, Danny had lit up college soccer and been named PAC-10 Freshman of the Year. The reviews I had heard from other players were all raving and I couldn't wait to see what he could do.
A week before I would leave Montana for Corvallis, Oregon and preseason I felt ready. I had proven myself on the elite club soccer level. I had secured my spot on a Division I roster and I was ecstatic to step onto a field with Danny Mwanga. Then I got a phone call. It was Dana Taylor, the head coach who had recruited me to OSU.
He had, unfortunately, been relieved of his duties ahead of the season. I told him that I was sorry and thanked him for giving me the chance. My roster spot would be honored but once again, I faced another battle to shed the stigma of being a soccer player from Montana.
Just months earlier at the US Youth Soccer National Tournament I had proven that I belonged at that level and I was certain that I could do it again. Or maybe, my luck had just run out?