Back to Stories
June 20, 2022
The Fierce Spirit Of Painter AD MaddoxBest known for her Pop and fine art portrayals of trout, Maddox makes hyper-realism the fulcrum for experiencing wild trout and the places they inhabit
By Mountain Journal
She goes by AD, short for Amelia Drane Maddox, born in Nashville, Tennessee. But in spirit, AD Maddox has an extroverted presence matched by an introvert's intense focus on making art that impacts our senses. As she says, making fine art isn't a team sport and now, past the half century mark in age and at the height of her creative powers, painting for long hours on end is her favorite muse.
How do you paint water from the perspective of being inside it along with fish? Think about that for a moment.
The showing of her new works, certain to be festive, lasts from 6-9 pm on Friday, June 24 at AD Maddox Studios, 114 North B Street, in Livingston. The public is invited.
Mountain Journal
recently engaged Maddox in a back and forth.
Maddox is best known for making stunning artwork portrayals of trout and horses. Some of it is big and bold and full of color, almost possessing a Pop Art quality (which has made her originals hugely in demand among younger collectors). Other visions, especially her recent pieces—several of which are set to be unveiled on Friday, June 24 at her annual gallery party in Livingston—appear to be about fish. But they are really about conveying the illusion of effects that have captivated painters going back to the Renaissance.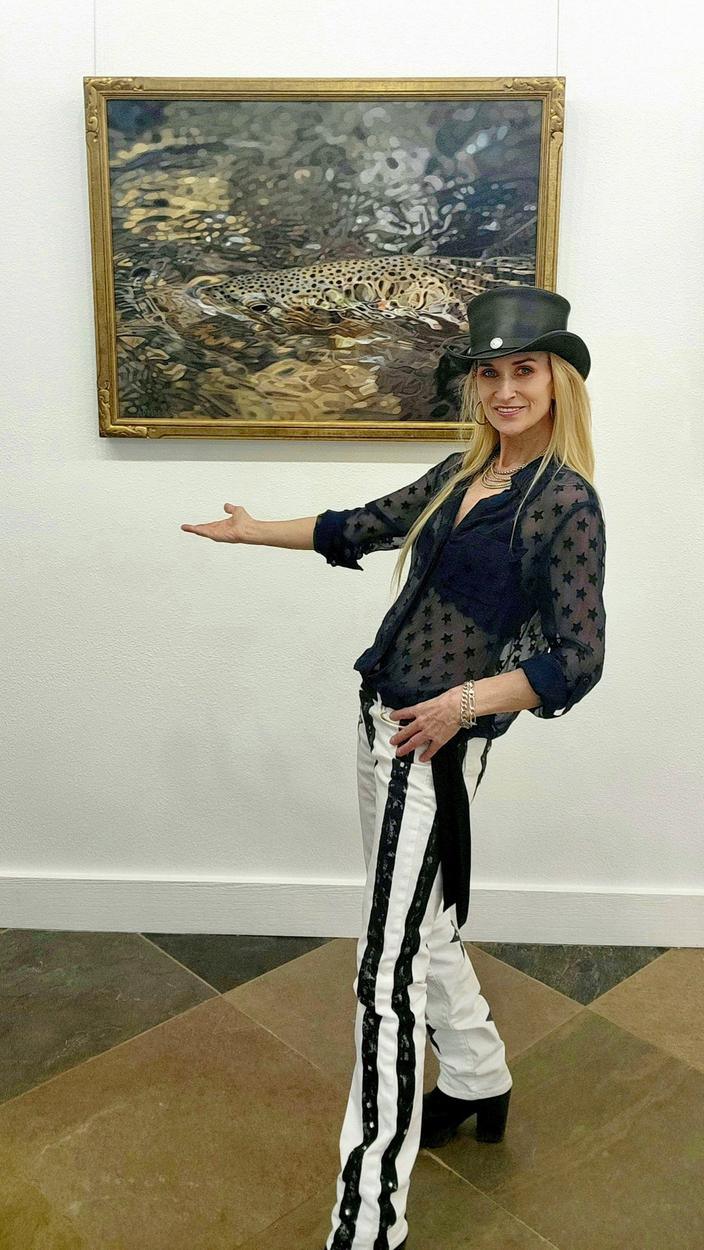 Maddox doesn't flinch in acknowledging that this latest series pushes the bounds of hyper-photo-realism to the limit—to the point that while some may respond incredulously to using photographs as reference material, if one challenges
them
to try and do what Maddox does with her alchemy, they quickly turn silent.
One of Maddox's dazzling images graces the cover of the new book, Ripple Effects, written by Mountain Journal founder Todd Wilkinson. "It's one of the most eye-catching covers for a book I've ever made and it's owed to AD Maddox's magnetic painting," says book publisher Nancy Cleary.
A few years ago, Maddox made Livingston her home base after starting her painting career in Jackson Hole, where she was mentored by the late Greg McHuron, spending time in her native Nashville and being influenced by a number of contemporary artists in Atlanta. She's been coming to Paradise Valley and Jackson Hole for years and her family has a place in Tom Miner Basin.
Maddox loves to fly fish and shoot clay pigeons, which she does it with style, though these days she's also apt to navigate the whirlwind of rising fame by unwinding on the back of a classic Ducatti 999. In Montana, she savors the liberating feel of her platinum-blond locks blowing out the back of her helmet, the sweet ambiance and scents of nature inundating her as she reaches warp drive. Maddox's effusive enthusiasm for the outdoors is both genuine and infectious; so, too, her art.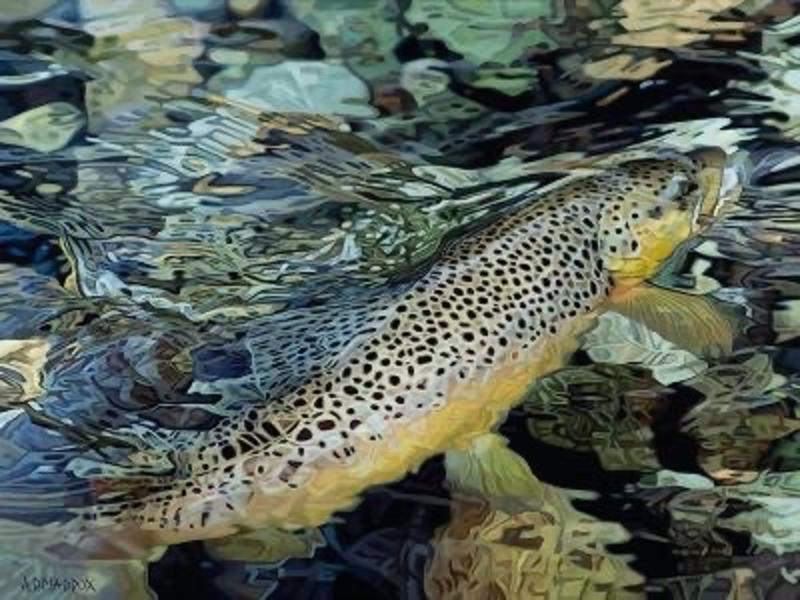 Impressionistic landscape painter Scott Christensen, who was honored with the Prix de West Purchase Award several years back, has this to say about Maddox. "She has grown a lot in taking her designs to a whole new level," he said. "She's paying attention to her edge work instead of being overly graphic. You can see the maturation that's happening. AD Maddox is on a roll."
While it would be misleading to characterize Maddox as an iconoclast, she is ferociously strong-willed and independent, defiant to those who say art must be pursued according to a rigid set of rules. And it is this attitude which set her free. She has collectors around the world.
The showing of her new works, certain to be festive, lasts from 6-9 pm on Friday, June 24 at AD Maddox Studios, 114 North B Street, in Livingston. The public is invited. Mountain Journal recently engaged Maddox in a back and forth.
Mountain Journal: This show is about what?
AD MADDOX: My annual summer opening party showcasing new 2022 original oil paintings of a series I call "Secluded Water" and all my other available originals.
MOJO: How did you begin 'painting fish?"
MADDOX: I started painting trout in 1998 while I was living in Jackson Hole. My team thought this would be a popular subject for my western audience. These pieces have always sold and I have continued painting trout ever since.
MOJO: Your palette and approach to color can be pretty zestful—in a way that grabs attention. What do you want viewers to be paying attention to?
MADDOX: I leave that to each person as there's not one answer. Each person is affected by a piece of art in their own way. I'm painting photorealism, and if you can imagine painting every color and value in moving water, then you know the magnitude of my challenge.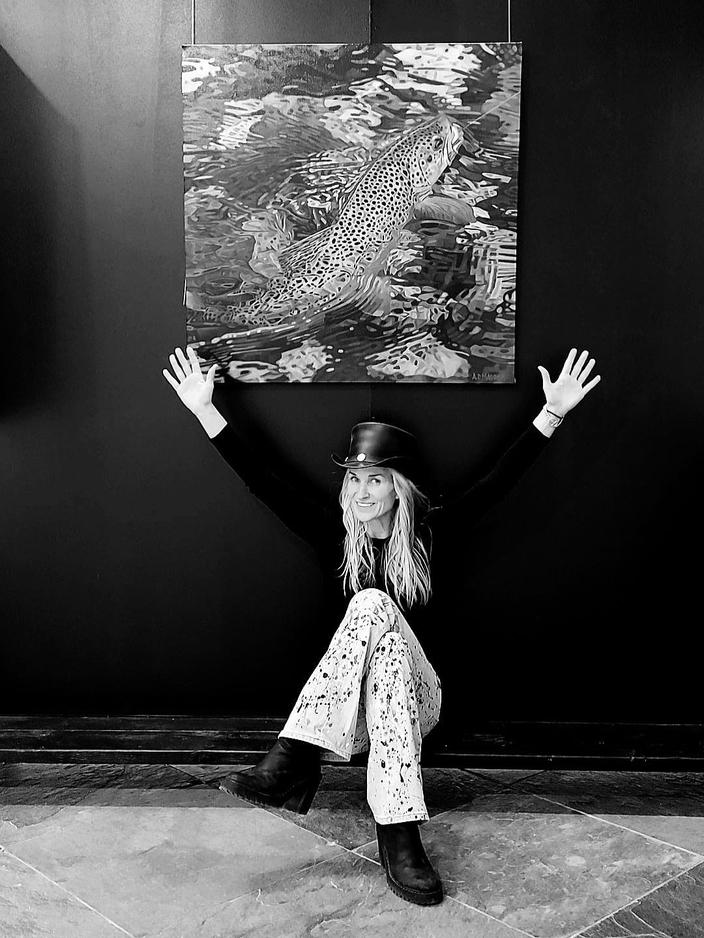 MOJO
: You've been a proud denizen of Greater Yellowstone—living in both Jackson Hole and Livingstone/Paradise Valley. What sets this region apart?
MADDOX: The vastness of space lined with mountains. I find the beautiful scenery inspiring as there's plenty of room to be free and play.
MOJO: What's the best compliment you've ever received about your art?
MADDOX: The memorable ones are about how the piece reminds them of a great memory they have with a loved one.