Back to Stories
April 18, 2023
Exploring PeregrinationsAs warmer weather puts wildlife on the move, Catherine Courtenaye's new exhibition, 'What the Nighthawk Knows,' reads like evocative maps for thinking about species migrations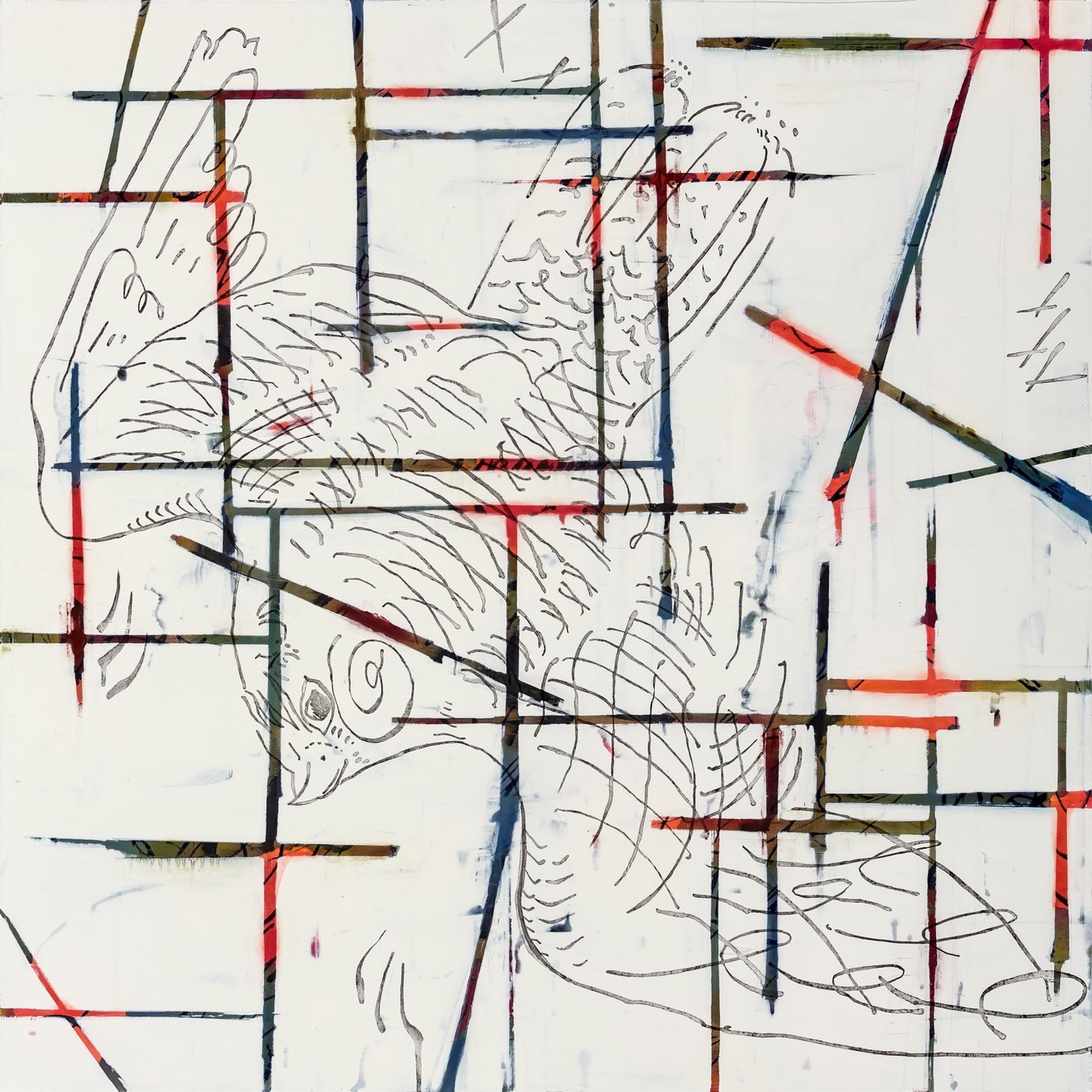 "Trajectory of the Falcon," a work appearing in Courtenaye's new exhibition focused on avians and their movements.
By Todd Wilkinson
Sometimes it takes fine art to open the mind to seeing things around us for the first time.
Catherine Courtenaye is a multi-media painter from Bozeman with an eye trained toward the visual lexicon of nature. For years, she's been fascinated by vocabularies of place—be it in the cursive language of human handwriting (itself a dying art), the forms and identifiers of wildlife, or, as in the case of her new works, the patterns of avian migrations.
After the pandemic, and healing from the loss of her husband, Courtenaye is re-emerging with a show titled "What the Nighthawk Knows" at Echo Arts in northeast Bozeman. It is a celebration of how nature transcends our hubristic tendency to impose Cartesian order on things beyond our understanding or control. Her work is in a number of private and public collections.
The large works exude huge impact on the wall. With a public reception scheduled for Friday, April 21 from 5 to 8 pm, the evening before Earth Day, it helps inaugurate the return of not only avifauna but the annual season of art viewing, punctuated by art walks happening throughout summer. Not long ago, Mountain Journal had a conversation with Courtenaye.
Mountain Journal: We are in post-Covid times, at least for a while. How did these last years affect you as an artist, and your life?
Catherine Courtenaye: I was very fortunate. My husband and I sheltered for months in his cabin overlooking the Missouri River. The pandemic gave me license to let go of all the distractions of normal life, and to appreciate the gift of time. I got a lot of drawing done. We hiked more than usual in the Elkhorns and the Big Belt mountains, and that fed my soul.
MoJo: What is it like re-emerging?
Courtenaye: It's stimulating in a different, equally important way. I've lately been able to travel to New York, Los Angeles, and Mexico City to visit as many museums and contemporary art galleries as possible, and to hang out with good friends in those places.
MoJo: Speaking of re-emerging, the avian migration into higher northern latitudes is on, after a long winter. What excites you about this show? Please also explain the motif.
: These are worrying times. The dire consequences of climate change are upon us. I feel a great sense of loss regarding the natural environment. So how to move forward on a day-to-day basis, how to be not "at a loss" as an artist? Natural rhythms such as bird migration carry me along, bringing me joy and an appreciation for what we used to take for granted. I don't think we can take anything for granted anymore. This body of abstract work celebrates the life force of wild creatures while acknowledging the challenges of an ever-larger human footprint.
MoJo: The title comes from where?
Courtenaye: The title of the exhibition, "What the Nighthawk Knows," comes from my observations of the common nighthawk. From my husband's perch near the Missouri, we have watched the nighthawks each summer high in the sky at dusk. They are very strange-looking birds, looking close-up nothing like how they appear while flying. They seem to transform into some kind of vigilant spirit once aloft. Common nighthawks can migrate south a phenomenal 4,000-plus miles in late summer and fall. While not yet a "species of concern," I can't help but imagine that they somehow know, from their lofty vantage point, that agricultural lands and natural areas are shrinking, and that this will ultimately result in fewer insects to feed upon.
From my husband's perch near the Missouri, we have watched the nighthawks each summer high in the sky at dusk. They are very strange-looking birds, looking close-up nothing like how they appear while flying. They seem to transform into some kind of vigilant spirit once aloft. Common nighthawks can migrate south a phenomenal 4,000-plus miles in late summer and fall.
MoJo: Describe the common threads.
Courtenaye: In these paintings I've tried to integrate formal and thematic concerns. The work exploits the sensuous appeal of color and the physical surface of oil paint, mirroring our beautiful earth—the off-white ground alluding to either snow or the paper a map is printed on. The geometric shapes superimposed with curvilinear lines convey tension between the manmade and the natural environment. Opposing sensibilities like these are difficult to combine visually, but I feel that I have forged a strong and very personal series.
MoJo: In the past, your work has been described as "an exploration of 19th century" penmanship, which is to say the stylized forms of cursive writing in longhand. To someone unfamiliar with your work, what does that mean?
Courtenaye: I found it fascinating that penmanship styles changed every decade, and that different tiers of society had their own styles of writing. These styles telegraphed a person's profession and gender. Quite a bit of information was packed into the tiny marks on a page. This phenomenon of line is an instance of how art can communicate abstractly.
MoJo: Does it bug you that we seem to be losing the importance of penmanship visible in writing letters and how it is, like our signatures, a highly personalized form of expression?
Courtenaye: I do wonder if some neural pathways in the brain are atrophying as we no longer use such a precise eye-hand coordination to formulate our thoughts. Perhaps in turn our ideas develop in a different way, as well. And yes, handwriting communicates an individuality, but also an intimacy really, that has gone missing.
MoJo: What got you thinking about this?
Courtenaye: Writing with a pen or pencil is a form of drawing. It's really such a basic human mechanism. I am struck by how penmanship from earlier centuries conjures those eras in an almost visceral way. Years ago, I began trying to see handwritten words completely abstractly, disregarding the literal content of a phrase. Bits of letterforms peek out beneath layers in my recent paintings, and they signify that human culture is embedded in our physical environment, for better or worse.
MoJo: You've done some wonderful series. Prior to this exhibition, you had another—"Specimens"— that focused on birds. What inspired that?
Courtenaye: That series was inspired by living in Montana and wanting to incorporate something from the natural world into my existing way of painting. But putting birds into my work needed to be done in a conceptual way that dovetailed with my interest in letterforms. Learning that many of today's letterforms evolved from human gestures and observed nature, such as birds, I painted images of birds combined with magnified silkscreened 19th-c. letters and areas of pure gestural abstraction. Our use of language is maybe not all in our heads but perhaps in our bodies, too. I wanted to put the bird, the gesture, and the letterforms on an equal footing.
MoJo: Okay, back to the current show: there seems to be a strong parallel between the penmanship paintings which take viewers on a language journey and these new paintings that speak to migrations—among the most amazing wonders on our planet; patterns that, like a natural language, have come into being over time.
Courtenaye: For me there was a natural evolution from thinking about pen strokes to thinking about birds. I was out in the field each fall looking for pheasants and grouse, and I wanted to bring that experience into my work. Using a steel-nibbed pen, such as was used in the 1850s to write, I've made hundreds of drawings of birds loosely informed by a visual vocabulary of 19th-century writing styles. In the current series, greatly enlarged drawings are transferred onto abstract works. Whenever you have a large all-over abstract painting, it often connotes "landscape." So, the bird traceries began to suggest to me Western bird species moving through a landscape. Migrating, yes.
MoJo: As you know, Mountain Journal devotes a lot of virtual ink to terrestrial wildlife migrations and how they can be a tool for how an ecosystem is held together.
Courtenaye: Seeing an elk herd moving along or a huge flock of snow geese somehow reassures us that "all is well." This is a fantasy because all is not well. But I think that we can harness our pure awe into action, to remind us that we are fighting for the survival of an ecosystem of which we are a small part.
MoJo: What are some of your reference points?
Courtenaye: Much of my work looks like maps; of course, in reality, "borders" are an artificial construct. This is why in my paintings a curvilinear tracery, derived from my drawings of birds, lies on top of, and not directly related to, the rectilinear shapes. These lines reference either birds themselves or migration patterns that have been in existence for millennia, prior to political boundaries. I recently learned that sandhill cranes have been migrating in the Western Hemisphere for over two million years. Talk about primeval.
MoJo: Your late husband Gary "G.B." Carson was a keen observer of the natural world. He could wax eloquent on hunting dogs, shotguns, and his passion for getting outside in autumn. How did your time together outside influence your art?
Courtenaye: I took up bird hunting many years ago with him and our dog, partly to better understand the woods and mountains, and to deepen my relationship with Gary, too. He taught me how to identify grouse habitat, and how to listen for wingbeats. I learned a lot from our talented pointers Chase and Enzo. The experience changed my thinking about art. I'm not just looking at landscape: I'm a part of it, with the movement of birds constantly on my mind. The landscape becomes alive. This painting, below, for example, came directly from those experiences.
MoJo: It's difficult to explain what's happening in each of the works and the best way to appreciate their visual impact is to view them firsthand. Could you add just a few short thoughts, very brief, on each of the following?
Crossbeat: By overlaying geometric, color-filled slivers with curvilinear translucent strokes, a complex, polyrhythmic patterning emerges. The eye darts between the contrasting layers, which intersect randomly.
On a Lark and The Measure of a Wingbeat: The eye is challenged to hold two different mark-making systems in tandem. Gestural marks in black are imagined diagrams of flight patterns. In some places they harmonize with, in other places they conflict with the boldly colored geometric striations beneath. This is true of all the work in the show.
Trajectory of the Falcon: This depicts a peregrine falcon, navigating a human-made landscape. Peregrines have become very adept at this, prospering in places such as downtown Manhattan.
Aviatrix (below): This is the feminine form of aviator. Perhaps it's my alter ego, flying a small plane. The thin curvy lines play with the harsh geometry on the ground.
Edgeland of the Sora Rail: "Edgeland "is defined by the writer Robert Macfarlane as that "debatable space where city and countryside fray into one another." As wild lands and urban areas increasingly bump up against each other, naturalists are studying those species which have adapted to such habitats. I saw my first sora rail in reclaimed land within Story Mill Community Park on the outskirts of Bozeman.
Joyride and Scattershot (below): The delicate loopy black lines are clearly overwhelmed by bold geometry and artificial colors. The lines could be the paths of a little hummingbird determined to make the most of the day against all odds—or a four-wheeler going off-road.
Looking for Pheasants: The curving lines could be a pheasant's flight path above agricultural lands, or a bird dog's zigzagging pursuit of a scent.
Visitation (below): A barn owl swoops over developed land, encompassing all she sees with her gaze and transforming our environment with her almost spiritual presence.
EDITOR'S NOTE: Courtenaye's one-person exhibition "What the Nighthawk Knows" is up at Echo Arts, 802A North Wallace, in Bozeman through May 13. The reception Friday, April 21 from 5 to 8 is free and open to the public. Courtenaye will be there to answer any questions.