Back to Stories
March 8, 2023
Moving Into The FlamesAs climate refugees flee extreme weather events, they're relocating to wildfire-prone areas like Greater Yellowstone. Part 1 in our ongoing series on wildfire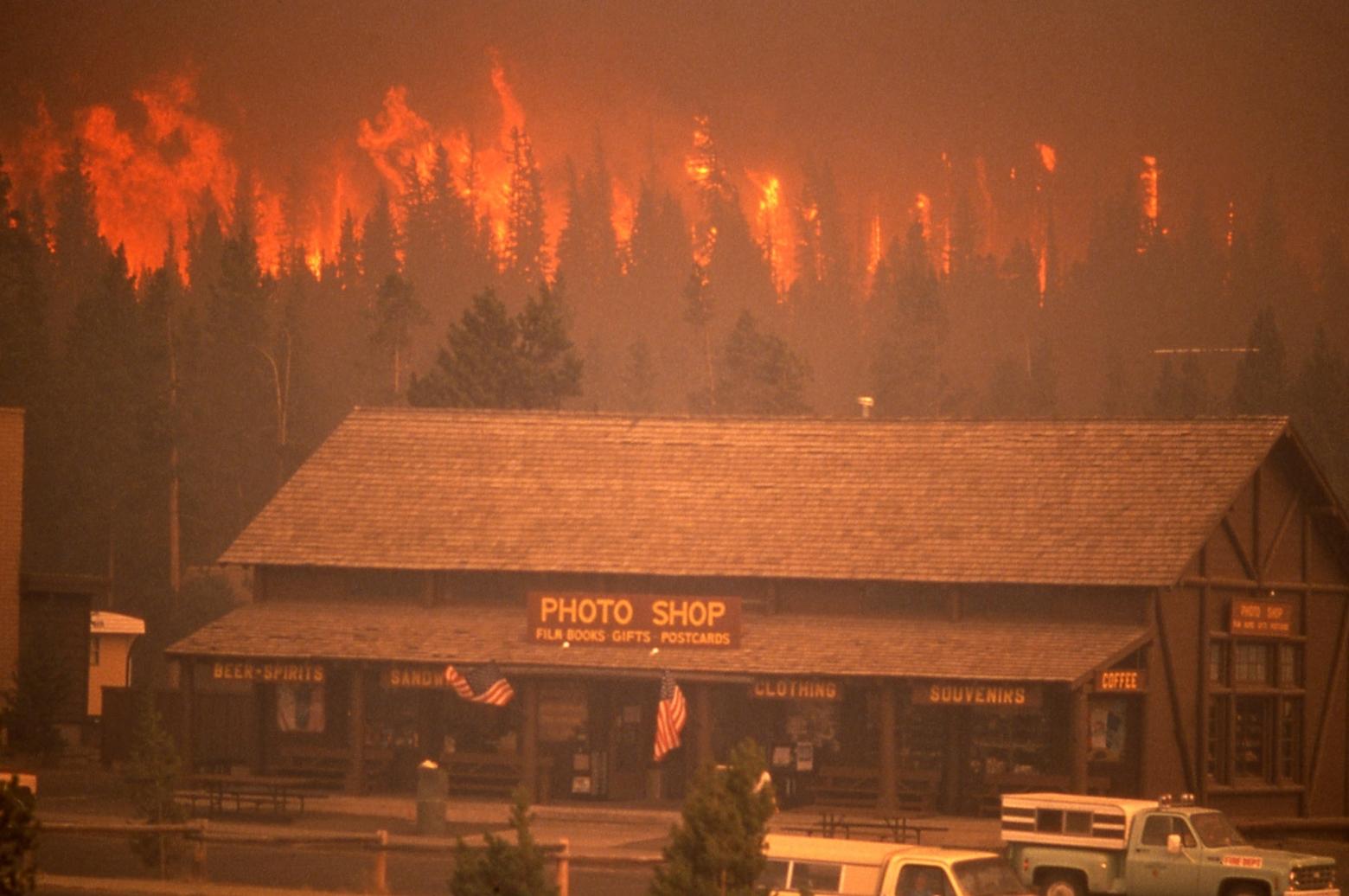 A cautionary tale: In the summer of 1988, winds gusting upwards of 80 mph fanned wildfires that burned nearly 800,000 acres in Yellowstone National Park. Here, a crowning North Fork Fire approaches the Old Faithful Inn complex and its Photo Shop. Photo by Jeff Henry/NPS
EDITOR'S NOTE
: This article is the first in a
Mountain Journal
series examining wildfire in the West, the potential risks of living in fire-prone places of the country, and the ecological impacts of increasing numbers of Americans flocking into the Wildland-Urban Interface.
by Joseph T. O'Connor
On a snowy February night in Big Sky, Montana, the heat is cranking inside the Berg household. Mark Berg and his wife, Gay, serve mulled wine and brownies with huckleberry ice cream to their son Peter and his wife Lindsey. The conversation flows from Mark's former law practice in Auburn, California, to his son Peter's work in the Los Angeles film industry, and then shifts to climate. It's a hot topic tonight.
Amid a crippling housing market and a soaring cost of living, a host of climate-induced natural disasters is threatening California: wildfires have burned across 8 million acres since 2012, tripling the number of acres touched by flame in the previous decade. They've temporarily stripped canyons and hills of their trees and brush, leading to massive landslides and even flooding in the streets where Peter and Lindsey live in North Hollywood.
It's late February and few people in Big Sky, where I live, are thinking about summer and wildfire season. Even in warmer climes, winter has a grip albeit a bizarre one. Southern California, Peter tells me, is witnessing a historic winter storm and flooding from more than 15 inches of rain. "I've lived in LA for 10 years now," he says, "and in the past few years, we've started to notice a lot more random weather patterns that feel destructive cropping up. Something that's been very conscious for me throughout that all is of course climate change and understanding that a lot of these freak weather events are not so rare anymore." On top of it all, they're still waiting for a major earthquake—as Peter says, "the big one."
Now, both at age 31 and thinking of starting a family, the Bergs time along the Pacific may not last much longer. They're considering a move out of the Golden State and would join more than a half-million people from 2020 to 2022 in a trend that's been referred to over the last decade as the "California exodus." They talked about the Rockies—Denver or Big Sky—and the Pacific Northwest, but many of the issues plaguing California haunt these environs as well.
Peter and Lindsey say that a college town like Ann Arbor, Michigan, looks good to them, and they have concerns about the environment and climate change. Ann Arbor has among the most comprehensive carbon emissions reduction plans in the country. Last November, its voters approved a $7-million-annual approach to rein in carbon through initiatives ranging from renewable energy rebates to electric vehicle charging stations. But in January, Michigan ranked fourth among U.S. states with the most people leaving.
Peter and Lindsey Berg are considering a move out of the Golden State and would join more than a half-million people from 2020 to 2022 in a trend that's been referred to over the last decade as the "California exodus."
The exodus is happening in many places across the U.S. Americans are moving more than any other time in the history of the country, and waves of newcomers are buying homes in the Mountain West. Crowded cities play a role, as does technology and a growing mobility among certain segments of the population. And, of course, there's Covid. It turns out that social distancing in the wide-open spaces of the West is easier. But the irony is that escape, when many have the same idea in mind, produces crowds. It's not just that people are moving to Greater Yellowstone and building primary or vacation homes, it's where those dwellings are being sited with little dissuasion coming from county governments heeding the warnings of climate and wildlife scientists.
Relocations out of dense U.S. cities increased in 2020 by 17 percent, according to a Pew Trusts analysis, equating to nearly 3 million people. Since cities were shut down and some companies made work-from-home directives mandatory during the pandemic, rural western states became appealing. What's striking is that people are vacating other locales with extreme weather events—hurricane zones and those affected by flooding, for example—in favor of other parts of the U.S.: southwestern cities with infernal heat and areas like the Mountain West that are seeing bigger, hotter and more destructive wildland fires. It's not because these places are getting hotter and burning, rather that the risks don't seem to outweigh the perceived rewards.
According to
a recent study
called "Flocking to Fire" and published in the journal Frontiers in Human Dynamics,
people are moving away from regions like Upstate New York, the Gulf Coast, Midwest and Northeast in favor of migration hotspots like Austin, Phoenix, Vegas and large segments of the Pacific Northwest and Rocky Mountains. In
this
"natural amenity migration
,
" those who can afford to leave urban or suburban locales are setting out for rural areas, drawn
by the
elbow room and beauty: drier climates
,
copious outdoor activities and mountainous regions with plentiful forest cover.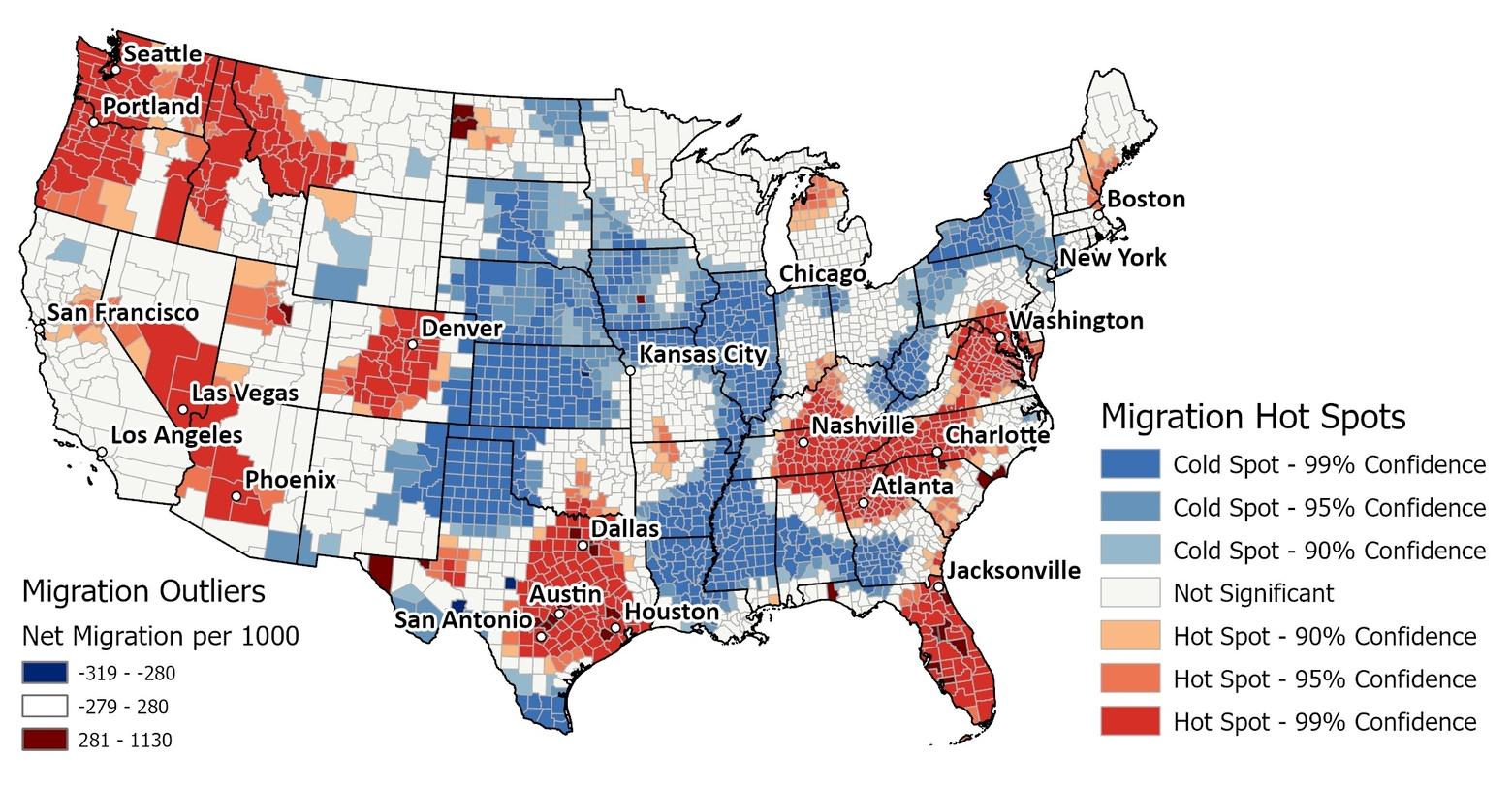 The map here shows migration hot and cold spots in the U.S. Positive/red values indicate more people moving in than leaving, negative/blue values indicate more people leaving than moving in. Map courtesy of 'Flocking to Fire' report
More people than ever before are heading to the Northern Rockies and the Greater Yellowstone Ecosystem. Bozeman, as Mountain Journal has been reporting for years, is one of the fastest growing micropolitan areas in the county.
For one, it has the busiest airport in Montana. The Bozeman-Yellowstone International Airport saw a record 2.2 million passengers last year and those numbers have increased more than 80 percent over the last five years, according to Airport Director Brian Springer, due in part to an increase in direct flights from now 23 airports around the country. Some travelers stay in Bozeman, some head north to fish the Mighty Missouri; some west to explore Butte, America. But a great deal of visitors—to the tune of roughly 4 million each year—visit Yellowstone National Park. From the airport, many drive south on Highway 191 and hit Big Sky, Montana.
Big Sky may be one of the most prominently vulnerable places for wildfire in the Northern Rockies. Looking at the 2020 U.S. Census, Big Sky grew nearly 200 percent over the past 20 years to approximately 3,500 residents, and in peak winter and summer months that number balloons to 15,000 or more as tourists descend into a natural, closed cul-de-sac basin. Gallatin was Montana's fastest growing county with nearly 120,000 people, a 33 percent increase over the last census in 2010.
"Hurricanes and floods happen in a more predictable way. People don't understand how widespread wildfire risk is because it is a little less predictable." – Kelly Pohl, Headwaters Economics
Headwaters Economics, based in Bozeman, has been at the forefront of charting the rise of people living in the WUI. Headwaters' analyst Kelly Pohl, a former fire ecologist, was the main point of contact for the U.S. Forest Service during the development of the website "Wildfire Risk to Communities," a nationwide map of communities and their propensity for wildfire.
A number of complex factors contribute to an increasing migration to the Mountain West and wildfire-prone areas, according to Pohl. Beauty is certainly one factor, and a desire for open spaces. She also points to the patterns of various extreme weather events. "Hurricanes and floods happen in a more predictable way," Pohl said. "People don't understand how widespread wildfire risk is because it is a little less predictable."
The authors of "Flocking to Fire" write that mountain vistas and outdoor recreation opportunities draw newcomers to western states, but many are unaware of the full potential danger of wildfires.
"We've had more serious, broadscale destructive hurricanes for a long time … going back to Hurricane Katrina and then Maria and Harvey and Irene and Superstorm Sandy," said Mahalia Clark, the study's lead author and a graduate fellow with the University of Vermont's Gund Institute for the Environment. "We've seen more and more headlines as wildfires get worse, more frequent and more severe, but someone moving to a wildfire prone area who's not familiar with those risks might be totally unaware of them and no one's really going to tell them about it."
° ° ° °
Dan Potocki and his wife Kim moved their family to Big Sky in June of 2022. East Coast transplants from Kingston, New York, near Woodstock, the Potockis and their four kids were ready for a change. Dan isn't the type to point specifically to global warming as a primary reason, he says, but he noticed the changes and wanted an "actual winter." The Potockis sought a better lifestyle and they wanted to ski.
"Kim and I would say, 'Man, when we were younger it would snow on Halloween,'" recalls Dan. "Now, it snows like two weeks in January."
How many newcomers are reflecting on the links between winters that, on average for years, have been warmer, springs that are witnessing melting snowpack and river runoff happening earlier, and hotter summers expanding what used to be considered the traditional wildfire season? Experts say fire season is now a year-round phenomenon, and that it's not only the connection between climate and fire that's concerning, but also that more people are, consciously or not, moving into fire zones.
In 2018, Dan had started the Hudson Valley Center for Innovation, an investment business that built startup companies, and when a former
Kim's sister in Seattle warned the family about the dangers of thinner air at elevation and the reduced air quality when smoke blows in from wildfires in California, Oregon and Washington, so they installed filters on each of the three floors in their new house. What wasn't clear, Dan says, was that it's not only fires from the Pacific Northwest that are making smoke. The wildfire danger in southwest Montana is real.
"No one ever told us it happened immediately here," he says.
A looming question: Why is that?
The reasons, according to risk advisor Jeff Kaplan, are not cut and dried. While clients have a role in understanding wildfire risk in fire-prone areas such as southwest Montana, they aren't alone. "You have to think about who's buying," Kaplan says. "In Big Sky, you have a person from California or Florida, or maybe even Tennessee [or] Chicago. Their risk advisor, the person who sits in our seat, in those areas may not be familiar with the issues that are particular to Big Sky."
Insurance brokerages like Kaplan's national firm Risk Strategies help buyers assess risk, including wildfire. Kaplan believes realtors are starting to better inform clients of fire danger, but that insurance companies are still falling short. "I would say that the industry itself doesn't do a good job in educating the consumer," he says.
Kaplan also points to the fact that Big Sky hasn't burned big of late and without major fires in the news, how do potential homebuyers know what dangers lurk in the timber? Wildfires, however, have flared nearby—in the Madison, Gallatin, Absaroka and Tobacco Root mountains.
I think as a society, we're encouraging people to move to these mountain towns, and I think they're missing this inherent danger that goes along with that." – Dustin Tetrault, Big Sky Fire Department
"Keep in mind," he says, "this wasn't a peril people thought of as primary in the state of Montana until post 2018. Wildfire wasn't something that people talked about because it's rated on past wildfires. We've had a tremendous amount of development in the last probably 10 years, and probably accelerated in the last three or four. There just hasn't been a wildfire that's piqued people's interest."
Big Sky has had some scares of late: The Porcupine Fire started in November 2020 and chewed through nearly 700 acres one mile south of Big Sky in a matter of hours, and the 2021 Shedhorn Fire, which flamed out at 75 acres in the Taylor Fork drainage southwest of town. Both were deemed human caused.

But Kaplan is referencing the summer of 2018, which saw three forest fires burning simultaneously not far from Big Sky. One, the Bacon Rind Fire, raced across more than 5,000 acres about 20 miles south of Big Sky. The blaze was sparked by a lightning strike in the Lee Metcalf Wilderness 23 miles from Yellowstone National Park, in steep terrain not unlike that surrounding this unincorporated town.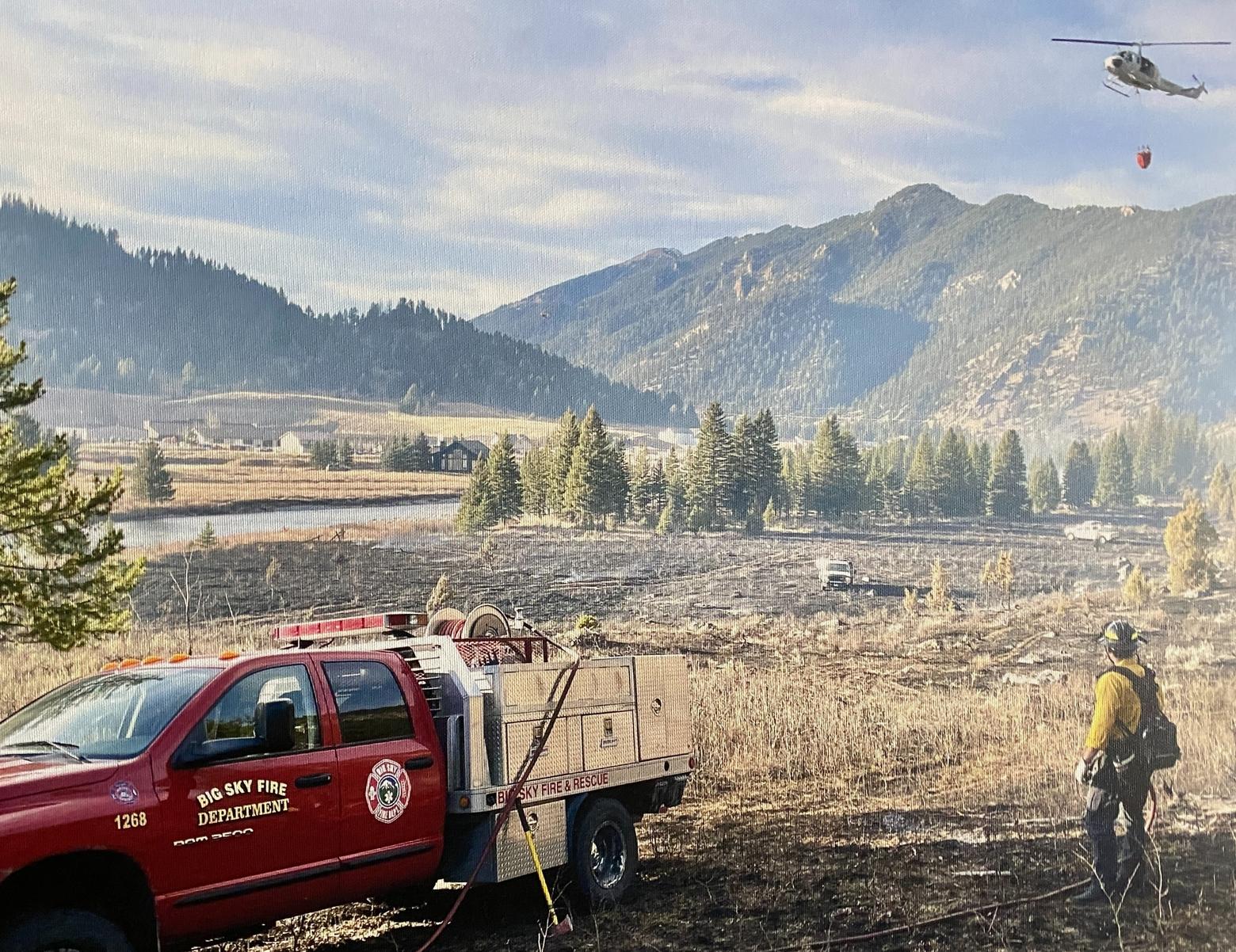 This photo of the Porcupine Fire in 2021 hangs in the halls of the Big Sky Fire Department. Helicopters pulled water from the Gallatin River beyond the burn zone. Photo courtesy BSFD
° ° ° °
Behind his desk in a small office tucked inside the Big Sky Fire Department, Dustin Tetrault works in front of two computer monitors, academic degrees and fire certifications lining the walls and shuffled on his desk ("I ran out of room," he says.). Tetrault, Big Sky's deputy fire chief of community risk management, wears a close-cropped buzz cut and a tattooed wedding band on his ring finger. He points to one certificate he's particularly proud of: Wildfire Mitigation Specialist, proving he has the skills to "mitigate the effects of wildfire, as well as knowledge of wildfire science, and best practices related to planning and public education." This certification hasn't been around long. Tetrault was number 52 in the nation.
Upstairs, in the meeting room of the department, we talk about why some lack the awareness of wildfire risk in the West. Tetrault says a major factor is media coverage, pointing to parts of eastern Montana that see wildfires regularly but have little development to burn. These fires are often driven by strong winds that rip through light fuel like grasses and every year Tetrault is called to help fight three or four of these fires that can burn tens of thousands of acres. It's just that no one hears about them.
"If you were just looking at the national news every day, we can be burning a million acres in Montana but if they're not burning houses down, they'll never make the news," he said. "But you get a 100-acre fire in California that burns 40 houses down, that's making the news."
Outside of the raw natural splendor in Montana and the greater Mountain West, Tetrault also pointed to two other factors driving folks to the area from certain coastal areas prone to hurricanes or flooding: consistency and American society. Hurricanes hit the East Coast and Gulf states from June through November and while fire season also hits during these months, weather reports show hurricanes forming days and weeks ahead of time. Wildfires can pop in an instant.
In terms of societal pressures, technological connectivity through platforms like Facebook, Instagram and Twitter add a degree of FOMO (fear of missing out) to the equation as folks with selfie sticks and helmet cams take to the slopes for powder-filled posts or the obligatory fly-cast photo.
Of course, it's essential to note that being able to relocate speaks to the upward financial mobility of newcomers, and those with investment income can afford to live anywhere they want—a luxury not available to most Americans.
The "inherent danger" that's part of Greater Yellowstone's inward migration, Tetrault says, is showing up increasingly in the West in the form of wildland fire. But many folks moving from areas dealing with flooding and hurricanes aren't thinking about wildfires, even when they do read headlines warning of increasing fire danger due to climate change, increasing fuels due to a history of fire suppression, and homes succumbing to wildfire due to an expansion of the human footprint into mountains and timber; even if they recognize the danger, there is a modicum of cognitive dissonance, says Headwaters' Pohl.
"In general," she says, "people have a defense mechanism of believing that it could never happen to them."
Wildfires do happen and they're occurring on larger scales and with increasing intensity due in part to a warming climate. One
Headwaters Economics report from 2018
shows
that s
ince the 1970s, the average length of the fire season has increased by nearly three months, the total acreage burned per wildfire has doubled since the 1990s, and fires are today burning twice as long. The other component: people are building more homes in that danger zone known as the wildland-urban interface.
COMING IN PART TWO: What is the larger context of wildfire danger in the Western WUI for Greater Yellowstone, what actions are being taken to reduce risk, and is it enough?