Back to Stories
September 6, 2019
Standby Snow: Chronicles of a Heatwave, Chapter OneMountain Time Arts takes on climate change by making it visceral, not abstract, for Greater Yellowstoneans
: Bozeman, Montana has one of the highest, per capita, concentration of professional environmental and conservation organizations in the US. But none are like Mountain Time Arts, that is trying to raise awareness about seemingly overwhelming issues such as climate change, water challenges, and sprawl in ways that citizens can understand. And they do it in a sensually-mesmerizing way. Its motto is: "Mountain Time Arts produces bold, engaging art projects that explore the history, culture and environment of the Rocky Mountain West."
by Michele Corriel
Over 500 people sat waiting on blankets and lawn chairs until a periwinkle sky gave way to the pinpricks of stars and this summer's Mountain Time Arts' offering began in Bozeman.
Using the historical backdrop of Story Mill's 90-feet-tall silos and granary as a big screen like that found at a drive-in movie theater, projected images took on the aspect of a character in the sunset performance.
Forests blazed while numerical statistics and coding language ran vertically along the curves of the silos. Into the spotlight stepped Chontay Mitchell from Standing Rock singing a Chippewa Cree prayer. His rich voice opened hearts and set the stage for the night.
Standby Snow: Chronicles of a Heat Wave, Chapter One, the first installment of a new community-based opera, addressed issues relating to climate change.
Chapter One examined the philosophies and practices of Native American perspectives on fires and those affiliated with US government wildland policy. The latter is already shaping the lives of millions of Westerners and as the drying out of forests has led to massive property damage, loss of life and foreshadows huge changes coming for public lands, the way we relate to them, the species inhabiting them, and local economies.
Through the use of lyrics taken from conversations between climate experts and Native American scholars, the audience was introduced to the subject intimately and in a way that allowed for a participatory experience. As citizens and inhabitants of this earth we are bombarded with data that often bounces off our consciousness and floats away. By putting the language in verse and song, our emotions clear the way for information to be absorbed.
"My hope is that we have structured Standby Snow in a way that opens people's minds," Mary Ellen Strom, the co-director of the performance, said. "I hope to inspire people to think about new ways of caring for the planet. People in Montana already have a lot of environmental knowledge, but we need to come together to think of new ways to approach this environmental crisis."
"I hope to inspire people to think about new ways of caring for the planet. People in Montana already have a lot of environmental knowledge, but we need to come together to think of new ways to approach this environmental crisis." —Mary Ellen Strom, co-director of Standby Snow, Chapter One
Mountain Time Arts brings together the collaborative aspects of creating performative artwork. The organization dedicates its projects to creating new forms of dialog about cultural and environmental justice in southwest Montana and beyond. To this end, the opera presented at the end of August represents a cross-section of society in regards to conservation and stewardship of the land.
The opera consisted of four main scenes and two diversionary scenes, one of which had three women dressed in white with hats mirroring the silos and granary. They sang of going to Glacier National Park but getting evacuated before they could see the glacier, the main reason for the trip. Their voices reflected a contemporary feel, making the work accessible.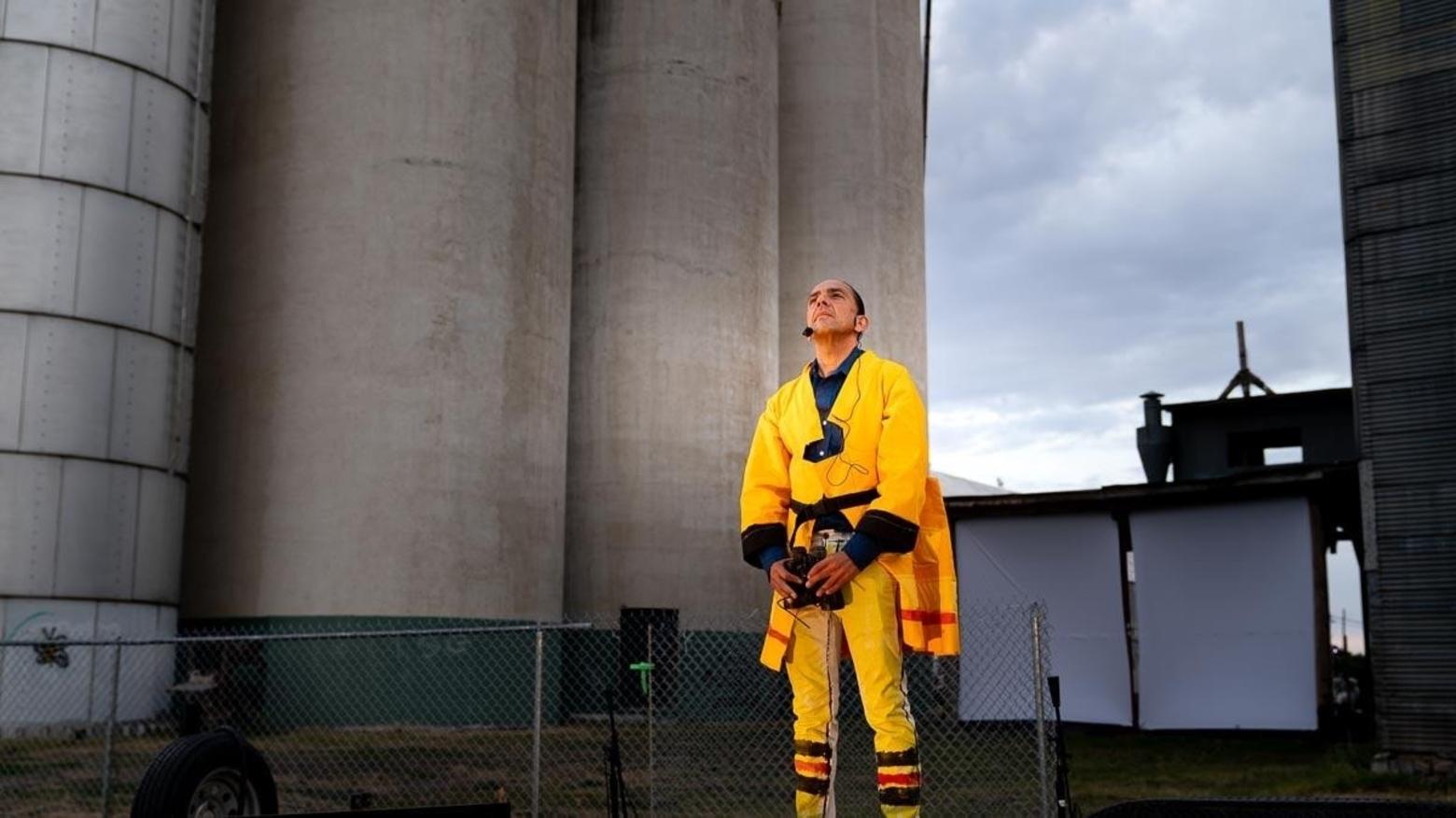 Shane Doyle (Apsaalooke/Crow) recites Plenty Coup's dream. Doyle, Ed.D, is a board member of Mountain Journal, Hopa Mountain, an associate college professor, a staffer for the American Indian Institute, an activist, conservationist, and operator of a cultural tourism company that emphasizes sensitive and respectful exploration of Indian Country. He also is a member of an indigenous singing/drumming group.
"The project was more about locality, how we go to Glacier National Park and fill up our cars with gas and expel all that carbon to see the glaciers before they melt. How can we rethink it?" Strom said. "We tried to do in a way that uses humor and self-deprecation. We're all in it together and we need to figure it out together, talk about the issue without blaming and shaming, but to be wise and open to each other's ideas."
This philosophy is embodied in the first scene, Like A Rocket, where Shane Doyle and Aliana De La Guardia stood atop a platform with an image of a fire lookout projected onto it. Their operatic piece quoted an interview with Dr. Steve Running, an environmental scientist at NASA, and part of the team that received the Nobel Prize for Environmental Science. The scene referenced wildfires, drought, and overall forest health.
As scenes changed and lights needed redirection, as actors moved from place to place, and stage hands adjusted microphones, the voice of Strom wove throughout the performance directing the action. Like a peek behind the curtain or the breaking through of the fourth wall, the audience became aware of the workings, and of themselves. Again, the thread of participation sewed us together.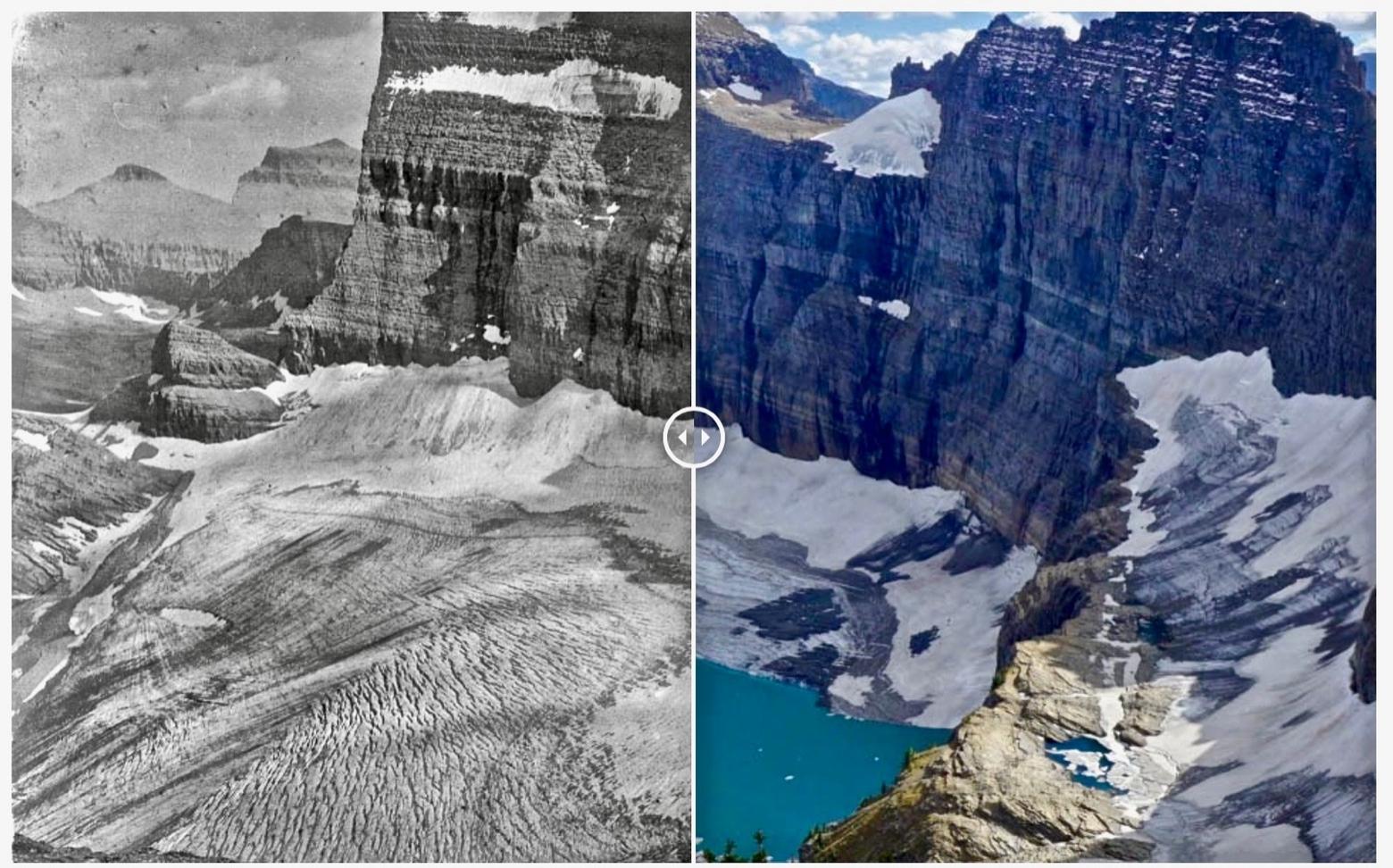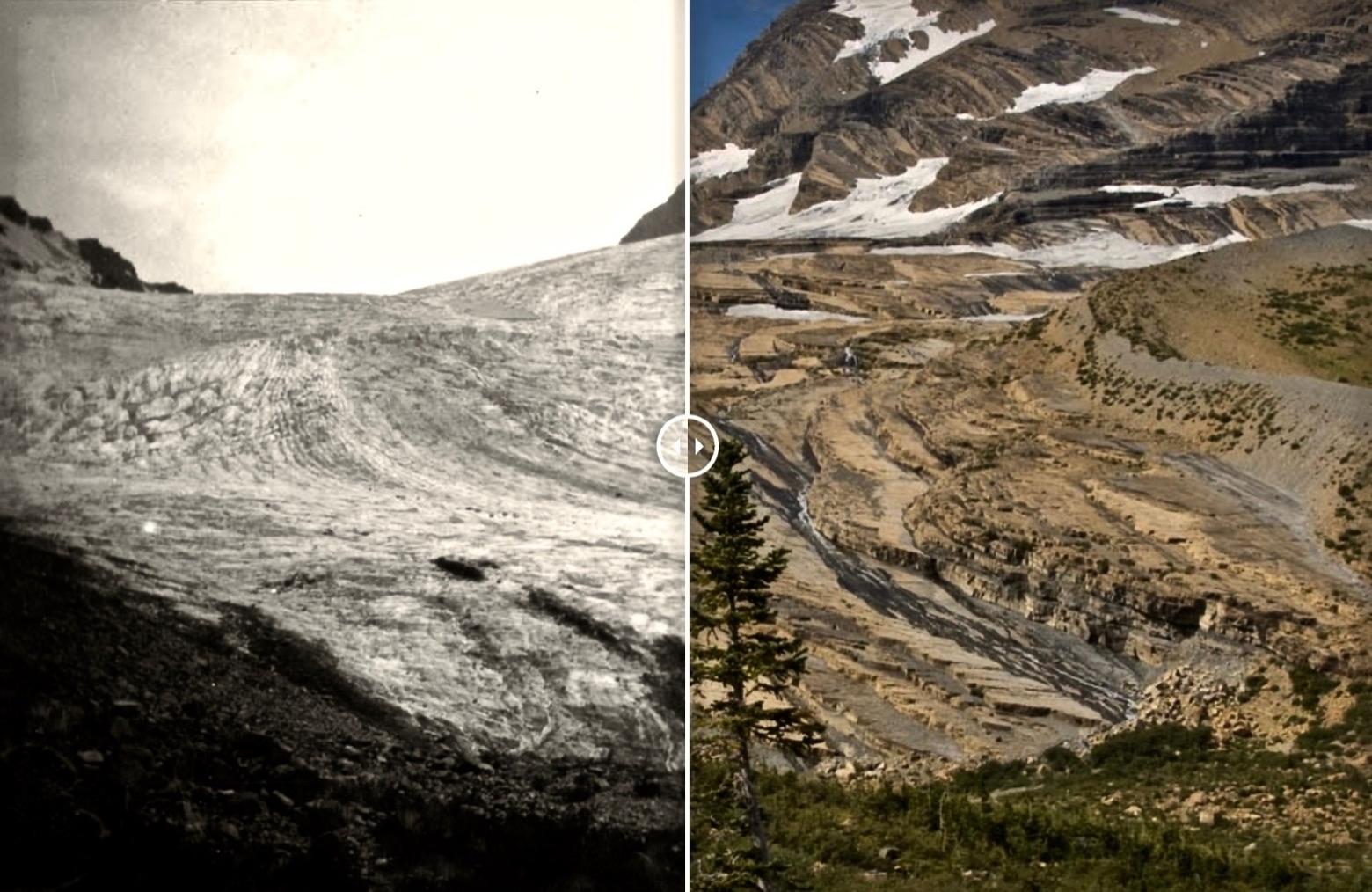 While these photos did not appear in the production of Standby Snow, reality does set a backdrop. Above: two of the most venerable landmarks in Glacier National Park—Grinnell Glacier and Jackson Glacier. The top photo show the extent of Grinnell in 1910 and where it was after years of melting in 2017. Photo of Grinnell in 1910 taken by Morton Elrod; photo in 2017 courtesy Lisa McKeon/USGS. Photo of Jackson Glacier taken by Elrod in 1911 and by McKeon in 2009
The second scene was taken from an interview with Dr. Cathy Whitlock, a nationally renowned fire scientist working at Montana State University; the third scene, has Brian King speaking of the earth as an entity, about the indigenous knowledge of stewardship from his Blackfeet-Pikuni perspective.
In the final scene Shane Doyle gave an operatic performance, reciting Chief Plenty-Coup's dream, vision and prophesy that has come to pass. During this scene the "tree people" appeared along the ridge above the field. "It was a way of honoring the forest," Strom said. "The dance was a sign of tribute to the forests that are having struggles right now, from beetle infestations, to drought, to fire."
In the final scene Shane Doyle gave an operatic performance, reciting Chief Plenty-Coup's dream, vision and prophesy that has come to pass
Others vital to the production of Standby Snow included Laine Rettmer, from Boulder, Colorado, currently working in New York City, who co-directed Standby Snow and has been a part of Mountain Time Arts since the first performance piece, Gabriel Canal, in 2017.
Alayna Rasile designed the costumes, including the hats of the trio and an outstanding sculptural lab coat worn in the first scene by opera singer Aliana De La Guardia.
The team collaborated on this project during a series of residencies at the Basin Artist Refuge, Robert Wilson's Watermill Art Center on Long Island, and the Center for Arts and Design, in Spoleto, Italy, as well as numerous sessions in Bozeman. "We spoke about ways of stewarding the earth," Strom said. "What we need to imagine going forward, you could call it a speculative future, from the multiple perspectives of science, indigenous philosophy, as well as an arts and culture perspective."
Doyle, one of the singers hailing from the Apsaalooke/Crow Nation, said he wanted people to come away from the performance with a profound sense of awareness for the current climate situation. "I wanted their minds to be blown and of course Mary Ellen [Strom] never disappoints on that," he said. "I'm still processing it. Every moment was important and I wanted the audience to understand that. I was moved by how much it exceeded my expectations."
At the very end Strom's voice called to the audience, "Standby Audience. Standby Snow. Snow Go." Flakes of light fell across the silos and granary, as the audience was called upon to be part of the solution.
Next summer the hope is to perform the second chapter of Standby Snow: Chronicles of a Heatwave. "We're going to start working on it this fall," Strom said. "It's a collaborative inter-textual work, being made by a group of architects, composers, video makers, and the libretto has been culled from interviews with people."