Back to Stories
October 17, 2021
How A Mystical American River Can Run Through Your Living RoomDave Hall, who has gained renown as "the painter of Greater Yellowstone rivers," is on a quest to protect the ecosystem one great riverscape at a time. You can join him
Mountain Journal
We all are drawn to it—the pulse, rhythm, serenity, the constant shape-shifting.
The trancelike allure of being by a river, lake or sea is impossible to put in words. Ancient Greeks invoked the metaphor of flowing water as an allusion to time passage, to changing currents, as in life, being one of the truest constant elemental forces leaving us humbled, and to fluidity connecting past, present and future.
When we're near water we don't need to pay for an app to deliver virtual calm on an iPhone or laptop. And there is a way to have ready access that can be shared across generations.
Dave Hall is called to the near-mythic rivers of Greater Yellowstone for myriad reasons. Besides their almost sacred status to him as a fly fisher and naturalist, and the dynamic fusion of their aesthetic expressions, Hall as a painter sees rivers as meditations for pondering the meaning of wildness. He paints in oil, but he also is in a way a water colorist.
While many people dream of dwelling near stretches of the main Snake, Madison, Yellowstone, Gallatin, Wind, Boulder and Henrys Fork—among numerous smaller others—the fact is most will not, but they can bring the spirit of those venerated lifelines into their homes and offices through a Hall painting.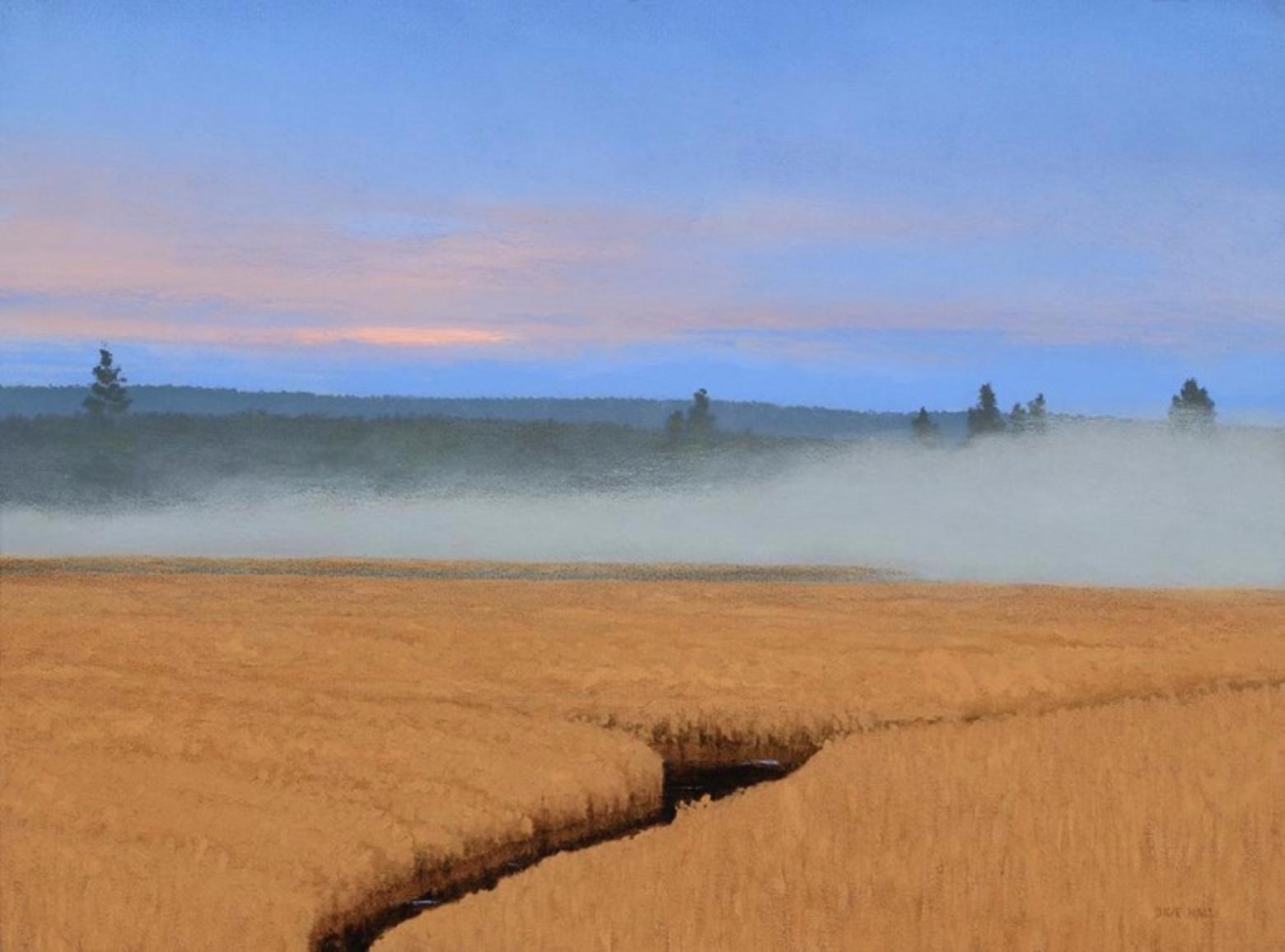 This piece, titled "Harriman Morning," is not part of the "Greater Yellowstone Suite" art for enhancing great journalism collaboration with Dave Hall but it is an example of a work that has drawn national praise for the painter. The large original painting is in the collection of the great, great granddaughter of Union Pacific railroad executive E.H. Harriman after whom a popular wildland state park is named in Island Park, Idaho located in the western quadrant of the Greater Yellowstone Ecosystem.
In one of Hall's tonal visions conveying moods as Mark Rothko did in his banded color fields, a river can run through the living room; it can bring happy pause to the foyer, spark an idyl yearning late at night before dreamtime and, if this artist has his way, convince we viewers to more heartfully contemplate what must be done to protect their corridors of liquid sustenance that hold Greater Yellowstone together.
As part of a new collaboration between Hall and Mountain Journal that invites our reflection on how art can aid the cause of wildlands conservation, Hall sees journalism as being an essential vehicle for elevating public awareness. Art by Thomas Moran and William Henry Jackson convinced Congress to create Yellowstone; decorative duck stamps have saved millions of acres of wetlands; and it has advanced the cause of public support for environmental protection in ways little else has.
MoJo
is hoping to expand its reporting ranks and Hall is enabling those who appreciate fine art to help make it happen as part of what he calls "a quadruple win" opportunity. Click
here to see how
.
Those who make a $1,000 contribution to Mountain Journal will: 1. Be able to select one of Hall's five soothing river scenes, part of his acclaimed "Greater Yellowstone Suite Series" and made available as limited edition giclees. 2. Know that part of the contribution is tax-deductible (MoJo is a non-profit 501 (c)(3)). 3. Your charity will help expand MoJo's coverage of critical environmental issues threatening the ecological integrity of Greater Yellowstone. And, 4., lastly and perhaps best of all, the selected painting with a frame inspired by the California craftsman tradition, can either be hung on the donor's wall or given as a perfect holiday gift to a loved one or friend. (Fine art is one of the most memorable gifts of all).
Mountain Journal founder and journalist Todd Wilkinson who has been writing about nature art for more than 30 years. "There's nothing like a landscape painting to deepen visual impact in a room and reflect a person's love for nature. These pieces are little gems and they speak to the high conservation values that set our region apart. What an honor to have someone of Dave Hall's talent as a partner for advancing great journalism."
Wilkinson and Hall first got together at the Taft-Nicholson Environmental Center in Montana's Centennial Valley nearly a decade ago when Hall was an artist in residence. Today, Hall divides his time between Salt Lake City where he once taught at Rowland Hall, and a retreat in the woods around Island Park, Idaho not far from the banks of the Henrys Fork.
"We're losing the essence of Greater Yellowstone and the pace of it started to accelerate amid Covid which brought an inundation of more people," Hall says. "One of the best, most-effective lines of defense, if we have any hope to saving the specialness of the region is to have a well-informed public that cares enough to become an advocate for Greater Yellowstone's protection," Hall says.
Below are the five paintings and a description by Hall in his own words of what inspired them. With the holiday season approaching, they are certain to be in demand. "I am honored to to be able to offer 25 paintings—five signed reproductions of my favorite from the last two decades," Hall says. "All 25 are archival prints on canvas. I designed the frame after the California landscape craftsman frames of the middle 1900s. I have done all the staining and finishing."
For a peek at Hall''s larger portfolio of new works, pieces that are today part of major personal collections and commissions,
click here
.
#1 Dawn on the Henry's Fork (below)
"Dawn on the Henry's Fork is a large painting," Hall notes. "I painted it in an afternoon, which is very rare for me. I tend to be more methodical, while still conscious of mood. Dawn took on a life of its own."
#2 Morning on the North Fork (below)
"Morning on the North Fork was painted after a walk alone below Big Springs in Greater Yellowstone's western tier. I had forgotten my bear spray, which heightened the experience. I like the palette — more vibrant than much of my work."
#3 Thinking of the River (below)
"Thinking of the River was painted for an auction supporting the Henry's Fork Foundation. It represents favorite locations on the River, where I spend most summer days longing for trout to rise. It's a rare mid-day painting."
#4 Dawn in Lavender (below)
"For years I've hiked with friends and camped in a favorite Yellowstone location, along the banks of a favorite Yellowstone creek — where I've seen wolf tracks on the gravel meanders. This is our sunrise."
#5 Summer's Coming (below)
Summer's Coming is no specific location. It was painted during the early spring as I looked forward to summer's mayfly hatches. I love the early morning mist on Greater Yellowstone's moving water.
#6 Early Morning, The Ranch (Henrys Fork of the Snake)
Tonal tranquility in layers of land and atmosphere, settling over a corner of the Greater Yellowstone Ecosystem renowned for its peace, healthy wildlife and native trout populations.
POSTNOTE
: Some of the works above are part of personal and public collections.
Only 25
smaller reproductions are available as part of Hall's special offer
to benefit MoJo
. They won't last long. We are grateful for your support.