Back to Stories
December 14, 2022
White-tailed Deer Buck With CWD Confirmed Near BozemanAs CWD spreads across the West, Wyoming still operates elk feedgrounds and states take aim at disease-fighting predators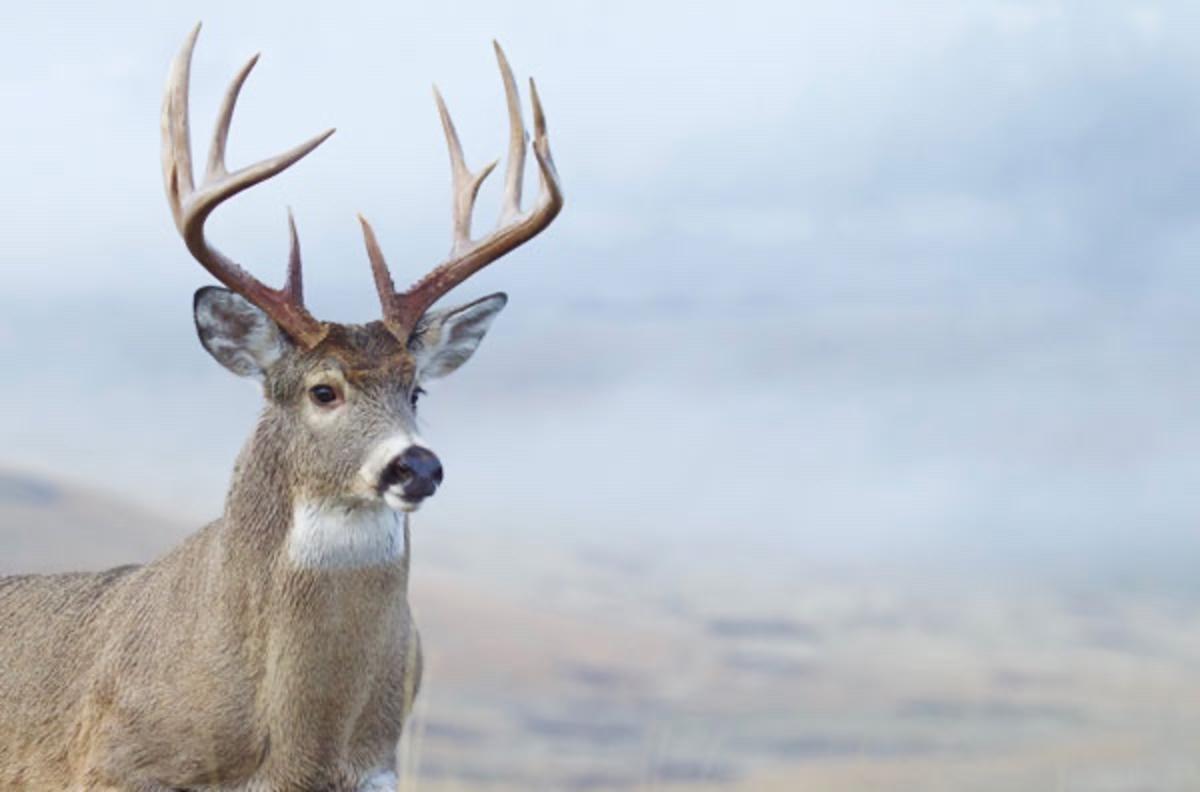 A white-tailed deer buck similar to this one tested positive for Chronic Wasting Disease after it was shot by a hunter near Gallatin Gateway, Montana. Photo courtesy Montana Fish, Wildlife and Parks
by Todd Wilkinson
Chronic Wasting Disease, the dreaded and always deadly modern wildlife plague, has been detected in a white-tailed deer buck killed by a hunter near Gallatin Gateway, Montana, just west of Bozeman, state wildlife officials announced Wednesday, Dec. 14.
It is the first time a positive test for CWD has turned up in a tissue sample taken from a big game animal in hunting district 304, which includes a significant part of the Gallatin Valley.
The news is another sobering reminder of how CWD, which afflicts members of the cervid family (deer, elk, moose and caribou), continues to rapidly spread in the Greater Yellowstone Ecosystem—and, nationally, in dozens of states where millions of hunters go afield every year in order to get meat for the dinner table.
The latest test result means CWD now is literally in the backyard of Bozeman, the largest city in the Greater Yellowstone region and one of the fastest growing micropolitan areas in America.
"I'm not surprised CWD is here, around Bozeman," said Dr. Bruce Smith, a retired federal wildlife biologist who has studied several species and for decades served as a senior researcher at the National Elk Refuge in Jackson Hole, Wyoming. Today, Smith lives in Bozeman. A few years ago, he wrote the critically acclaimed Where Elk Roam: Conservation and Biopolitics of Our National Elk Herd. The book held warnings about the arrival of CWD amid high concentrations of Wyoming elk controversially given hay pellets on 23 feedgrounds.
In November 2018, CWD was confirmed in Jackson Hole for the first time when an adult mule deer buck tested positive in Grand Teton National Park adjacent to the National Elk Refuge where thousands of elk were massing for the winter. Since then, scientists have said it is only a matter of time before CWD cases rise in both mule deer and elk in that part of Greater Yellowstone. Meanwhile, while the disease has been found in deer east of Yellowstone and north of the national park in Paradise Valley, a positive test in Yellowstone wildlife has not yet happened.
The press release from Montana Fish, Wildlife and Parks about CWD in a white tail near Gallatin Gateway indicates the disease is likely among other cervids in and around Greater Yellowstone's largest human population center.
Not only do southwest Montana, northwest Wyoming and eastern Idaho have robust hunting communities, but many people have been moving to the areas, saying their relocations are motivated by a desire to live in natural environments with healthy wildlife populations.
"If there's one thing the scientists have told me is that CWD is probably more prevalent and has probably been here a lot longer on the landscape than we know—and it's not going away," said Bozeman sportsman Randy Newberg, one of the leading voices for public-land hunting in the U.S. and who hosts
Fresh Tracks with Randy Newberg
, which has one of the largest video and podcast audiences in the country.
"I can tell you there's definitely a high level of concern about CWD within the hunting community," Newberg said. "There are a lot of reasons for that, including not only any potential risk to human health but what it could mean for wildlife and for hunting. My biggest worry involves those within the hunting community who are science deniers. Any progress we make in developing a strategy for confronting CWD must be based on the best available science and, unfortunately, we don't have a wholly complete picture yet because there are still a number of questions science hasn't yet answered."
Laboratory research has shown that infectious prions can grow in alfalfa, corn, soy beans, wheat and tomatoes. A recent study in Texas showed carrots growing in contaminated soil also can uptake prions.
What is known, Newberg says, is that as CWD infection rates deepen in wildlife populations, they often go into decline and mortality outpaces reproduction. Another fact is that infectious diseases spread faster when animals are unnaturally bunched up together. Montana had its first case of CWD in 2017.
In Wyoming, CWD was first identified in wildlife in the southeastern part of the state near Colorado where the disease is believed to have originated in the wild after a sick animal escaped from a research facility. Since then, it has spread quickly in Wyoming on a western and northern advance to the wildlife-rich Greater Yellowstone region and crossing over into Montana and Idaho. Politicians along with state and federal resource managers have been sharply criticized by sportsmen's groups, conservationists and citizens for not taking aggressive action to try to slow its advance.
Focal points, which have attracted national attention, are Wyoming's 21 state-run wildlife feedgrounds and the National Elk Refuge in Jackson Hole. At those sites, wildlife concentrates in large numbers around artificial feed, a situation that epizoologists say only increases the likelihood of a massive CWD outbreak among tens of thousands of migratory elk.
CWD is a transmissible spongiform encephalopathy. The nonorganic agents that cause CWD, misshapen proteins called prions that wreak havoc on infected animals' central nervous systems, can be shed into the environment via urine, feces, saliva and bodily tissues. Prions can bioaccumulate, being contagious to animals that come in contact with contaminated soils. The fear is that Wyoming's feedgrounds have created the perfect conditions for possible CWD super-spreader events and ongoing infections.
Where Elk Roam was Bruce Smith's attempt to get peoples' attention about the dangers of wildlife diseases associated with feedgrounds. Today some 60 to 70 percent of elk in the famous Jackson Herd winter on the National Elk Refuge. "When CWD takes hold in the elk there and as more become infected, shedding prions into the environment of the elk refuge, it will become a biological superfund site because prions can't be eradicated from soils," Smith said. Thus, elk and other deer family members that have exposure to contaminated habitat will year after year be infected from the environment and co-mingling with other infected animals.
"When CWD takes hold in the elk there and as more become infected, shedding prions into the environment of the elk refuge, it will become a biological superfund site because prions can't be eradicated from soils." —Bruce Smith, retired biologist who spent decades at the National Elk Refuge and who wrote the critically acclaimed book, Where Elk Roam
A study in Wyoming involving CWD-infected elk demonstrated that elk put into contained holding pens, where infected animals has previously been, came down with disease and died from it even when sick animals were not present. Looming large is the question of how much health risk humans have when they eat meat that comes from contaminated animals.
CWD, which is grouped among a category of diseases that includes Mad Cow linked to the deaths of people in the United Kingdom, has been described by some epizoologists as a deeply concerning emerging disease. While there have been no documented cases of CWD spilling over from members of the deer family to humans, the Centers for Disease Control and Prevention recommends that cervids taken in known CWD-endemic areas be tested before their meat is consumed. For more information on CDC recommendations,
click here
.
At the "Prion 2022 Conference: Pushing the Boundaries," a number of peer reviewed papers were presented that raised concerns about the potential of CWD transmission to humans. There was also discussion about the implications of macaques, primates with DNA close to humans, coming down with disease in laboratory experiments. More recently, scientists also demonstrated that CWD can also exist in mice. To date, CWD has been confined to cervids but the possibility of it infecting other mammals is worrisome, biologists say.
"Its rapid geographic expansion, shedding of infectivity and persistence in the environment for many years are of concern for humans," one of the papers states. "Transmission of cervid prions to humanized mice demonstrates the zoonotic potential of CWD ... This is the first evidence that CWD can infect humans and cause disease with a distinctive clinical presentation, signature, and tropism, which might be transmissible between humans while current diagnostic assays might fail to detect it. These findings have major implications for public health and CWD-management." The papers are available on the U.S. National Institute of Health website and can be accessed
by clicking here
.
Apart from human health concerns, biologists say CWD's deepening presence could have serious population-level consequences for deer, elk and possibly moose. CWD is known to be in other parts of southwest Montana, including the Paradise and Ruby valleys, as well as in
other areas of the state
.
The spread of CWD around places like Bozeman may also have a connection to poor land-use planning. Large numbers of white-tailed deer, which carry CWD with a higher rate of incidence than other cervids, inhabit both Bozeman's urban neighborhoods and, of course, the surrounding suburbs, exurbs and farm and ranch lands. As a highly adaptive species, white tails also thrive in landscapes fragmented by human development.
Mountain Journal
h
as reported extensively on CWD
and the history and danger of the disease is highlighted in the new book,
Ripple Effects: How to Save Yellowstone and America's Most Iconic Wildlife Ecosystem
.
State game agencies say hunting is the primary tool for sampling and managing CWD. Several
hunting license opportunities
remain valid in southwest Montana through Jan. 15 for harvesting antlerless white-tailed deer in adjacent hunting district 309. Hunters who harvest deer or elk in the Gallatin area are encouraged to submit samples for testing to help further FWP's understanding of CWD prevalence and distribution. FWP pays for the testing, making it free for hunters, and has provided resources to help hunters collect and submit samples for testing on their own. These resources can be found by
clicking here
.
Ironically, at the same time that CWD is striking more cervid populations in the West, some states continue to wage a war on predators. In Idaho, there is a de-facto policy of eradication; in Montana, the administration of Gov. Greg Gianforte set a hunting and trapping season in 2021-2022 that resulted in 20 Yellowstone wolves being killed when they wandered out of the park into the state, including the destruction of an entire pack. And, in Wyoming, wolves can be killed by virtually any means, any day of the year, in over eight tenths of the state.
Norman Bishop, who was Yellowstone Park's lead research interpreter and helped lead the writing of the Environmental Impact Statement on wolves prior to their reintroduction in1995, says anti-predator policies are narrow minded and not based on science. Numerous analyses, Bishop says, point to a beneficial role that wolves, mountain lions, bears and coyotes play in weeding out CWD-infected cervids and potentially slowing down the disease's spread.
Like humans, those predators so far are immune from catching CWD. In Colorado, it was shown that mountain lions keyed in on CWD-infected mule deer, though humans might not have been able to discern they were sick.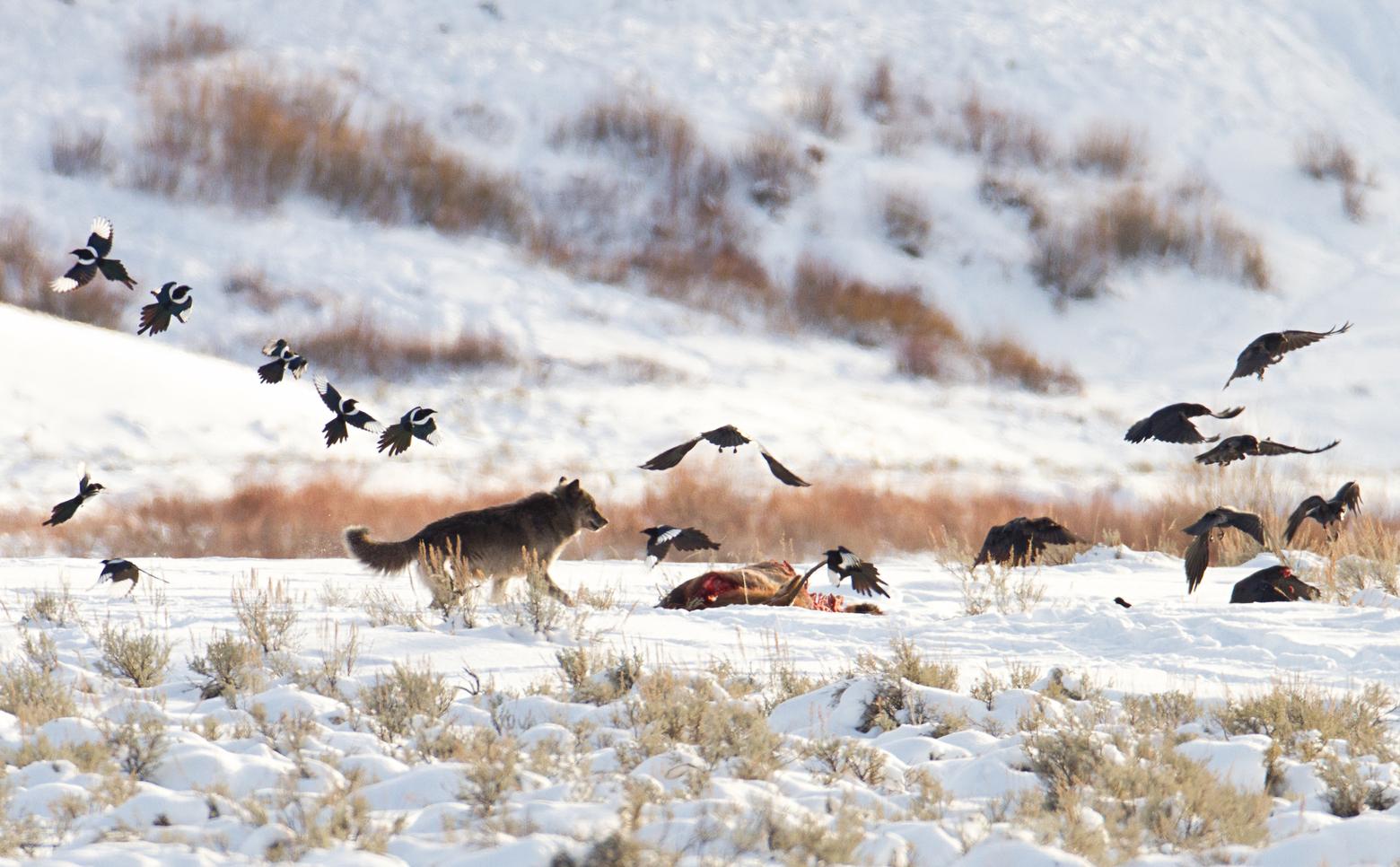 A wolf in Yellowstone feeds on an elk carcass near Soda Butte and chases away magpies and ravens trying to get a bite to eat. Wolves, magpies and ravens are not afflicted by CWD. Though they may be able to shed prions in their urine and feces, they cannot pass it on to other animals. Moreover, with thousands upon thousands of cervids on the landscape, the deposition of prions by them into the environment is exponentially greater. Photo courtesy Jim Peaco/NPS
"Fighting Chronic Wasting Disease by sending hunters afield to reduce deer concentrations was tried in spades in Wisconsin, where they spent $27 million for sharpshooters to depopulate their whitetails, with no effect on CWD," Bishop says. He adds that a decade ago, authors of a paper titled "The Role of Predation of Disease Control," published in the Journal of Wildlife Diseases concluded: "We suggest that as CWD distribution and wolf range overlap in the future, wolf predation may suppress disease emergence or limit prevalence."
In the landmark 2020 book, Yellowstone Wolves: Science and Discovery in the World's First National Park, researchers note: "A wolf 's sense of smell is thousands of times stronger than a human's and able to detect urine several weeks old."
Says Bishop, "That tells us that wolves have the capacity to detect and select prion-infected animals not only by sight, but by their odor, long before a human hunter could notice anything amiss. And wolves are on the hunt for prey that is less likely to kick their teeth in, at dawn and dusk, 365 days a year, year after year. If wildlife managers just have the support from sportsmen and ranchers, they can allow wolves to attain ecologically effective populations that will reduce infected animals, and lower the densities of deer and elk, suppressing transmission of CWD, and promoting both healthy prey animals and healthy habitat."
Well-known wolf biologists Mike Phillips, Dave Mech, Rolf Peterson, Doug Smith, and Barry Noon agreed: "While predation may not eliminate CWD from an ungulate population, predators like gray wolves that select for disease-compromised cervids should prove useful to that end." Not long ago, Ellen E. Brandell at Penn State University and co-authors published a paper, Examination of the interaction between age-specific predation and chronic disease in the Greater Yellowstone Ecosystem." It appeared in the Journal of Animal Ecology and stated, "Predators may create healthier prey populations by selectively removing diseased individuals ... Model results suggest that under moderate, yet realistic, predation pressure from cougars and wolves independently, predators may decrease CWD outbreak size substantially and delay the accumulation of symptomatic deer and elk."
"While predation may not eliminate CWD from an ungulate population, predators like gray wolves that select for disease-compromised cervids should prove useful to that end." —Conclusion of five top wolf biologists
Bishop says that as states claim that hunters are the best tool in controlling CWD, they are, simultaneously, targeting their best wildlife allies. "We go and blunder around in the woods with our rifles but we don't have a clue what we are shooting—whether the elk or deer are infected with CWD or not," he says. "Meanwhile, we have wolves and mountain lions and other predators that do a far better job of identifying and removing diseased animals."
In coming weeks, Mountain Journal will report more on the papers delivered at the 2022 Prion Science Conference and findings that relate to CWD prion contamination at meat processing plants, taxidermists working with potentially infected carcasses and other issues.
What can individuals do, besides having their big-game meat tested? Smith's recommendation to citizens is that they positively, absolutely stop feeding wildlife and bunching animals up which leaves them vulnerable to CWD and other diseases. As for his former employer, the U.S. Fish and Wildlife Service, which manages the National Elk Refuge, he says scientists on the ground know that feeding thousands of elk is not a good thing.
"The Elk Refuge hasn't shut down feeding because it can't get concurrence from the state of Wyoming. That's always been the case," Smith said. "I worked for managers there who would've been fading out feeding to draw down the elk numbers and bring them to habitat appropriate densities. Another part of the solution would be trying to restore migration routes lost to development. Wyoming's management of CWD is not science driven; it's strictly politically driven and it serves no great good in the long term. Like the Covid pandemic that severely disrupted human lives, CWD could do the same for wild ecosystems and human livelihoods that depend on them. We don't know where this is going, but It has the potential for being a catastrophe."