Back to Stories
February 28, 2021
Pitched AgonyFor a young athlete, is it better to chase a spot at the top and fall short, or make the grade then get cut? In his ongoing series, Eddy Prugh's journey of hard knocks continues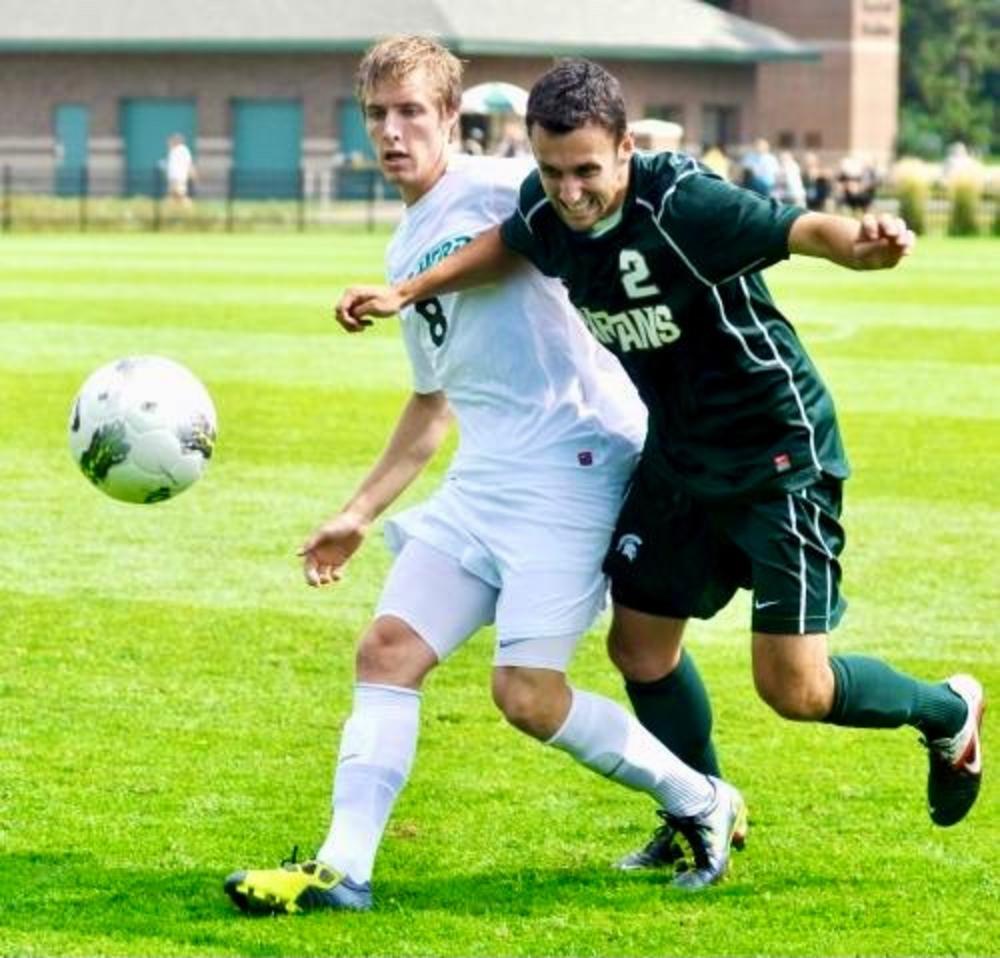 The author, Eddy Prugh, tries to keep control of the ball; much harder is avoiding getting cut. Photo courtesy Eddy Prugh
by Eddie Prugh
There I was, having made a run at playing D-1 soccer and a major program with teammates destined to be pro stars. People back home in Bozeman, Montana had learned about my big breakthrough, but what would I tell them now that I got cut?
Is it better to ascend and appear that you might defy the odds and get close to doing what others said couldn't be done, or to experience what had just happened to me? You prevail, only to lose.
After just one season at Oregon State University I was left to look for a new school and team. As I mentioned in an earlier column, I had gone to Oregon State after playing D-3 soccer and spending time in South America getting seasoned.
Montana are Wyoming are considered the boondocks when it comes to soccer. It's analogous to a kid who Nordic skis making a big-time college program loaded with Norwegians or Swedes.
So there I was, making the grade and then told there wasn't a place for me anymore on the team.
The chip on my shoulder had grown larger. I had very few options and very little time to explore those options. I was as frustrated as I'd ever been but if I wanted to continue playing college soccer, there was hardly a minute to be wasted.
It was my senior year of high school all over again; sending emails in mass to all the Division I programs in the West and waiting for responses. But judging by my consistently empty inbox, it seemed to be too late…or maybe a two-time transfer from Montana just wasn't what schools were looking for.
Another tough realization of my predicament was that if I landed on another college team, I would have to red-shirt for a season before I would be eligible to play again.
As the curtain drew closed on my college soccer days there was one silver lining. The Portland Timbers organization was getting together their U-23 team for the summer PDL season. Their roster was filled with promising college players from all over the West Coast, players who were decorated with All-Conference and All-American honors at their D-I colleges. They were all players tipped to be drafted into the MLS in the coming years. One thing: they had already held an invitational tryout, bringing in players from countries where the pyramid of talent was great.
By some cosmic stroke of luck the head coach of the Timbers U-23 team was the assistant coach of Pacific University, a team who had competed in Whitworth University's conference the year before. He remembered me.
A group of us from OSU traveled up to Portland together for the weekend. Full-sided games with a mix of players from University of Portland, University of Washington, Gonzaga and beyond took part; it was by far the most fun I had playing soccer that year. I scored a pair of goals that ensured that no matter what was happening in Corvallis, I was welcome at the Timbers organization. This would turn out to be one of the most important connections I would make in my career.
Note to young players out there: try not to burn bridges.
With summer underway and dwindling hopes of finding another D-I program, I decided to call Paul Meehan, the assistant coach who had been let go from Oregon State just before I arrived. It was truly my last chance.
"Have you ever been to West Virginia?" was the only part of that phone call that I remember clearly.
The answer was no, I had not been to West Virginia. But that's where I was headed next. Years before Oregon State Coach Meehan had been an assistant at Marshall University in Huntington, West Virginia. A school famous mostly for the devastating 1970 plane crash that killed 75 people including most of the football team, the coach, the team doctors, the athletic director and team boosters.
Aside from that, and the subsequent 2006 Matthew McConaughey movie, We Are Marshall, the school was best known for producing NFL stars Randy Moss, Byron Leftwich, Chad Pennington and to my amazement, NBA star Jason Williams. That was significant.
Growing up, I had idolized Jason Williams almost as much as I had Michael Jordan. It was his style. The ball handling ability and the mind-blowing passes, I was obsessed. His cult following is still very much alive and before soccer took complete control, he had been one of my very first sports heroes alongside Jerry Rice, Andre Agassi and Peter Forsberg.
The Marshall Thundering Herd competed in Conference USA. Like the PAC-10, there were some big names in this conference too. Southern Methodist University, Central Florida, South Carolina, Kentucky, Memphis, Tulsa, Florida International, and University of Alabama at Birmingham. I was star struck all over again and the prospect of facing the big names of Southern Methodist University, Tulsa and South Carolina was equally as exciting as Stanford, UCLA and Cal Berkeley had been.
I didn't have even the slightest clue what West Virginia would be like. There was no time to go for a visit before committing to the school but I didn't care. I was going for the soccer and frankly, even if I had hated it there wasn't any alternative, so Huntington, West Virginia it was.
I don't have the right words to do justice to the geo-cultural phenomenon that was Appalachia. All I can say is there was something magical about it. It certainly wasn't shiny and at times it almost felt like it was more often associated with turmoil or chaos than it was joy and peace. But at its' very core, it seemed that the wild and wonderful spirit of West Virginia and Appalachia as a whole lived in family and the ability to appreciate the little things. It was nothing but grit in the coal mountains of West Virginia and as its blue collar feel meshed perfectly with my soccer personality, it felt like home.
Within two weeks of classes no fewer than four people had told me that I looked just like Jason Williams and I started to wonder…was it just coincidence? Should I try to make some deeper connection? Was I finally exactly where I needed to be?
In some ways, my confidence was shot.