Back to Stories
December 11, 2020
What's The Rush (If The Point Is Escaping The Rat Race)?A state highway in Wyoming has brought carnage for moose. The issues Luther Propst raises exist in nearly every corner of wildlife-rich Greater Yellowstone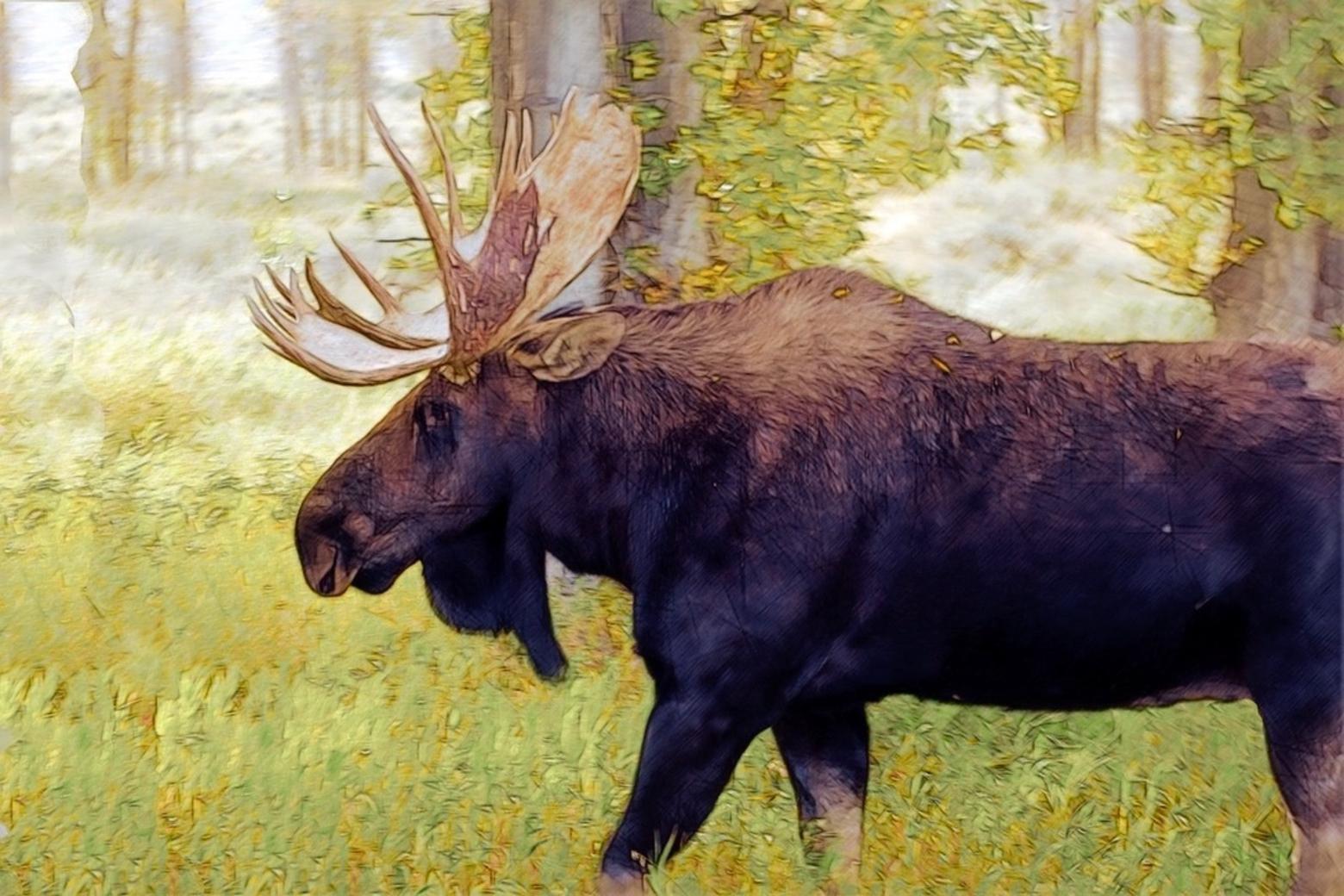 When wildlife and human pathways intersect, the first, best and most inexpensive remedy is for motorists to reduce their speeds. Photo of bull moose in Jackson Hole courtesy Mike Goad/Pixabay Free Use License
EDITOR'S NOTE
: The argument people use is they move to the Greater Yellowstone Ecosystem, come here on vacation, or flee from Covid in order to escape the trappings of the rat race—which includes racing between work and home in a car, not having enough time to slow down and smell the wildflowers or relax. To no longer have to hurry.
Mountain Journal
is sharing this essay written by Teton County Commissioner Luther Propst about the refusal of motorists to slow down and the consequences of a state highway transportation department stubbornly resisting the setting of lower speeds. It's an issue to which many living in the wildlife-rich Greater Yellowstone region can relate. The answer involves more than proposing to build more wildlife underpasses and overpasses.
By Luther Propst
There's a road in Jackson Hole that has earned a notorious reputation.
Wyoming Highway 390, which runs north to south in parallel to the Tetons, has one of the highest rates of collisions between motor vehicles and moose of any road in the contiguous United States. (Read this story in local paper:
Popular West Bank moose struck and killed on 390
).
The all-too-frequent photos of dead animals shared on social media and published in newspapers are heartbreaking. Consider: Wildlife biologists estimate that around 70 or fewer moose inhabit the area west of the Snake River and in
just two decades 100 have died
when they've been struck by vehicles in the valley.
Highway 390 is the main route leading to Teton Village and Jackson Hole Mountain Resort. High speeds along this busy route are also a hazard for people — from toddlers to retirees — who cross the road to access the pathway.
The Highway 390 corridor plays several important roles. Given these various and competing functions, speed limits are patently too high. Current speed limits and patchy enforcement simply do not strike an equitable balance between highway engineers' desire to move traffic fast, wildlife advocates' desire to reduce collisions between ungulates and motor vehicles, residents' desire to turn left safely out of residential subdivisions, or parents' desire to safely cross the street and walk the pathway with a stroller.
Instead we live in a dictatorship of highway engineers in which their desires trump everything else. In the latest example of imbalanced priorities the Wyoming Department of Transportation just completed a speed limit study that spends 71 pages to tell us that the current mix of speed limits is just fine, thank you, and if anything, they should be higher.
They are not just fine, and they are not too low.
The crux of the department's study reads: The traveling public is the best judge of a safe driving speed for themselves and most of the people (85 percent) will travel at a reasonable comfortable speed based on roadside conditions consciously or unconsciously [sic]. Setting speed limits lower than the 85th percentile creates violators in law-abiding citizens.
Does the same laissez-faire principle apply to blood alcohol content while driving, speeds through school zones and pretty much every other law in the books? Under this logic there would be no speed limits and we would all drive at a speed that makes us feel comfortable.
Here's the challenge: WYDOT controls Highway 390. Its highway engineers are dedicated public servants. I am especially grateful to the local WYDOT folks who plow snow, maintain our highways and keep Teton Pass open.
The issue is that speed limits are determined by an agency dominated by a single professional caste: highway engineers. These speed limits do not adequately account for competing values. Their priorities are not the priorities of folks who live along the road and certainly not the priorities of the moose and other critters that inhabit the corridor.
The highway engineering profession creates conditions in which motor vehicles move fast and efficiently, while discounting competing values. Period.
There is little, if anything, that Teton County government can do directly to reduce the speed limit or otherwise influence management of Highway 390. The only hope to change decisions is through sustained community engagement.
As Abe Lincoln said: "Public sentiment is everything. With it, nothing can fail. Without it, nothing can succeed."
The public must express its sentiment to change anything along Highway 390.
Speed limits only work with a reasonable level of enforcement. Enforcing the speed limit on 390 is primarily the responsibility of the Wyoming Highway Patrol, with the Teton County Sheriff's Office playing a secondary role.
Given the state's deepening financial crisis, the highway patrol is spread thin. The sheriff also has limited staff and generally prioritizes patrolling county roads that the highway patrol does not. Therefore, the County Commission should increase the sheriff's budget to support more speed limit patrols on Highway 390.
To create the needed changes, nonprofit organizations and/or members of the community, perhaps with support from Teton County, need to create a citizens' vision for the future of the corridor and a comprehensive corridor action plan for realizing this vision. This action plan should:
• Propose more consistent speed limits for the 7.7-mile Highway 390 corridor that balance various values.
• Increase enforcement of speed limits.
• Determine best use of portable dynamic message signs and fixed radar speed signs.
• Analyze whether removing vegetation or adding streetlights makes Highway 390 more or less safe for people and wildlife.
• Develop pilot projects for testing animal detection systems that detect wildlife near 390 and warn drivers.
• Expedite planning for effective placement and design of wildlife crossings.
• Evaluate design improvements and traffic calming investments such as roundabouts, pedestrian crosswalks, narrower lanes, bulb-outs, bus lanes and medians.
• Evaluate the advantages and disadvantages of transferring management of Highway 390 from WYDOT to Teton County, designating it a national scenic byway or the corridor a special wildlife management area.
We can make Highway 390 better serve the needs and aspirations of the community. Now is the time.
EDITOR'S NOTE
: In the absence of WYDOT taking action to reduce speed limits, the
Jackson Hole Wildlife Foundation
is part of a citizen-initiated "Speed Enforcement Fund," It is collecting donations to pay the Teton County Sheriff's Department to have added presence along Highway 390, enforcing posted speeds, especially at night when most collisions happen.