Back to Stories
May 2, 2023
Remember, You Matter: Support Your Community Through 'Give Big'MoJo interviews Jill Ellwood with One Valley Community Foundation about Give Big's history and unprecedented success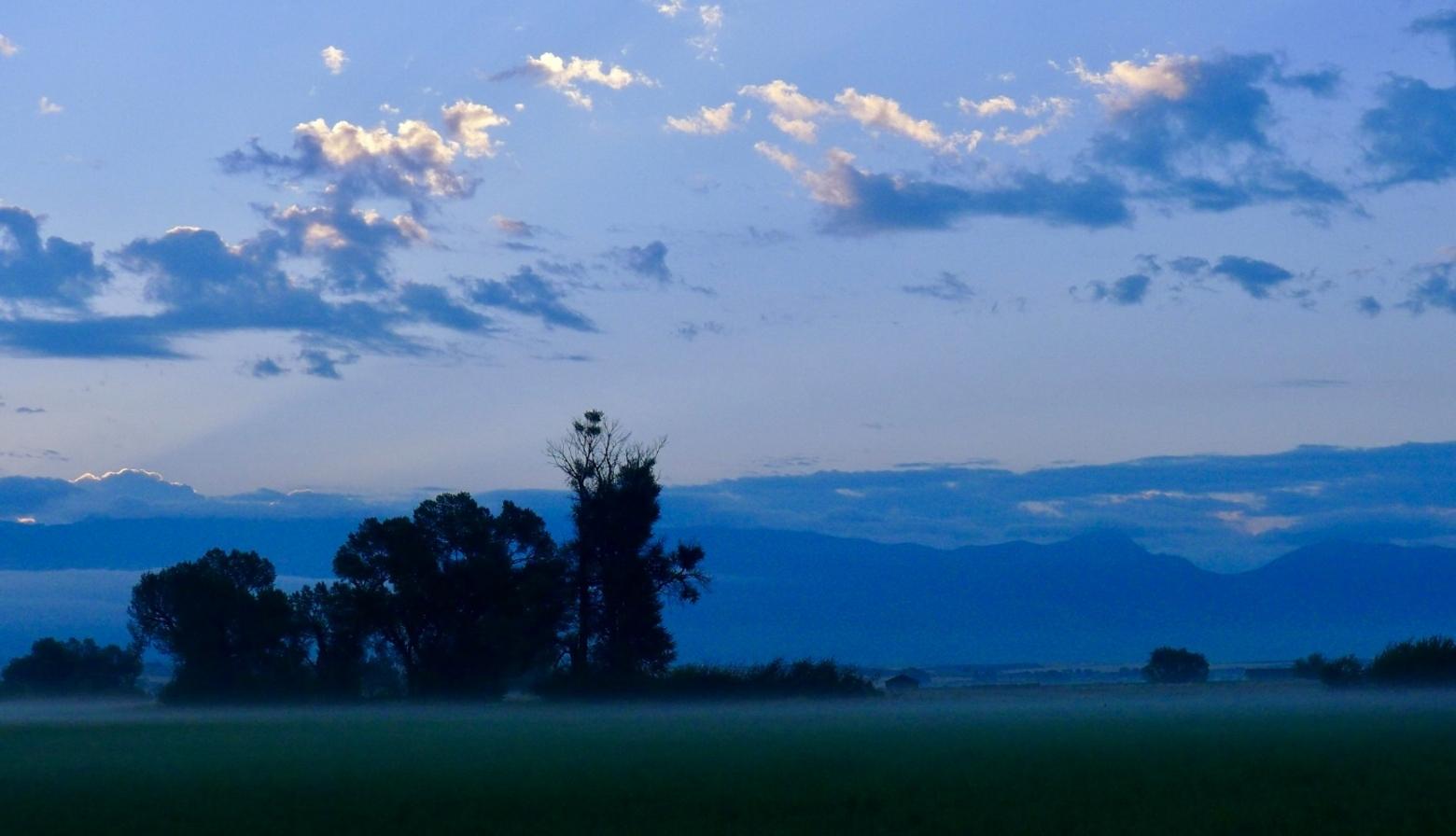 The Gallatin Valley, looking toward the Bridger Mountains, bathed in soothing twilight. "We all love this place so much it hurts when we witness changes that seem beyond our control," said the late businessperson, farmer and philanthropist Tim Crawford who took this photograph. "But you know what, there's a lot we can do. The first is to become informed and the second is to use our knowledge to take action and try to make things better." Photo by Tim Crawford
by Joseph T. O'Connor
One Valley Community Foundation launched the
Give Big Gallatin Valley
fundraising event in 2015 and over the years it has grown exponentially. The event is building support for the human threads of community that take multiple forms but underscoring it all is the natural environment; what makes the Gallatin Valley world class and so rare in the modern world.
"The Gallatin Valley is a gateway to this world-renowned place we call Greater Yellowstone, and in our backyard we have a diversity of large mammals moving across the landscape found nowhere else in the Lower 48," said Mountain Journal founder Todd Wilkinson. "Wildlife presence, habitat, breathtaking viewsheds, the lack of the negative trappings of suburbia which proliferate everywhere else—we all are drawn to this place for reasons that are obvious and others that we feel in our hearts."
Mountain Journal is paying attention to the things that threaten to make the Gallatin Valley like so many communities in the country that are losing or have already lost the wildness that makes them special. We at MoJo value human beings as well as the nonhumans that we're truly blessed to share this landscape with, and we're here to look out for those that are sometimes taken for granted.
"Change is displacing people and wildlife," Wilkinson said. "The same sprawl that's displacing wildlife is leaving behind communities that are unaffordable for working-class people."
Our aim is to keep people informed so that our home ecosystem doesn't make the same mistakes that have caused the irreversible harm plagued others. Part and parcel of not making the mistakes of the past is that communities are places where working-class people are being displaced in the same way that wildlife is being displaced.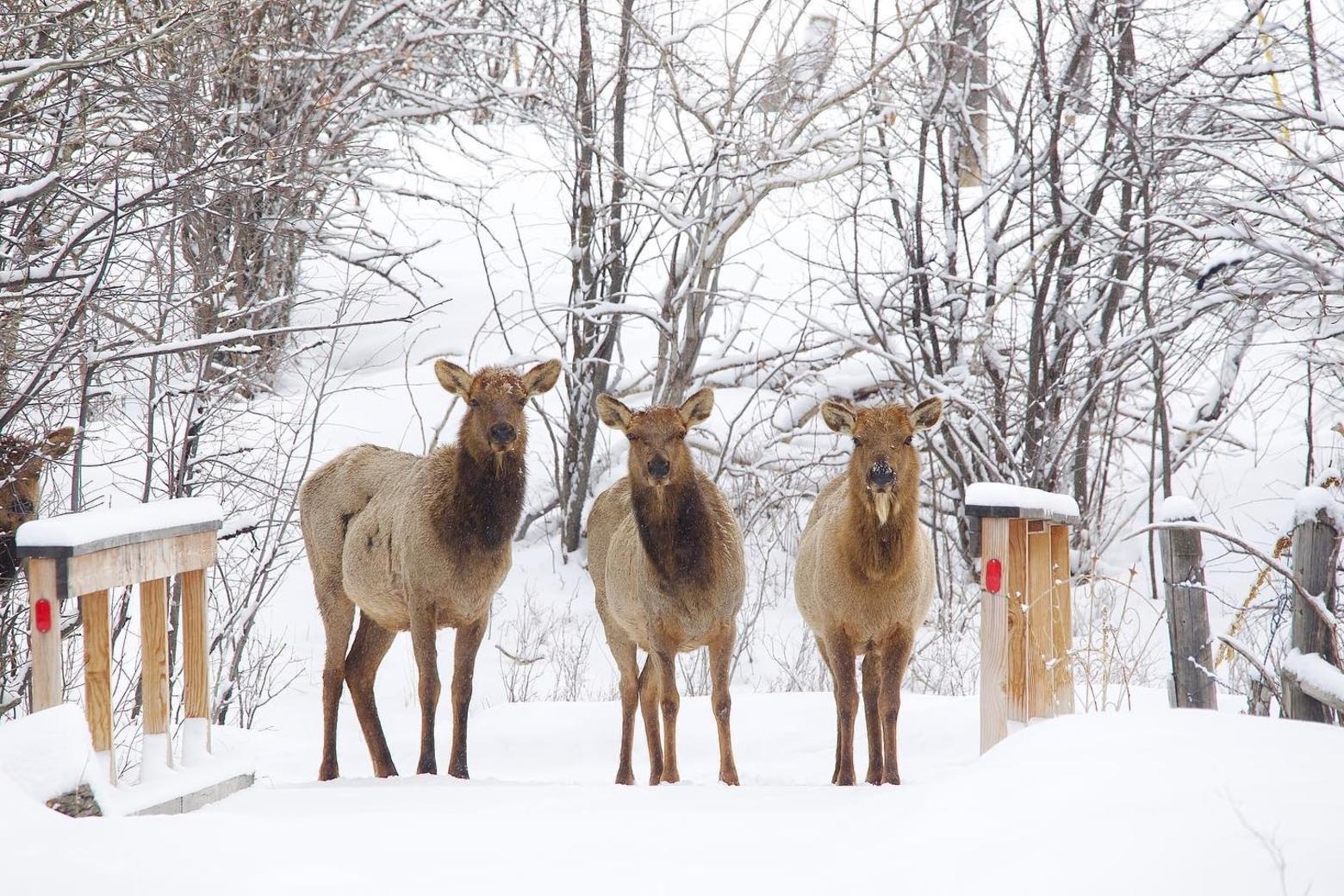 Nature wields a powerful presence in southwest Montana. Great places cannot be saved without great people stepping up. Everything we do, every contribution we make matters. This is the essence of living in a healthy community. Photo by Holly Pippel
"MoJo is really about being a champion for underdogs, be they humans or wildlife," Wilkinson said. "The challenge for wildlife is that they don't have a voice, so we have to give them one or lend our own."
And these issues don't just exist in Gallatin Valley. They spill into the Shields Valley, Paradise Valley, Madison Valley, Big Sky, and Jackson Hole; into Victor and Driggs and Island Park and Cody. And these issues spill far beyond Greater Yellowstone and have implications for the American West as well as the rest of the country and the world. When we can see the connective tissue that bonds us with our neighbors and our wildlife as citizens of Earth, we will be able to see the power we can have together.
As we approach Give Big Gallatin Valley, Mountain Journal sat down with Jill Ellwood, nonprofit programming and relations manager for One Valley Community Foundation, to discuss where Give Big began, its aspirations for 2023, and why it's an important bond for this growing community. – Joseph T. O'Connor, Managing Editor
Mountain Journal: Jill, thanks for joining us.
Jill Ellwood: Thank you so much for having me.
MoJo: You are now in your third year with Give Big. Tell us a little about the program, the event and why it's important.
J.E.:
This is my third year as the host behind
Give Big Gallatin Valley
. It's the ninth year that One Valley Community Foundation has hosted it, and we're so honored and humbled to be able to bring this to our community. This giving day represents an opportunity for the community to come together and let the nonprofit sector know that we support them. It's an opportunity for the community to come together and get to choose what kind of community they want to live in, so we're honored to get to bring it to the community and watch it grow every year.
"I really believe that our community can break that $3 million mark this year ... We have a record-breaking 250 nonprofits participating in the event." – Jill Ellwood, One Valley Community Foundation
MoJo: This is a 24-hour window to [donate]. Where did the concept for Give Big originate?
J.E.: Give Big is our local giving day but giving does happen across the country. Our president and CEO Bridget saw giving days start to pop up in some of the bigger cities in other parts of the country, and she had a vision to bring it here to Gallatin Valley. In 2015, she brought our first Give Big and in year one the goal was to raise $100,000 for 100 nonprofits. One hundred nonprofits signed up and Gallatin Valley with all of their amazing generosity blew the goal out of the water and raised over $230,000. And Last year, we had 230 nonprofits and the community came together to raise $2.87 million. Each year it's awesome to see the generosity of the community but I really credit our president and CEO for having the vision for bringing it to our community and our community.
Watch the full MoJo interview with Jill Ellwood below.
MoJo: As you said, Give Big started in Gallatin Valley in 2015 and has since raised more than $11 million for area nonprofits. What makes this event successful?
J.E.: I get asked that question quite a bit from other communities that are a similar size as ours because Gallatin County is big but not huge. And I think comparatively to some other communities across the country, folks have taken notice of how much our giving day has grown. I credit it completely to our nonprofits in our community. We provide this tool, but ultimately it's the nonprofits who take this tool and really run with it with enthusiasm and joy. And they reach out to their supporters and their volunteers then reach out to their families. I think it really speaks to the spirit of Montana and the spirit of Gallatin County that people are so excited to support the work being done here, because not all communities of this size can come together in the way that Gallatin County has.
MoJo: And it certainly has grown. Last year alone, [it raised] almost $3 million. What is your goal for this year and what adjustments have you made to get there?
J.E.: Our goal for this year, even though it scares me a little bit to say it out loud, is to bring the community together to raise $3 million for local nonprofits in 24 hours. Last year, we were just shy of $2.9 million and I really believe that our community can break that $3 million mark this year. First of all, we've invited more nonprofits to join. This year, we have a record-breaking 250 nonprofits participating in the event … and have over 30 that are participating for their first time. We are thrilled to have them join and get to experience this event. And we at the One Valley Community Foundation are doing everything we can to get the word out. We have so many new community members who are joining us here in Gallatin County and community members who have been here for a while that maybe haven't heard of it. So, we're marketing Give Big in every way we can think of to try to get the support back to our local nonprofits.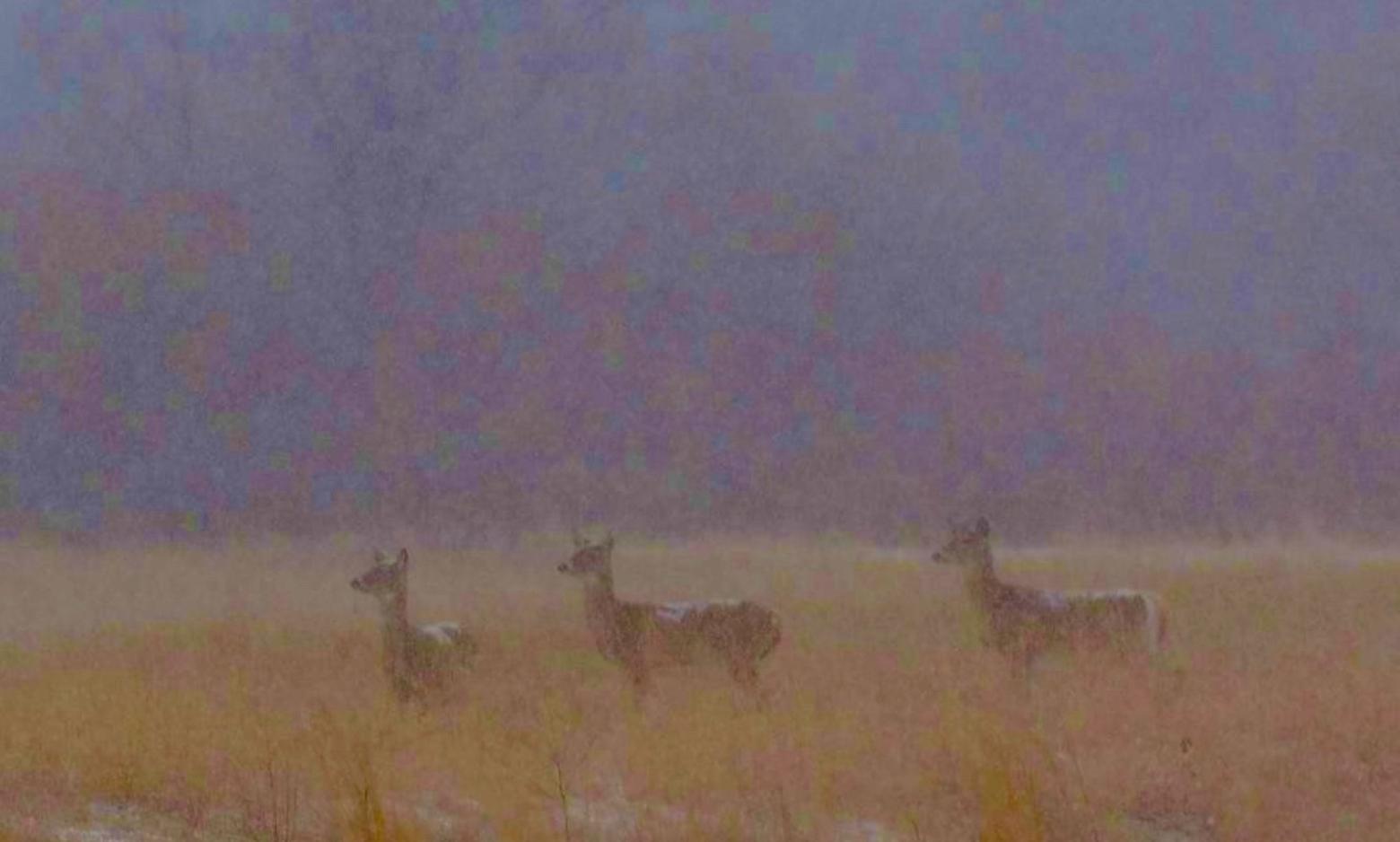 A picture that reads like a masterful landscape painting, this image by the late Tim Crawford captures the magic of being immersed in pastoral settings. Like the One Valley Community Foundation, Mountain Journal aims to celebrate what is in front of us while also being a champion for underdogs, be they people, landscapes or the wild creatures inhabiting them. Photo by Tim Crawford
MoJo: What feedback have you heard from participating nonprofits over the years?
J.E.: The main feedback we hear from our nonprofits is that this gets them so much closer to being able to complete a fundraiser. The majority of funds that come in for nonprofits come in between Thanksgiving and the end of the year. That tends to be like the main time for giving and so springtime is really when nonprofits need an additional boost of support … We consistently hear from nonprofits that this allows them to host a full-size fundraiser while doing part of the work. We build the platform and do a lot of the marketing so they can reap the benefits while putting in a lot of work but not as much as they would need to if it weren't this community event.
The other thing we hear from them consistently is that this is an opportunity for them to collaborate. We have over 90 events happening in the community over the 24-hour period of Give Big, and many of those are collaborations between local nonprofits … For Give Big, we see dozens of nonprofits saying, "Let's get two or three or seven nonprofits together to support one another and to celebrate with one another and to introduce our circles of supporters to the work that you're doing because we want to support that as well."
MoJo: Give Big Gallatin Valley starts at 6 p.m. on May 4, ends at 6 p.m. on May 5. There are a lot of nonprofits out there looking for support, so feel free to give and give big. Jill Ellwood, nonprofit programming and relations manager for One Valley Community Foundation, thanks so much for taking the time to speak with us today.
J.E.: Thank you for having me.
EDITOR'S NOTE:
Visit givebiggv.org to donate to your favorite Gallatin Valley nonprofits.