Back to Stories
July 22, 2020
A Reckoning For John Muir and Teddy Too?Head of Sierra Club calls out organization's towering co-founder as racist, says conservation movement needs to address harm it has caused to people of color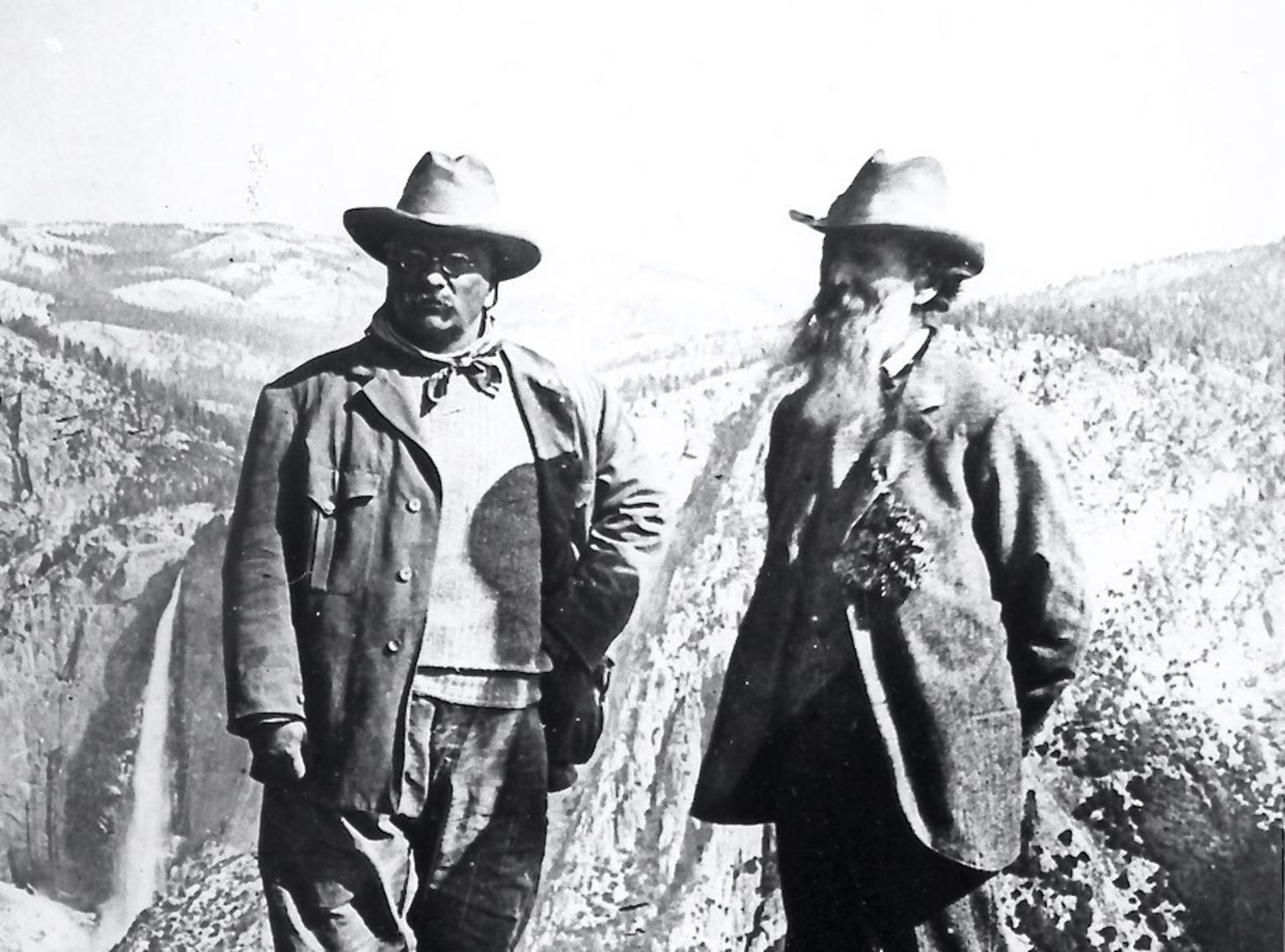 Theodore Roosevelt, left, and John Muir at Glacier Point in Yosemite, 1903. The same year he made a trip to Yellowstone and set down the cornerstone of what is today the Roosevelt Arch at the park's north entrance. During the Yellowstone trip, he shared company with naturalist and essayist John Burroughs. Photo courtesy NPS
EDITOR'S NOTE
: In a recent essay titled "
Pulling Down Our Monuments
" to Sierra Club staff and its millions of members and supports, the organization's national Executive Director Michael Brune vows to overhaul America's largest and oldest major environmental group. Read his piece below—and respond if you wish. While John Muir is best known for pushing to protect Yosemite and the redwoods of California, he spent time in Yellowstone too. Some of the remarks he made here as a result of that visit are among the most quoted passages in modern environmentalism. Read some reader responses at end of essay.
Pulling Down Our Monuments
by Michael Brune

The Sierra Club is a 128-year-old organization with a complex history, some of which has caused significant and immeasurable harm. As defenders of Black life pull down Confederate monuments across the country, we must also take this moment to reexamine our past and our substantial role in perpetuating white supremacy.
It's time to take down some of our own monuments, starting with some truth-telling about the Sierra Club's early history. That will be followed by posts on how we've had to evolve on issues of immigration and population control, environmental justice, and Indigenous sovereignty. We will also devote a post to a discussion of how the Sierra Club is working to center the voices of people we have historically ignored, so we can begin repairing some of the harms done.
The most monumental figure in the Sierra Club's past is John Muir. Beloved by many of our members, his writings taught generations of people to see the sacredness of nature. But Muir maintained friendships with people like Henry Fairfield Osborn, who worked for both the conservation of nature and the conservation of the white race. Head of the New York Zoological Society and the board of trustees of the American Museum of Natural History, Osborn also
helped found
the American Eugenics Society in the years after Muir's death.
And Muir was not immune to the racism peddled by many in the early conservation movement. He made
derogatory comments
about Black people and Indigenous peoples that drew on deeply harmful racist stereotypes, though his views evolved later in his life. As the most iconic figure in Sierra Club history, Muir's words and actions carry an especially heavy weight. They continue to hurt and alienate Indigenous people and people of color who come into contact with the Sierra Club.
Other early Sierra Club members and leaders—like
Joseph LeConte
and David Starr Jordan -- were vocal advocates for white supremacy and its pseudo-scientific arm, eugenics. Jordan, for example, served on the board of directors during Muir's presidency.
A
"kingpin"
of the eugenics movement, he
pushed for
forced-sterilization laws and programs that deprived tens of thousands of women of their right to bear children -- mostly Black, Latinx, Indigenous, and poor women, and those living with disabilities and mental illness. He
cofounded
the Human Betterment Foundation, whose research and model laws
were used
to create Nazi Germany's eugenics legislation.
In these early years, the Sierra Club was basically a mountaineering club for middle- and upper-class white people who worked to preserve the wilderness they hiked through—wilderness that had begun to need protection only a few decades earlier, when white settlers violently displaced the Indigenous peoples who had lived on and taken care of the land for thousands of years.
In these early years, the Sierra Club was basically a mountaineering club for middle- and upper-class white people who worked to preserve the wilderness they hiked through—wilderness that had begun to need protection only a few decades earlier, when white settlers violently displaced the Indigenous peoples who had lived on and taken care of the land for thousands of years. The Sierra Club maintained that basic orientation until at least the 1960s because membership remained exclusive. Membership could only be granted through sponsorship from existing members, some of whom
screened out
any applicants of color.
The whiteness and privilege of our early membership fed into a very dangerous idea—one that's still circulating today. It's the idea that exploring, enjoying, and protecting the outdoors can be separated from human affairs. Such willful ignorance is what allows some people to shut their eyes to the reality that the wild places we love are also the ancestral homelands of Native peoples, forced off their lands in the decades or centuries before they became national parks. It allows them to overlook, too, the fact that only people insulated from systemic racism and brutality can afford to focus solely on preserving wilderness. Black communities, Indigenous communities, and communities of color continue to endure the traumatic burden of fighting for their right to a healthy environment while simultaneously fighting for freedom from discrimination and police violence.
The persistence of this misguided idea is part of the reason why we still get comments from our own members telling us to "stay in our lane," and stop talking about issues of race, equity, and privilege. But as writer Julian Brave NoiseCat
says
, "The environment is no longer a white sanctuary. The messy business of society, power, and race is everywhere and intertwined."
The Sierra Club that I want to belong to not only acknowledges that reality, it also works to counter racism and exclusion wherever it occurs -- in our parks and wilderness areas, in our communities, in the halls of power, and especially among our own staff, volunteers, and 3.8 million members and supporters.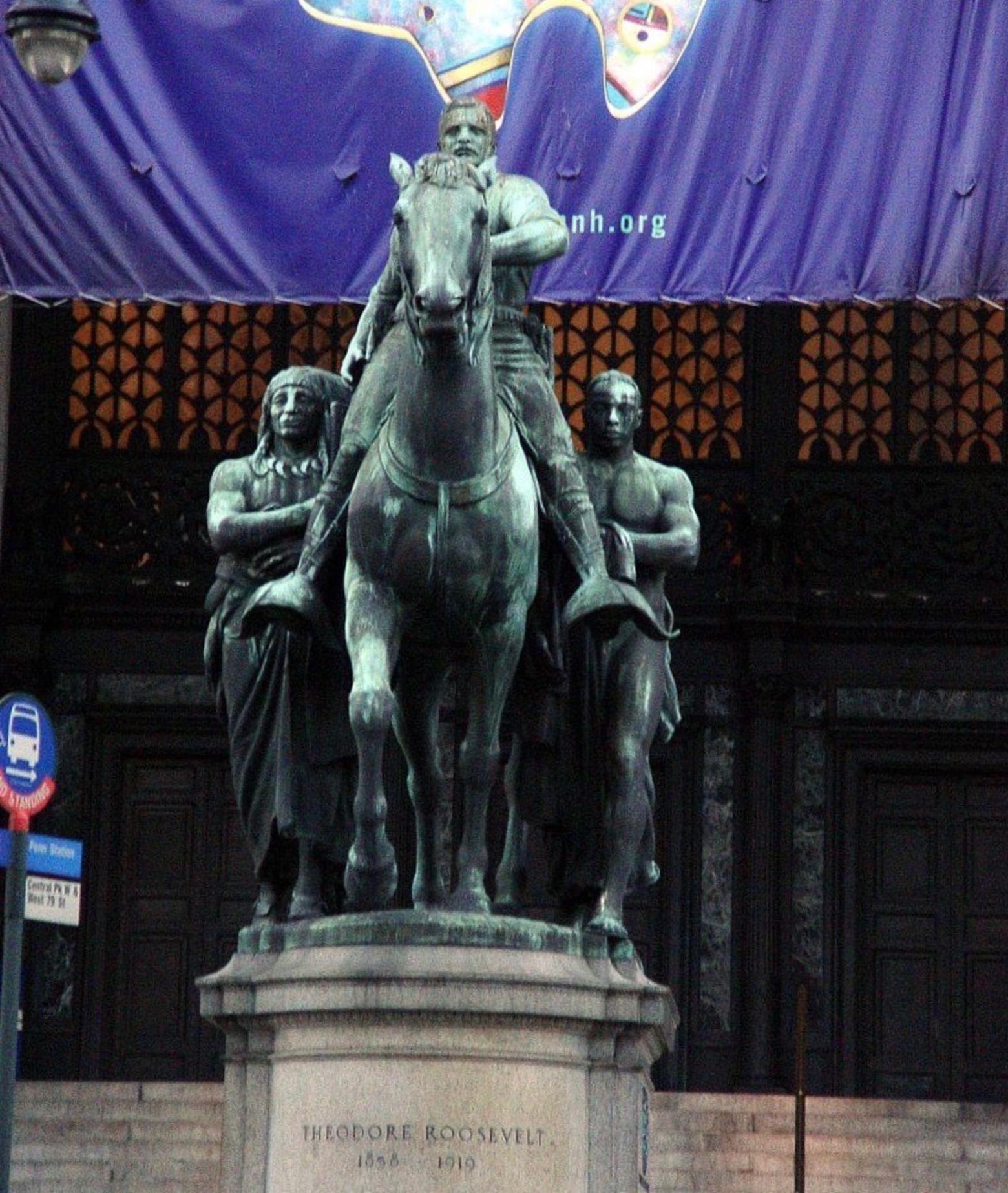 The American Museum of Natural History in New York City recently announced it was taking down an equestrian statue of Theodore Roosevelt, saying it is both racist and demeaning toward people of color. The bronze features Roosevelt on horseback with an indigenous man walking below on one side and an African-American man on the other. In this essay, the Sierra Club's Michael Brune doesn't make specific mention of Roosevelt, but the same charges leveled against Muir, of having racist attitudes toward people of color and connections to the eugenics movement, also apply to TR who is also considered a lion of the American conservation movement. Photo by Martin Durrsschnabel via Creative Commons CC-BY-SA-2.5
I know that isn't the Sierra Club that has historically existed. People within the organization have had to push the Sierra Club to evolve for the better and to affirmatively place itself on the side of justice, often at great personal cost. In future posts in this series, we'll talk more about the struggles Indigenous people, people of color, and their white allies went through to get this organization to evolve on issues like immigration and environmental justice.
For all the harms the Sierra Club has caused, and continues to cause, to Black people, Indigenous people, and other people of color, I am deeply sorry. I know that apologies are empty unless accompanied by a commitment to change. I am making that commitment, publicly, right now. And I invite you to hold me and other Sierra Club leaders, staff, and volunteers accountable whenever we don't live up to our commitment to becoming an actively anti-racist organization.
To begin with, we are redesigning our leadership structure so that Black, Indigenous, and other leaders of color at the Sierra Club make up the majority of the team making top-level organizational decisions. We will initiate similar changes to elevate the voices and experiences of staff of color across the organization. We know that the systems of power that got us here will not enable the transformational change we need.
Pending approval from our board, we will shift $5 million from our budget over the next year—and more in the years to come—to make long-overdue investments in our staff of color and our environmental and racial justice work. We will create a dialogue with, and resources for, our members about the intersection between racism and environmental justice issues, and invest in our HR and training capacities to ensure that staff, volunteers, and members are held accountable for any harm they inflict upon members of our Sierra Club community who identify as Black, Indigenous, or people of color. We will also spend the next year studying our history and determining which of our monuments need to be renamed or pulled down entirely.
In subsequent posts in this series, we'll talk in much more depth about the steps we're taking to rebuild the Sierra Club on a basis of racial and social justice and to try to repair the harm we've caused. I know that the steps I've outlined above are only the beginnings of what will be a years-long process to reckon with our history, regain trust from the communities we have harmed, and create a diverse and equitable Sierra Club for the 21st century.
Reader responses:
From Eric Burr in Mazama, Washington:
Your Sierra Club story provides a glimmer of hope. I dropped my Sierra Club membership after the club voted to oppose all commercial logging on public lands. This is entirely
unrealistic, because it's held up badly needed thinning to prepare overstocked forests for the prescribed fire necessary to reduce dangerous fuel loading.

Racism is also important, but what my fellow forestry students used to refer to as "Sierra Club clearcuts" are destroying the forests badly needed to store carbon out of the atmosphere. Racism won't make much difference if the whole human race continues its suicidal global warming trajectory. The minority needing to be addressed more urgently is actually the majority. It's women! I wonder when maybe some woman such as Sally Jewel, with the Nature Conservancy, will come to the Club's rescue?

° ° ° °
From Catherine Kopek in Wisconsin:
The article written by Mr. Brune about the Sierra Club is the very best news I've heard
in a very long time. Thank you Sir for your honesty and courage.


° ° ° °
From Chris MacIntosh:
Re article about Sierra Club facing John Muir's racism. Muir did change later in life; he was also a product of his time and upbringing. Rather than decrying the whole man, should we not acknowledge that he was racist but also did good and was capable of change? That most people are complicated and imperfect, without excusing the racist parts?