Back to Stories
June 24, 2023
Headwaters' Report Highlights Downsides Of So-Called Green Lifestyle EconomyEnvironmentalists often condemn resource extraction, but is the 'natural amenity economy' built on industrial recreation, tourism and real estate sales better for wildlife?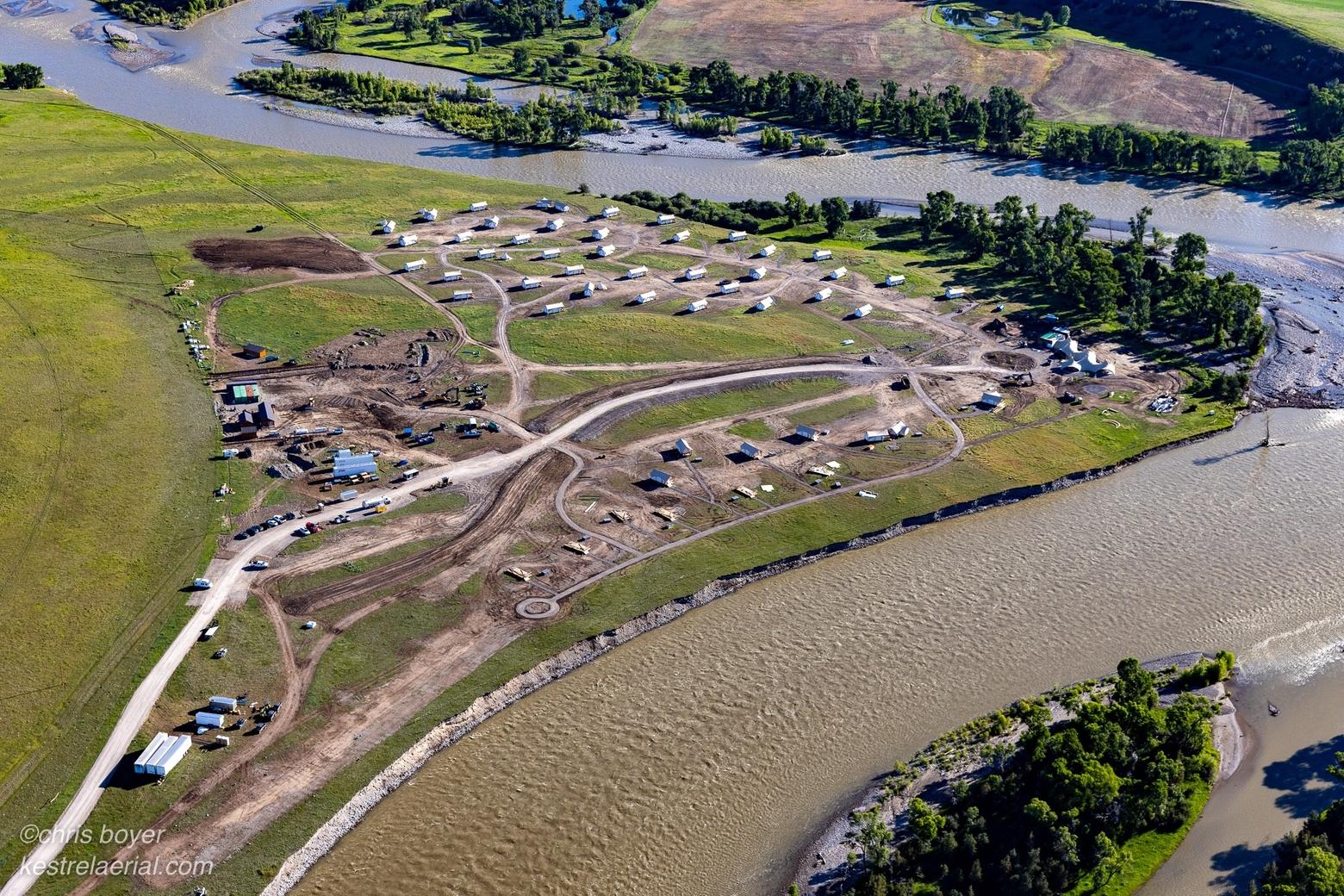 When residents of Livingston, Montana saw this image for the first time, they were stunned. A new multi-unit glampground and its accompanying infrastructure is now saddled near the banks of the Yellowstone River in Paradise Valley, made vivid in this photograph by Christopher Boyer of Kestrel Aerial. The glampground is a symbol of the rapidly expanding natural amenity economy whose strongest advocates have been traditional conservation organizations. Many of those organizations have been absent from county planning and zoning discussions so important in bringing scrutiny to projects like this.
by Todd Wilkinson
For years Headwaters Economics has been at the forefront of charting—and touting—a profound shift in the American West.
Happening for decades, the transition has involved a move away from traditional natural resource extraction industries which have been pre-eminent economic pillars—logging, mining, energy development and agriculture—toward a different set of drivers presumed to be more sustainable, less consumptive and better suited to conservation.
The latter has come to be known as the New West amenity-based lifestyle economy.
In the Rockies the pivot has been fueled by the rising might of the outdoor recreation industry, millions of dollars being pumped annually into tourism promotion, an inundation of upwardly mobile Baby Boomers and Generation Xers living on retirement and investment income, and a corresponding tidal wave of real estate speculation and land development.
Huge numbers of job losses have occurred in the natural resource extraction sectors. Much of the reductions in staff rolls have come not from environmental laws but by technological advancements that have reduced the amount of human laborers companies need to get resources out of the ground.
While the environmental movement still remains fixated on battling those industries of old on public land, it has largely given those involved with the amenity economy, specifically the outdoor recreation and real estate industries, a pass from intense scrutiny.
When it comes to environmental protection and maintaining rural communities, the New West may be less vulnerable to boom-and-bust cycles that left many states reeling, but is what's replaced it really more benign from a conservation perspective?
Although Headwaters' authors don't mention this either, Greater Yellowstone is the only ecosystem in the Lower 48 with such a high caliber of ecological function involving biodiversity and large native species. As a high value natural amenity, it is counted among the rarest of the rare and it is renewable as long as it isn't messed up.
Noting how tourism promotion feeds growing pressure, and demands for more services, the report's authors go on, "While the feedback loop described here can bring economic diversification and prosperity to which many communities aspire, it can also bring unwanted changes and challenges. The natural resources that first attracted people like clean water and abundant wildlife, can become impaired. Trails and waterways, and parking lots to access them, can become overcrowded. Housing becomes less affordable to more residents, leading to more residents living in substandard or crowded housing and increased homelessness. Long-time residents often find themselves forced to leave the community. Small, rural places are faced with the challenge of providing adequate public services, like drinking water and wastewater treatment, to millions of visitors. And the perennial question of how to pay for programs to mitigate these impacts looms over many amenity communities."
Second is that communities which have nearby airports with ready jet service connections to major hubs, and other essentials such as great, secure internet service are more attractive to "footloose" entrepreneurs who resettle there, creating companies and jobs.
As Covid affirmed with an exclamation point, air service and internet have hastened the ability of people to work remotely from home and commute to the office via services such as Zoom.
Are elected officials and the city/county planning staffs ready? What would be the cost of new infrastructure needed to support more growth? Who would pay? What would be the consequences for the pastoral Gallatin Valley and the wildlands that rim it, some of which are already dealing with crowding issues?
There is much information contained in the new Headwaters report but curiously lacking is any in-depth analysis of how the continued push underway to monetize and capitalize on the natural amenity economy is harming the natural amenity ecology that supports it.
In 2013, when Rasker, Hernandez and Delorey released their study, it proved to be remarkably prescient in identifying emerging issues that are now writ large after Covid and which fed an onslaught of new settlement and growth of tourism in the region.
The authors noted a decade ago that "…some of the literature on the role of protected public lands has pointed to negative effects resulting from amenity migration. Some of the land-related consequences of people moving to the countryside include urban sprawl, encroachment of residential areas onto fire-prone lands, also known as the wildland-urban interface, a disruption of wildlife migration patterns and habitat, and loss of biodiversity. In addition, there are potential negative economic and social consequences, including income inequality and tensions between long-time residents and newcomers. In other words, economic growth itself is not without its challenges."
Time has proved that observation to be an understatement. The irony of the new Headwaters study is that it highlights the lack of affordable housing, and fits it within the theme of providing advice on how high amenity communities can avoid being loved to death.
While Headwaters implies that the affordable housing gap is an allegedly fixable issue and that other challenges can be addressed by pouring a lot more money into further expanding infrastructure, there is little reflection on what it means for nature. How does adding more infrastructure, which brings more people and more stresses to more places on the land serve as an antidote for dealing with sprawl in high-growth valleys?
Is its emphasis on expanding infrastructure a prescription for addressing the de-wilding of Greater Yellowstone or an accelerant for losing things even faster?
Also pertinent: why are most of the well-funded national and regional environmental groups, which have fought the natural extraction industries, not involved with planning and zoning, or being more vocal about the downsides of the amenity/recreation economy— or weighing in on issues like proposed expansion of Grand Targhee Resort or residential subdivisions sprouting in Sublette County, Wyoming, constricting corridors crucial to long-distance migrations of mule deer and pronghorn?
The new Headwaters report makes only oblique references to the need for better local planning but doesn't mention the only things that are going to prevent Greater Yellowstone's most distinctive natural amenities from being loved to death. First is limiting the consumption of natural land and amount of wildlife habitat being rapidly usurped to thoughtless private land development. It is not going to happen without some kind of zoning. Second is establishing carrying capacities on the number/volume of human users on public lands—as well as infrastructure— so that wildlife are not displaced or habitat impaired.
The free market is failing to protect the natural amenities of Greater Yellowstone. The argument its proponents now make—that loosening regulations further and rolling back impact fees will fix the affordable housing crisis, is, at best unproven. If precedent elsewhere is any indication it is destined to fail.
Moreover, such thinking also neglects to mention the significant toll that lack of regulation, championed by free market thinktanks, has already taken on the wild nature of Greater Yellowstone. There is no better example than the dismal record of planning at Big Sky, which has no municipal government, no real oversight from Gallatin and Madison counties and an ongoing record of wildlife displacement and increasing wildfire danger.
The Headwaters report states: "Above all, proactive action is required for amenity communities to maintain the qualities that make them great. These places have a vibrancy that depends on protecting the very things that attract people to live and play there. Once amenities begin to erode it can be very difficult to get them back."
Headwaters makes multiple recommendations for how to generate more revenue to pay for expanded infrastructure, which includes such things as affordable housing, public transportation and bicycle paths. One of its recommendations is convincing state legislatures to allow for local sales taxes to be implemented and targeted at millions of visitors which would help alleviate the burden of rising property taxes imposed on local residents to pay for the infrastructure.
However, there's another aspect unaddressed in the Headwaters report. Sprawl, directly related to the natural amenity economy Headwaters has long championed, is rapidly overtaking farms and ranches, destroying not only the fabric of rural communities but it is leaving wildlife that depends on those lands homeless.
The most cogent part of the Headwaters report (see it excerpted at the bottom of this story) is its section that says "communities have a choice" and it discusses how they fall into the "amenity trap."