Back to Stories
October 13, 2020
The Awakening: How Hope Was Reborn In GorongosaThis African version of Yellowstone bounces back and is featured in new PBS series. MoJo interviews Greg Carr who helped make the miracle happen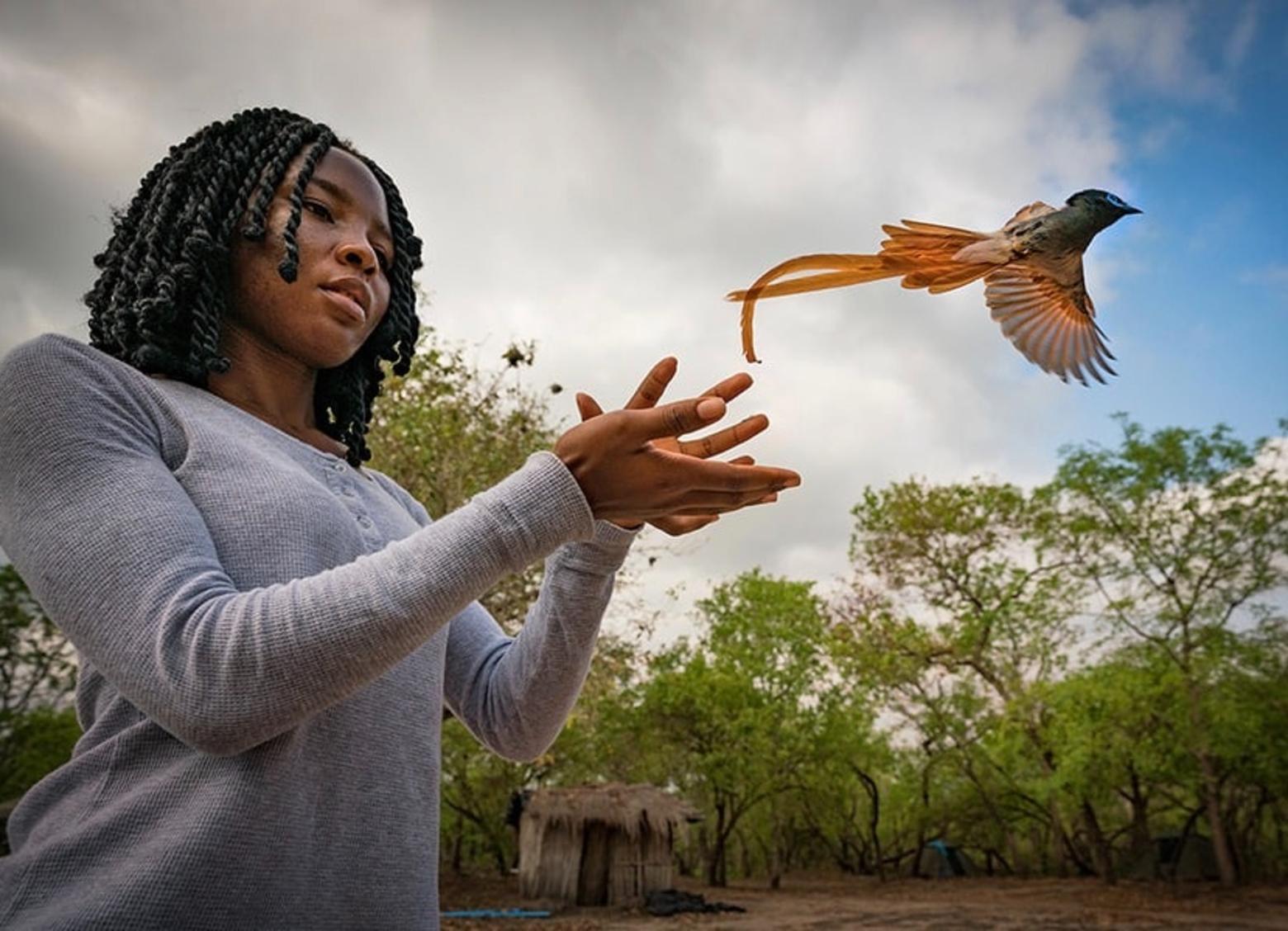 Rosa Tivane releases a paradise flycatcher in Gorongosa National Park. The restoration of wildlife that has happened in Gorongosa is unprecedented in the modern world and a hopeful indicator of nature's resilience. For young people like Rosa, who is learning about biodiversity, Gorongosa represents a vital touchstone in a new and growing national identity. Photo courtesy Gorongosa National Park
By Todd Wilkinson

Never give up on people who want only a better life.
Never underestimate nature's ability to bounce back even after suffering abuse and harm caused by human conflict.
The enduring truth is that when society rises to meet the needs of one, while nurturing the other in its healing, that's when the full promise of conservation that endures—as a way to empower local people, restore wildlife and secure healthy landscapes—actually happens.
This certainly could be an epitaph for the Old West in America when faulty thinking and a failure to heed the limits of natural resource exploitation resulted in tainted rivers, wildlife populations hunted out or deliberately eradicated, and humans left to eek out hardscrabble forms of survival.
Instead, the words ring more as an inspiring modern parable, involving a very different set of circumstances in an ecosystem that has parallels to the wildest remaining in the Lower 48—Greater Yellowstone. Yet this one exists 10,000 miles away, across an ocean, in the far Southern Hemisphere.
The nature preserve known as Gorongosa National Park, venerated as Mozambique's own version of Yellowstone, is a breathtaking case study in why you should never bet against good people and the resilience of nature.
There are many ways to describe what happened in the communities and lands encompassing Gorongosa in the latter decades of the 20th century but the region underwent two transformations—one almost unspeakably traumatic, the other a recovery that represents a beacon of hope in these troubling times when environments around the world are facing huge challenges.
Surprising perhaps is that Gorongosa has real abiding human connection to Greater Yellowstone in the form of one person—an enthusiastic but soft-spoken humanitarian whose childhood roots were found in Idaho Falls, Idaho near the banks of the Snake River.
Greg Carr brushes aside comparisons to other conservation leaders of our age that have rippled the public's conscious awareness. People like Jane Goodall, Jacques Cousteau, Sir David Attenborough, or Kris Tompkins and her ongoing national park building campaign in the Patagonia region of Chile and Argentina.
60 Minutes
and saluted around the globe, is helping Mozambicans revive Gorogonsa by building their own plan for protecting nature. Carr and colleagues are featured in the inaugural episode of a three-part series,
The Age of Nature
that begins airing on PBS stations Wednesday night.
What happened in Gorongosa is astounding, echoing somewhat of the loss of species that happened in the American West in the late 19th century. Imagine if Yellowstone were to lose 90 percent of its animals. Following a civil war and other armed conflicts, wildlife was practically wiped out in Gorongosa. Elephants, killed for their tusks by poachers or shot for bush meat, vanished along with a herd of 14,000 Cape buffalo that was synonymous with the park. Lions were nearly completely eradicated. The park also had land mines that needed to be identified and excavated. And there remained the challenge of local people setting out a gauntlet of snares and traps that killed or mamed thousands of animals that were targeted for subsistence. It was estimated in 2008 that only 10,000 animals in total survived in the 1500-square-mile park.
Since then, 200 Cape buffalo and 180 wildebeest were reintroduced along with elephants, zebras and hippos. Simply by giving the land a rest and allowing the park environs to recover, Gorongosa today is home to at least 100,000 animals, including predators like lions and painted wolves, pangolins, crocodiles and a jaw-dropping range of birdlife. Gorongosa's reputation has created a buzz but it sees only about 5,000 visitors a year, a huge percentage of them Mozambicans who are creating their own tradition of going to park.
Last year, the government and leaders of the opposition Renamo Party signed an accord that recognizes Gorongosa as a peace park where armed conflict will not occur.
Normally, Carr likes having his Mozambican friends step out front and discuss their home-grown strategy for restoring biodiversity as a foundation for achieving better lives.
Indeed, The Age of Nature also features conversations with Park Warden Pedro Maugura, Associate Director of Conservation Paola Bouley and Elephant Ecology Manager Dominique Gonçalves. Some of them have been to Greater Yellowstone and attended the international Jackson Hole Wildlife Film Festival—now called Jackson Hole Wild— where documentaries about Gorongosa have won prizes.
Mountain Journal recently engaged Carr in an interview and you can read it below.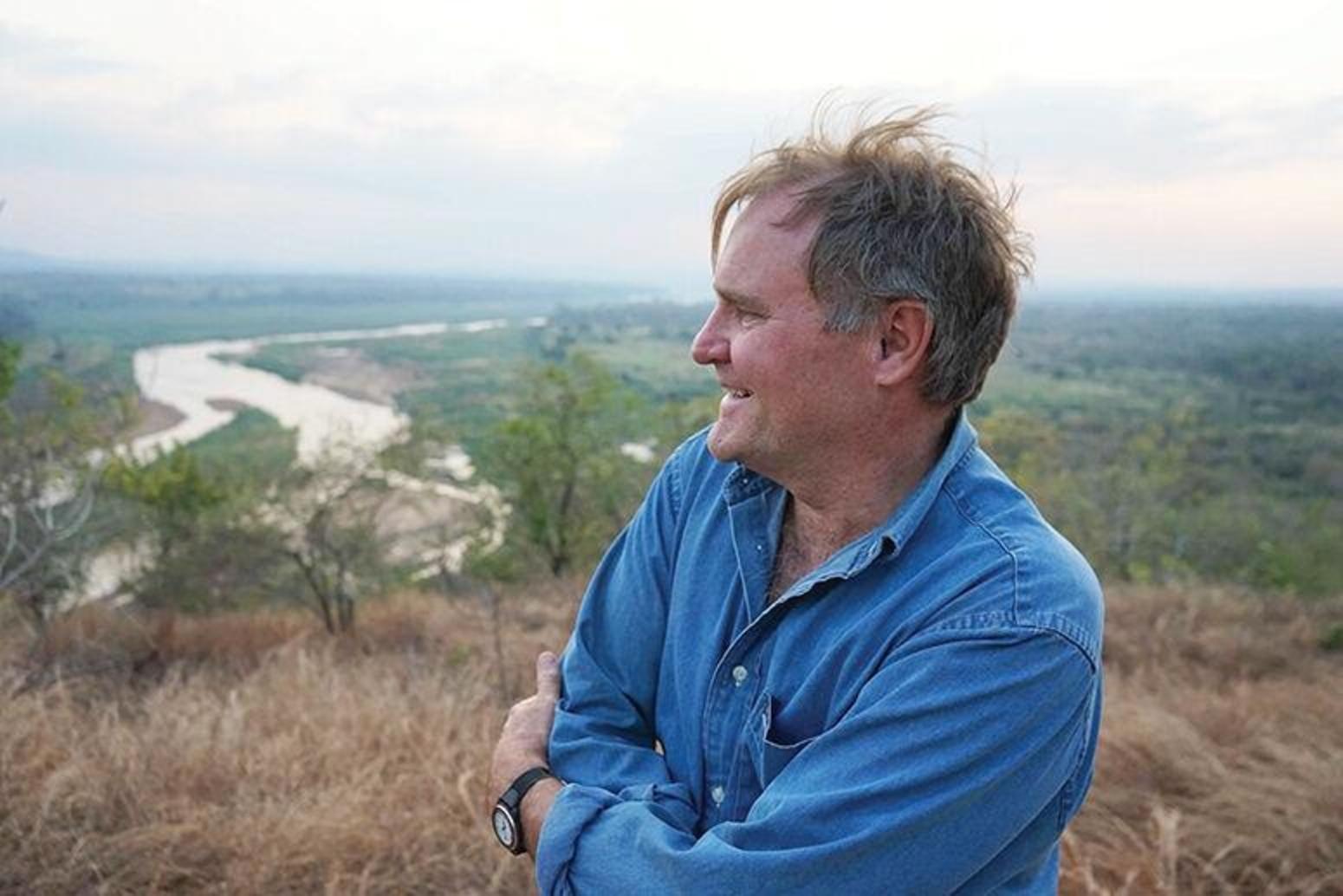 From a love for the natural world that blossomed when he was a boy visiting Yellowstone from Idaho Falls, Greg Carr has become a renowned global leader in conservation, helping to birth one of the greatest wildlife conservation stories ever achieved in the world. Photo courtesy Greg Carr
TODD WILKINSON for MOUNTAIN JOURNAL: National parks are human creations that sometimes assume larger importance with age and their meaning can shift with changing times. Has this happened with Gorongose in a similar way that it has happened with Yellowstone since its creation in 1872?
GREG CARR: Gorongosa Park has changed from "night" to "day." Night would be the 20th-century Colonial era when regular Mozambicans were not allowed to visit the park. The park's mission then was simply to protect wildlife and have visitors from far away come to see them. "Day" is the 21st century for Gorongosa.
The vision and mission of the park have expanded and are more inclusive. We have more than 600 employees and 98 percent are Mozambican. Mozambican citizens enter the Park for free (school groups, teachers and parents) or for $1. The park belongs to the Mozambican people; it is their treasure and the symbol of their nation.


TW: Gorongosa is a bright spot that really offers hope in these uncertain, very trying times. What does "hope" mean to you when thinking about humans and nature not only in Africa but globally?
CARR : I do believe that we can all imagine a future 30 years from now—think 2050—that looks like this:

a) All energy is renewable.

b) All children in the world are in school.

c) Women have their full rights to participate in society.

d) Every family is lifted from dire poverty. They may not be
"wealthy" but they will have the basic needs required for dignity.

e) A large number of national parks and other protected areas
(reserves, etc.) have been protected (some expanded) and function as
biodiversity reservoirs, and provide ecosystem services to their
regions and the Earth globally.

f) Most nations have found their way to democracy and human rights.
I do believe the above is possible. We have to envision it, and then
take steps each day toward this outcome.
: Part of The Age of Nature series is aimed at highlighting the power of educating people—viewers— about what's at stake on a planet we all share, in particular raising ecological awareness. Riff a bit on this; how are human attitudes transformed when people come to see the places they inhabit in new light or go for inspiration and escape? Specifically, what have you witnessed in Mozambique?
CARR: People are healthier and happier when they are out in wild nature. Trees make us happy. Vistas of water, mountains, grasslands and wildlife make us happy. These experiences affect our psychological well-being. I have seen many visitors come to Gorongosa for a week and tell me that the park changed them. I have seen couples fall in love again. I have seen children connect with their parents again. I have seen life-long friendships form between two strangers after one night, after talking by the fire under the stars.
"People are healthier and happier when they are out in wild nature. Trees make us happy. Vistas of water, mountains, grasslands and wildlife make us happy. These experiences affect our psychological well-being. I have seen many visitors come to Gorongosa for a week and tell me that the park changed them." —Greg Carr
TW: You are among a new era of thought leaders involved with humanitarian causes that have protection of nature being a central thrust and many share connections to the Greater Yellowstone Ecosystem. People like Jane Goodall, E.O. Wilson, Kris Tompkins, Yvon Chouinard of the company Patagonia and media pioneer turned bison rancher Ted Turner. Yes, they are all white people and dramatic efforts are afoot for an expanded constellation of environmental heroes, involving all People of Color, to emerge. When you describe the GYE to your friends and collaborators in Gorongosa country, what do you say? What is important for people to know?
CARR: I usually just have to say one simple thing: "I grew up near Yellowstone, visited it frequently as a child, and I have loved national parks my entire life."


TW: What's important to you when you hear the reassessment going on in the US related to how conservation has happened, at the expense of indigenous people and without regard given to the rights of all People of Color to feel stakeholdership and belonging? One of the things that MoJo is exploring and trying to illuminate is that championing human diversity is not mutually exclusive of the cause of maintaining biological diversity. They need not be at odds though some are skeptical. Your perspective?
CARR: I am not an expert on these topics in the US. In Gorongosa, Mozambique, we have visitors from all over the world-- speaking every language, coming from every culture--we have Islamic women in burkas, we have Mennonites from Canada, we have Australians, Chinese and Europeans. And, of course, we have Mozambican families. I see them all react to magnificent wilderness the same way. The love lies deep in our DNA.
"We have Islamic women in burkas, we have Mennonites from Canada, we have Australians, Chinese and Europeans. And, of course, we have Mozambican families. I see them all react to magnificent wilderness the same way. The love lies deep in our DNA." —Carr
TW: What kind of an impact have these Covid times had on Gorongosa and on tourism to Africa? Sometimes adversity brings opportunity and new ways of thinking. Has that happened with Covid?
CARR: I know that Covid has affected some other national parks in Africa more than us, and I worry about them. These are places that depend on tourism for their budget. In our case, tourism is never more than 10 percent of what we do. We do science, forestry, we help small farmers, we restore a rainforest with our coffee project, and we support education and health care in the communities around the park. These activities have continued even though we will not have tourism this year. But, even our tourism team kept busy. They either continued training or joined another one of our departments. We did not lay anyone off due to Covid.
TW: We've had some chats about this, including one together with Kris Tompkins about the topic known to some as "rewilding," i.e. bringing back species that have been recently lost. Gorongosa's restoration of its decimated wildlife is astonishing. Many see restoration as the yang to conservation with preservation representing the yin. Do you describe what's happening in Gorongosa as "rewilding"?
In Gorongosa I don't often use the word "re-wilding" for the following reason. In most places nature will restore itself when humans stop the disturbance. Probably 95 percent of Gorongosa's restoration happened naturally. We needed to remove 27,000 snares and traps so that wildlife numbers could increase on their own, and a new equilibrium could be established among tens of thousands of species. We brought in some wildlife in the beginning but less than I originally thought we might need to do. I think of re-wilding as a complete reversal. I.e. (for example) taking a cattle ranch and trying to bring back the American prairie species.
TW: From the very beginning of your involvement you saw the need to help jumpstart and support conservation in Gorongosa while being mindful about the need to limit your involvement, to do it in a way that you step back and local conservation leaders emerge because they are the key to sustainability. What can you tell us about that, since it has application to every part of the world? And it is very different from the paternalistic colonial approach that is under attack in a lot of places.
CARR: I have never had a fancy title at Gorongosa. I am just a member of a committee. Gorongosa Park is governed by the Ministry of Environment of Mozambique. Our warden is Mozambican and he is appointed under Mozambican law. Our head of conservation is Mozambican. Our head of human development is Mozambican. Due to Covid I have been in the US a lot this year and everything is going fine in Gorongosa. I think that is evidence that it is a Mozambican success story.


TW: What are your thoughts on the tenor of urgency that's been set, that involves telling things as they really are and leveling with citizens of the world so we take action and do not instead become indifferent or get manipulated by Pollyannas who have other agendas? In particular, there are those who say that reciting the problems gets too heavy and causes people to ask, "What's the point? It doesn't matter what I do?"
CARR: Candidly, I don't think of myself as a "world thought leader." I am a practitioner. I see my job as helping the Mozambicans do something they want to do, restore and protect their national park, Gorongosa. I was invited to help so I am doing it. I do believe that conservation is largely a "local science," i.e., what works in one place might not work in another. I think the best thing we can all do is take action in our own homes and neighborhoods. Install solar power, use less plastic, etc because when done in mass numbers the impact carries momentum.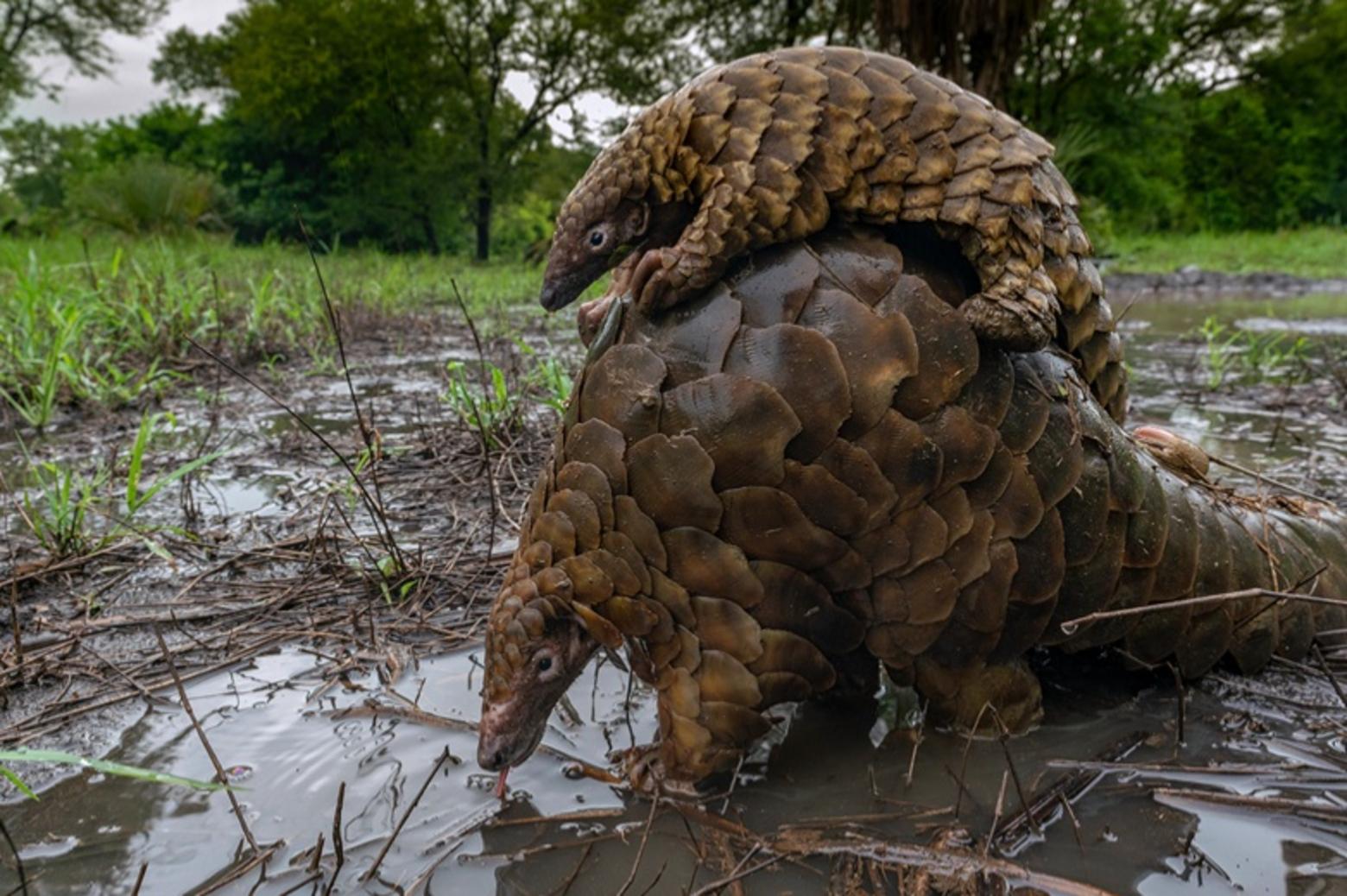 Pangolins, a critically endangered species also known as scaly anteaters, are threatened by poachers who eat them and blackmarket traders who sell them in China where their parts are used in traditional Chinese medicine. Gorongosa serves as an important refuge for pangolins. Photo courtesy Gorongosa National Park.
: Tell me that I'm wrong but it sure seems like your level of enthusiasm and joy has grown. You have forged a relationship with Boise State University and elsewhere with people from Gorongosa coming to university and learning skills in management, business and ecology that they'll apply back home. Are you having fun and what are a few of the secrets to that?
CARR: I am having a wonderful time and the best part of the Gorongosa Project for me is the wonderful friends I make.
TW: Has the sale of Gorongosa Coffee helped.
CARR: Yes, and I am grateful to those people who choose to drink Gorongosa Coffee!
TW: What else can people do?
CARR: They can come and visit, which supports the communities making the success of Gorongosa happen.
NOTE:
Gorongosa coffee
, grown on the flanks of Mt. Gorongosa and which you can buy affordably, is part of a restorative agriculture effort that helps families and aids in wildlife restoration. The coffee comes in three specialty blends: "Elephants Never Forget," "Girls Run The World," and "Speak for the Trees." The premise is basically buy a bag, have a flavorful cup and watch the impacts of your support ripple. Fully 100 percent of proceeds support rainforest protection, which in turn improves human lives, deepens attachment to nature and enhances the prospects for a range of species.