Back to Stories
August 29, 2017
A Late Summer Hike In The Tetons Leads To "Rock of Ages"In day 155 of her ongoing series, Watercolor Diary, Sue Cedarholm ventures to the shore of Lake of the Crags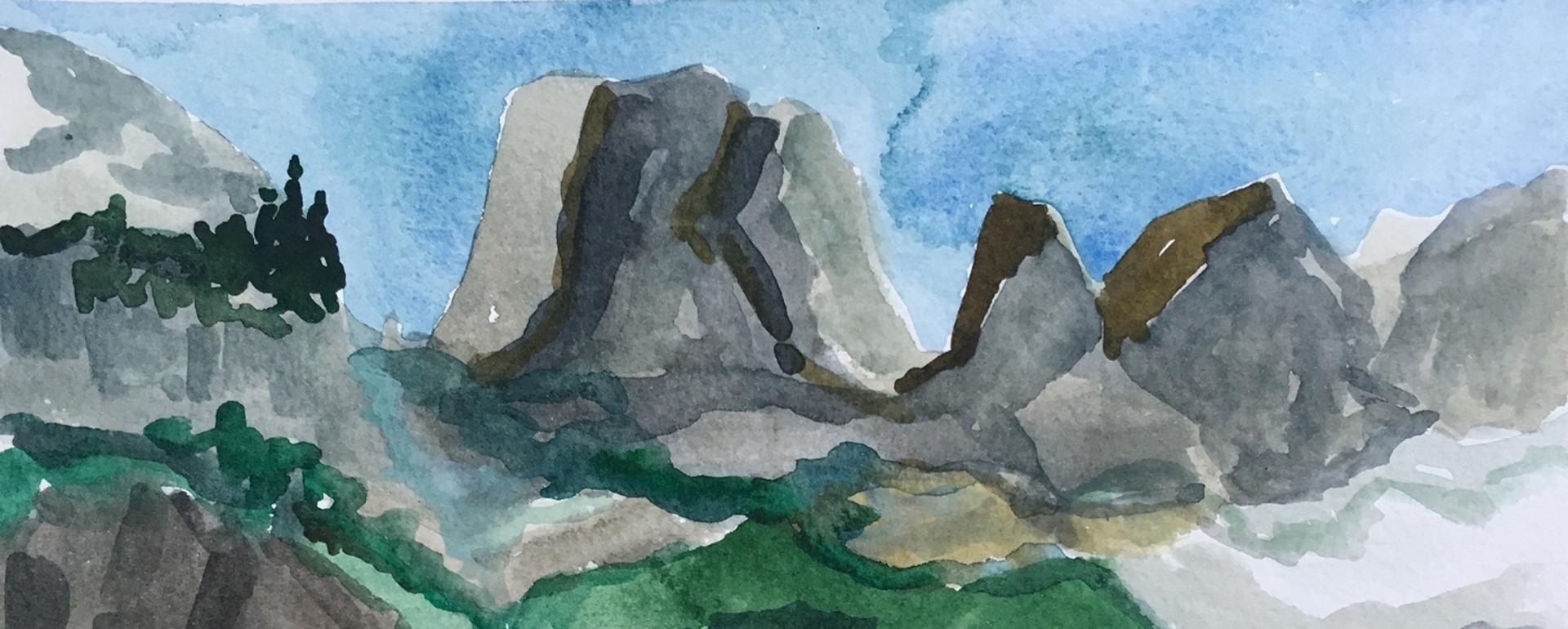 We are headed toward Hanging Canyon, a steep unimproved trail up to Lake of the Crags. The day is perfectly clear as we ascend a winding narrow trail. There isn't much shade on this hike. The trees were burned a few years ago in a fire. The huckleberries, however, are blooming and you can smell the ripening fruit. Fireweed brushes against us as we go higher. The view of Jenny Lake now is spectacular, the boats shuttling hikers back and forth across its surface.
We keep elevating, winding through rock outcroppings, over little creeks, my breathing still, steady and even. As we reach Arrowhead Pool, a puddle among the boulders, rock pinnacles dwarf us. A bonus, wildflowers still are in full bloom along the creek. Only one last steep scramble up a crack in the rock and the desired view of the interior opens up. Even as a longtime local, the view takes the breath away.
Ramshead Lake is nestled beneath sheer granite walls and around it is the ridge to Lake of the Crags. The lake, long and narrow, is fueled by the melt of remaining snowfields running right into the water. Rock of Ages is the largest monolith on the skyline. We sit on the lakeshore, I pull out my paints and get to work. En plein air, a French phrase which means "in the open air" Your paintings are different when you are painting outside in front of your subject, feeling the sun on your back, the drying sweat on your face, the smells of the earth, the sound of the wind in the peaks, that is what I hope I captured with this piece.
Related Stories
September 19, 2017
Brian Jarvi's "African Menagerie" Shows How Fine Art Can Move The Masses
Unprecedented Wildlife Painting Featuring 209 Species Was Partially Inspired By Thinking About Greater Yellowstone.
August 14, 2017

Painter Mimi Matsuda Provides Visual Fodder for MoJo's First "You Write The Caption" Contest
Bozeman artist Mimi Matsuda is a former Yellowstone ranger who enjoys having humans ponder nature from wildlife's point of view. One...
June 1, 2017

Sue Cedarholm Is Creating One New Painting, Every Day, For A Year
Through her column, "Watercolor Diary," the Jackson Hole artist will share vignettes about her interludes outdoors.