Back to Stories
July 29, 2023
In Yellowstone, Teepees To Light The Night, Illuminating Age-Old ConnectionsSeveral days of festivities at Roosevelt Arch and Madison Junction honor the heritage of indigenous Yellowstone. The public is invited to attend these August events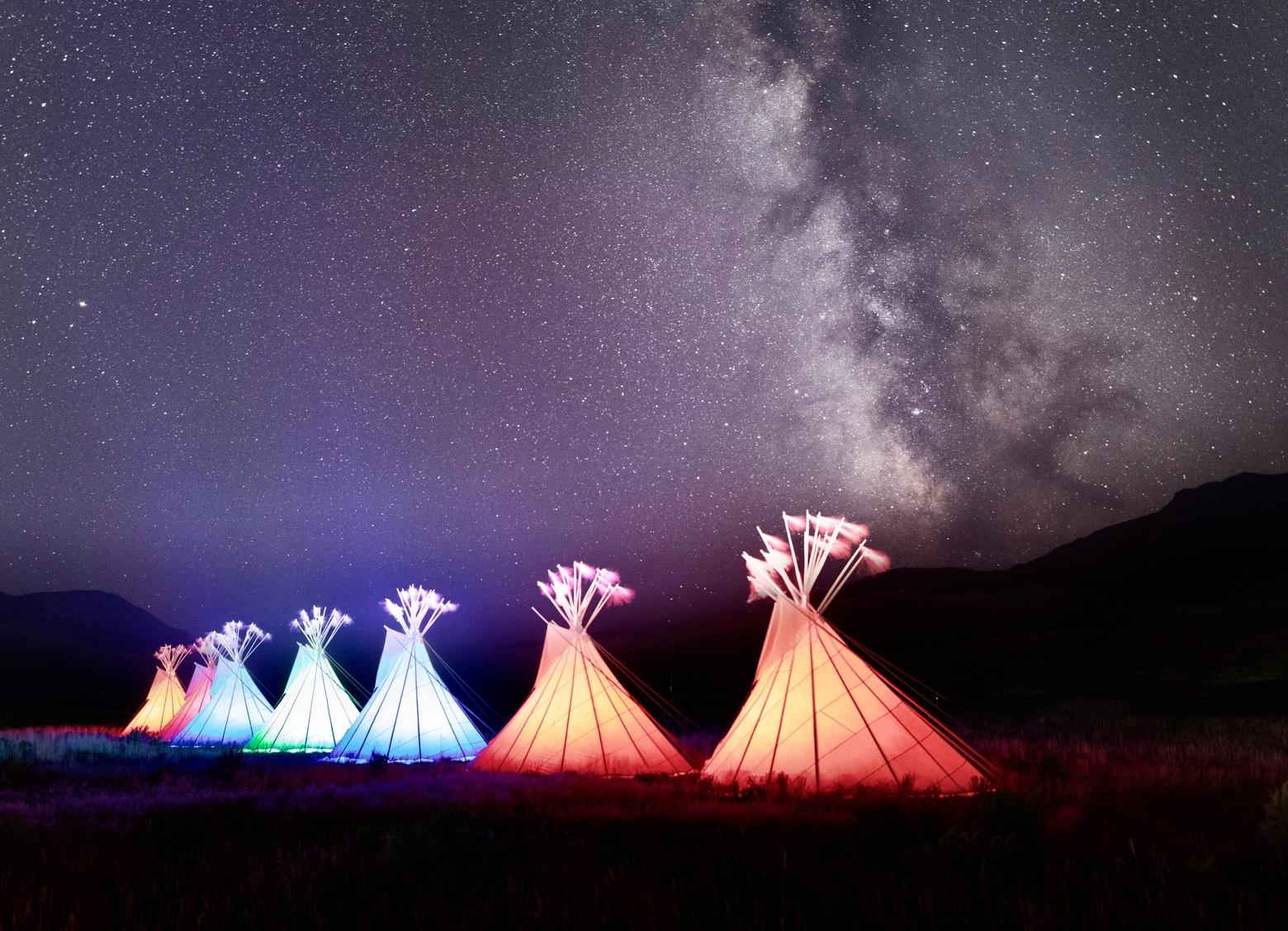 Glowing teepees return to the front doorstep of Yellowstone at Roosevelt Arch on the edge of Gardiner, Montana. They're a reminder of how the lands that became Yellowstone have their own history with different tribes across time and space. Photo courtesy Jacob W. Frank/NPS
Mountain Journal
For the second year in a row, Yellowstone National Park is hosting an event it calls The Lighting of Teepees, a collaborative effort with Pretty Shield Foundation, Rocky Mountain Tribal Leaders Council and Yellowstone Forever. It's part of several days of celebrating the ancient and unceasing connections indigenous people have with the ecosystem that encompasses the oldest national park in the world.
Another collaborator is Mountain Time Arts in Bozeman that is offering an additional slate of offerings. If you're in Greater Yellowstone or heading here, consider adding these family-friendly events to your schedule. They are free, fun and open to the public.
From August 1 to 7, park visitors are invited to view the teepees at the Roosevelt Arch in Gardiner, Montana, and learn about the historic and continued presence of tribes in the Yellowstone region. "The Lighting of Teepees: An Era of Unity and Inclusivity" will include seven installed teepees that will be illuminated nightly at sunset.
In addition, Mountain Time Arts is coordinating the 2023 edition of "Yellowstone Revealed" that is happening at Madison Junction in Yellowstone from August 10 to 12.
According to MTA Executive Director
Francesa Pine Rodriquez
(Apsáalooke/Tsétsêhéstâhes) artists Sean Chandler (Aaniiih/Gros Ventre/Assiniboine) and Ben Pease (Apsáalooke/Tsétsêhéstâhes/Crow/Northern Cheyenne) are providing word that serves as an interpreting guide for thinking about the "All Nations Teepee Village" near the birthplace of the famous Madison River.
This interactive self-guided experience will combine art and storytelling, taking visitors on a thought-provoking narrative journey about our shared past, present and future of teepee lodges sited where the Gibbon River joins the Firehole River to form the Madison.
"The two artists' contemporary artworks are installed in relationship and visual proximity to the traditional teepees on view at Yellowstone's Madison Junction," she said. "The contemporary art installations put forward Indigenous truths and perspectives."
7/30-8/5 River Webb | Nez Perce, Meskwaki, Potawatomi | Beadwork, ribbonwork, dress making, and storytelling
7/30-8/5 Red Miskozi Mair | Little Shell Chippewa
8/7-8/16 Evans Flammond Sr. | Oglala Sioux, Rosebud Sioux | Hide painting and ledger art
8/18-8/20 Luke Black Elk | Cheyenne River Sioux | Traditional plant gathering practices and uses
8/22-8/27 April Martin | Northern Cheyenne | Storytelling and sweetgrass
8/29-9/2 Harry Slickpoo Jr. | Nez Perce | Nez Perce language and oral tradition storytelling
9/4-9/8 Tina Williams | Blackfeet | Beadwork, ribbon skirts, and jewelry making
9/10-9/13 Harmony Straub | Oglala Lakota | Skirt making and beadwork
9/15-9/18 Willy and Debbie Lamere | Shoshone–Bannock | Flint knapping, beadwork, and quillwork
9/20-9/23 Tawny Cale | Spirit Lake, Standing Rock Sioux, Turtle Mountain Band of the Chippewa | Indigenous empowerment through beadwork
9/25-9/27 Darrah Perez | Blackfeet, Eastern Shoshone, Northern Arapaho | Storytelling, short documentary, and traditional poetry
9/29-10/1 Kinsley WalksAlong | Northern Cheyenne | Quillwork
10/3-10/6 Alisha Fisher | Northern Cheyenne | Traditional native games and native dance outfits
10/8-10/14 Patti Baldes | Northern Arapaho | Photography and Buffalo Box