Back to Stories
August 17, 2021
Last Trek Of The Human WolverineJoe Gutkoski, a legendary American conservationist, has passed away. Is his style of relentless advocacy for wild places the only hope Greater Yellowstone has to keep it from being tamed?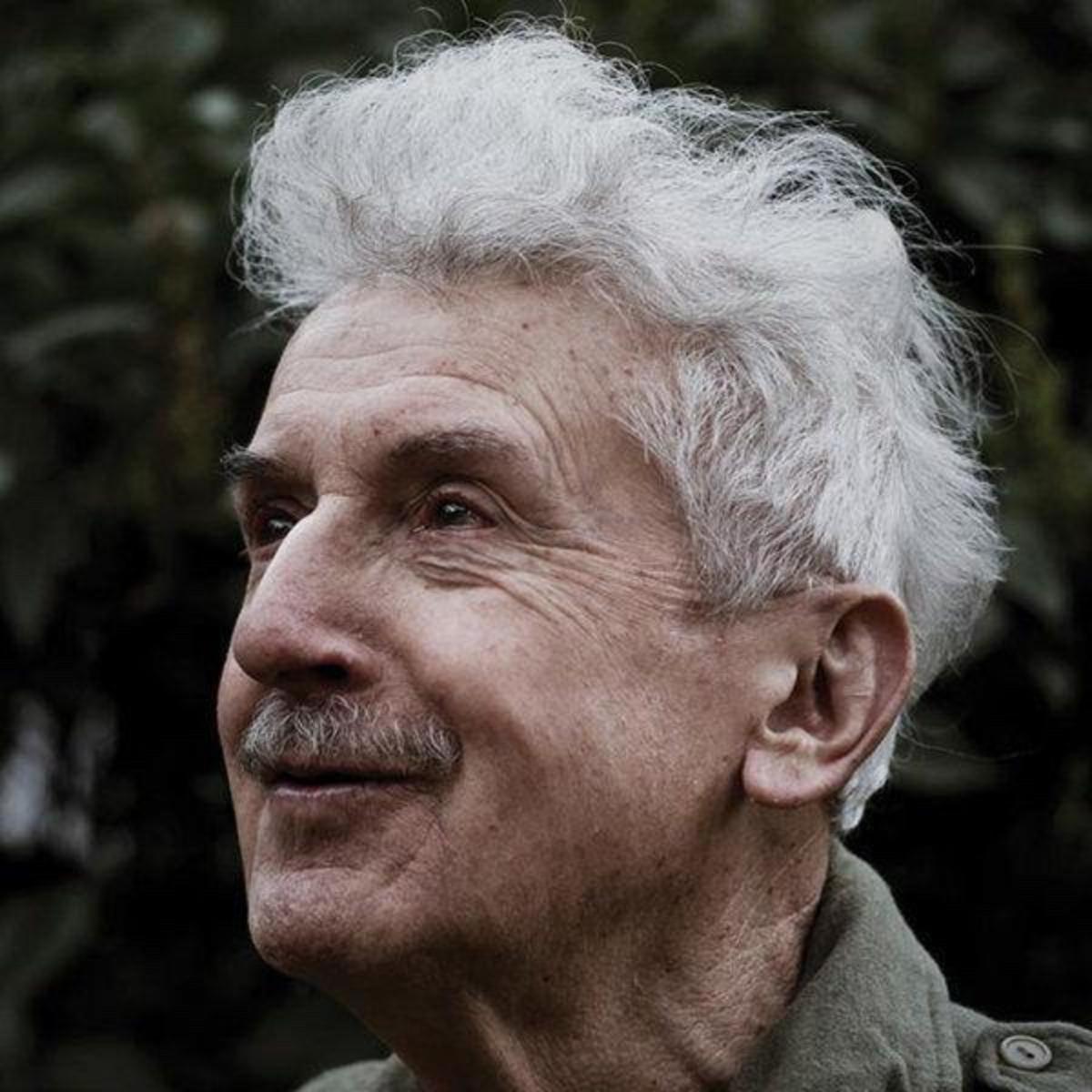 Joseph Gutkoski (1927-2021) Photo courtesy of Ryan Krueger/Outside Bozeman. Check out Outside Bozeman at outsidebozeman.com
by Todd Wilkinson
Pound for surly pound, as a sentient being standing maybe five feet four and weighing 140, Joe Gutkoski had the tough ferocious spirit of a wolverine.
Meekness was not a trait associated with Gutkoski who just passed from this earth. For a small man he lived large.
Joe turned 94 years old on August 4, the day before he died. With so much of what makes the Greater Yellowstone Ecosystem extraordinary now on the line, in danger of being permanently transformed by deepening human impacts, it is worth at least a moment to reflect on what kind of conservation-minded person Gutkoski was.
If you take away little from the following words, let it be simply that nothing worth protecting in nature has ever been safeguarded by humans who fall into the category of passive shrinking violets, or by candidates vowing to preserve nature while simultaneously vying to win the title of Miss Congeniality, or by collaborators and consensus builders who enter into contentious negotiations with attitudes of being willing to give away astonishing places, right out of the gate, simply because, as brokers, their own psychology makes them conflict averse.
"I know a lot of people who can't stand controversy when it comes to conservation," Gutkoski said. "But there's no way around it. You can't protect a place unless you're willing to stand up and say 'no' to those who are willing to destroy it. Politics is contentious. Business is contentious. Religion is contentious. Why, every issue involving natural resource extraction is contentious. There's no way around it. Get used to it. People might get their feelings hurt, but I've never known anyone who wasn't grateful to the conservationists. I'm grateful to the folks who inspired me."
Gutkoski said the reason we're fighting over the last shreds of "wild country" today is because so much already has been willingly given away, that didn't need to be lost.
I stopped by his modest abode on the north side of Bozeman in July and while he was frustrated about the slowing of his body, expressing apologetic embarrassment at having to use a walker, his mental faculties remained sharp and focused. It wasn't that his imminent end had gotten him to speculate about the uncertain status of publics lands beyond his own time; he had actually been doing that for much of his extended adult life.
After all, they said, those aspiring to "take" nature for their own do so without hesitancy or without a fully formed perspective. They don't cower at controversy. Gutkoski had a fearless heart, undaunted in the face of those who make the (false) claim that wildlife conservation today just isn't popular enough for the public to rally around and accept limits on their personal behavior.
After I received word Joe had died, I reflected on a recent autumn rendezvous we had in his kitchen where he spread out maps, and with intricate detail could pinpoint where he camped 10 miles from the nearest road 10 years earlier, describing the shape of a lodgepole pine tree that emerged from the darkness at dawn or glacial erratic next to which he slept under the stars.
A wanderer who had eaten so much elk that it was probably part of his DNA, he was a tree-hugging hunter and angler who spent an inordinate amount of time cutting the tracks of non-human species, storing in his memory how and where they moved, where they were at certain times of the year—and why. "You don't see things when you're moving through the forest on a mechanical device at 30 miles an hour," he said, wearing a flannel shirt and canvas trousers he had purchased 40 years earlier from an Army-Navy surplus store.
"I'd take a slice of elk backstrap over the finest Filet Mignon any day," Gutkoski said. He was a keen student of observation. He noted that on a few occasions he would sit quietly 50 feet off a trail, concealed, observing both wildlife and recreationists—hikers and mountain bikers— passing by, the latter unaware of his presence, and the fact that their approach caused a moose mother and calf to bound away. He had seen wildlife abandon many parts of the front-country where human recreation pressure had steadily increased; that's why he needed the physical endurance to keep doing deeper.
The Gallatins were a regular topic of discussion in my chats with Gutkoski and the reason is because he understood them likely better than anyone alive. The late Big Sky crooner, conservationist and hyperkinetic hiker "Walkin' Jim" Stoltz had logged tens of thousands of miles in Greater Yellowstone backcountry and other parts of the Northern Rockies, but he told me he stood in awe of Joe and his intimate knowledge of both the Gallatins and Madisons.
For those who need a bit more geographic description the Gallatins are a bio-geographical extension of Yellowstone, which means they are a vital unbroken appendage, a highway for wildlife moving in and out of the park. Stretching beyond the artificial northern boundary of Yellowstone, these mountains extend into Montana and run between Paradise Valley to the east and the Gallatin River Canyon on the west —the latter today dominated by the bulging bustle of the resort complex of Big Sky that is causing many spillover effects on adjacent public land, including the Gallatin River.
The Gallatins are not broad-shouldered; they are actually pretty narrow, but they're truly remarkable in this way: They are one of the few mountain ranges south of Canada still home to all of the major mammal species—from grizzlies and wolves to bison, moose, wolverine, lions, lynx, bighorn sheep, mountain goats, pronghorn and the famous Gallatin Elk Herd plus hundreds of other species including birds, fish, reptiles and plants— that existed in the Northern Rockies before Europeans arrived in North America.
One way to think about the high caliber of wildness in the Gallatins is that they still hold a full complement of animals that has disappeared from the rest of West because of land fragmentation, human intolerance and large numbers of people overwhelming their habitat.
Based on that distinction alone, of what can still live there, the Gallatins are wild. The best legal means today of protecting wildness in perpetuity in America today is doing it on private property where the owner can control all factors related to use; or, on public land, have a place protected as wilderness and, equally as important, have a public land management agency devoted to enforcement of the law.
Joe and I marveled at the idea that were you to pick up the Gallatins and drop them into California, they would instantly, because of their diversity of original native mammals, be the wildest mountains in the state. The same would be true if you relocated them to Utah, Colorado, Washington State, Oregon, Nevada, Arizona, New Mexico, Idaho, Texas—any state outside of Montana and Wyoming.
If the Gallatins were a standalone national park they'd be wilder than any national park in the Lower 48 save for Yellowstone, Grand Teton and Glacier. They are the only significant mountain range next to Yellowstone without a major road bisecting them—a fluke with a tangible link to Gutkoski that I'll explain later.
"People need to remember that we wouldn't have Yellowstone if its creation had gone through the same kind of consensus and collaboration process that is currently being used by the Forest Service to decide how much of the Gallatins should be protected," Joe said in July. I reflected on that after he shared the observation; we all ought to.
The irony, he says, is that some residents treat the Gallatins as an afterthought, a bargaining chip in a conservation poker game, as just another stretch of mountains that came out of Mother Nature's womb yesterday waiting there to be exploited—not by timber companies or hardrock miners, but outdoor recreationists who argue it's their right to have more access, or get trails they illegally blazed into a federal Hyalite-Porcupine-Buffalo Horn Wilderness Study Area grandfathered by the same Forest Service that allowed the trespass to happen. Oh yes, Gutkoski knew something about the Forest Service, insight that might surprise you, which we'll also get to below.
Besides the warm month incursion of more users very year, winter adventure seekers are also, in increasing numbers, illegally driving into the Gallatin backcountry on snowmobiles to remote mountain bowls to ski or snowboard, high mark on steep slopes and lay down tracks in the virgin powder. At the mountains' edges, there are real estate agents eagerly promoting development on private land. Lots of people desire to build next to wildness without realizing that by doing so they are killing the very spirit of place.
Joe could tell you a lot about that, as he was an academically-trained expert in a once- nascent discipline which sprang forth after World War II, that pondered the intersection between human development and nature; it is called "landscape architecture."
Gutkoski was, until his final breath, among a growing group of citizens who believe the Gallatins deserve more than being viewed as a pie there to be carved up among "stakeholders," each wanting their own piece of the action to consume. Either that, he said, or they make support for conservation conditional based upon their ability to "use" or profit from the mountains; otherwise, they are opposed to wilderness protection.
If you've made it this far, you may reasonably wonder: why listen to Joe Gutkoski? Consider this: After World War II, a war in which he served his country on a Navy Destroyer before graduating from Penn State on the GI Bill, this son of a Polish coal miner from Wilkes-Barre, Pennsylvania fell in love with the West.
He was hired as the first landscape architect for famous Region One of the Forest Service based in Missoula—a region which had jurisdiction over the most spectacular forests in the Pacific Northwest. Eventually, he transferred to what is today the Custer-Gallatin National Forest, headquartered in Bozeman, where he and his wife, Milly, raised their three kids, Mike, Marie and Helen. It wasn't always easy being married to a crusader or having one as a parent.
° ° ° °
"When I met Joe he was just past 50, a spare, wiry man with iron-gray hair and the beaked profile of a predatory bird. During the season he'd be gone for days at a stretch, leaving toothed indentations from his army-surplus ice creepers across the vast snowscapes of southwestern Montana. He lived out of a backpack, darned his tatty long underwear by firelight, ate his dreadful slumgullion stew," McCafferty wrote in his profile, noting how Gutkoski shot his first elk in 1953 in northern Montana.
"His elk rifle was an ancient Springfield '06. It had a charred stock from the day he held it over a fire to unstick the action, which had frozen shut after he fell through the ice into a stream named, aptly enough, Burnt Creek. While walnut blackened to cinder, elk had grazed unconcernedly up the mountainside."
Gutkoski, as a young man, once set out to track and kill a male grizzly in the North Fork of the Flathead River drainage as a trophy but it was one hunt he was happy to say failed. He became a committed advocate of grizzly recovery since the specie was listed as threatened under the Endangered Species and hunting was curtailed.
"…as Joe flew on fire-fighting missions across the West… he took notice of the accelerating devastation of the forests wrought by clear-cutting," McCafferty wrote. "His vow to fight for wilderness designation for some of the last unroaded land would eventually bring him recognition among environmentalists. It also earned him more than a few enemies during his career as a landscape architect with the U.S. Forest Service, whose bosses were adamant advocates of development. Were it not for his unflagging efforts to keep the land intact, many acres of Montana's best elk hunting country would have long ago been rendered into slash piles and mining sluices."
McCafferty thinks of Gutkoski as a retro character so full of quirky substance that a fiction writer couldn't possibly invent him. Joe would walk miles into the backcountry to help McCafferty carry out heavy loads of elk meat—and vice versa—and he could be gentle, knowing, wickedly funny, self-deprecating and compassionate, but he was also, McCafferty says, headstrong and ornery.
Last year, McCafferty told me, Gutkoski cut against the grain of the truism that old men grow mellower with age. Joe didn't get cranky, McCafferty said, just more impassioned, driven by a sense of urgency to hold on to what still remains untrammeled.
"He's concerned about protecting wildlife migration routes, and safeguarding habitat for grizzlies, getting more room for bison from Yellowstone to roam and protecting rivers from being abused by different kinds of development. I think he's right about all of it," McCafferty explained. "He doesn't take no for an answer and among some people he's got so many enemies that he couldn't be elected dog catcher. Sometimes he's been a lone voice in the wilderness out there but more people understand where he's coming from. He doesn't know how to stop. He still gets in his car or hitches a ride to go to legislative sessions in Helena so they can't sneak a bad bill past. Joe always shows up."
Over the years Gutkoski had hunted in the Madison mountains, remembering what the flanks of Lone Mountain were like when they, and the nearby Yellow Mule area below Flattop Mountain, were grazed by cattle in summer and before industrial logging felled the old growth Douglas-fir and spruce. He met Chet Huntley when the Cardwell-Montana-native-turned-famed national news reader for NBC News began discussing his vision for creating Big Sky. Huntley wanted to build a destination for downhill skiing that echoed of Montana values and would be quaint compared to the industrial approaches of resorts in Colorado.
Even in these last weeks, Gutkoski said he believed Huntley would have viewed the size of the human footprint that has overwhelmed the former feel of that valley as an abomination. And it's why he was doubly concerned about what he considered a devil-may-care attitude some have about monetizing nature and seeing opportunity in the Gallatins across busy Highway 191. He remembers well when timber baron-turned-landowner and Yellowstone Club founder Tim Blixseth parked a bulldozer along US Highway 191 in front of the Porcupine Creek drainage and threatened to let heavy machinery start blazing roads for a new subdivision if the Forest Service didn't make a land trade happen.
Blixseth had acquired private checkboard sections of land in the Gallatins that a century earlier had been given to railroad companies. Had they been developed the wild character of the mountains would have been destroyed. Instead, they were consolidated into public land, as a part of Congressionally-legislated land swaps that resulted in Blixseth getting cash and public tracts elsewhere, some of which—in the Bangtails and North Bridgers— he sold to timber companies that clearcut huge swaths of forests. The Bangtails today bear severe scars of the logging and roadbuilding.
"The Bangtails and North Bridgers paid a high price for us getting private checkerboard lands in the Gallatins consolidated into public ownership," Gutkoski said. "People forget that. While none of us liked having those areas become sacrifice zones, we went along because we were told that it would result in more of the Gallatins becoming permanently protected as wilderness."
° ° ° °
° ° ° °
McCafferty said Gutkoski had uncanny instincts and woods sense. "We'd be out and Joe would say, 'I can smell something' and you know what, the man's nose never lied. One time, we had split apart on our hunt. He smelled a moose and finally caught a track and was able to trail it so close he got a good shot. So we are up there field dressing the animal to get ready for the long haul out. Joe lifts his pack up to his back and I can't believe how much weight he has. He's testing the load and then he takes it off his back and says, 'Put more meat in the pack, that's not a man's load."
But that wasn't all. When McCafferty hoisted the backpack to his shoulders he couldn't believe the heft of the load. "I thought, by God, what's in it? I took everything out to take a photograph of its contents. He had a jar of pickled beets in there, three headlamps, containers of black mashed bananas, a $5 sleeping bag, a sheet of tarp to pull over him if it rained, and a container of Folger's freeze dried. He had so much shit. None of it high-tech, only what he needed based on what worked for him over many years."
For as tough as he was physically, Gutkoski was more determined in being a responsible citizen. He was old school. Eschewing the technology age, he didn't spend time on a computer or text on an iPhone or sign online petitions. He wrote letters in longhand or on a typewriter, he called people up, he met folks for coffee and when he wasn't supporting conservation groups, he was founding them like the Montana River Action.
Presciently, Gutkoski predicted there would be winnowing snowpacks, summers like these when the effects of climate change deepened and low water levels would bring severe impacts on natural systems, the fly-fishing economy, agriculture and result in water restrictions and algae blooms on rivers. He was outspoken in condemning the sewage spills in Big Sky that polluted the Gallatin River and the problem of faulty septic systems.
On countless times over the years, he drove to testify before legislative hearings on environmental bills in Helena. And a couple of occasions he flew back to Washington DC but he felt out of place donning a suit and tie, though he was not averse to puffing up his thick hair into a stylish pompadour. Most members of Montana's Congressional Delegation and several governors, on both sides of the aisle, knew him by his first name. He could be disagreeable but he was respectful and his sincerity was never in doubt.
I remember once writing a story about activists trying to resurrect a Montana wilderness bill in 1989 after President Ronald Reagan vetoed a bill that had passed through both houses of Congress. I was there when Joe put in a call to then US Rep. Pat Williams' office in DC. A young staffer answered.
"Hello, would you please tell Congressman Williams that this is Joe Gutkoski from Bozeman calling. I know Pat and you please be sure and let him know I'm strongly in favor of new wilderness legislation."
"Thank you, Mr. Gutkoski, I'll let him know."
"Maam, since you're likely to be hearing more from me, why, you can call me Joe. I like speaking to people on a first name basis," Gutkoski told her.
Afterwards, he said to me, "You really need to be polite and gentle to the young staffers. They're getting their first taste of politics and you want them to have a positive impression hearing from citizens. I try to be gracious because you never know, someday one of these good young kids might become our next governor or senator."
The wilderness bill then never got traction but consolidation of checkerboard tracts in the Gallatin Range has enabled more acreage to be protected than was included in the 1988 bill. That's the irony. Further, development pressure has only tightened around three sides of the Gallatins and today mountain bikes, more powerful ATVs, including ebike, and snowmobiles are bringing more people into country that formerly was considered remote. "I have a lot of faith in young people but I don't know if they care about wildlife as much as older generations," Gutkoski said.
° ° ° °
"Whenever I've described Joe to anyone I always used the word 'hero.' He truly was a hero of mine, someone I've looked up to since the day I met him," Skoglund say. "The things that stick out were his endless energy and passion for conservation in Montana. When somebody in their 80s and 90s could be paying attention to other things, there was Joe at every meeting, constantly writing letters, op eds, providing leadership by his actions but not seeking attention. As a passionate hunter and outdoorsman myself, seeing that vigorous outdoor life he lived, I always think, my god, if I could be doing half that stuff when I'm his age, I'd be thrilled. And then there was a that wonderful way about him. His personality. His sense of humor. My wife, Sarah, and I always talked about certain people you have the good fortune of meeting who always have that twinkle in their eye. Whenever there was a meeting and a crowded room, the first thing I'd do is make a beeline for Joe."
° ° ° °
Hundreds of people have their own Gutkoski stories.
"Joe Gutkoski was a real piece of work—and I mean it in the most endearing way," says Dennis Glick, hunter, wildlife advocate, hiker who has done many multi-day trips into Greater Yellowstone, and professional community conservationist for 40 years. "People look around and they ask, 'Where have the great defenders of wild country in America gone?' Joe was an original. I'd encourage those who care about wild country, especially young people, to take a look at Joe and glean some insight from his convictions. He loved to recreate, to use public lands, but he also accepted limits in deference to wildlife. He's not going to be remembered for how many elk he shot or mountains he climbed. He's respected for his courage in speaking up. He stood for something good that benefits us all."
Gutkoski and I shared another kind of connection that still makes me laugh. It was because of him that I was brusquely disinvited from continuing to write for a major outdoor hook and bullet magazine. The editor assigned me to interview a seasoned Montana elk hunter of my own choosing about the excitement of opening day of rifle season. I contacted Joe and he shared tales of how he, for years, hiked many miles into the Gallatins to get away from other people. Prior to his annual pilgrimage, he would spend weeks in the backcountry studying elk and scouting locations where he could, on opening morning, scan ridgelines and put himself into positions for clean shots.
He gave me great colorful material. Yet tinging the interview was a sigh of how, in recent years, his favorite haunts had been transformed. "I hope you'll mention it in your article so it's not a bunch of fluff," he said. The Custer-Gallatin National Forest had allowed user-created motorized trail routes to expand in many drainages, including right on top of established game trails he knew, and the Forest Service hadn't done a good job of enforcing regulations. On opening day a year earlier, Joe had walked many miles in but said he could see the headlights and hear the sound of ATVs rumbling up the draw before dawn. As riders approached, an elk herd he hoped to hunt scattered.
I quoted him talking about how he pined for the old days when elk hunting required effort and woods savvy, when it delivered solitude, when a person had to exert a lot of effort and couldn't simply throttle in. He complained how he had witnessed hunters in pick-up trucks in some areas of southwest Montana shoot elk from old logging roads, sometimes taking aim from inside the cabs of their vehicles. He added that rising ATV use had altered the feel of the Gallatins in places "where the experience of hunting used to be really special. It's unbelievable how fast it's changing."
After I turned my story in, believing that championing traditional hunting would resonate with the editor in New York City, I got a call back. He asked me if I would delete Joe's complaints. When I expressed hesitancy, he asked if I was "anti-ATV," to which I said I wasn't. Then, he added, "This Gutkoski guy sounds like a radical." I explained that Gutkoski represented the kind of values I had been raised to revere and many of my friends shared the same assessment of him. The editor, incredulous at that explanation, said that ATVs serve a valuable purpose in modern hunting. "They allow a lot of paraplegics to get out and enjoy pursuing elk."
I had heard that argument used by proponents of motorized recreation before. I asked Joe if he had ever seen a paraplegic driving an ATV in pursuit of a Gallatin elk and he said he hadn't. "I certainly wouldn't be opposed to a paraplegic, especially a military veteran, using an ATV to get an elk but that's not why I'm opposed to ATVs. I think ATVs appeal to a lot of out-of-shape slob hunters who aren't willing to work to get their elk and I think that's pretty damned sad. There are a lot of roaded places on the forest that slob hunters can go to shoot an elk. There aren't a lot of wilderness-caliber lands left."
Gutkoski told me this when he was in his late 70s.
When I relayed Joe's reply to the magazine editor and that I wanted to leave his comments in, my story got killed. Afterwards, as I flipped through the pages of the latest edition of the magazine, I understood why. It was filled with full-page advertisements for ATVs. Joe apologized to me for what happened and said, "I think you picked the wrong guy to profile for your story."
"Not at all," I said. "I picked exactly the right guy because you forced me to think."
That's the way it always was with Gutkoski. His irrepressible enthusiasm for the wildlife-filled outdoors forced us to consider the backcountry experience from an animal's point of view. He had walked the length of the Gallatins from Yellowstone north to Trail Creek, Bear Canyon, Hyalite, Sourdough Creek, South Cottonwood, West Pine, Tom Miner, Portal, Porcupine, and Buffalo Horn many times over. He had crossed those mountains from east to west. He knew every corner. "I love the Gallatins," he said. "If parts of the Gallatins became wilderness and I was told that I might not be able to go there ever again, I would reluctantly accept it because I want what's best for the mountains and the wildlife."
This is Joe Gutkoski's epitaph. What will ours be?
: We're proud to have had Joe Gutkoski as a supporter of
Mountain Journal
and who encouraged all the friends he knew to read us. We should also note that Joe appears prominently in a new book, "Ripple Effects: How to Save Yellowstone and America's Most Iconic Wildlife-Rich Ecosystem" co-published by
Mountain Journal
and Wyatt-Mackenzie Publishing. Just as we are grateful for Joe's friendship and support, so, too, do we value yours. We take seriously the notion that the only hope of saving the Greater Yellowstone Ecosystem is by arming passionate and caring readers with facts because it is you who make all the difference.
Thanks for your support of MoJo.
If you knew Joe Gutkoski and have some recollections to share, please pass them along
by clicking here
. Please try to keep them short and we will share them.
————
I am so saddened by Joe's passing. He was a huge help to us at the National Wildlife Federation as we undertook efforts to change the outcome for Yellowstone's bison. Helping with the Montana Wildlife Federation and Gallatin Wildlife Association, he was a clear and ardent advocate for bison to be managed as wildlife. We have lost so many conservation heroes lately—Jim Posewitz, Valerius Geist, Tom Warren (a former NWF board chair that kept us in the bison effort) and now Joe. I hope young people will be inspired by Joe's example and step forward to also advocate for wildlife. We need people like Joe who saw accommodation as a slippery slope. Rest in peace, Joe.
—Dr. Stephen Torbit, assistant regional director of science application for the US Fish and Wildlife Service's Mountain-Prairie Region and former Rocky Mountain regional director, National Wildlife Federation, in Colorado
————
Joseph Gutkoski was a friend of over three decades. A "wolverine"? Perhaps, as a hunter. But as a person of character, Joe was one of the finest, most considerate, people you'd ever hope to meet. In his personal relations, Joe put others ahead of himself. As a conservationist, his efforts for rivers and buffalo were unflagging. As he once said, "It's what I live for." Now, Joe's memory and inspiring spirit live in those who knew him. But I'll stop there: Joe would brook no further adulation. Perhaps it was the wolverine in him?

—Doug Coffman, Eugene, Oregon
————
I want to congratulate MoJo for maybe one of the most important articles in your history. The article on Joe Gutkoski summarizes all that has been good in conservation in the Greater Yellowstone. He was a dogged defender— I would sometimes get six calls a week!—of all things wild. He was determined to let bison finally be wild. He arranged a Buffalo Commons meeting with the Poppers in Lewistown, Montana long before the American Prairie Reserve started. He had appointed me President of the American/Yellowstone Buffalo Foundation. I got a call the day of the meeting from the Fergus County (Montana) Sheriff, who said: "You had better not come as we cannot guarantee your safety!"

Life was exciting around Joe.

—Joan Montagne, Bozeman
————
I first met Joe at the founding meeting of Montanans for Gallatin Wilderness. He was in his late 70's then, and apologized for being "a bit tired" since he had been packing an elk out of the Gallatins for the last few days. By himself. He ended up field mapping the entire Gallatin Range Roadless Area, and we used his work to draw up the 230,000-acre wilderness proposal for the Gallatins. Not too long ago he told me that he hoped to live to see that wilderness proposal come to fruition. That didn't happen, but we can sure honor Joe by getting the job done; that is, by designating the entire Gallatin 230,000-acre roadless area as wilderness under the Wilderness Act of 1964. Joe was not just a great advocate for wild living things and places, but he was humble yet unyielding. Let's honor Joe and get the job done.

—Howie Wolke, Emigrant, Montana
————
Had the pleasure of floating the Wild and Scenic Missouri with Joe a couple of decades back. He brought a garbage bag filled with the little he needed, rolling his sleeping bag out under a downed cottonwood. Slumgullion (his home-concocted variation of pemmican) was on the menu breakfast, lunch and supper.

One afternoon a storm drove our canoes to shore early. After the skies had cleared, Joe took off on a long hike. He came back with wild tales about encountering Waco Johnny Dean in a cabin on the edge of the Little Rockies. "I'm on the run from the Texas Rangers," Waco told Joe, admonishing him to keep his distance and tell no one of Waco's whereabouts.

Waco Johnny Dean was the product of Joe's fertile imagination, but Joe was the real thing. May his legend continue to enrich Montana's wilds.

—Bert Lindler, Missoula