Back to Stories
June 19, 2018
Sage Grouse: Why Is The Trump Administration Killing A Bipartisan Plan To Save The Bird?John Freemuth offers an overview of the politics affecting one of the most charismatic avians in the American West
greater sage grouse
(
Centrocercus urophasianus
), a bird widely known for its dramatic mating displays.
The grouse is found across sagebrush country from the Rocky Mountains on the east to the Sierra and Cascade mountain ranges on the west. While overshadowed by debates over large, charismatic megafauna, the greater sage grouse in the Greater Yellowstone Ecosystem is, in some ways, an indicator species of how habitat changes for this sensitive bird could also affect animals such as pronghorn, mule deer and others.
The so-called "sagebrush sea" where sage grouse live envelopes many important wildlife migration corridors. It also contains
significant oil and gas deposits.
The Trump Administration is
revising
an elaborate plan developed under the Obama Administration that sought to steer energy development away from sage grouse habitat. And Interior Secretary Ryan Zinke claims he will safeguard migration routes; in many ways the sage grouse is a proxy for whether he's being sincere.
suing in response
to the Trump Administration walking away from a historic agreement on sage grouse. They
argue that this shift and accelerated oil and gas leasing threaten sage grouse and violate several key environmental laws.
This battle is the latest skirmish in a continuing narrative over management of Western public lands. Like its Republican
predecessors
, the Trump Administration is prioritizing use of public lands and resources over conservation. The question is whether its revisions will protect sage grouse and their habitat effectively enough to keep the birds off of the endangered species list—the outcome that the Obama plan was designed to achieve.
Sage grouse under siege
Before European settlement, sage grouse numbered up to 16
million
across the West. Today their population has shrunk to
an estimated 200,000 to 500,000
. The main cause is habitat loss due to road construction, development, deliberate removal of sage brush and
oil and gas leasing
.
"If we go down a different road now with the sage grouse, what it says is, when you try to address other endangered species problems in this country, don't have a collaborative process, don't work together, because it's going to be changed." —Wyoming Gov. Matt Mead
More frequent wildland fires are also a factor. After wildfires, invasive species like
cheatgrass
are first to appear and replace the sagebrush that grouse rely on for food and cover.
Climate change and drought
also contribute to increased fire regimes, and the cycle repeats itself.
Concern over the sage grouse's decline spurred five petitions to list it for protection under the
Endangered Species Act
between 1999 and 2005. Listing a species is a major step because it requires federal agencies to
ensure
that any actions they fund, authorize or carry out – such as awarding mining leases or drilling permits – will not threaten the species or its
critical habitat
.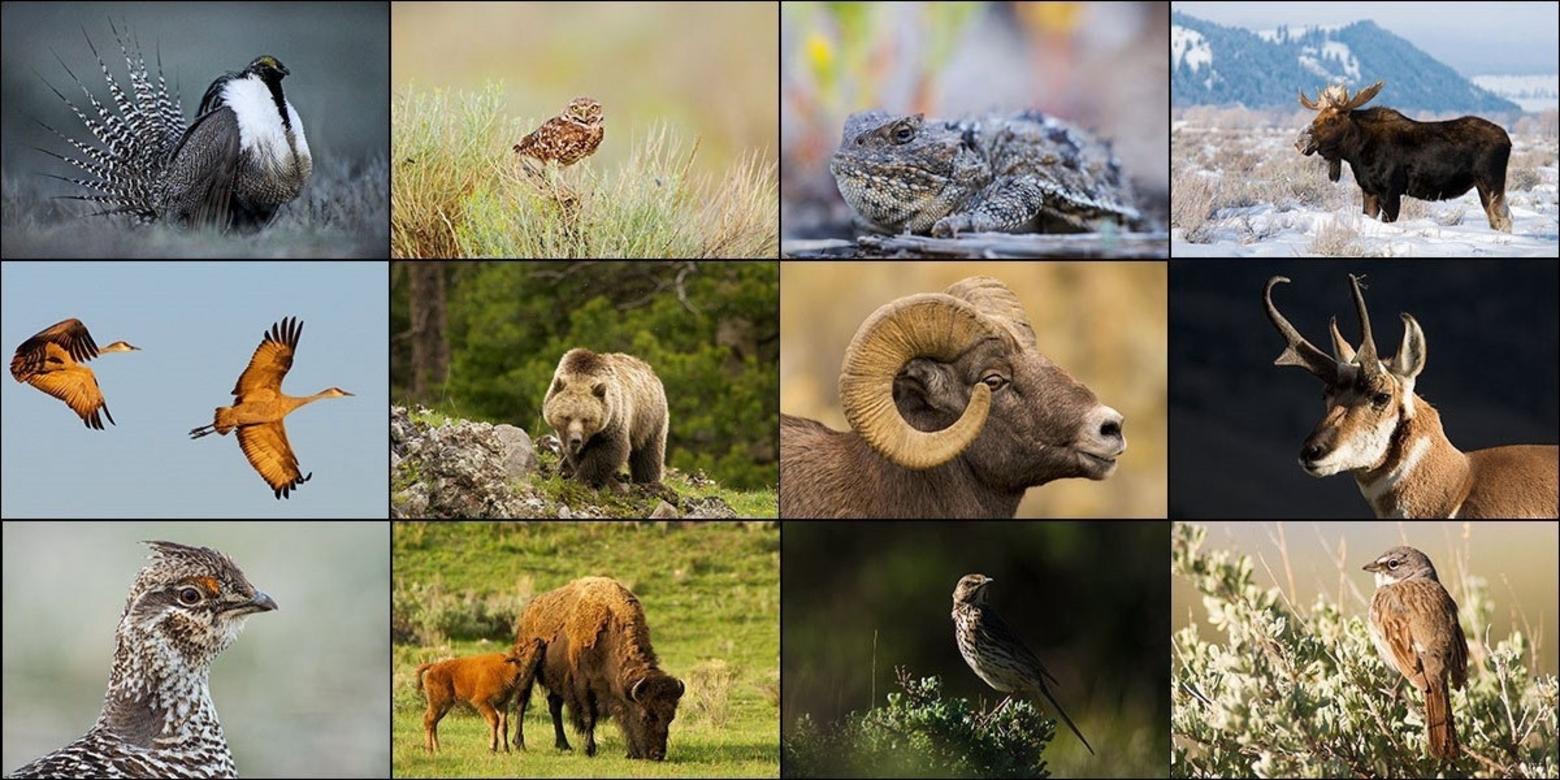 When habitat is protected for sage-grouse, it also benefits these species. Photos courtesy David Showalter
Negotiating the rescue plan
The Obama Administration launched a concerted effort in 2011 to develop enough actions and plans at the federal and state level to avoid an ESA listing for the sage grouse. This effort involved federal and state agencies, nongovernmental organizations and private landowners.
California, Colorado, Idaho, Montana, Nevada and Wyoming all developed plans for conserving sage grouse and their habitat. Wyoming has the most remaining original habitat and Montana makes a mighty contribution.