Back to Stories
January 23, 2019
The Artful Angler Mike Gurnett celebrates wildlife in metal after being a spokesman for the natural world
To some, like city slickers and suburbanites that live in metropolitan statistical areas, that would sound crass, like breaking glass to said slickers' eardrums.
But to Montanans, real Montanans, that is a true and quite apt analogy—a quick to the point vivid comparison and reflection of the natural world in which we live, something that you can relate to if you have tried to sidestep goose feculence, like along the Upper Missouri River say, during high fishing season. So the analogy makes you think of the scattered splotches of goose discharge on the ground, random, and you understand exactly what Gurnett is talking about. And then you glance at his more practiced welds and see that they don't look like goose shit. They look, in actual fact, like bear scat: clumps that are whole, sturdy, concentrated, tight. Bear scat but without seeds.
Enough with the scatological analogies. What Gurnett makes is amazing, tactile piscatorial creations in three dimensions and they prove there can be a rich life after government service.
A now retired and legendary state wildlife employee, he doesn't view himself exactly as an artist; he's mostly self-taught (except with the help of a renowned Belgrade bronze and steel sculptor) and expects to at least recoup the money and time he has put in to his work. Today he just likes hanging out in his detached garage and creating from raw steel and other metals his reflection of the natural world in which he grew up and worked.
Gurnett crafts from steel and other metals the likenesses of trout, salmon, grayling, antlers and big flies, some—­like the mayfly—that are seven feet long and have hooks that are bent on a specially created jig made by hand.
It's the natural world— the redundant rhythm of nature—that incites him to create. In his previous life and profession, Gurnett was driven neither by time nor money but by darkness and light, sunrise and sunset, when he would wait patiently—more so than other photographers in his class—for the right shot, getting out earlier and staying for that extra half hour to capture the magical light on the landscape and wildlife that make Montana majestic.
You probably know of him if you've lived in Montana and came in contact with a television. This former Montana Fish, Wildlife and Parks Department photographer, filmmaker, documentarian and video news producer was "out among Montana's fish, wildlife and parks," as the Outdoor Report tagline goes in the video newscasts that are a staple the department has used to educate the Montana public, for almost four decades. And he saw -- and photographed and filmed—a thing or two in the backcountry, mountains, plains and state and national parks—Yellowstone and Glacier—that define Montana and Montanans. Yellowstone and Glacier are the anchor stores in the natural mall that we call Montana.
The places where Gurnett went to film are heavenly; the birthplace of his sculptures, not so much.
Today, his garage is an ironmonger's dream; part hardware and sporting goods store, museum, junk shop, and gathering place. It's where neighbors stop by to chat and see what he's up to. It's filled with old tools, a DeWalt radio blaring country music, and odds and ends: a vice that has been welded back together, an anvil on which Gurnett beats his hot steel, sawhorses, ball-peen hammers, electric and hand saws, grinding machines, deer antlers, cowbells, old Montana license plates stacked neatly between the joists, lariats, a snowblower, face masks, drywall tools, copper wire, a weedeater, giant pipe wrenches, filing cabinets, a red plastic bucket of horseshoes, a drill press, oars for his drift boat and raft, a welding machine, pliers, a hand truck, old wooden snowshoes, an old water ski, a sign that says, "Trust Yer Neighbor but Brand Yer Cattle."
Neighbors that wander by while walking their dogs or just sauntering during the long lazy summer dusk wonder if Gurnett is putting on a highfalutin "art show" in his modest garage. Gurnett quickly disabuses them of that notion. "No, it's not an art show, it's an art sale," with the emphasis heavily on "sale," Gurnett retorts.
Now, "in retirement," he is doing what he loves in a garage-cum-studio that opens to the street, and if you walk out of it you can see the bulwark-like limestone cliffs of the north face of Mount Helena and the sprawling valley below. That valley below, by the way, is filling up with people, houses, subdivisions, businesses, box stores, cars and trucks and roads, and reminds you of why what Mike did and does is so important.
We lost a legend when he took off his uniform. "Mike Gurnett is retiring after 37 years with Montana Fish, Wildlife & Parks, telling the state's wilderness stories, showing what's right out our own back door -- we wish him the very best and thank him for showcasing Montana's majesty," KXLH-TV proclaimed on its Facebook page back on December 30, 2014, Gurnett's last day at the state agency.
Gurnett told Distinctly Montana Magazine in September 2015 that since he retired he had learned to "weld sculptures of fish and birds and when someone else sees them I'm hoping they can tell the difference between the two."
There was a real bit of irony intended there. The fish really look like fish, and they can be breathtakingly beautiful when the steel is burnished to create a patina that is copper, silver and gold with hues of salmon and purple so that were the trout alive it would jump as if it were just outside your outstretched net and fighting off the consistent pressure of an invisible fly line and hoping to evade an inevitable landing.
Big Spring Creek
. "My grandfather fished there with the bamboo rod that now hangs above my desk," Gurnett wrote in the article entitled "Soul Music" in the March/April 1997 issue of Fish, Wildlife and Parks'
Montana Outdoors
magazine. "I could go there today and stand where she [his great grandmother] put her easel. My dad fished there. I know because I fished there with him."
Gurnett is nothing if not steeped in tradition, family and the outdoors. He comes from hardy homesteader stock. One of the family's brands was the eleventh originally registered in the Montana Territory on Feb. 10, 1873. Born in Lewistown, he grew up in Livingston and Lewistown, and fished both Big Spring Creek and the Yellowstone River.
On one of Gurnett's basement walls hangs a painting where, near a big S-curve in Big Spring Creek, his great grandmother, Margaret Ellen Gurnett, about 90 years ago, painted a picture of her son—Gurnett's grandfather, "Mike" Floyd Gurnett—wading his way upstream.
Gurnett's father, Ed, a World War II U.S. Army Air Corps veteran who flew in B-29 Superfortresses in the Pacific Ocean theater out of Saipan, worked in the funeral home business, and told Gurnett, "I don't care what you do, but find what makes you happy."

He was
baptized
into happiness early. His father and father's cousin, Joe Gaab, a former Park County backcountry game warden in the 1950s and '60s, "threw" him in a fishing boat when he was six. And Gurnett's long, storied relationship with the outdoors started from there.
After his Dad died in 1996 and to help him wade through his grief, Gurnett penned a paean to celebrate his family and the way that the arc of story and music mimic a river, fly fishing and nature to weave a thread through history that ties everything together. Many angling families in Montana share a similar affinity.
His father's fly rod now hangs on the basement wall, next to his grandfather's rod, the family's leather and wicker fish creel, and the picture his great grandmother painted. And his kids are grown but still close: Garrett is newly married and a civil engineer in St. Paul, Minn., and Libby, the Miss Teen Rodeo Montana in 2010, is a horsewoman and mother who ranches with her husband southwest of Dillon.
° ° °
Gurnett will tell you that he always liked "making stuff," and his father, who enjoyed decompressing by fishing alone, was good friends with the legendary Montana fly fishing pioneer Dan Bailey of Livingston, who sold his father an Orvis Battenkill bamboo fly rod. Using an Army surplus raft, the family floated the Yellowstone to fish and recreate, and Gurnett says some of his greatest memories include being on the river because family and the river ran "parallel" to one another.
"Fishing was not competitive," he says. "It was about respecting nature, not how many fish you caught. When I stepped into a river or stepped into a boat, it was over for me. I didn't care what happened next."
"Fishing was not competitive. It was about respecting nature, not how many fish you caught. When I stepped into a river or stepped into a boat, it was over for me. I didn't care what happened next." —Mike Gurnett
When Gurnett stepped into Bailey's fly shop with his Dad when he was 10, he was asked to help clean the floors in the fly-tying area, and was told by Bailey that he could keep any flies that he found on the floor. Gurnett would, "like a coyote," scavenge the floor for flies. Bailey, meanwhile, would casually walk the aisles and intermittently knock feathers on to the floor to supply Gurnett with fly-tying materials. Not bad for a 10 year old.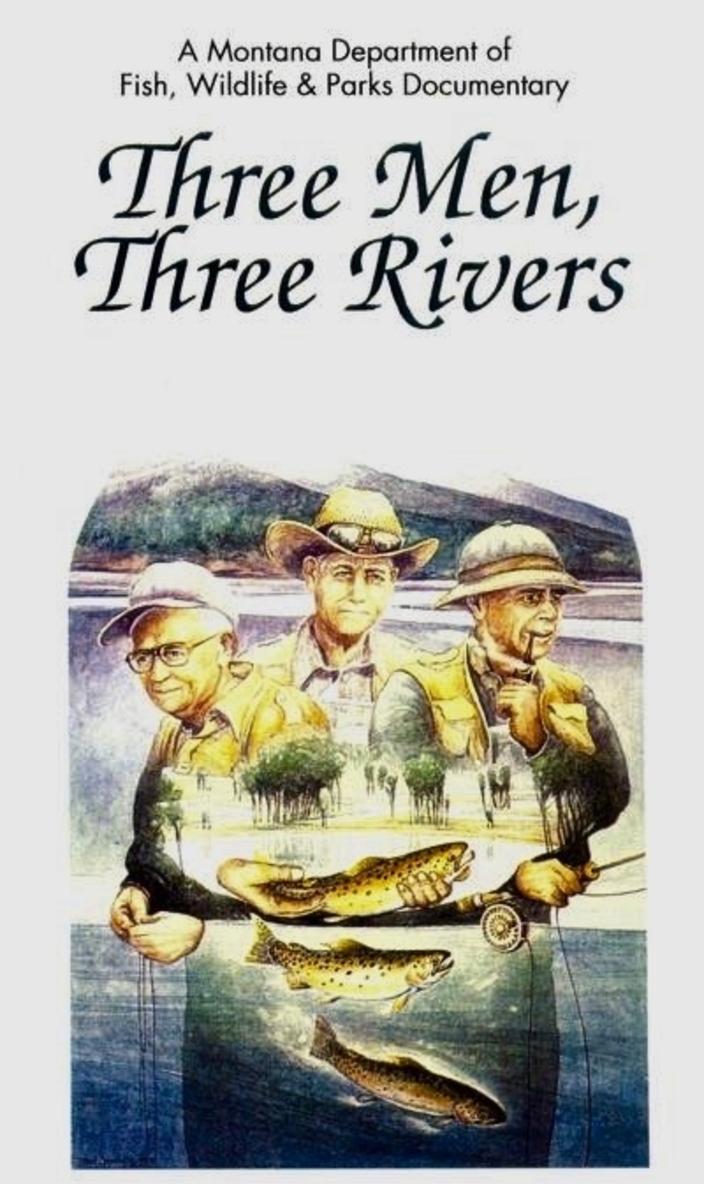 Gurnett ultimately paid homage to Montana fly fishing and Bailey in a 1993 documentary film that he directed called "Three Men, Three Rivers," which chronicles the lives of Bailey, George Grant of Butte and Bud Lilly of Three Forks/Bozeman/West Yellowstone. it aired on Montana PBS. All three were seminal trout fishermen who influenced the development of fly fishing in Montana and across the country -- Grant, an author and conservationist who fished the Big Hole River, developed and patented new fly-tying methods and promoted public access to Montana streams and rivers; Lilly, an internationally renowned Montana conservationist and West Yellowstone trout shop owner known as "a trout's best friend" who championed the Madison River and "catch and release"; and Bailey, the physicist turned fly fisherman who helped to protect the free-flowing Yellowstone and whose famous fly-fishing shop in Livingston still operates today.
This was all before Norman Maclean's novella A River Runs Through It and subsequent film begat the chic and gear-driven fly-fishing industry and the need for excessive adornment and accessories to ensure that your fishing trip looked real. But at least dynamite was outlawed in fishing in Montana, Gurnett noted in one of his films, and anglers were forced to use rod and reel to land fish.
When Gurnett was younger, he had been a pitcher, whose focus on throwing strikes involves the art of persistence, precision and perfection—a focus that helped him to also concentrate his attention on casting a fly, and later on filmmaking with a 16-millimeter camera.
Those pursuits, he notes, all involve hands and tools -- accuracy and precision.
"I was interested in casting well," Gurnett says. "I liked to focus on doing that and see it happen. There is a perfection involved in it that is gratifying. Perfectly placing a fly in a feeding lane 30 feet away -- that's the perfect pitch."
Same thing with filmmaking. Back then, it involved a 16-millimeter camera that had gears. Gurnett liked the manual part of filmmaking -- the manual focus, light, shadow movement, camera speed, pacing— the physical elements that came together like a perfect camera cast, so to speak.
After graduating from Fergus County High School in Lewistown, Gurnett went to Montana State University in Bozeman to get a degree in film while working in a concrete plant to help pay for his education.
"I don't see myself as an intellectual," he says. "I've always identified myself with the blue-collar worker. I like to build things. I like to bend metal and shape wood to create an image. With film, you get to make a story. That's what the [steel] fish are. When someone looks at the fish, hopefully it reminds them of a good moment in their life."
After college, Gurnett spent a short stint working for a documentary company. Then, in 1977, he began documenting for the then-Montana Fish and Game Department. The alternative was to go somewhere else. But he didn't want to go to somewhere else, like Los Angeles, to pursue a career in film.
"The first half of my career it felt like a summer job," he says. "I never knew what time it was or the money that I made."
Eventually, he got married and settled down. Tapping his lifelong angling skills, Gurnett also became a fishing guide, a job in which he discerned from visitors their love of Montana, the West, the natural world and the simple appreciation of "being here."
As a writer, director, editor, cameraman, and host, Gurnett packed into The Bob Marshall Wilderness on horseback, rode in trucks, snowmobiles, helicopters, floated most of the rivers in the state in jetboats, canoes, drift boats, and rafts, and produced films, videos and photographs for Montana FWP, including making more than 300 television news reports and shooting more than 700 interviews. He proved that he had a good eye, steady hand, and lots of patience: He won 25 national and international awards, including three "Best of Show" by the Outdoors Writers Association of America, a top award in the international Banff Mountain Film Festival, gold medals at the New York Film Festival and seven CINE Golden Eagle Awards (the documentary producers' version of the Academy Awards).
Early on, Gurnett caught the discerning eye of legendary Yellowstone National Park filmmaker Bob Landis, who took Gurnett to Denali National Park & Preserve and still hires Gurnett to capture Yellowstone-area footage for Landis Wildlife Films in Gardiner, Montana. Landis taught Gurnett "a lot," most importantly "persistence." He also landed some cameraman assignments with National Geographic and PBS.
After retirement landed with a thud on his workbench, Gurnett needed something to feed his creative passion, love of Montana's wild places and creatures, and belief in the value of stewardship and conservation so future generations (he is a grandfather now) can experience the scenery, rivers, fish and wildlife that he has been fortunate enough to film and photograph.
"You just can't take some of these things for granted," he says of our natural world.
His wife Lauri bought Gurnett a welding machine as a 2014 Christmas present, and for creative sustenance he again turned to his hands and tools. He began with quarter-inch steel that he bought from Pacific Steel & Recycling in Helena. His early work, some of which is located beneath an old elm in the backyard, is flat and lacks dimension. His current work, however, springs to life, is curved and pockmarked from constant hammering, shines like a polished nickel from determined grinding, and reflects a maturity that only comes from constant practice, experimentation and imagination.
For guidance, Gurnett turned to Jim Dolan, a Belgrade-area metal sculpture artist whom Gurnett had previously interviewed when he worked at Fish Wildlife and Parks. Dolan, whose large-as-life sculptures of 39 "Bleu Horses" on an east-facing hillside just north of Three Forks make drivers on Highway 287 do double takes and grab their cell phones to snap a picture while slowing down and steering with their knees, helped Gurnett to navigate the tricks of cutting three-eighths-inch steel.
"He cleverly gives me little bits of advice," Gurnett says of Dolan, whose metal sculptures are installed around the world. "His idea was to use an air chisel to make scales on a grayling."
That air chisel, which Gurnett equates to a handheld jackhammer, provides relief to the steel. And pounding on the metal with a hammer, as Dolan had suggested, helps to create the iridescence of the grayling, and makes the steel seem to flex and contort, just as real fish move with the steady movement of small dark clouds in the limpid current of water.
"That adds to the perception of realism and that steel has motion to it," Gurnett says of the dimension-shaping ability of a plain-old ball-peen hammer. "Jim has had a profound influence on my work."
For reference, perspective, and to ensure that his art is somewhat representational and not merely abstract, Gurnett uses Robert J. Behnke's definitive book, Trout and Salmon of North America, which is illustrated in color with maps, drawings and reproductions by Joseph R. Tomelleri and includes a foreword by Thomas McGuane, the noted American writer, angler, quarter horseman and Boulder River Valley resident, who in 2016 was the keynote speaker at Montana State University's Trout and Salmonid Lecture Series.
That well-worn hardcover book is his fish bible, and sits open in his garage to pages that show and cite, for example, the distinctions between a westslope cutthroat trout (oncorhynchus clarki lewisi)and Yellowstone cutthroat trout (oncorhynchus clarki bouvieri) and provide details such as description, biology, distribution, evolution and classification, and conservation of the more than 70 types of trout and salmon in North America.
"Familiarizing ourselves with elements of the natural world inevitably makes us resist the disappearance of these elements from our lives," McGuane says in his foreword. "Our North American world has been inestimably glorified by its abundant fishes, and, like our birds and mammals, they can never be sufficiently familiar. Robert Behnke has given the trout and salmon of North America a plurality of remarkable voices; Joseph Tomelleri has enabled us, astoundingly, to see them."
And Gurnett, through his three-dimensional depiction of trout, salmon and flies in, of all things, steel art, gives rise to our latent attraction to that natural world to which McGuane alludes and that Behnke and Tomelleri so accurately describe and depict in their book that is more than just an object to place for show on a coffee table. In Gurnett's garage that book -- the cover weathered and wrinkled and pages torn and stained from what looks like coffee -- just as easily and more appropriately sits on his table saw.
Proportional representation in art is important, Gurnett notes, because people can distinguish different types of fish, such as the Arctic grayling (thymallus arcticus), a species of concern in Montana and easily recognizable because of its large, sail-like dorsal fin and wide array of body colors, from luminous blues and lavender to blackish blues.
"I'm always surprised by the rainbow trout's tail size," Gurnett says. "And the spawning male sockeye salmon's mouth is like a bird beak."
His process has been standardized and takes different directions depending on the piece -- fly or fish.
For creating metal flies, Gurnett likens the process to simply taking his fly-tying skill to a "much larger scale." No book needed.
He makes his hooks out of cold rolled steel, heating an end and bending the steel over to create the barb of the hook and then bending the rest around a piece of pipe to make the curve of the hook. Hook shanks for a mayfly, for instance, will be short, and grasshopper fly shanks will be long. Gurnett builds up the body of the fly by putting sleeves of pipe one over the other and then welding them in place.
The tail is welded to the back of the body and Gurnett usually wraps the pipe body from the rear toward the eye with #4, #6 or #8 copper wire. (The seven-foot mayfly that Gurnett made included 120 feet of #6 copper wire that he and his wife laboriously but immaculately coiled around the abdomen to replicate gills and posterolateral spines. "That was a bigger project than I thought it would be," he muses.) Wings -- membranous, heavily veined wings for the mayfly -- are cut or built separately and welded to the body. Gurnett then determines the length of the hackle and he cuts several lengths of two or three different diameters of steel rod that he will weld to the body or the fly near the eye. Flies are then mounted on a base of steel or walnut, which have become more rough-hewn as Gurnett has entered the commercial market and learned that observers and customers like the rougher edges and surfaces of steel and walnut bases.
Creating fish is a totally different process, and includes using either a piece of ¼-inch, ⅜-inch or ½-inch plate of mild steel, which becomes malleable when heated and is not as hard as plain steel. Gurnett draws the outline of the fish with soapstone so that he can see the line when he wears his dark safety glasses.
Using an electric torch called a plasma cutter, Gurnett, in a freehand manner, cuts the outline of the fish, including the dorsal, adipose, and anal fins and tail, which constitute the silhouette.
Gurnett separately cuts the two pectoral fins and two pelvic fins, and then cuts the curved line on the head known as the gill cover.
Then Gurnett must determine which way he wants the fish to be swimming, noting that fish moving right to left work best for incorporation into a steel Montana state plate.
Next, Gurnett heats the steel plate in a forge to get it very hot. He places the heated plate, depending on the fish's body size, over two pieces of steel for smaller fish or between two pieces of parallel railroad track for bigger fish, and begins to pound on the back of the fish to bend it toward the open portion of the suspension. This method creates a convex side to the fish and gives it more dimension than Gurnett's early more lifeless flat fish.
"As I heat the fish over and over, I use a hammer to put bends into the tail and fins to give the illusion of movement," Gurnett says, adding that he then grinds the surface and edges of the steel to varying degrees of finish. The imperfections, Gurnett has come to learn, are as valuable as the perfections, maybe even more so. And that realization has adjusted his lifelong obsession with perfection.
Pectoral and pelvic fins then are ground and welded to the fish, and heat again is applied to bring out different colors in the steel. (No more heating in the kitchen oven, where he previously forged his work but was kicked out by wife Lauri. Now the forge is a barbecue grill.)
"I love to get them out of the heat and see what color they are," Gurnett says, noting that the carbon content of the steel helps to dictate colors produced by the heat. "It makes each piece unique."
These fish are then attached to a steel or walnut base.
Some of Gurnett's salmon weigh up to 15 pounds (dry), and he sometimes airbrushes them with red lacquer to make them look like they are wet.
"I'm always astounded at what Mike creates, whether in the garage with his welder, making videos, writing scripts or letters," his wife Lauri says. "He has such an imagination. Mike puts a lot of thought into everything he does -- sometimes too much. Many have benefited from his ideas through his volunteer efforts to his filming to his welding to his family. I'm sure Mike's childhood and career have contributed to his creativity and drive, but this welder has been another avenue to express his love for the art of the outdoors."
Gurnett doesn't have supervision now in his art work, and didn't have much when he was at Montana FWP.
Ron Aasheim, the former administrator of the Communication and Education Division of Montana FWP, was Gurnett's supervisor but said he didn't need to do a lot of management of the filmmaker.
"He was the ultimate professional," Aasheim said. "He was special. Certainly a perfectionist."
Aasheim said Gurnett set the bar nationally for wildlife agencies because he was so good and really an artist who knew no bounds when it came to getting a good shot and building relationships with those he interviewed and writers and musicians who helped to compose his films and documentaries.
"He was always thinking about the best way to get the best light or the best interview. He was special," Aasheim noted, adding that Gurnett competed easily with British broadcasting and other American peers and in film festivals and set the standard for national filmmaking for an agency.
And Gurnett didn't want to leave home. "He had deep roots" Aasheim says. "He was a Lewistown guy and he loved everything about Montana."
"He was always thinking about the best way to get the best light or the best interview. He was special... He was a Lewistown guy and he loved everything about Montana." —Ron Aasheim
Gurnett, Aasheim says, really enhanced the credibility of the Montana FWP because his work and early documentaries were "just remarkable."
Gurnett wasn't one of those guys that they said was ahead of his time. He didn't -- and still doesn't -- keep track of time.
"He wasn't real good with deadlines." Aasheim jokes. "But the proof is in the pudding. He's an artist. He was an independent guy. He had a pretty long rope to do what he needed to do."
And that was a special time in Montana, when Gurnett could gather images, create and build the image of an agency that protects some of the best wildlife, fish and landscapes in the Lower 48 and attracts people from all over the world to see what it is that makes the Treasure State Big Sky Country and the Last Best Place.
And that was before video and social media and when Gurnett had the opportunity to use his understated personality and deep understanding of what it means to be a Montanan to build relationships that only served the agency and state well.
In 2000, Gurnett directed "No Need for a Saturday Night" to commemorate the 100th anniversary of FWP and a century of conservation and restoration of natural resources. Using poets and musicians to tell the state's story of fish and wildlife from decimation to restoration to conservation and stewardship, the 29-minute film won two awards from the Outdoor Writers Association of America at the North American Film and Video Awards competition -- top conservation/natural history film and the "Best of the Best" award for overall excellence.
"His efforts to enhance the credibility of the agency says a lot about the quality of the agency," Aasheim says. "He could have worked elsewhere." But people like Gurnett and other colleagues stayed because because they believed in the agency and Montana.
When Gurnett retired, colleagues from the Montana Game Warden's Association didn't prod him to hand over his fishing license but instead handed him a .45 Long Colt revolver in recognition of his career and the stories that he had done on them. "That's uncommon," Aasheim says.
"We related to each other a lot," Gurnett says of game wardens, adding of MT FWP, "I was proud to work there."
Gurnett isn't all about art and film and documentaries. In his spare time today, he puts in between 400 to 500 hours a year as chairman of the Lewis and Clark County's Last Chance Stampede Rodeo Committee to produce the annual July rodeo. And for 2017 he was named "Montana Silversmith's Committee Person of the Year" for the entire Professional Rodeo Cowboys Association Montana Circuit in recognition of his leadership and commitment to the sport of professional rodeo.
Gurnett of course kept that award in context by giving credit to the rodeo volunteer team and committee, and telling a reporter, "If I start thinking I earned this by myself, I will be working by myself."
Yep. Always thinking about the team.
He also is a past board member and a current trustee of the Montana Cowboy Hall of Fame and Western Heritage Center, which allows him to help make selections of nominees to be inducted each year and to help coordinate efforts between the Hall of Fame and the C. M. Russell Museum in Great Falls.
And to cap it off, for the last several years he has volunteered with an ongoing effort to restore the Canton Church, a church northeast of Townsend, Mt., that his great-great grandfather helped to build in 1876, 12 years after he arrived in Montana.
All of the these volunteer efforts, Gurnett says, "can be lumped into an ongoing personal attempt to keep the culture, values and traditions of the American West relevant to our lives today."
Now thatmight sound highfalutin', like an out-of-state "intellectrical" existentialist talking smack after a fishing trip on the Yellowstone and finishing off a plate-spanning Treasure State T-bone and downing one too many whiskeys in a dimly lit Livingston saloon. But that ain't true with Gurnett. He's as sincere (at least I think he is) as his own anvil, and doesn't cotton to bullshit.
From the perch in his garage, Gurnett has created Copper Creel, a media and metal art business to market his artwork. He wants to sell his art to those discerning souls who can tell the difference between a trout and salmon and Arctic grayling. (No longer anonymous behind a camera, Gurnett is dipping his wading boots into new waters, like art walks and interior design stores, where he has to be a salesman and hold firm on prices.) And he is working with Landis on a film companion to noted biologist Doug Smith's book on the restoration of wolves in Yellowstone National Park.
Ultimately, you have to take the measure of Gurnett and figure out the story about the guy who daily still walks his old black lab Alley on the boulevard below Mount Helena. He likes light, its lambent nature. He is quiet, insightful, probing, has a good eye and intuitively can tell the nature of people rather quickly. He likes fish, animals and the natural world and wants to share them with people not because they might be gone one day, destroyed by man's greed, but because they are beautiful in their own right and deserve to be seen and appreciated and beheld before they disappear, perhaps by natural selection.
Gurnett sees the natural world for what is -- sees it while it is here and passes it on. Simple direct subtle raw salt of the earth and artful and inartful (he lacks artifice) at the same time, full of wonder and lightness and passed down just like family and standing in that river fishing for generations searching for something that has meaning and no meaning at all. Full circle. Welded together in nature. And beaten into place by family, culture, values, and tradition. That's Gurnett.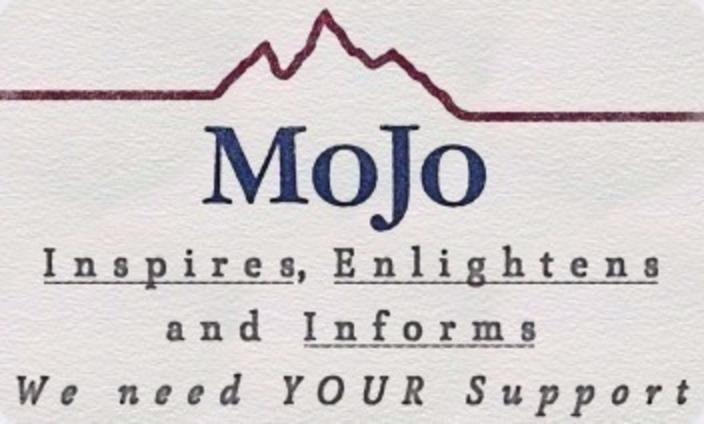 PLEASE SUPPORT US
: Mountain Journal is committed to giving you
free
reads you won't get anywhere else, stories that take time to produce. In turn, we rely on your generosity and can't survive without you!
Please click here
to support a publication devoted to protecting the wild country and the wildlife you love.