Back to Stories
January 13, 2020
Be Active, Reject Despair: Conflict Is Always A Catalyst For Positive ChangeReceiving honorary doctorate, Mike Clark tells college graduates American democracy at turning point; meanwhile, Diana Blank bestowed with MSU President's Medallion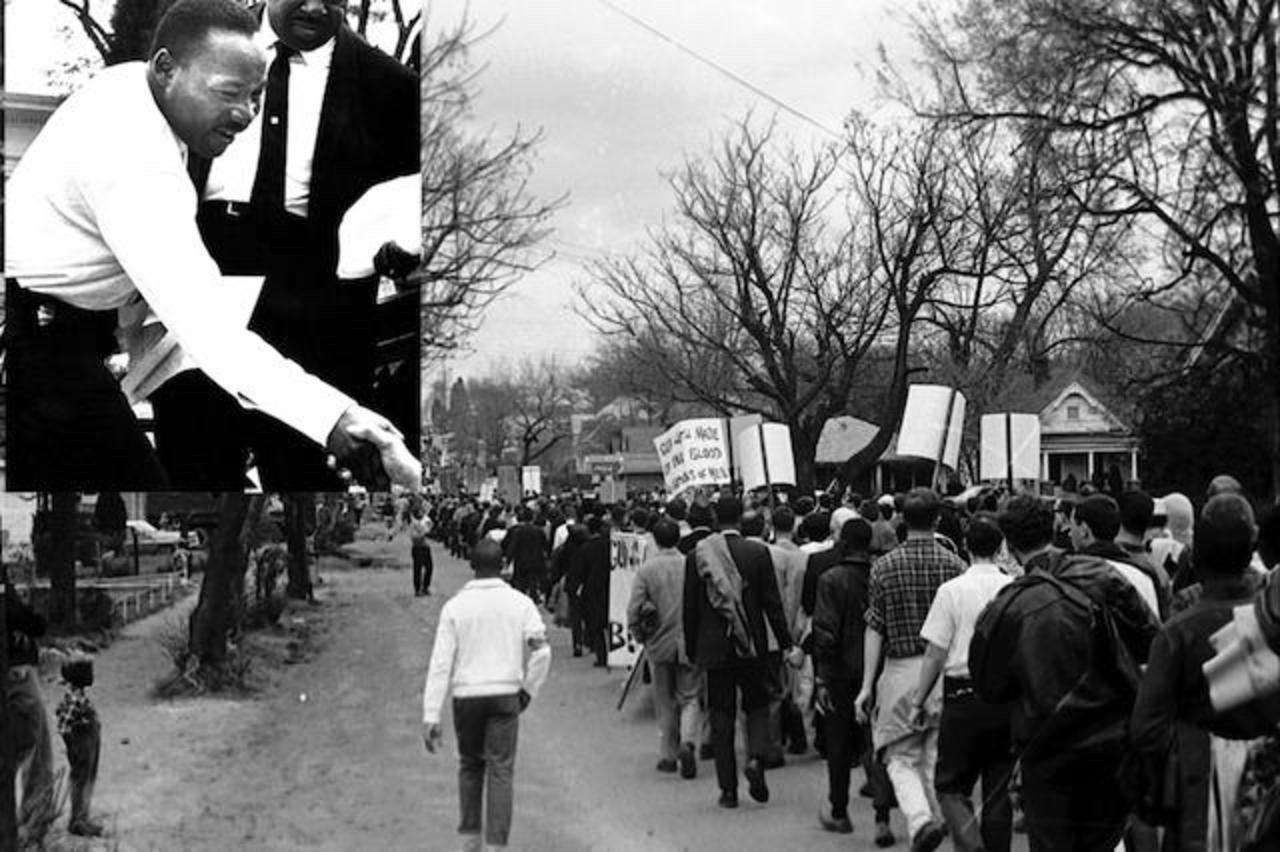 Mike Clark took these photographs while covering Dr. Martin Luther King Jr. as a reporter and later getting involved with the civil rights movement. Part of his work in Appalachian coal country involved helping poor miners receive better wages and health care from companies that often abused them. Later, Clark moved West and got involved with wildlands and agrarian conservation issues that included working with rural people. Photo courtesy Mike Clark.
EDITOR'S NOTE: Mike Clark, longtime conservationist, civil rights activist and founding board member of Mountain Journal received an honorary doctorate from Montana State University at its December commencement ceremony. We are sharing the acceptance speech he gave about the challenges facing young people and their role as citizens.
Diana Blank, who received the MSU President's Medallion
for her commitment to advancing social equity, education and helping citizens discover the healing power of nature through conservation. A native of Long Island, New York and founder of the Kendeda Fund,
Blank
is a philanthropist who has articulated her goal of "helping communities across the U.S. and around the globe confront big challenges while building equity, vibrancy, resourcefulness and resilience." As just one demonstration of her belief that healthy environments and healthy communities go hand in hand, and that all citizens should enjoy the benefits, she served on the National Parks Conservation Association's Board of Trustees for eight years, was co-chair of NPCA's Northern Rockies Regional Council, and is now an NPCA Trustee Emeritus.
Beloved in Bozeman, she has been a major force in helping the new American Indian Hall being built in the center of the Montana State campus become a reality.
Regarding Mike Clark, Jon Catton, former journalist turned professional conservationist and consultant, worked with Clark during his time as executive director of the Greater Yellowstone Coalition. Catton peered back across the arc of Clark's career that spans more than half a century. A graduate of Berea College in Kentucky, Clark started as a young photojournalist and
chronicled the civil rights march from Selma to Montgomery, Alabama led by
Dr. Martin Luther King Jr and others. Clark also worked in his native Appalachia to help coal miners and their families cope against low wages, unhealthy working conditions involving mine explosions, cave ins and black lung, coal companies that exploited cheap human labor, and the landscape-level environmental damage of mountaintop removal.
"I think that Mike, looking through the lens of his camera at extreme poverty, racism and the civil rights movement, it imprinted on his heart and mind," Catton said. "The journalist became the activist and the activist became the leader who has had an enormous effect on so many people."
By Mike Clark
Thank you for this honor. Congratulation to the new graduates. You have worked hard and successfully. Remember, you stand on the shoulders of the people who came before you.
Only with the help of supporters and mentors can anyone graduate.
I live a few blocks from here and watch Bozeman explode into a new era of people.
And
dogs. If dogs could vote, we could take over the entire state! Doggins United!!! We could build a wall! A wall of fur that would encircle each state capital and Washington, DC and not let elected officials out until they agree to work together.
We are now engaged in a national struggle to determine if our democracy will survive. As Abraham Lincoln, who created the system of public Land Grant institutions like MSU asked in 1865, "Can a government of the people, for the people and by the people endure?"
Our democracy is filled with promise, contradictions, and forces that constantly are in conflict. Conflict is a necessary force in a democracy. It allows us to critically examine our choices. It creates new ways of solving problems.
Rather than having priests or autocrats make most decisions, a democracy creates ways for people to have a voice that shapes our lives and defines our future. Looking back over 50 years of experience as an activist, the most important right we enjoy in America is the right to speak out, to dissent when necessary.
If people cannot challenge their leaders and dominant institutions and corporations without the fear of death and imprisonment, democracy dies. As a native son of the South, I grew up in the American apartheid system which attempted to keep African-Americans in a form of oppression growing directly out of slavery.
"If people cannot challenge their leaders and dominant institutions and corporations without the fear of death and imprisonment, democracy dies." —Mike Clark
Similar forms of oppression were used in this region to conquer Native Americans. Neither African-Americans or Native Americans have been treated fairly in our system of government. Nor have many working Americans who have watched their economic wellbeing and security slowly evaporate in recent years.
These unaddressed voices continue to challenge our political culture. Now we face an entirely new struggle—how do we respond to the growing threat of climate change?
How will our home, the Greater Yellowstone Ecosystem, survive the changes that now are likely? It is the most intact large ecosystem within the temperate zones of the earth and we are in danger of loving it to death. Our challenge is to fundamentally change how we manage these lands and finite water resources, or this region as we know it will not last for your lifetime.
As graduates of this land grant university, you are positioned to become the leaders of the effort. MSU is now poised to be the essential academic institution that will help to determine if Greater Yellowstone can survive both climate change and the coming wave of humanity moving into this region.
MSU faculty do more research on the health of Greater Yellowstone than any other academic entity. I look forward to the time in the near future when MSU will be widely known as the University of the Yellowstone in recognition of its leadership and expertise. Effective leadership will demand courage, wisdom and sacrifice
The challenge of coping with climate change is now your future and it will be your legacy. Take some advice from this veteran of many battles.
-- Define success by protecting the ability of future generations to survive.
--Distrust conclusions that undercut the life forces of wild creatures. They do not have hands, but they do have voices if we take the time to listen. We need them all.
--Support diversity in our human population. We are largely a nation of immigrants. Each generation is strengthened by the mix of history, culture and genetics that make us a nation. Embrace this reality.

MOJO NOTE: Watch two videos below: first, a short bio clip about Clark's career path through social justice, journalism, wildland conservation and community activism, always taking the side of underdogs, be it humans or denizens of nature. The second video was made in 1996 in the Lamar Valley of Yellowstone National Park. There, Clark, who at the time was executive director of the Greater Yellowstone Coalition, joined President Bill Clinton, White House Council on Environmental Quality Chair Katie McGinty, Yellowstone Superintendent Mike Finley and executive Ian Bayer from the Noranda mining company in announcing the controversial New World Mine would not be built, ending a threat to America's first national park.