Back to Stories
October 18, 2018
The Horse FamilyAt the U-Cross Ranch near Roy, Nicole Johnson teaches her daughters to find strength in the saddle
Finally she proclaimed, "I want to be a nothing, just like my mother!"
Nicole's mother was far from a nothing. She raised a family on a ranch in Geraldine, Montana, riding, training horses, farming and ranching.
"My mother was one of those people that didn't have a job description like everyone else," says Nicole.
Nicole has managed to follow in her mother's footsteps. She met her husband, Lance, also from a ranching family, in college. As a couple they ranched in different places throughout central and eastern Montana before settling on the U-Cross Ranch just north of Lewistown 18 years ago. When they got married Nicole told Lance that she didn't need an engagement ring, she wanted a horse instead.
"Horses are very important to me. They're my safety net. When things go wrong I always have my horses." Horses have always held her life together.
The U-Cross Ranch lies at the base of the Judith Mountains, where Nicole's daughters, 17-year-old Irene and her 16-year-old Sadie were born and raised. The ranch runs cattle between the base of the Judith Mountains and a lease on the well-known PN Ranch, now part of the American Prairie Reserve.
The Johnsons have an outfitting business for hunters that the family of four runs singlehandedly during the fall. The girls can do everything from hunt an elk to work cattle to cook an extravagant dinner for their guests.
It is fitting that the same horse that was Nicole's engagement gift is still part of the family. Before their first rodeo of the season, Nicole, Irene and Sadie pony him along with their competition horses.
"The girls grew up riding – as soon as they got home from school they'd go out the door and they'd be gone," says Nicole.
Her daughter Sadie chimes in, "We couldn't get a babysitter out here. Pretty much since I remember we'd be either in the saddle or on the horse behind them [their parents] and they'd be leading us. When we were about three we could ride behind and help gather cattle. We were just always on horses because there was really nowhere else to put us."
When you ask Sadie and Irene what they want to be when they grow up, they might tell you something similar to what Nicole said to her first grade teacher. They want to be on the land. Sadie says she will go to college to be a vet, and Irene will study agriculture business, but they both have their hearts set on ranching.
It's a notion rare in today's world to hear young people say they want to stay on the land. As ranching has become a tougher business, it's not easy to find women who have their hearts set on staying to care of the piece of land where they were born and raised. But the family's history with horses has as much to do with wanting to stay on the land as the land itself.
Sadie says she wants the same to be passed down to her children. "Every little girl needs a horse."
"It's a good stress relief to go jump on a horse, a way to clear your mind. Horses have taught me patience," says Irene.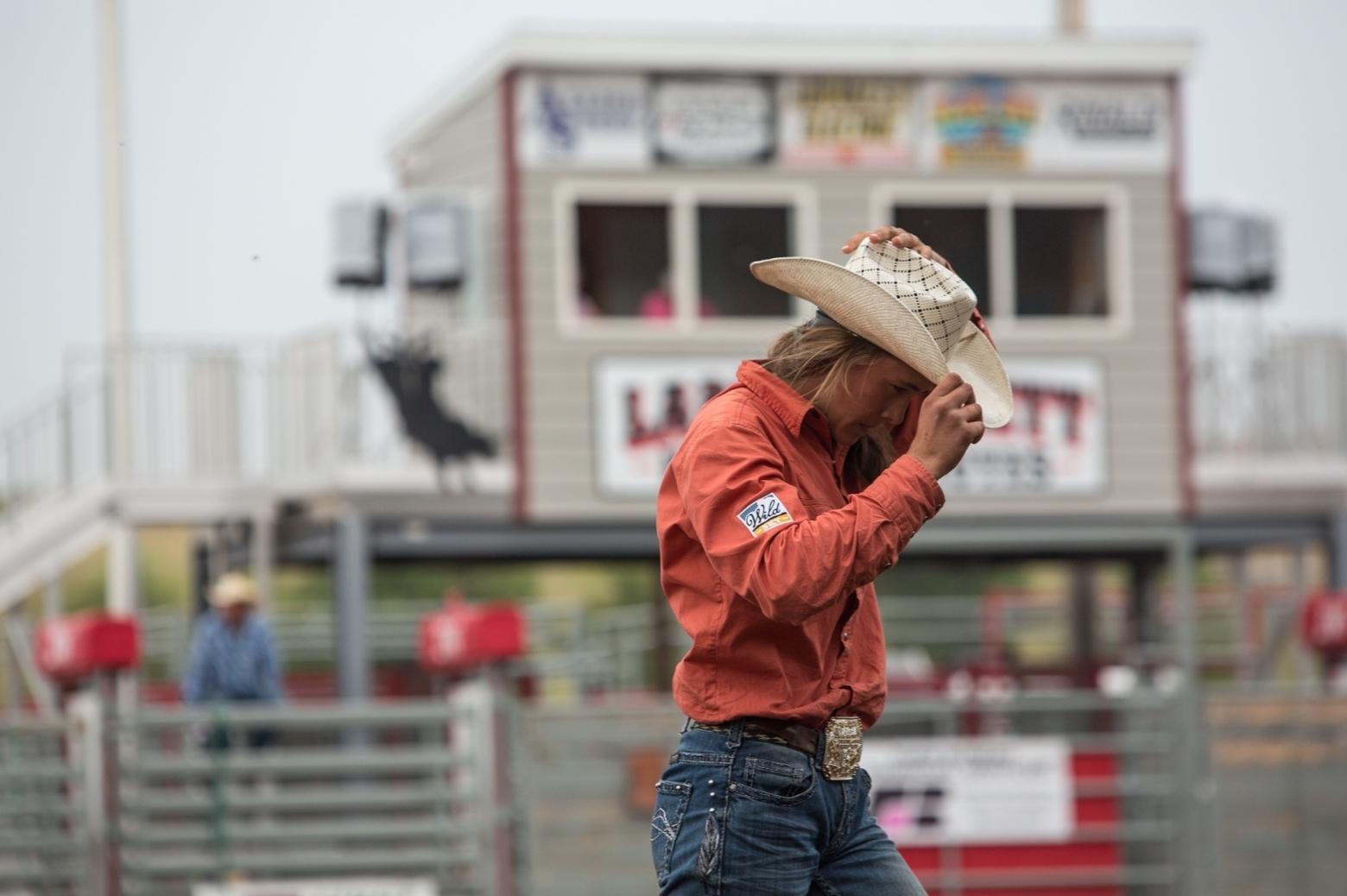 Top: Irene Johnson competes in the goat tying event at the Lewistown Rodeo in August 2018. Since she was 15 years old, Irene has been rodeoing on the Montana High School Rodeo Association. Middle: Johnson competes in the goat tying event at the Lewistown Rodeo in August 2018 then (just above) tucks her hat back on with a sense of accomplishment with horsemanship that is equal parts art and technical skill. All photos by Louise Johns.
"You always want a place for your kids to come, for your family," says Nicole. She is thankful that the girls will always have the ranch to come home to. And she recognizes that the place wouldn't be what it is without the horses.
"You can always tell your horse something."
It's hard for some to fathom the amount of grit it takes to stay year in year out, season after season on the same piece of land. But this legacy of land is what resonates so deeply for ranching families across Montana. The girls say that comes from growing up on the ranch and being a part of the life and the land. Horses connect them to land and to place.
Nicole did succeed in becoming a nothing like her mother but out there, nothing in particular means absorbing everything that surrounds, equating to a wholeness that Western city folk would be hard to comprehend.
Willa Cather knew what I am talking about. In My Antonia, she observed, ""If there were no girls like them in the world, there would be no poetry"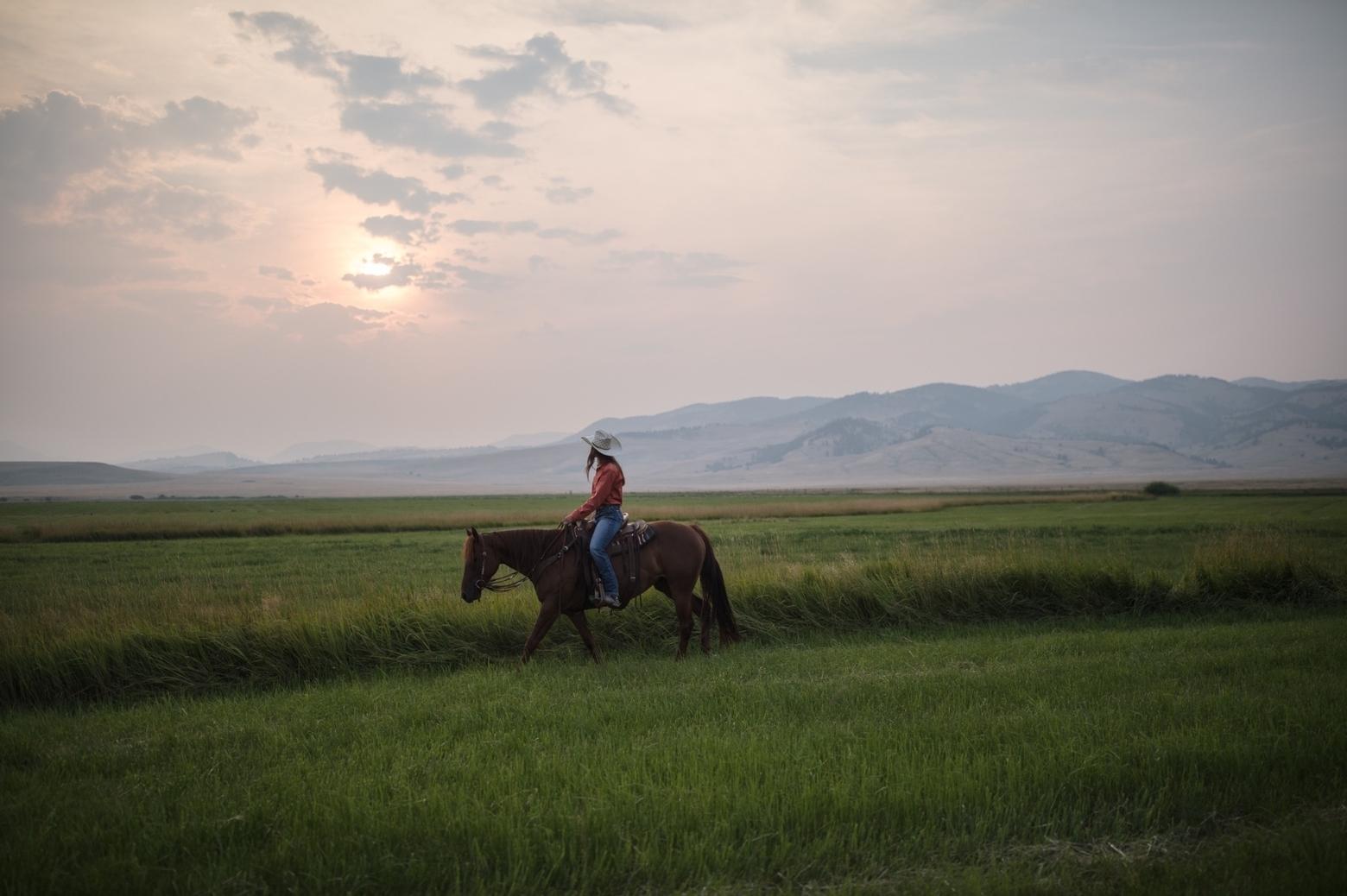 Irene Johnson rides her horse, Perky, on her home ranch under a smokey Montana sky. Photo by Louise Johns
EDITOR'S NOTE: Read Louise Johns' last column,
In Tom Miner Basin, Horse As Extension Of Place And Self
Related Stories
March 18, 2019
Some Call Her 'The Owl Whisperer'
Ashleigh Scully is a rising Millennial star in wildlife photography. Enjoy a Mountain Journal interview with the conservation-minded phenom
March 19, 2019
The Value Of Open Space: In The Gallatin Valley Citizens Voted For Protection With Their Wallet
Ag lands play a critical role in maintaining the integrity of Montana's fastest-growing valley. This is the first piece in an...
November 22, 2017
Is Greater Yellowstone Really Ready To Confront Its Future?
From concerns about population growth and climate change to wildlife diseases and rising levels of recreation, FutureWest hosts a symposium focused...