Back to Stories
February 24, 2020
Will Montana's Senate Race Become A National Bellwether?Cora Neumann, a first-time candidate who worked with First Ladies on both sides of the political aisle, aims to unseat one of the richest lawmakers on Capitol Hill
EDITOR'S NOTE/DISCLAIMER: Mountain Journal welcomes the opportunity to interview major candidates seeking higher office from all major political parties. Our primary focus is on gubernatorial and Congressional candidates from the three states—Montana, Wyoming and Idaho—that comprise the Greater Yellowstone region. We are particularly interested in candidates' positions on natural resource, conservation and human quality of life issues. Our interviews should not be misconstrued as an endorsement of individual candidates or of their parties.]
By Todd Wilkinson
"Cora, who?"
Paralleling the Democratic Party's mad scramble to determine who will challenge President Donald Trump, the race for U.S. Senate in Montana offers striking similarities and differences to the ideological drama still unfolding. Could the Treasure State become a national bellwether for Congress as a political unknown from Bozeman vies to unseat
one of the richest lawmakers,
also from Bozeman, now serving on Capitol Hill?
Cora Neumann believes
incumbent U.S. Sen. Steve Daines
is vulnerable not only because of what she calls Daines' less than stellar reco
rd of crafting and passing meaningful legislation, but because "he's been so inaccessible and out of touch with the lives of every day Montanans," she says.
Neumann doesn't mind if people are asking the question "Cora, who?" and she's quite pleased that Montanans are hearing about her word of mouth, at coffee shops, local watering holes, grocery stores, newspapers and on social media. It's far better than the question surrounding her possible would-be opponent in November. When people are asked what Daines has accomplished in his tenure as a Congressman and then Senator, many, she says, have stumped expressions.
Neumann, 45, has never held political office but she hardly comes across as a neophyte. Motivated by the early loss of her father, she pursued a Masters and Doctorate in public health and development at Columbia University and Oxford University, and, for the first three months of her candidacy ran her campaign out of her grandmother's basement. Still, she's carried on policy conversations with world leaders in politics, business and philanthropy.
Neumann says she committed her career to bringing health care and critical services to communities around the world. She views public lands and environmental protections as central to community health, and over the past four years, has also worked on public lands projects that impact the lives of Montanans and Westerners.
Calling herself "the healthcare candidate," she says her work as senator on that front will be focussing on fighting for high-quality, affordable health care, as well as on protecting public lands and ensuring all Montanans have access to good jobs and wages. The daughter of a timber mill worker, step-daughter of a carpenter and with roots in the Northern Rockies going back generations, she says a priority is making sure rural people far removed from the larger cities feel heard.
Neumann needs no reminding that she doesn't have the same level of name recognition or cash in the bank as Daines, this in a state that stretches 559 miles from mountains in the west to prairie in the east, from boomtowns to tiny remote ag communities struggling to survive. She says it is her personal values, her history of service, and her ability to listen deeply and collaborate with communities that give her an advantage.
At the start of her candidacy she made a pledge not to take corporate money because, she says, she will not be captive to outside "Dark Money" interests.
"Montanans want leaders who understand their daily lives and struggles. I know struggle, and I also know how to work with leaders at every level and from every background to get things done for their communities," she says.
She says there is a lot in core convictions that differentiate her from Daines who has refrained from calling out the President for his controversial tweets, demeaning remarks and conduct relating to women, cozy relationship with Russia President Vladimir Putin and even controversial
tariffs that have hurt farmers living on thin margins
. The role of the Chief Executive should be to unite the country around enduring shared values rooted in morality, ethics and faith, she says; the same should be expected, she said, of a U.S. senator, no matter what their party.
If Neumann gets through the Democratic Primary in June and then beats Daines, she would be only the second woman to represent Montana on Capitol Hill since Republican Jeannette Rankin held a House seat, twice, during both world wars. She would also become the first woman Senator in U.S. history to serve any of the Northern Rocky Mountain states (Montana, Idaho, Wyoming, Colorado as well as Utah).
In neighboring Wyoming, former Republican Congresswoman Cynthia Lummis is running to replace retiring US Sen. Mike Enzi and her victory appears a shoe-in in that politically deep-red state. In addition, Wyoming has sent two women, incumbent Liz Cheney and from 1995-2009 Barbara Cubin to serve in the House. In the race for Montana's lone House seat, another Bozemanite, Kathleen Williams, is hoping to succeed Republican Greg Gianforte, who is running for governor, leaving it an open race.
Neumann grew up and lives in Bozeman with her husband, surrounded by four generations ranging from her grandmother and grandfather to their two children.
Bozeman, where both Neumann and Daines hail from, is the de-facto capital of the Greater Yellowstone Ecosystem and today one of the fastest growing micropolitan cities in the country. Their upbringings occurred under very different circumstances. Metaphorically speaking, one could say they hail from opposite sides of the tracks—Daines from the privileged side; she from the side of adversity—and each followed different pathways to achieving individual success. Her story has found appeal from a wide range of grassroots contributors to her campaign.
"I believe that we're receiving this level of support because I'm really the antithesis of Daines. I'm self-made—neither my mom or step-dad graduated from high school, but I pushed myself hard and made it to Oxford University, pursuing a PhD in public health and development," she says.
As a social entrepreneur, Neumann says she started businesses and non-profits to bring health care and services to underserved communities around the world. The most potent way to build sustainable economies is to first address the ways that people are struggling. Do families have an affordable place to live and enough food to eat? Can they secure health care? Can children gain access to pre-school which sets them up for success for the rest of their lives? Are sufficient avenues for education available that allow young people to attend college, junior college or a trade school? How are differing skill sets recognized and hard work best incentivized in ways that benefit small businesspeople who are the backbones of local economies?
Focussing on addressing the bare necessities of people—that's her immediate priority, she says.
"Sometimes we've made good money and sometimes we were barely getting by, but I wasn't doing it for my own personal gain. I was doing it to make the world a better place because I care. And I've worked with Republicans, Democrats, and Independents throughout my work and I'm committed to doing what it takes to get things done in Washington," she explains. "I'm proud of my ability to cross the aisle to get things done and I won't let hyper-partisanship or infighting get in my way. I'm an independent Montanan, as most of us are, and I'll fight for all of us."
In late summer of 2019, when Neumann was thinking of entering the race, and Mountain Journal learned of her possible bid, she promised to give MoJo the first interview. After she filed her paperwork last autumn and has since been contacted by numerous national media who see her among a growing wave of younger Americans, especially women, throwing their hats in the ring, she recently honored the promise to MoJo.
It should be noted that for the last two years Mountain Journal has made requests to have sit-down interviews with all three members of Montana's Congressional delegation (and those in adjacent states). Neither Daines nor Gianforte have yet consented. U.S. Sen. Jon Tester agreed and that conversation will be published shortly. Mountain Journal hopes to have conversations with major candidates in all of the races.
Neumann is indeed part of a movement of change taking hold, one that involves candidates confronting the status quo in their own parties. Pollsters describe Montana as being a "purple state." In 2016, Trump carried Montana by 20 points, part of that fueled by the unpopularity of candidate Hillary Clinton. At the same polls, however, Montanans re-elected Democrat Steve Bullock to his second and last term as governor (he is now term-limited out). While Bullock entered the large field of presidential candidates, he dropped out and has stated publicly that he will not run for the Senate against Daines. Bullock defeated Gianforte in the 2016 governor's race.
Neumann is in a primary field with four men—Helena, Montana Mayor Wilmot Collins who came to the state as a refugee from Liberia, Navy veteran and engineer John Mues from Loma, Bozeman-based scientist Mike Knoles, and Bozeman flyfishing guide Josh Seckinger.
The first debate was held recently in Bozeman and Neumann was given high marks. She says the 2020 election is one of the most important in American history. Here is part of Mountain Journal's conversation with Cora Neumann.
Mountain Journal Interview With Cora Neumann
TODD WILKINSON FOR MOUNTAIN JOURNAL
: If someone looks you in the eye and asks, "
Who
.
Are
.
You
, Cora Neumann?" how does that conversation begin and where does it go?
CORA NEUMANN: I think it starts and ends with the drive that I have and where it comes from. Unfortunately, I've dealt with a lot of loss in my life, like many Montanans have. When I was a baby, my father died from a lumber mill accident and just a few years ago I lost my brother suddenly due to a brain aneurysm. We were fortunate enough to have family and community gather around us and help us rebuild and carry on, but that type of loss teaches you about what really matters. It makes you deeply compassionate because you realize that other people are often facing struggles of their own. And loss makes you fiercely committed to ensuring the same thing doesn't happen to others.
MOJO: You grew up in Bozeman, went away, out of state, to pursue a professional life, not unlike your Republican opponent, Sen. Steve Daines and thousands of other Montana young people. But then you came home. What called you back?
NEUMANN: Beyond my deep love for my state, I came home to serve and fight for our families. Steve Daines is putting our kids' future at risk by dismantling environmental protections, passing tax bills that put working families last, and consistently threatening the health care that so many of our families rely on. I can't even comprehend that a Montana senator would be actively putting families in harm's way like Steve Daines does. He's a disgrace to our Montana values and way of life, a threat to our children's future, and I couldn't stand by and watch any more.
MOJO: You've said you emblemize the reality that many Montana young people have—they must leave to establish themselves but dream of coming home, a desire that also includes their parents.
NEUMANN: I went out to into the world to build my experience and skills, like so many young people of Montana. And everywhere I've gone, I've taken Montana with me—in my values, in my work ethic, in my dedication to service. But like most of us who venture out, we know that all paths will eventually lead us home. As a friend recently said, "Montana has the longest umbilical cord in the world." Now I'm back to serve and make sure that Montana is a place where our children have the opportunity to stay and thrive.
MOJO
: One of the commonly-held perspectives from voters has been the lack of fresh faces in Montana's political scene and the same old script playing out of establishment Republicans vs. Democrats. You have said, "I am not a classic politician."
How do you see Montana's political landscape?
NEUMANN: Based on my conversations with Montanans all across the state, there's a desire for fresh perspective and a new generation of leaders who will help solve the problems that families face. This election cycle there are a number of candidates who can address that, and I hope it rejuvenates the party and gets a whole new set of Montanans excited about politics. We should not lose sight though of the cohort of strong and experienced leaders who we are really lucky to have in this state, like Senators Baucus and Tester and Governor Bullock. They have proven willing and able to share their know-how and smarts, and I've deeply appreciated sitting down with them and learning from them. Meanwhile, elected Republicans in Montana seem to be going in the other direction. Whether its Daines or Gianforte, they don't seem like they're even trying to reflect the values or address the concerns of those who they are supposed to serve—families in Montana.
MOJO
: You founded
an organization that works with First Ladies
around the world and you've gotten to know recent US First Ladies including Michelle Obama, Laura Bush, Hillary Clinton and Rosalyn Carter. They've demonstrated an ability to avoid shrill partisanship and get various kinds of initiatives done. What do you see in First Ladies as far as values and what do they reflect?
NEUMANN: As I mentioned, I was motivated by my family story to go out and pursue public health. While I was working with rural and Native communities, I heard about a group of First Ladies seeking partnerships. I had been witnessing huge gaps in services for many of the communities I was serving, like we see across parts of Montana. So when I learned about a group of First Ladies looking to make more impact, I saw a major opportunity to bring more leadership and resources down to the local level.
MOJO: How has your engagement with First Ladies shaped your perspective?
NEUMANN: I learned many things. I learned the power of working across the aisle—because whether you're Laura Bush or Michelle Obama, if you are committed to serving communities, you will set aside partisanship to ensure your constituents' needs are met. And speaking of needs, my work with First Ladies helped demonstrate the power of nurturing and caregiving. I recently spoke about my work with First Ladies at the Women's March in Bozeman. During my speech, I asked the audience this question, "What happens to a living being when it's neglected?" The answer: it dies. All living beings in the natural world die without nurturing. First Ladies and women leaders are centering the powerful and necessary role of nurturing and caregiving through their focus on education, health care, and environmental protections. And it is time. The world needs this powerful force to rise during uncertain times like these.
"During my speech, I asked the audience this question, 'What happens to a living being when it's neglected?' The answer: it dies. All living beings in the natural world die without nurturing. First Ladies and women leaders are centering the powerful and necessary role of nurturing and caregiving through their focus on education, health care, and environmental protections. And it is time."
MOJO: Describe the work of the organization you created and lead.
NEUMANN
: The impact of the organization I founded,
Global First Ladies Alliance
, has been powerful. When I began our initiative, First Ladies were largely disempowered and would mainly get attention for superficial topics, like their outfits. Now, after ten years of running these programs, we have Presidents asking if they can come present to First Ladies about their programs and goals. It's a huge shift and demonstrates the value these women leaders can have when they are able to step into their power.
MOJO: Montanans, like all Americans, are coping with uncertain times in their careers and finding meaning in this head-spinning modern world. What is your way of relating to their struggles?
NEUMANN: It is a really difficult time in our country, not just because of political infighting but because families are struggling to make ends meet, to afford health care, and to achieve full employment and the wages that they deserve. And I've felt many of those struggles in my life. My dad died from a head trauma because the lumber company he worked for failed to install necessary safety mechanisms. So I have experienced first-hand what happens when we put corporate interests over our families. And it's possible that he could've lived if we had been closer to better care, so I also have personally felt the devastating impact of limited rural healthcare access.
MOJO: You've said that a model for strength has been your mother.
NEUMANN: Despite the hardship of losing my dad, my mom picked herself up, got her GED, and attended nursing school, working nights to take care of me and my older brother. A few years later, my stepfather—a union carpenter—came into our life. But Bozeman entered an economic slump a few years later and it wasn't long before he was commuting to work in Great Falls all week and coming home on the weekends. Very much like families have done in recent sending their husbands and wives to North Dakota in the Bakken for long stretches to make the money it takes to raise a family these days. I get it because I lived it.
MOJO: Describe the events in your formative years.
NEUMANN: After watching my step-dad, I personally struggled to make ends meet early in my adult life. I worked multiple jobs at a time to put myself through college and am still paying off tens of thousands of dollars in college debt—like many Montanans. And I know how our working class families are really at the whim of global trade and the economy. Look at our trade war with China. The Chinese definitely needed to be held accountable, but it was done on the backs of our farmers and ranchers and steelworkers and real people across our country. That's not right. There are other ways to create international pressure and we need leaders who know what it's like to struggle.
"When I began our initiative, First Ladies were largely disempowered and would mainly get attention for superficial topics, like their outfits. Now, after ten years of running these programs, we have Presidents asking if they can come present to First Ladies about their programs and goals. It's a huge shift and demonstrates the value these women leaders can have when they are able to step into their power."
MOJO: Montana's population is overwhelmingly urban or suburban, i.e. most live in towns. And yet there is a strong identification with rural people who are seeing their communities wither due to economics and/or young people not returning. They feel left out, desperate and forgotten. What do you say to them about how, as an elected official, you will listen and represent their concerns and needs?
NEUMANN: I can't imagine that anyone lives in Montana because of its cities alone. Even city dwellers live here because those cities are surrounded by this incredible rural landscape and great people. And Montanans trust our farmers and ranchers more than we trust doctors! So there is a deep and strong connection between all Montanans, regardless of where they live, and the vitality of our rural communities.
But let's be clear: our rural communities are withering because of a set of federal policies that don't work for Montanans. Policies that focus on international trade as the only option for our agricultural industries, which is naturally going to focus on making the cheapest product possible and will be disastrous for our farmers and ranchers.
Policies that encourage our precious natural resources to be extracted as cheaply as possible, rather than seeing them as a valuable gift that we should be using slowly so we can share them with the next generation. As an elected official, my focus would be on strengthening our rural communities and giving them the support and resources they need to stay competitive in this world. Because they are critical to Montana and the way they're being treated right now is just unacceptable.
"Let's be clear: our rural communities are withering because of a set of federal policies that don't work for Montanans. Policies that focus on international trade as the only option for our agricultural industries, which is naturally going to focus on making the cheapest product possible and will be disastrous for our farmers and ranchers."
MOJO: A common criticism of candidates is that they are guided by outside consultants hell-bent on launching attack ads and they are counseled to evade media scrutiny. In the three Greater Yellowstone states, many members of the various Congressional delegations refuse to hold town hall meetings or have the courage to sit down for lengthy interviews with veteran reporters who have a lot of questions to ask. How will you engage with citizens and the media and how do you keep your candidacy authentic?
NEUMANN: Well, we're having this conversation, aren't we? But first and foremost, my campaign will be about engaging with Montanans because it's what I love to do. Campaigns require a lot of hard work and talking to everyday Montanans about the issues they're facing and the solutions. These conversations are what give me the energy to do everything else. This is a huge point of contrast between me and Senator Daines, who has failed to hold a single in-person town hall with the people of this state. It's incredibly rude and I look forward to changing that dynamic as Montana's next Senator.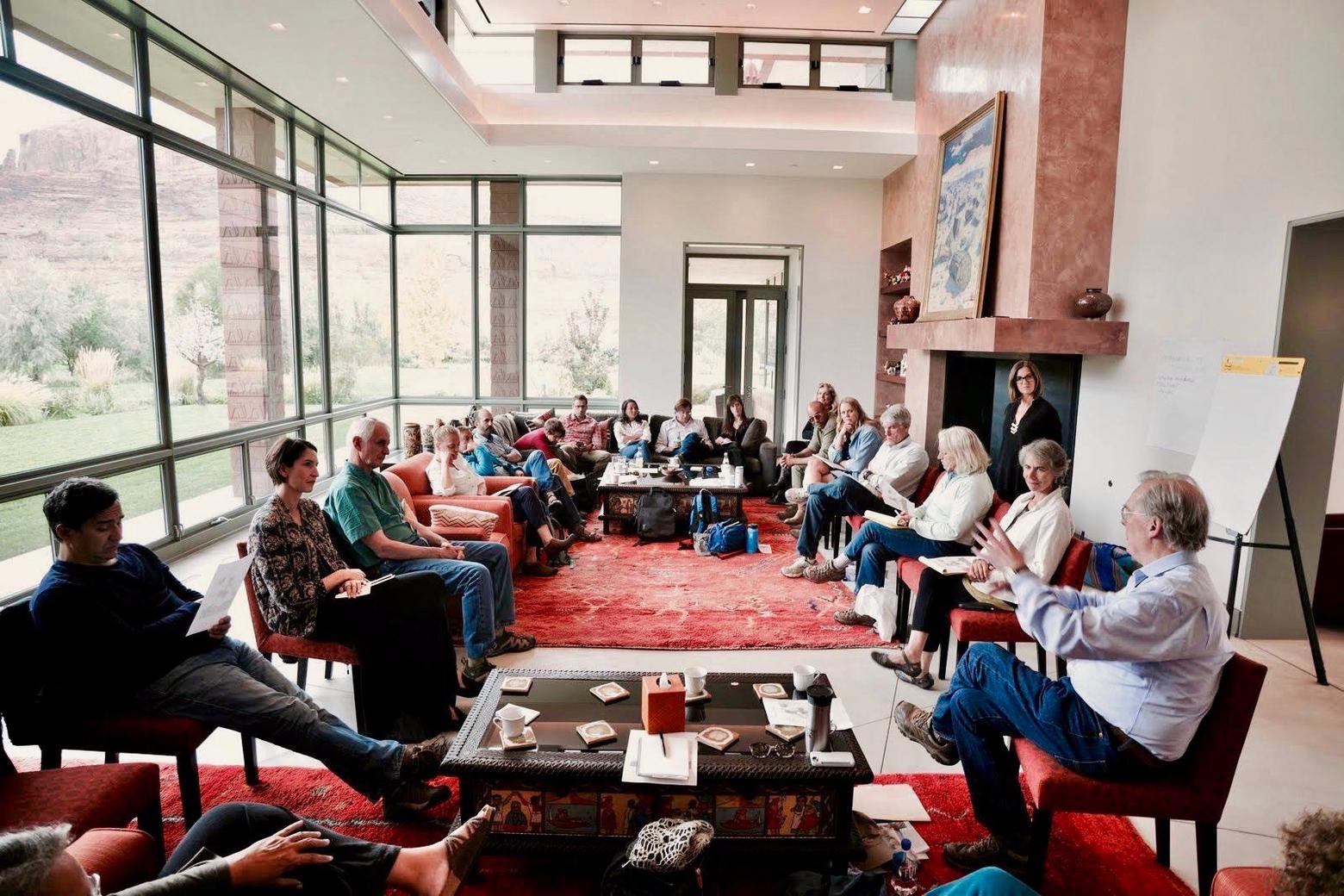 As part of her professional life, Neumann has facilitated a number of public policy discussions featuring citiziens and differing stakeholder groups. If elected, she says a priority will be putting that skillset to work and bringing people together. The event, above, involved a discussion about public lands and the way they shape local communities. Photo courtesy Cora Neumann
MOJO: Max Baucus, the former US Ambassador to China and before that, former US senator and Congressman, did a couple of walks across Montana to increase his visibility and listen to citizens. Times have changed since Mr. Baucus did that. How do you reach every corner of this big state?
NEUMANN: In my campaign, I'm doing this a few ways. I launched my Wibaux to Wisdom Tour in the first week of my campaign and have been loving visiting Montana's small towns. So far, in addition to the bigger cities, I've visited with individuals in Big Timber, Glendive, Wilsall, Choteau, Arlee, Terry, Browning, Belt, Miles City, Pablo, and more.
I'm chomping at the bit to get back up to the Hi-line and spend some more time in the Golden Triangle, Central Montana, and Eastern Montana. I also have taken the "No Corporate PAC" pledge so that Montanans know that I will serve them in Washington, D.C., not the special interests. I truly believe that money in politics is one of the biggest reasons for our country's current dysfunction and you can believe that the special interests will dump millions into Daines' campaign to stop me from getting to DC to change that. But I am committed to being a voice for Montanans.
MOJO: Drawing upon your organization that works with First Ladies on non-partisan initiatives and your stated desire to work across the aisle, please name three modern Republicans you would hold up as people who impress you?
NEUMANN: There are many. Obviously, the first one that comes to mind is Laura Bush. I worked with her former Chief of Staff Anita McBride and her team for five years to build my First Ladies' initiative, and although there were areas where we disagreed, we all were committed to finding common ground so we could benefit the people in these communities. We didn't let partisan politics get in the way and I believe that's the kind of person Mrs. Bush is. It was really a pleasure to work with her and her team.
Another is Gary Edson, who served as the Deputy National Security Advisor and Deputy National Economic Advisor to President George W. Bush and was the chief U.S. negotiator for all of Bush's presidential summits, including the G8, APEC, US-EU, and the Summits of the Americas. He has such an incredible commitment to addressing our international issues – he has worked on AIDS relief, global poverty, governance, conservation, and disaster relief – and his energy and the level of thought and care he brings to these issues are very inspiring to me. See
his recent Atlantic article
.
Finally, I really appreciate the late Sen. John McCain's focus on civility. Since he passed, his foundation and family have had a strong commitment to encouraging Americans to find common ground rather than allowing divisions to deepen. As McCain said in a 2017 speech, "We have to defeat those who would worsen our divisions. We have to remind our sons and daughters that we became the most powerful nation on earth by tearing down walls, not building them."
"As McCain said in a 2017 speech, 'We have to defeat those who would worsen our divisions. We have to remind our sons and daughters that we became the most powerful nation on earth by tearing down walls, not building them.'"
MOJO: How would you describe your view toward landscape, wildlife, traditional rural values and public lands?
NEUMANN: My view towards all of these things is, like most Montanans, tied to the way I was raised. Every weekend and vacation was spent in the great outdoors – fishing, hiking, camping, riding horses. Elk backstrap is the best meal on earth and there's nothing like fresh trout fried with lots of butter in a pan over a campfire. When I was growing up, friends would come visit from other parts of the country and tell me how lucky I was to live in such an incredible place and I was always surprised because to me, it was just home. But then you leave and realize that other states do not have anything close to what we have here—how incredibly lucky we are and how precious our natural resources are. I wholeheartedly support permanently protecting our public lands and our way of life here so our children and grandchildren can enjoy those same gifts.
MOJO
: Sen. Daines and his good friend, former business colleague and now Congressman Greg Gianforte worked in a tech company started by Mr. Gianforte and became wealthy when it sold to Oracle. They consider themselves tech guys and job creators yet they both support the continuation of burning coal and they discount the science of climate change though the recent
Montana Climate Assessment
compiled by nationally-respected scientists here in Montana points to huge struggles ahead for farmers, ranchers and water users. What's your response?
NEUMANN: I don't think this is a question of whether they are appropriately applying their backgrounds in technology. To me, it's more about Daines and Gianforte's commitment to the special interests over Montanans. Take the ag industry— farmers and ranchers are already being heavily impacted by abnormal extreme weather events that are tied to climate change. Discounting the science of climate change is not helping them. It's not helping to support federal funding for climate research, for community adaptation, for shifting our crop insurance approach and priorities. Discounting the science of climate change is all about serving the industries who profit from nothing changing due to climate change. It's just another example of the problems of having so much money in politics. We cannot make real progress until our representatives are serving Montana interests, not special interests.
MOJO: You are concerned about the rising costs of health care and prescription drugs? What are three things you would do to improve delivery and affordability for Americans?
NEUMANN: As you know, this is personal for me and I'm committed to making sure that all Montanans have the health care they need. Senator Daines is repeatedly threatening to rip healthcare away from 1 in 10 Montanans by pushing to repeal the Affordable Care Act. That's unacceptable. I am committed to fighting to protect this critical care for our communities. I will be releasing my full healthcare platform soon, but can share that it will focus on holding the healthcare industry accountable to our families. That means fighting for patients' rights with the drug companies, hospitals, and the insurance industry. I am also deeply concerned by the challenges we see with rural healthcare in this state. We are facing major issues with hospital staff recruitment and retention, mental health care, serving our veterans, elder care services, distance to care, and quality of care. This is an area where the federal government can absolutely make a difference, by incentivizing training programs, offering debt relief, and by ensuring that clinics stay open when they serve a population that would otherwise lose access to care.
MOJO: What are some of the best examples, involving real people, that you have which illustrates we have a serious problem with health care?
NEUMANN: I would say that health care comes up more than any other issue when I'm on the road. In Miles City, I heard from a young man who had five friends die from suicide – a clear issue with the lack of mental health care access. I talked with an older individual from Fort Peck who told me that her brother died on the way to the hospital because they lived five hours from care. I heard from a hospital administrator in Rosebud County who said that they have had such a hard time hiring staff that they have been paying an incoming doctor for months in advance of his arrival just to ensure that he would come. I met an EMT from Plentywood who talked about the challenges of providing emergency care when they don't have enough EMTs in their area.
I also have been hearing a lot from people with pre-existing conditions about their fears of what might happen if Daines is re-elected and continues to take aim at our protections for pre-existing conditions. I really can't state it better than a woman in Bozeman who said, "It is a harsh reality when your children's lives depend on access to healthcare. Nobody plans on needing ongoing medicine. Being the mother of two type 1 diabetic children, including one with Special Needs, has opened my eyes to the importance of affordable health insurance for everyone."
MOJO
: Both Sen. Daines and Congressman Gianforte worked with Jon Tester to stop a mine from being built beneath Emigrant Peak in Paradise Valley. Further, Sen. Daines, like Sen. Tester, favors full funding of the
Land and Water Conservation Fund,
something that has seldom happened since it was created in the 1960s but has been raided for other things. Two questions: How would you describe Sen. Daines' environmental record? And what's your position on LWCF?
NEUMANN: I just have to point out that Senator Tester worked with that community for months and months to protect the businesses and citizens in the Paradise Valley and Daines stepped in at the very last moment to take credit when he decided it would be politically viable. It was a very cowardly move and he did not earn high marks by the people in Park County for it. And on the Land and Water Conservation Fund, we see a very similar trend – Daines consistently says that he will support it and fully fund it when it is politically expedient, but we do not see his actions back that up in Washington DC. Daines is on the Senate Appropriations Committee, so he theoretically has the power to fully fund the LWCF. But last year he proposed funding it at two-thirds its original level, and just a few weeks ago, Congress approved funding at an even lower level than that. Now the administration has budgeted for a 97 percent cut in LWCF. This was a huge failure of leadership by Daines.
MOJO: Where do you stand on LWCF?
NEUMANN: I have seen the positive impact that LWCF has had on this state – from making our city parks more welcoming to young people who need a safe place to recreate to permanently protecting large swaths of Montana's outdoors. I wholeheartedly support full funding and am committed to fighting every day for our public lands.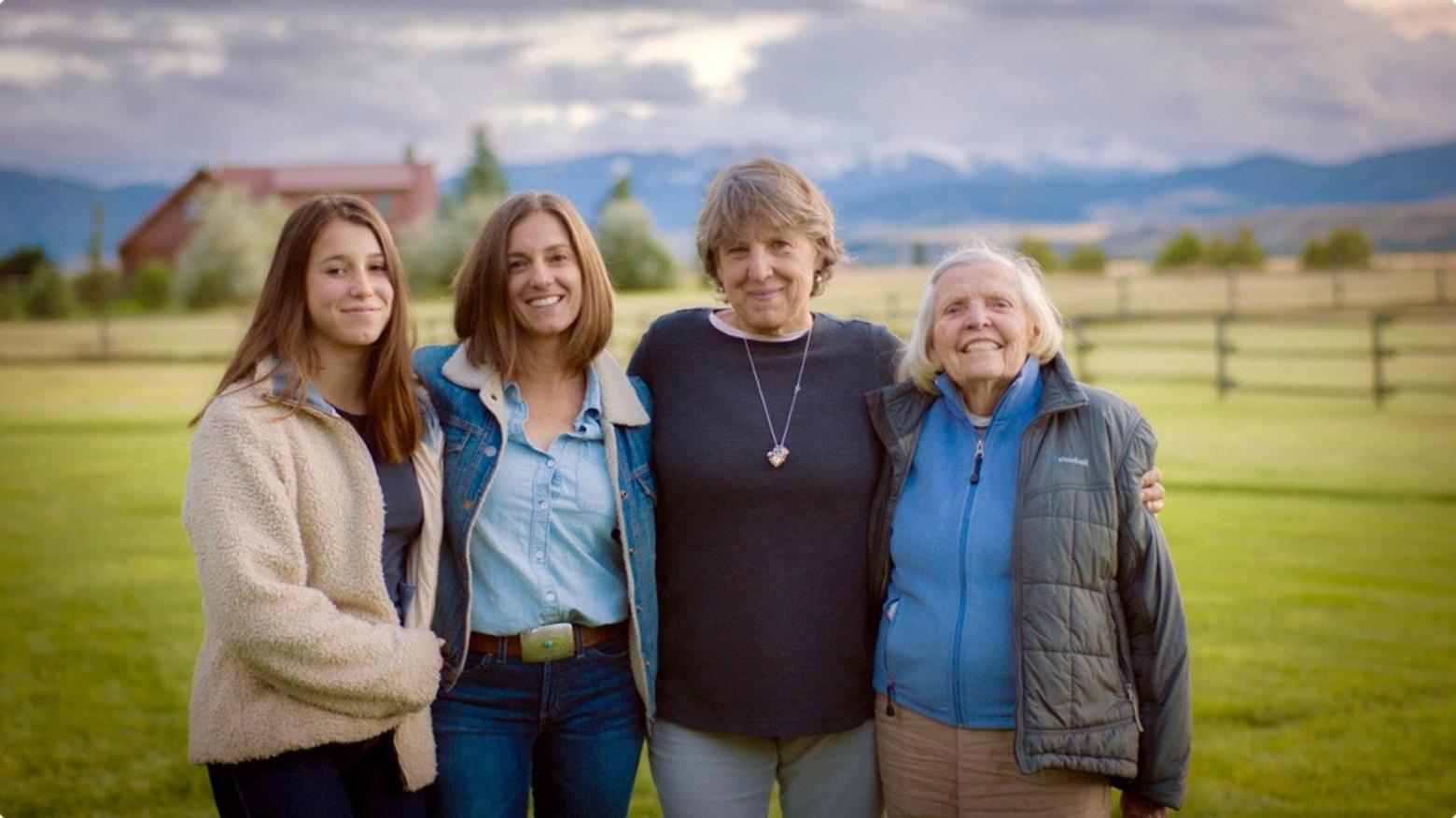 Top: Raised in the outdoors, Neumann (far left) is pictured in this vacation photo taken during a family camping trip to Glacier National Park. Next to her is her mother, Nonnie, step-Dad, David and her late brother, Wyatt. Lower photo: four generations of Montana women in her clan, including her daughter (at left) and grandmother, (far right).
MOJO
: You have appreciation and respect for those in natural resource industries but can timber and coal jobs be brought back?
NEUMANN: I think it's impossible for anyone to know whether we'll ever have as strong of a natural resource economy in the future as we have had in the past, so I think it's really irresponsible and deceptive for Daines to make promises that he can't keep about these industries. However, we do see areas where the timber industry is growing, such as with specialty goods like small diameter wood products. If we can develop strong local markets for these products, then we can expect to keep and bring back good-paying jobs in the timber industry. That's an area where the federal government can definitely lend a hand and be a partner. We also need to continue the conversation about how we are diversifying our rural economies, while not relying exclusively on low-paying tourism industry jobs. We need to have a focus on jobs that have the same wage range as timber and coal jobs, because that's what I think most people are worried about: "Will I be able to support my family?" I was raised in a union family and I wouldn't be where I am today if it hadn't been for my dad's stable wages and reliable healthcare benefits. I know how much that does to reduce stress and solve everyday problems in a family. I am fully committed to fighting for our families and for wages that provide that level of security. No one deserves to go to bed at night worried about the bills when they're working full-time and doing their best.
MOJO: Bozeman and Whitefish are booming and taxes keep going up indicating that the costs of growth are not paying for themselves. How does Bozeman and Whitefish save their character before it is lost forever?
NEUMANN: Do you know what type of land use costs the most to local taxpayers? Rural residential. And the land use that costs the least? Agriculture. So yes, the changes that we've seen in Bozeman and Whitefish, with large swaths of agricultural land being converted to rural residential, will most certainly cause taxes to keep going up. That's a problem that is mostly addressed at the local level through land use planning, but there are some things we can do at the federal level to provide support, such as engaging USDA-Rural Development to better support local communities in thinking through the long-term impacts of their short-term decision-making. The issues we see now with the lack of affordable housing and hiring challenges are certainly longer-term impacts of the decisions that have been made to allow the kind of development we've seen. In terms of maintaining a community's character, that's a very similar thing. Unfortunately, in communities that are going through a lot of change, we oftentimes hear statements like, "That's progress," as if there's nothing we can do to change our future, even if we don't like it. That is just patently not true and I strongly believe in the power of coming together as a community to identify our strengths and ensure that they are retained in whatever future we design. Developers and those who would change our communities are beholden to us first, but not if we sit back and don't say anything. Some of our communities have already changed in ways we don't like, but there's no time like the present to shift that.
MOJO: How do we restore civility and personal respect for each other in America?
NEUMANN: Number one: Get money out of politics. Everything else falls together from there. When you talk to regular citizens, there is so much more that we agree on than disagree on. When we listen to each other and recognize all of the things we have in common, we can fight for each other and end this petty in-fighting we see in D.C. That's what I've done through my work with First Ladies, and through my work on public lands protections – bringing together conservation leaders, farmers, ranchers and native communities – over the past four years. I look forward to bringing this experience, and commitment to collaboration to Washington. And I won't be taking corporate PAC money because companies aren't my constituents, Montanans are.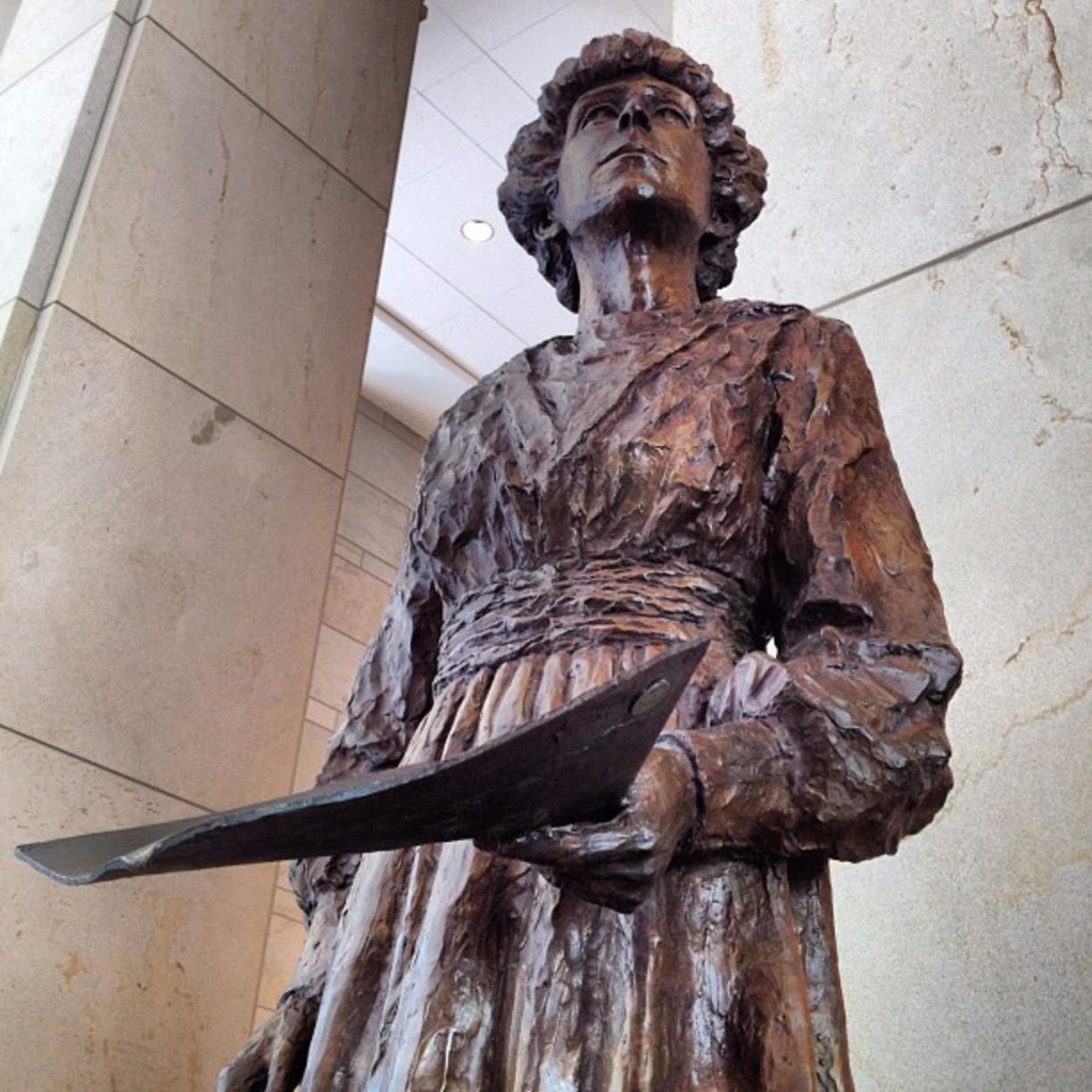 A statue of Jeannette Rankin adorns the US Capitol along with those of other major political figures in US history. Rankin, a progressive Republican from Montana, was the first woman in America elected to the US House of Representatives. No other Montana woman has been elected to service in the House or Senate since Rankin left in January 1943. She was succeeded by Mike Mansfield. Photo courtesy US Capitol/NPS
MOJO: What do you think about your opponent giving the President carte blanche to say or do virtually anything he wants and defend him—condoning actions that he never would have supported and would have certainly decried had they been done by other Presidents
NEUMANN: It demonstrates to me the polarization in politics right now, the lack of civility, and the fact that our politicians are serving special interests, not us. Regardless of who the president is when I am in office, I will stand with them when it serves Montanans and I'll stand up against them when it doesn't. That's a senator's job and that's what I'll do.
MOJO: Why do you think you can win?
NEUMANN: I have the experience, energy and infrastructure—boots on the ground— to take this seat back from Senator Daines. In terms of experience, I have 20 years of experience bringing health care and critical services to communities around the world. My work ranges from serving at the US State Department to building my own organization working with First Ladies and leaders. I am more than prepared to get to work immediately when I reach the Senate. In terms of energy, Senator Daines is putting our children's future at risk—and you do not cross a mother.
I am fueled by our children's future, and by the stories I hear from Montanans all across the state every day. We deserve a senator that is fighting for us, not corporate special interest. And in terms of infrastructure and boots on the ground - before I launched, I did my homework and sat down with Keenan, Tester, Bullock, Baucus, and a number of other valued advisors. They told me that to win, I needed to raise the funds, travel the state and gain endorsements and support.
MOJO: And how has that gone?
NEUMANN: We put our heads down and got to work —and since launching in October we have broken records, earned incredible endorsements and hosted over 50 community events around the state. I am so proud of our progress, and I didn't do this alone. We have built an incredible team, my mom, husband and family are helping to take care of my kids while I travel, and we ran the campaign out of my grandma's basement for the first three months. For me, campaigning is truly a family affair. I am humbled by the outpouring of support and enthusiasm we are gaining across Montana, we are on track to win, and I cannot wait to serve Montana as our next U.S. Senator.