Back to Stories
October 23, 2020
Seek These Personal Adventures That Are Unlike Any OtherYou don't have to travel around the world! MoJo's fundraising auction features adventure experiences in Greater Yellowstone's wildlands that will create memories for a lifetime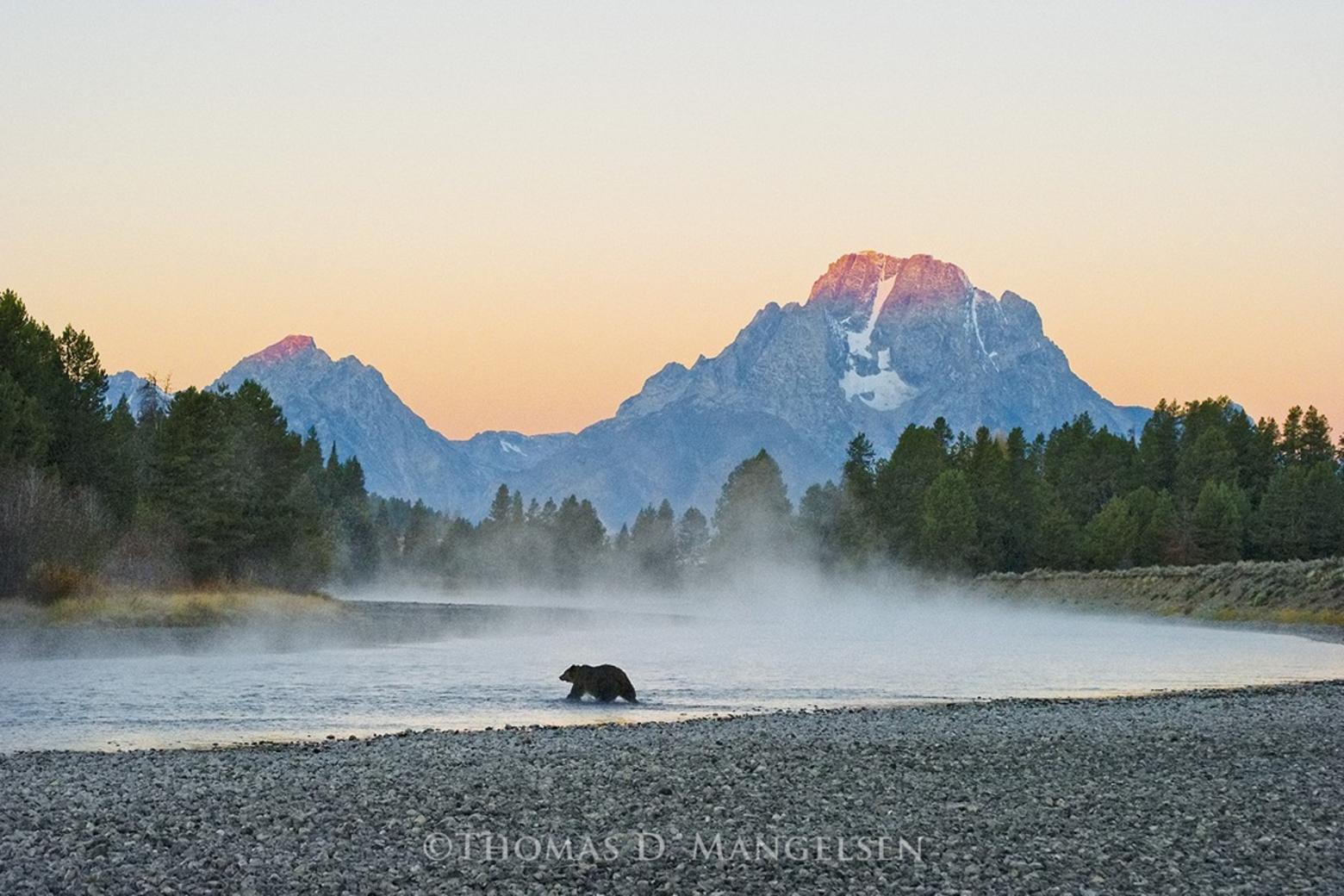 Grizzly 399 crossing the Snake River. Is a bear-watching excursion with American nature photograph Tom Mangelsen in your future? Photo courtesy Thomas D. Mangelsen (mangelsen.com)
To know the Greater Yellowstone Ecosystem is to fall in love with it, and when this vast panorama of unparalleled wildlife, breathtaking sights and extraordinary people get into your heart, you are smitten for life.
Mountain Journal is all about exploring the intersection between nature and humans in a region whose ecological salvation, or loss, has huge implications for the West and wildness that remains in America.
Imagine if you could experience aspects of Greater Yellowstone in unforgettable ways—in the company of world-class seekers or the perspective of fine artists? Well, you can. Adventure awaits
by clicking here
and you don't have to travel around the world!
Yes, we know these are uncertain times unlike any other, but we are going to get through the challenges—and we're looking beyond the pandemic when together we can get out again and deepen our connection. We are proud, as part of our autumn fundraising campaign, to offer these amazing experiential auction opportunities, made available by some of our good friends who believe in the role of journalism in safeguarding Greater Yellowstone.
Imagine (as you ponder a brighter future that lay ahead):
It's autumn 2021 and you have an opportunity to join world-class nature photographer Thomas Mangelsen at his home in Moose, Wyoming, then setting out for a day with him in search of
famous grizzly mother 399
and other wildlife that makes Jackson Hole a mecca for wildlife watchers.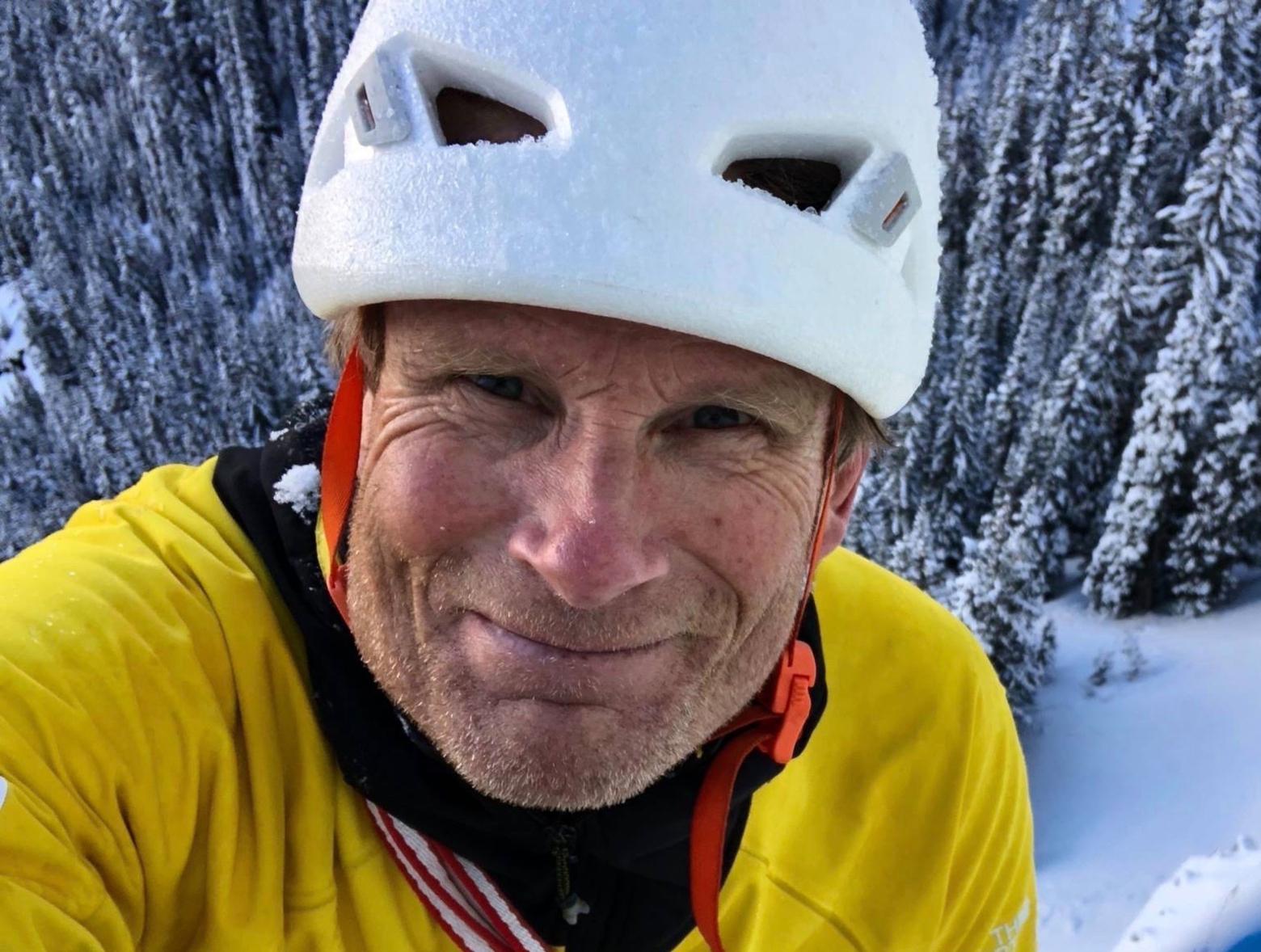 The face of a living legend in global mountaineering. You can ice climb a frozen waterfall with Conrad Anker, one of the stars of the film "Meru," a man who has summited Everest a handful of times and found the body of George Mallory who went missing on Everest for seven decades. Anker, a conservationist, is like the Michael Jordan of climbing.
Or spending a day this winter ice climbing a frozen waterfall with renowned mountaineer Conrad Anker, among the best who has ever lived.
Or enjoying two days of fly fishing and glamping along the blue-ribbon Madison River, escorted by the well-known businessman/conservationist Roger Lang who will share fireside tales of interacting with wolves, elk and grizzlies around the campfire at night.
Or embarking upon a nature safari at
Ted Turner's private Flying D Ranch
outside of Bozeman, where there lives the largest bison herd in the world and one of the largest wild wolfpacks. You'll be led by Mike Phillips, who led the historic return of wolves to Yellowstone on the ground.
Or join indigenous leader Dr. Shane Doyle (a member of the Crow Tribe) on a hike
into the breathtaking Crazy Mountains
where Plenty Coups had his vision of the future in the 1850s. Along the way you'll stop at one of the most important paleo-archeological sites in North America.
Or venturing into the Beartooth Mountains with a legendary conservation leader. Mike Clark enlisted a US president and played a pivotal role in fighting off a Canadian company's desire to build a hardrock mine on Yellowstone's back doorstep. You'll see a miracle of breathtaking landscape rewilding.
Or soaring high above Big Sur and Monterey Bay, coastal California and the seascape immortalized by John Steinbeck. Your guide: pilot Mike Sutton, a global conservation leader, who among other things, oversaw the famous Monterrey Aquarium, fostered conservation of elephants, rhinos and lions in Africa, was an investigator busting wildlife poachers. Oh, the tales Sutton can tell!
Or spending two nights in Paradise Valley with the wild Gallatin Mountains behind you and the spectacular rise of the Absarokas rising across the dell. During this stay at Mountain Sky Guest Ranch, owned by businessman and philanthropist Arthur Blank, you'll be able to relax and learn about why Greater Yellowstone is compared to Africa's Serengeti.
All of these are
experiential adventures
, intended to leave you and whomever you bring more inspired about the natural world that is central of
MoJo
's focus. And if these aren't enough, you might instead bring a piece of rare artwork home—a signed print by Academy Award winning climber Jimmy Chin, a collectible, signed trout lithograph by noted artist/writer James Prosek, or a signed wildlife lithograph by Mimi Matsuda, one of the rising stars of wildlife art.