Back to Stories
May 21, 2020
Saunders, DeOpsomer Bring Experience In Community, Conservation And Business To MoJoFrom childhoods in Alaska and East Anglia, these dynamic women want journalism to play vital role in shaping Greater Yellowstone's future and deepen citizen stakeholdership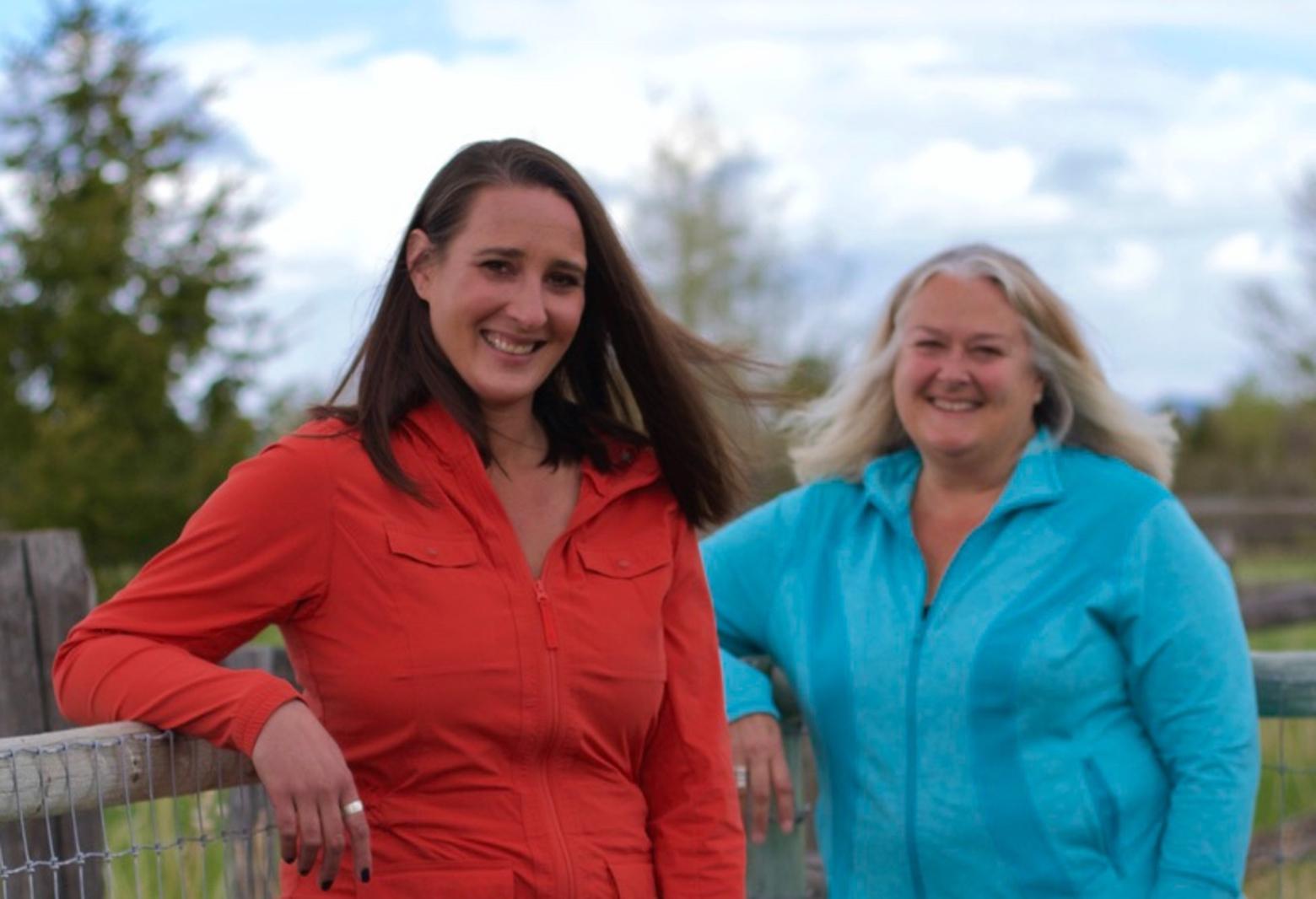 Emilie Saunders, left, Mountain Journal's first executive director, and Sarah DeOpsomer, right, MoJo's executive assistant, bring perspective to our primary mission: exploring the intersection between people and wild nature. Photo courtesy Jessica Portuondo
As the son of working-class restauranteurs, this much I know about small business. A company is fortunate indeed to not only earn of the loyalty of great patrons but to attract high-quality creative people who want to be associated with the brand. On both counts,
Mountain Journal
is blessed, both to you—our readers—who care about the future of Greater Yellowstone and the still-wild West, and to now have a pair of inspiring women who have joined
MoJo
's staff.
Mountain Journal isn't a traditional commercial journalism enterprise. It's a non-profit, public-interest, reader-supported, free-access site that really focuses on our relationship with Nature. Emilie Saunders and Sarah DeOpsomer have established solid reputations in the non-profit world; both will play crucial roles in helping us expand our public outreach and readership base as we aim to have more impact in telling stories that matter.
"Facts lead to informed decisions. Good journalism helps keep us educated, keep us curious, keep us involved—and it keeps us passionate about the things that matter most. I've always felt a duty to stay engaged and advocate for what I care most about in the world. Journalism makes that possible." —Emilie Saunders, MoJo's first executive director
Saunders is our new executive director and DeOpsomer works as MoJo's executive assistant. In its first two years of existence, we wanted to prove Mountain Journal's worth to you and never could we have imagined that the we would lodge millions of story reads and have our recognition extend around the world to include 160,000 followers on Facebook. Our stories appeal to those near and far who love Yellowstone and the wildlife-rich geography that is considered a North American counterpart to the African Serengeti.
We are reporting on, watchdogging and, in a way, defending the last and best of what's left.
Still lean and efficient, we rise every morning trying to overachieve with limited resources compared to other media entities. There is so much more we want to do. We are fortunate to have Emilie and Sarah on our staff as two people who have deep experience in community engagement and non-profit sustainability. They understand Greater Yellowstone's importance.
Having Emilie Saunders as our executive director demonstrates our commitment to empowering young emerging leaders. This Alaskan-born woman of the outback brings a seasoned perspective. Sarah DeOpsomer is a widely-admired thinker in Greater Yellowstone who was worked in the non-profit sector for the Yellowstone Park Foundation, Bozeman Public Library Foundation and Greater Yellowstone Coalition, helping all three in their key growing years. Sarah also recently penned a series of dramatic
journal entries about her experience with Covid-19
.
Below are interviews with Emilie and Sarah who represent the human foundation of the MoJo platform. On behalf of Mountain Journal's board of directors and me as founder, we welcome them to the team. We hope you'll have an opportunity to meet them soon.
Meet MoJo's New Executive Director Emilie Saunders
wild
and wonderful."
Growing up in Alaska's Chugach Mountains that rise over Anchorage, her appreciation of unadulterated wilderness is homegrown. While studying pre-law at the University of Idaho she joined efforts to relocate an ailing elephant named Maggie in captivity at the Alaska Zoo. That successful campaign to free Maggie quickly shifted her career path from law to fundraising.
Saunders cut her teeth at the Alaska Aviation Museum before heeding the call to experience America's wildest ecosystem in the Lower 48 and making the move to Bozeman. She worked for the Yellowstone Park Foundation, fundraising for a variety of park programs from cutthroat trout restoration to visitor safety, youth programs, and wildlife health—intensifying her familiarity and passion for the region.
In 2016, Saunders took a detour from conservation and fell into the ("also wild," she says) world of local economic development. In her role with
Prospera Business Network,
she worked closely with Bozeman's innovative entrepreneurs and economic leaders to influence the area's rapid growth; advocating for deliberate and sustainable community development. Then, the stars aligned and she found
Mountain Journal.
Saunders understands how vitally important the connection between ecology and economy is. In her free time, you'll find her exploring trails with her super-mutt pup Rosey, digging in the dirt, putting out a hearty meal for friends/family, or enjoying a freshly-squeezed margarita.
TODD WILKINSON: You grew up in Alaska, yes? How did growing up in "The Land of the Midnight Sun" shape who you are and how you look at the world?
EMILIE SAUNDERS: Yes, born and raised in Alaska! In short, I'd say it made me resilient. My most vivid childhood memories include dodging moose or mosquitos (or both), sitting around a New Year's Eve bonfire at 30 degrees below zero, picking buckets upon buckets of berries, and spending full days on the lake.
My mom immigrated from Sweden when she was 20. My brothers and I maintained dual citizenship and spent many of our childhood summers in Scandinavia. Additionally, Anchorage has incredible diversity in and of itself. In elementary school, I was taught how to sew and cook from Yupik and Athabaskan elders. Among public high schools, nationwide, Anchorage's East, Bartlett and West are ranked the top three most diverse in the country; I graduated from West High).
Being surrounded by languages I can't understand and cultures foreign to my own has always been my normal; you can imagine the culture shock when I moved to Moscow, Idaho for college. And it's still something I'm adjusting to living in Bozeman.
TW: Another motto of Alaska is "Look North to the Future." Do you think that's true, and what does it mean within the context of we in Greater Yellowstone musing about wildness, indigenous people, the final frontier mentality and climate change?
: The idea of the Last Frontier definitely still resonates. That adventurous, homesteading spirit lives in most of us. Our chance to start over, learn from our mistakes—and manage virgin territory the 'right' way. I see Yellowstone as the Last Frontier in the Lower 48, an opportunity to preserve an intact and wild ecosystem. A chance to do it right, after so many failings. And Alaska provides plenty of lessons learned.
If you want to experience vast wilderness, without the crowds, check out Denali National Park. It's as wild as it is regulated. Cars aren't allowed through the Park in the summer (buses take tourists through) – carefully regulating the number of vehicles (and impact) each year. Mountain climbers are a huge economic driver for Denali, but heavily regulated with permits.
And 'Look North' to also see climate change in real time. During the span of my childhood, Portage Glacier went from massive and accessible, spanning the entire valley, to withdrawn and out of sight. What remains now is a variety of remnants. Take a cruise out of Whittier or Seward and you'll see the glaciers melting and collapsing before your very eyes. It didn't look like that 30 years ago.
TW: You've worked at both the Yellowstone Park Foundation (now Yellowstone Forever) and, most recently, Prospera. The former is a non-profit that operates in service to aiding Yellowstone with needs not covered by the federal budget, and Prospera is a nexus for nurturing business and exchanging ideas in southwest Montana. What perspectives did you take away working for both organizations?
SAUNDERS: Fundraising for a Yellowstone support group schooled me on the fragility, and importance, of the ecosystem as a whole—the wellbeing of our native trout, for example, literally touches every other species in the Park. I also had that moment, that all of us obsessed with Yellowstone have had. I've always been a wildlife nut, but standing in Lamar Valley at 5:30am watching wolves descend over the horizon, circling in on a carcass carefully guarded by a mama grizzly quite literally blew this Alaskan's mind.
Prospera was an opportunity to understand the flipside of conservation. How economy relates to ecology. Working in economic development in the fastest growing micropolitan city in the nation was fascinating; a community in a full-blown BOOM – while just a few hundred miles away we see towns struggling to stay afloat. Closing schools. Massive out-migration. Those kinds of dying communities are heartbreaking to witness.
TW: What do you like about Bozeman?
SAUNDERS: Bozeman is truly unique in how pervasively supportive and cooperative our residents are. One of our local restaurateurs coined the phrase 'coopetition'—I think that sums it up, competitive yet cooperative. Our community lifts one another up, while challenging each other; believing there's enough prosperity to go around.
Prospera gave me a new understanding, and empathy, when driving through towns with ghostly Main Streets and boarded up buildings. Without a healthy economy, our communities cannot provide the care and protection our public lands need.
"Sustainable, respectful, and deliberate economic growth is imperative to preserving an ecosystem.

Conscious and conscientious engagement is imperative; balancing preservation of our wildlife and wilderness with mindful human coexistence." —Saunders
TW: Mountain Journal is going to be highlighting the dynamic intersection between economy and ecology, particularly businesses that strive to be compatible and respectful of our natural setting. Why do you think that is important?
SAUNDERS: Sustainable, respectful, and deliberate economic growth is imperative to preserving an ecosystem. In the case of Yellowstone, funds raised by Park fees and charitable donations lead to impactful projects to monitor the health and wellbeing of not only the wildlife, but also the visitors.
Conscious and conscientious engagement is imperative; balancing preservation of our wilderness with mindful human coexistence. Businesses are the backbone of our economy and provide vitality for our communities. It's our responsibility—and challenge— to find that sweet spot between economic prosperity and the need to protect our wildest places which underlays the economy.
TW
: You are younger than many
EDs at other non profits.
You are smart, fearless, outgoing, enterprising and have a passion for living in a place where the degree of separation between city and wilderness is small. How does it feel being the executive director of Mountain Journal and what are some of your priorities?
SAUNDERS: Honestly, I'm still pinching myself. It's a dream to be part of Mountain Journal, the perfect blend of my passion and experience. I look forward to expanding our reach and audience, and helping influence a new generation of conservationists. Regardless of age group, we're all fascinated by mother nature's wildest creatures and places. MoJo plays a crucial role in serving as a watchdog and celebrant for the region nearest and dearest to my heart – it's an honor to serve as Executive Director and help shape the future of such an impactful organization.
TW: Why does journalism matter?
SAUNDERS: Facts lead to informed decisions. Good journalism helps keep us educated, keep us curious, keep us involved—and it keeps us passionate about the things that matter most. I've always felt a duty to stay engaged and advocate for what I care most about in the world. Journalism makes that possible.

Meet MoJo's Executive Assistant Sarah DeOpsomer
been interested in national parks, wildlife, conservation and environmental protection. A graduate of Montana State University, she was born in England and spent much of her early formidable years in East Anglia northeast of London.
Over the span of nearly a quarter century, she has worked for the Greater Yellowstone Coalition, Yellowstone Park Foundation and more recently the Bozeman Public Library Foundation.
During the early 1980s, she worked two summers for Yellowstone hotel concessionaire at the Old Faithful Inn. (MoJo founder Todd Wilkinson also worked two summers in the park around the same time. He was a cook at Canyon Village). When not at her desk, she is either hiking, riding, kayaking, reading or painting. She is presently
putting
together new works for a show.
TW: Mountain Journal is, in some ways an extension of your interests organizations that strive to have civic purpose and impact. You have worked for Yellowstone Forever when it was the Yellowstone Park Foundation and the Bozeman Public Library Foundation and you are on the board (along with MoJo executive director Emilie Saunders) of Pecha Kucha. What do they all have in common?
SARAH DEOPSOMER: In one word, community. Yellowstone Park Foundation brought people together with the purpose of supporting the park—it's a community of people who care about Yellowstone no matter where they live. Additionally, they support the American idea of national parks as a whole. The Bozeman Public Library Foundation depends on locals to support its own public library, a center of knowledge, resources and a community gathering place. PechaKucha speaks to the creative community.
Bozeman is a conduit for all kinds of creative types. PechaKucha gives anyone the chance to speak to an eager-to-learn audience about their inimitable experiences and life-lessons. I certainly see all three of them as my community.
TW: Some readers may not realize that you are a painter. How does it influence your sense-making of Greater Yellowstone and Montana?
DEOPSOMER: In art school, I learned to observe keenly – color, light, shapes. When outdoors, I tend to see details – for example, the shape of a ridgeline or the outline of a cottonwood forest, and observe how they meet the sky and what happens at that exact line of contact visually. I find beauty in that, same as I find it in the way a wild clematis drapes its long vine over downed logs in the forest. I see the macro and the micro.
There is no way anyone can see all of Greater Yellowstone or Montana. I can go outside and keenly observe something new and wondrous each day.
TW: You are also, famously now, a Covid-19 survivor. Your first-person series on your experience, penned for MoJo, was widely read and circulated. Looking back what did you learn? What do you appreciate now that you didn't before?
: I learned that yes, this can happen to you, even in one of the less populated states! Covid-19 is a non-discriminating threat. Having been part of a pandemic, I am in the process of reading Spillover by Bozeman's David Quammen. I have learned that how we tend to forests and wildlife, the intersection of humans and nature, is key in understanding—thus preventing – an occurrence such as this again.
As far as appreciation goes, I give credit to my resilient immune system. You don't often think about your immune system unless you have a known immune deficiency. I won't take it for granted again.
TW: East Anglia, England, for those who don't know, is one of those magical places, replete with bucolic hedgerow countryside that inspired Romantic painters, is home to castles, and important events in history. As a dual citizen, how did your upbringing there affect the way you see America?
DEOPSOMER: One word comes mind immediately, space. In England buildings are rebuilt or the same space is re-planned as there is much less land mass. Villages take pride in restoring ancient structures, rebuilding in place. Economical use of energy has existed for a long time, here people are still learning. When first moving over, it's striking how vast America is. I see abandoned downtowns with incredibly beautiful brick buildings and feel a great sense of loss.
I wonder if we will continue to fill open space just because we can, or will we return to preserving history in place and revitalizing? On a more positive note, I see a wonderful parallel in the public foot path networks of the United Kingdom and the national forest trail systems of the U.S. I'm very grateful for both.
TW: Complete this sentence: Having an informed citizenry is important in a Democracy because....
DEOPSOMER: ... knowledge enables wise choices and the ability to project the effects of those choices years ahead – most especially for the next generation.
TW: Why does the Greater Yellowstone Ecosystem matter?
DEOPSOMER: It's unique, there is only one GYE. Being in conservation circles, I have heard many times how much simpler and less expensive it is to protect something than it is to restore it. I believe the protection of the Greater Yellowstone Ecosystem is essential to not only the wellbeing of those of us who live here, but to the US at large. Eyes are upon us as to how we manage this unique region. How we care for, treat and protect this exceptional place is an example to others.