Back to Stories
December 20, 2021
He Went Outside To Go InwardIn 'Mary Jane Wild,' Brooke Williams seeks wildness in the West to help him make sense of a world coming apart at the seams. It's a fine read for these times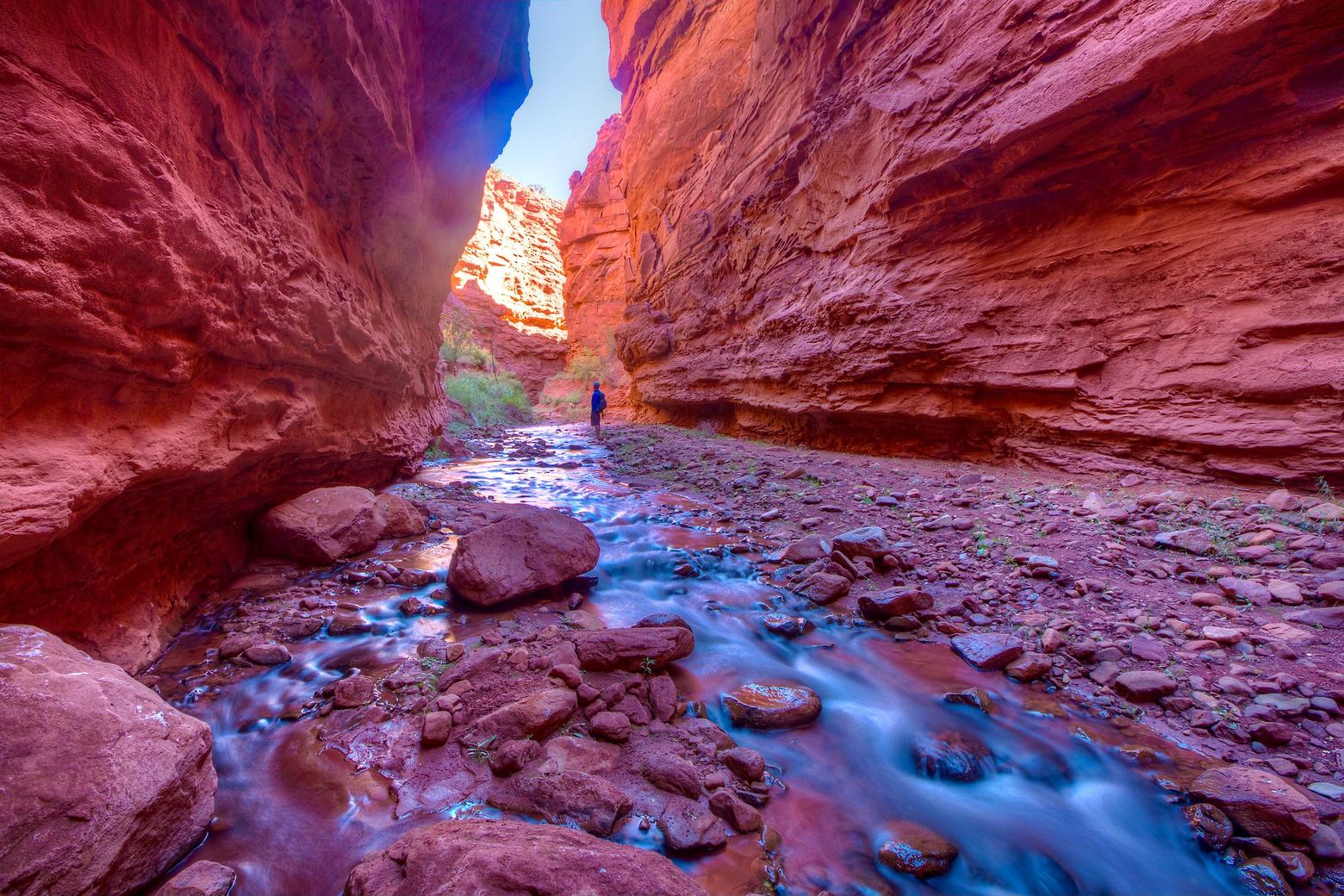 Professor Creek flows through Mary Jane Canyon. The labyrinth was a muse for Williams' pondering the future of American in a timeless place following two Presidential elections. Photo courtesy Bob Wick/BLM
by Todd Wilkinson
The Greater Yellowstone Ecosystem will never "get over" the impacts of Covid-19.
While the pandemic's toll on humans is vast and still being written around the world, it is the Covid-related effects humans are exacting on America's most iconic wildlife eco-region that have caused—and continue to inflict—pervasive, in many cases permanent, trauma on landscapes.
Levels of development and numbers of people largely fleeing urban areas to escape to public lands and the hinters of the West have been unprecedented, overwhelming planning departments, elected officials and public land managers who were utterly unprepared to deal with the deluge. A tidal wave of growth impacts, already daunting before, has risen taller and more formidable during the Covid inundation, bringing sheer numbers of people and expanding footprints that many believed wouldn't materialize for decades.
The irony is that as we became shuttered in, left stir crazy, anxious and alone, the antidote many sought was seeking peaceful solace in public lands only to discover millions had the same idea in mind. Many of them found themselves out of their element, unable to appreciate the special sensitivity required to safeguard wildness. Many developers thoughtlessly treat "raw, open" farm and ranch lands not as vital pieces of place, but as profit bonanzas no different from miners exploiting veins of gold.
In Mary Jane Wild: Two Walks and a Rant, writer Brooke Williams takes us on a vicarious, cathartic trek full of ruminations certain to resonate with readers here. In his wander, Williams heads into wildlands not far from his home east of Moab, Utah seeking solitude as a platform for thinking about human and natural forces transforming the West. He shares the sense of personal anxiety, concern, wonder, mourning, conviction— and anger as a catalyst for doing something—that we all feel.
The book commences on Election Day 2016 and ends on Election Day 2020. This "Mary Jane" does not involve a toking allusion.
Williams' tactile and metaphysical muse is the labyrinth of Mary Jane Canyon, which could be any retreat not far from a major "New West" enclave situated near public lands.
The acclaimed writer and nature-minded commenter about American life, Rebecca Solnit, nails the essence of Mary Jane Wild:
Williams and his wife, the noted writer/poet Terry Tempest Williams, have been rooted in their native Utah with strong connections to Jackson Hole. They carry forward their own traditions of coming to the Greater Yellowstone Ecosystem. As keen observers they've written extensively about natural history, offering humbling reflections about how the West affects them and, as citizens, they've spoken up or acted against the forces that are eroding public lands.
Williams has spent the last 40 years advocating for wilderness. He is the author of four books, including Open Midnight, Halflives: Reconciling Work and Wildness, and The Story of My Heart, by Richard Jeffries, as rediscovered by the Williamses together. His journalistic pieces have appeared in Mountain Journal, Outside, Huffington Post, Orion, and Saltfront.

Within the last decade, in order to challenge the "multiple use" policies of the federal Bureau of Land Management, the Brooke and Terry Tempest Williams bid on oil and gas leases being offered in order to secure them and prevent them from being developed. The government took action to punish them yet their maneuver drew praise even from right-of-center property rights thinktanks that said competing interests, other than just resource extractionists, ought to be able to be able go after leases.
The same thinking applies to non-government groups vying to secure livestock grazing leases on federal and state lands that, for the most part, have only been offered to ranchers and not available to conservation minded folk who do not believe domestic cattle and sheep should be given priority on public range, especially habitat important to native wildlife. What Covid revealed in Greater Yellowstone is that two of the most formidable new forms of natural resource extraction are real estate development and the explosion of the outdoor recreation industry.
Our desire to commune with Nature is innate; our appetite for consuming it, treating it like just another commodity whose paramount worth is monetization, is itself a contagion that is only accelerating during the Anthropocene. You will get a good feel for Williams' lyrical prose in an excerpt that he has titled Hermit Virus.
Meantime, enjoy our brief interview and remember that Mary Jane Wild is a book for all seasons. It's worth your attention now as you ponder your own relationship to place.
MOUNTAIN JOURNAL: Brooke Williams, what is this book really about? You devoted a lot of attention to the shrinking down of national monuments in Utah and the undoing of decades of environmental policy, enacted in a bi-partisan way by both Republicans and Democrats, during the previous administration.
BROOKE WILLIAMS: This shouldn't be a strange or difficult question, but it is. The "Story" is, I guess, so simple and serves only as the scaffolding for the back stories. It's "About" my frustration after the 2016 Presidential election and doing the best thing I knew to do which was to wander out in the wilderness for a few days. It's taking the same walk four years later, following the 2020 election. Two trips providing the structure for attempting to make sense of what is happening to our country, and the planet. But also to wonder why time in the wilds is so valuable.
MOJO: You set out wandering into the wilderness in part as a response to Covid lockdown times. What were you seeking?
WILLIAMS: What was I seeking? If pressed, which I am, I would say that I was seeking some understanding of the future we face, which looks nothing like anything we dreamed or planned. And my role in contributing to this darkness, and my role helping us imagine and then navigate toward some acceptable future.
MOJO: How are wilderness/wild lands different from other public lands?
WILLIAMS: Generally, I sense that we're still, regardless of all the evidence against it, biological organisms responding to evolution. We may be better at evolving when immersed in a world which has always been conducive to our evolution—the wild world. "Wilderness" is different because by definition and law, designated "Wilderness" is free of modern distractions, which I sense distract us from our evolution. "Wildness" is all around, however, all the time.
MOJO: For as long as we've known you you've been reflecting on the power of such things as awe, wonderment, humility, and gratitude—mainframes for pondering your own relationship with Greater Yellowstone, Utah and New England where you teach environmental writing to college students. How is that different from superficially gazing at a place and calling it beautiful?
WILLIAMS: I think "awe" may be at the root of the answer. I'm not sure we have any control of awe at least at first. I have no clue why one person may gaze at a place and call it beautiful, while another, gazing at the same place, might experience "awe." "Awe," we've learned, shrinks the "self," which makes us humble which makes us want to contribute to the greater good. One of the great mysteries.
MOJO: You are married to another writer, Terry Tempest Williams, who is back at Harvard Divinity School again nurturing in students and other thinkers a deeper sense of spirituality when it comes embracing our role in Nature as opposed to being an other standing apart from it. Have your conversations shifted in recent years?
WILLIAMS: It's weird. I realized that most of my knowledge has come from having a question and then looking for the answer to it. I've been to many lectures and classes at the Divinity School during which I get answers to questions I didn't have, which help me makes sense of my experience. If the events happening around us aren't changing the kinds of conversations we need to have, conservations that force us to consider new ways of doing things in order to address the threats we face, then we aren't conscious. We need to elevate our conscious awareness.