Back to Stories
January 29, 2020
Will The West's Wildest Heart Still Beat On?New report on Greater Yellowstone Ecosystem by scholar Robert Keiter identifies major challenges threatening its health
Spanning the intersection of Wyoming, Montana and Idaho in the Northern Rockies, with Yellowstone National Park serving as its geographic and biological middle, the Greater Yellowstone Ecosystem has been compared globally to the animal-rich Serengeti Plain of Africa.
Here you will find predator and prey megafauna, some of the longest remaining terrestrial wildlife migrations on Earth—for pronghorn and mule deer—and at least a dozen major elk herds and twice as many wapiti subherds that trail hundreds of miles through ancient passageways dating back to the very end of the Pleistocene. In all, hundreds of thousands of ungulates, hundreds of grizzly bears and wolves, and along with it other species like bison, trumpeter swans, black-footed ferrets, even beaver, brought back from the very brink of near-total annihilation.
Accentuating these conservation mile markers, wild rivers filled with trout, 10,000 geothermal phenomena such as geysers and fumaroles, lines of jagged mountains with glacier-carved valleys below still holding working ranches and the open space they provide, and a multi-billion-dollar annual tourism economy that outpaces any other industry in the region, save for real estate sales.
But now, confronting an unprecedented invasion of people, an expanding footprint of human development replacing a once-defining pastoral community character, and signs of climate change already foreshadowing future challenges with forest health, wildfire and water, the Greater Yellowstone Ecosystem—a national natural treasure—finds itself at a crossroads.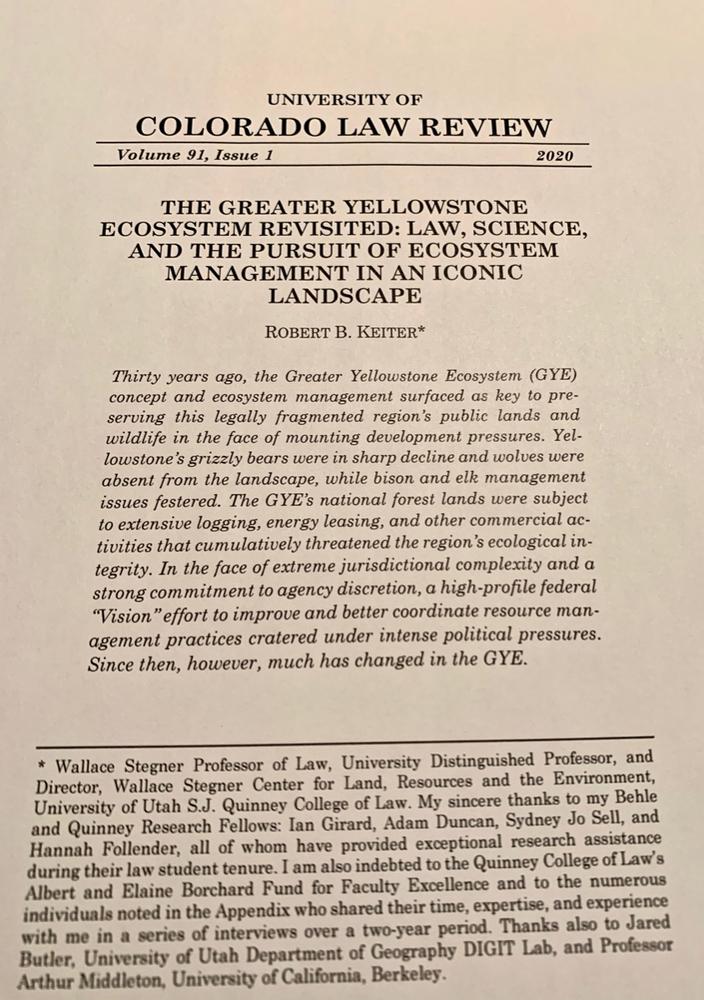 That's the finding of a voluminous new critical analysis authored by a noted public policy scholar and law professor who revisited a benchmark overview he completed 30 years ago. Robert B. Keiter, the Wallace Stegner Professor of Law at the University of Utah Law School and director of the Wallace Stegner Center for Land, Resources and the Environment, writes that much has changed in three decades.
Yet it pales in comparison to a transformation presently underway that will determine if the matchless ecological health of Greater Yellowstone will endure or be lost, following the same pattern of degradation and species loss that has happened in the Sierra, Rocky Mountain Front of Colorado, Wasatch of Utah and most of the rest of the world.
Keiter's 171-page report, titled "The Greater Yellowstone Ecosystem Revisited: Law, Science, and the Pursuit of Ecosystem Management In An Iconic Landscape," appears in the first 2020 issue of the University of Colorado Law Review.
Taking him more than three years of research to complete, he interviewed more than three dozen people who have had various roles in the region and he poured through hundreds of documents, scientific articles and news stories.
"Looking ahead, as we enter the Age of the Anthropocene, an ecological approach to resource management in the Greater Yellowstone Ecosystem is more important than ever," Keiter writes. "Visitation and recreation pressures continue unabated across Greater Yellowstone's public lands, private land development and subdivision activities are escalating, and potentially devastating climate change and wildlife disease impacts now hang over the area."
"Looking ahead, as we enter the Age of the Anthropocene, an ecological approach to resource management in the Greater Yellowstone Ecosystem is more important than ever."
He goes on, "These serious new threats portend adverse ecological impacts at least tantamount to those confronting the Greater Yellowstone Ecosystem thirty years ago…To address these new challenges and solidify existing achievements, current Greater Yellowstone conservation efforts must be expanded in scale to embrace a larger landscape—one that connects Greater Yellowstone to more distant ecosystems stretching across the central Idaho wilderness complex to the Crown of the Continent region and into southern Wyoming."
Greater Yellowstone is, in its most prominent profile, a mosaic of mostly federal public wildlands covering more than 18 million acres and comprised of national parks, national forests, wildlife refuges, and millions of acres of terrain administered by the Bureau of Land Management. Many consider it the cradle of US conservation and the birthplace of the national park movement that Wallace Stegner dubbed the best idea America ever had.
Intermingled and alongside are millions of acres of private land where humans live and where actions about how those lands are used ultimately determine the well-being of public lands. Greater Yellowstone also has within its perimeter or close by four different indigenous reservations though the larger region has been a homeland that figures in the culture and legends of dozens of different tribal nations.
It also has one of the fastest-growing small cities in America in Bozeman, Montana and the richest-per-capita-county in Teton County, Wyoming, home to Jackson Hole.
Where once, not long ago, the "Greater Yellowstone Ecosystem" was regarded as a daring revolutionary concept—premised on the notion that conservation success depends on being able to work across artificial human boundaries and jurisdictions—today it is at the forefront of a movement in bioregional thinking. And yet there are serious doubts about whether a federal planning unit, the Greater Yellowstone Coordinating Committee, comprised of different agencies and formed to address big challenges and facilitate cohesive strategies, is capable of getting the job done in a visionary way.
"It remains to be seen whether the same forces that moved the Greater Yellowstone conservation agenda forward during the past thirty years can now expand these efforts to the landscape scale," Keiter writes. "Despite individual instances of interagency coordination, the region's complex jurisdictional boundaries remain a barrier to integrated regional planning and coordination."
Better understood about Greater Yellowstone than ever before is that while a dynamic relationship exists between healthy landscapes and healthy sustainable economies, it can be a delicate balance to achieve in ways that are lasting.
The paradox is that just as the presence of more people displaces wildlife, the rise of more prosperous communities tiered to an outdoor lifestyle are often expensive places to live, resulting in displacement of working class families, workers and elderly.
Dennis Glick, founder of the non-profit group FutureWest that helps rural communities confront issues jeopardizing their essence and survival, has been studying resource extraction and development trends in Greater Yellowstone for decades. He spearheaded completion of an analysis in 1994 titled "Sustaining Greater Yellowstone: A Blueprint for the Future" as part of the "Greater Yellowstone Tomorrow" initiative for the Greater Yellowstone Coalition. What that document found will be explored in stories to come at Mountain Journal. Glick says the original Keiter overview i 1989 set the stage for the blueprint and the latest analysis is incredibly timely.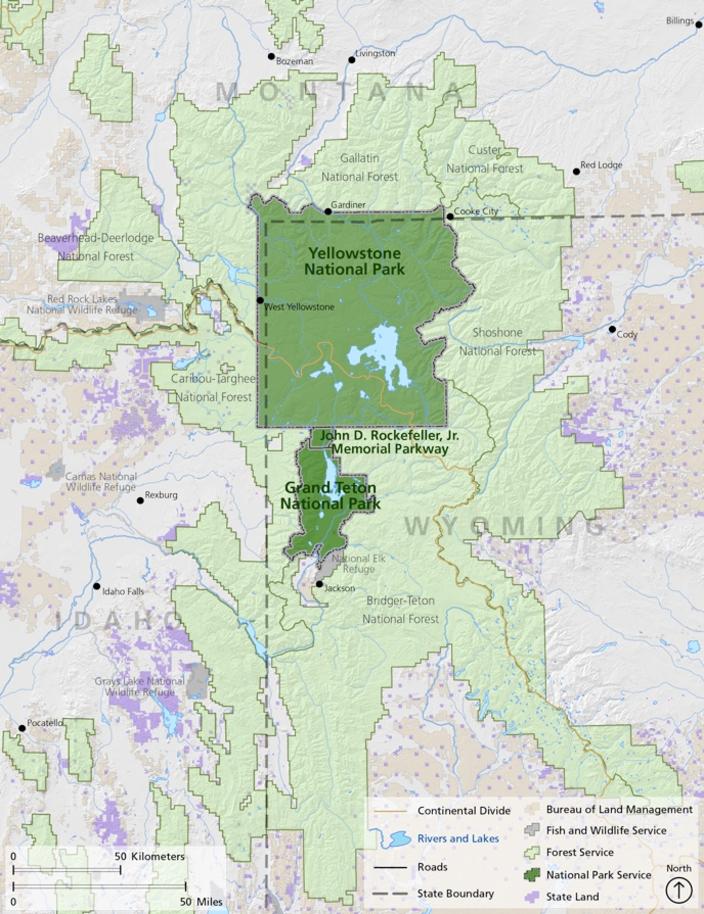 "Back in the early 90s, as we worked to understand the ecological underpinnings of Greater Yellowstone, Robert Keiter's research and writings helped us understand the policy and legal framework needed to maintain the long term health of these natural systems," Glick says. "Both efforts complemented each other. In light of the tsunami of New West challenges facing Greater Yellowstone today, Robert's analysis of related policy needs is incredibly timely and valuable. Let's hope that the conservation community takes his findings to heart."
How does the national interest of all American citizens who are stakeholders of Greater Yellowstone because federal public lands belong to them intersect with regional identity and the lives of local people? How does consumption of natural resources in all its forms, including recreational use jibe with preservation and guarding against places from being loved to death? How is ecological literacy advanced in an age of denial of science and alternative facts? How are traditional approaches to conservation (many of them emanating from eras when predominantly white men set the agenda) bettered with involvement, infusion and leadership from the whole cross-section of 21st-century America? How can the non-human attributes of Greater Yellowstone assume existence value and tangible meaning for the majority of citizens who reside in distant urban areas?
Arriving at answers to each of these questions is complicated and all hold lessons for how people can relate to the environment wherever they live. Because US environmental laws guarantee citizens a role in determining how public lands should be managed, they are another civic thread in the fabric of American democracy.
Mountain Journal
obtained an advance copy of the Keiter Report and over the course of several days will be exploring differing parts pertaining to the transition of the region from a resource extraction to natural amenity/tourism/outdoor recreation economy, the ability or inability of government agencies to embrace a common vision for the future, what the shift has meant for Greater Yellowstone's globally-iconic wildlife population, the impact of regional population growth and development, and the likely impacts of climate change.
The Keiter Report will serve as a foundation for Mountain Journal's ongoing examination in 2020 of the vital issues shaping Greater Yellowstone.
EDITOR'S NOTE: The next story will reveal what Greater Yellowstone looked like 30 years ago. You can read Keiter's new analysis by clicking on link below.