Back to Stories
November 14, 2018
Late Autumn Harbingers: When The Sorrel Sunka Wakan ApproachesIn the ancient elder tradition, Lois Red Elk tells stories of her grandmother. Her poems lead us to a deeper reflection on the missing and departed women in Indian Country.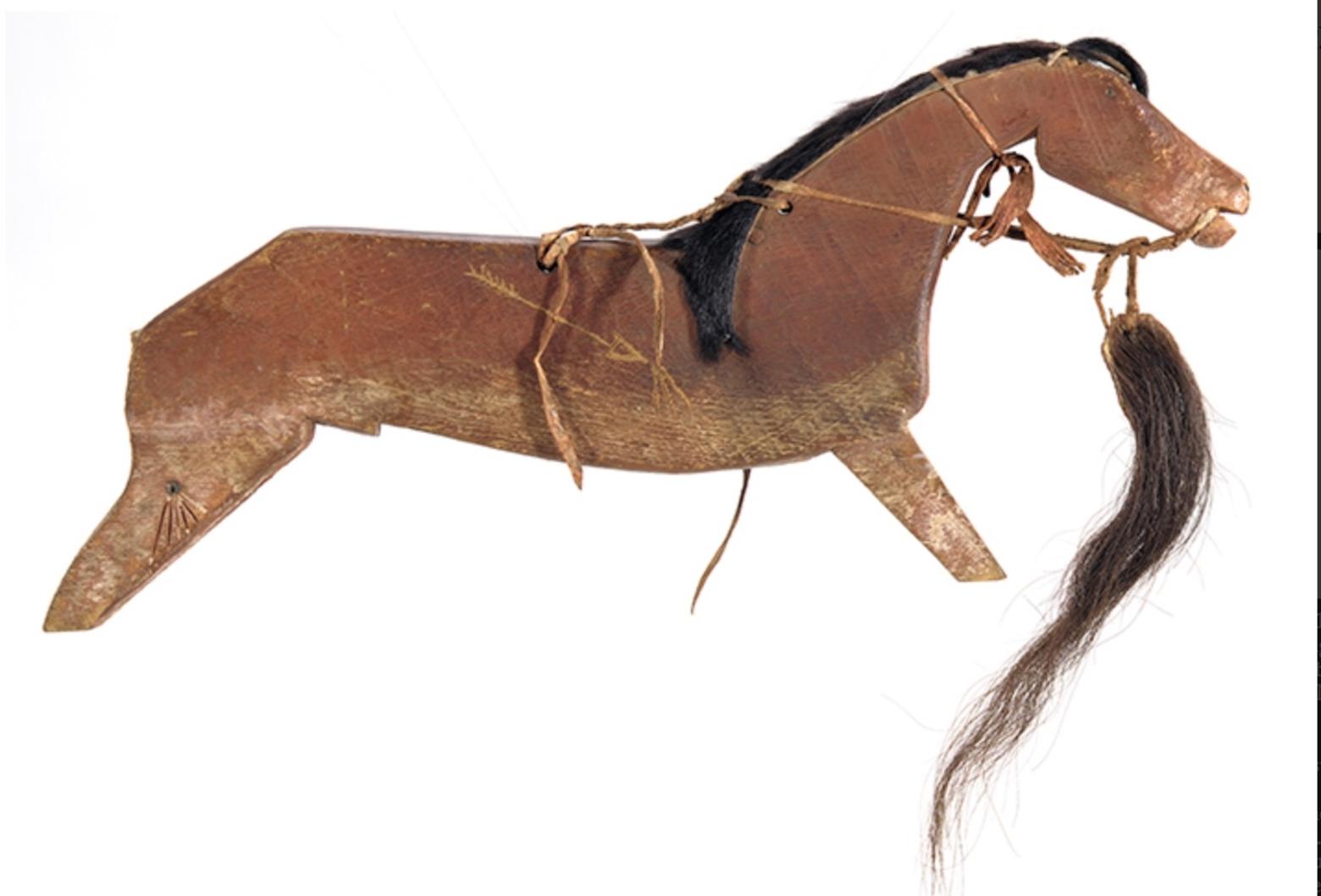 Assiniboine Dance Stick, made by Medicine Bear, ca. 1860, Montana. Photograph courtesy collection of National Museum of the American Indian/Katherine Fogden
Harbingers: they flow forward and backward across time for Lois Red Elk. Seasons connect her to nature and nature to the pathways of people and non people, no beings asserting greater authority over another.
"With all the leaves drifting and all the birds heading south I'm thinking of my Grandmother
and how she would prepare for fall (autumn) stories," Red Elk writes in a warm note to Mountain Journal readers. "
I knew the ritual, there was always a place for me to sit on a feather tick pad near her
beading table. She would air it out during the late summer by hanging it on the clothes
line then bring it into the house right about this time."
The personal Lakota name personalized for Red Elk's grandmother was "Brings Her Sorrel Horse." It is novel. "It is
copyrighted
so no one else has the right to use it," the poet says. "I have to note this because there is so much
appropriation these days."
"One of the poems I'm sharing is about my Grandmother's name and how I prepare myself
now days for her approach to my spiritual plane, her knowledge reminding me to share stories
with the youth and other women. This poem is new," Red Elk says.
The second poem, she notes, is for children who may be missing their
elders. "They are given a doll with no face so they may project any image of love they
want on the doll's face, like a loving grandmother or aunt or the mother that is gone on."
Shortening days and deepening darkness,
peaking at the Winter Solstice, call people together where, around fires, spirits of elders and missing loved ones are never far away, nor the warmth they bring in memory. —
Mountain Journal editors
Brings Her Sorrel Horse
by Lois Red Elk
Where are you my sorrel horses, my
four legged spirits. I read your name
in a book of longings today, a personal
laying down of memories so real and
vivid I will travel back to that time.
This is how it always begins, after the
mind lets go of the wish, needed vision
allows entrance into my heart, my peace.
Breathing fast, suddenly a rumble starts
off to the right side of my hearing, I strain
for more, for that distant location in my
memory, then the pitch allows clarity. I
can now hear the beat, over and over,
hooves match my internal rhythm. It is
a hunger, to want only the sound, because
with the sound comes connection, the
joining of all my animal beings turned
into a prayer and now I know nothing
can stop that coming together. Feeling
the movement close, the spirit covering
me, thundering into the interior rooms
of my home and vision. I see clouds of
dust rise then a sorrel Sunka Wakan
approaches. I want to listen to all the
fiery variations of his talk as he inhales
and snorts the air. I want to stand planted
and waiting with the vibrating earth as
unshod hooves lift, fly then kiss the soil.
I watch them as they come pounding and
prancing, knees bent high through the
sage and buffalo grass. I see the furling
mane of silky hair behind a strong neck
forcing a pace for the mighty shoulders
and legs, and I see the graceful bodies of
all my male relatives as they easily direct
the mighty energy under their lithe bodies
with reins, leg movements and songs. I see
horse spirits and human spirits become one
for the duration of this short visit, my urgent
prayer. You brought them forward for my
longing vision, brought them back from
low spawning caves, back with more new
horse songs. Thank you Grandmother,
Thank you "Brings Her Sorrel Horse."
copyright Lois Red Elk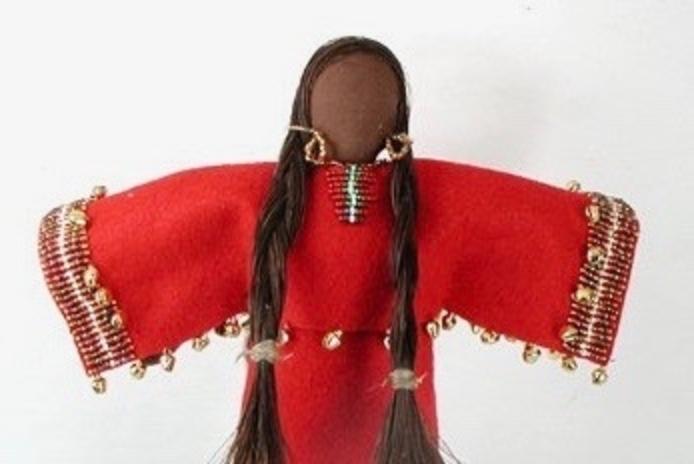 No face doll by Lakota artist Diane Tells His Name. For more on her work go here: https://www.horsekeeping.com/ceremonial-home/dolls/lakota-noface/LD212-star.htm
The Doll Without A Face
by Lois Red Elk
Not a stick figure covered with moss, twine,
clay,
but a shape well thought out,
created in the likeness of you and me.
Fine doe skin
to create the body, arms, legs, feet,
clothed with a fine fringed dress,
moccasins, leggings, quill work detailed and exceptional,
a belt, hair ties, necklace braids of horse hair, straight, thick.
The face and voice we remember like mother's gentle words
about how to treat people.
We see the strong hands of auntie,
as she described the speed of lizards or the beauty of running horses.
We may want to see someone singing songs
of praise about good hearts and good days.
It is always what we wish for.
This is what grandmother told us.
The doll has no face so we may always see
and hear who we love, honor and remember.

copyright Lois Red Elk
In Montana, missing native women and the lack of serious investigations into their disappearance, has been called a modern atrocity and hastened action from members of Montana's Congressional Delegation.
Annita Luchessi
(Cheyenne), a doctoral student in Canada, launched the Missing and Murdered Indigenous Women Database in 2015. She estimates that between 1900 and today more than 20,000 indigenous women and men have gone missing on both sides of the U.S.-Canada border.