Back to Stories
June 20, 2022
Yellowstone's North Loop Road May Re-Open—Partially For Now—After AllPark Supt. Cam Sholly and National Park Service Director Chuck Sams push to have guided tourism restored to northern parts of Yellowstone. South Loop opens Wednesday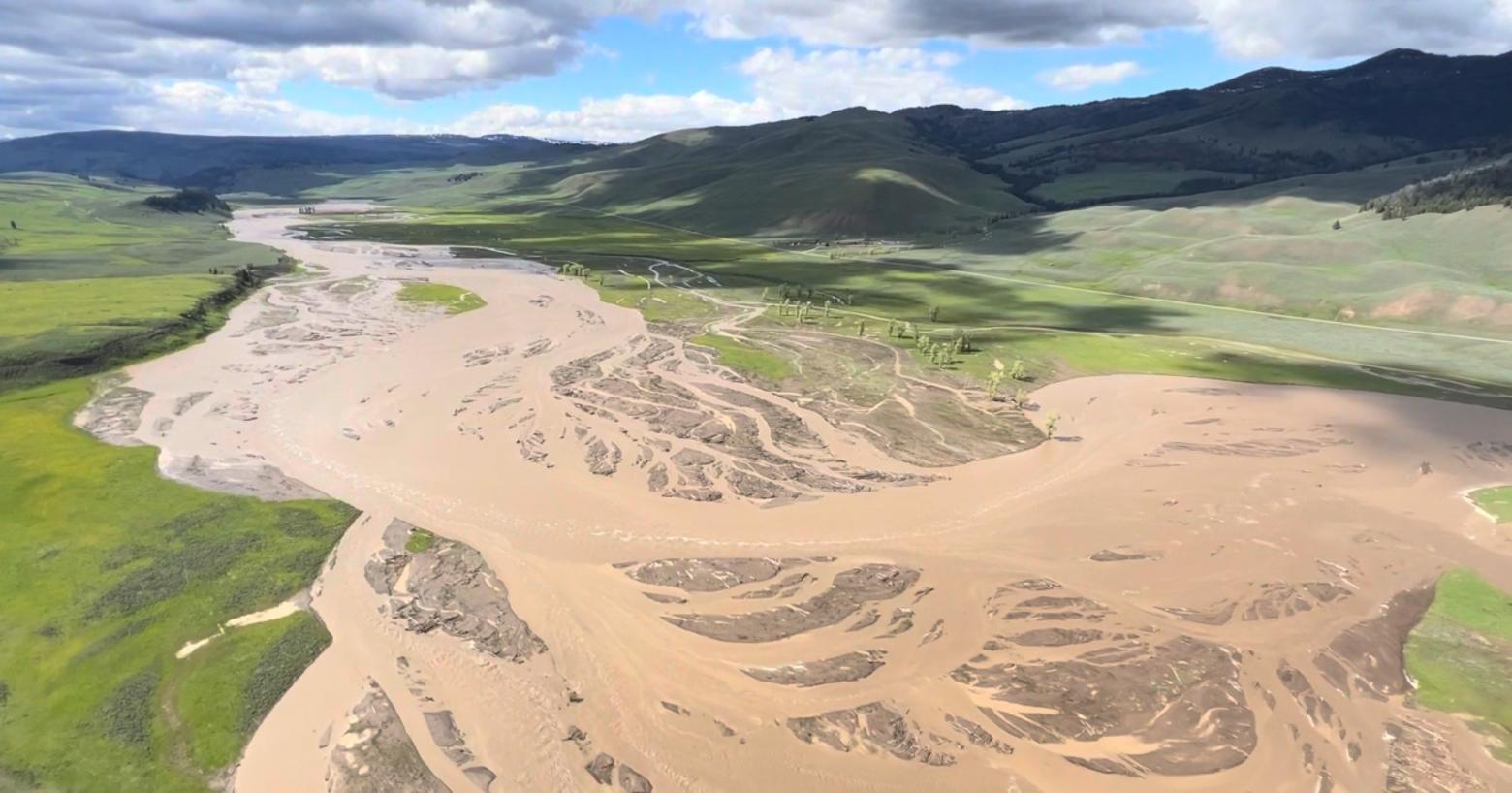 The Lamar Valley is a major destination for wildlife watchers going to Yellowstone. Here in this photo by Jacob W. Frank/NPS, one can see how the Lamar River flowed out of its banks. Floodwaters have receded. Park officials say some tourism will be restored to the North Loop but for now only in the company of an authorized guide.
by Mountain Journal
Yellowstone officials now say they may get part of the North Loop Road open—after all—for tourism season.
Last week, park superintendent Cam Sholly said it was unlikely there would be tourism in northern sections of the park via the North Entrance at Gardiner, Montana and Northeast Entrance via Cooke City, Montana for the remainder of 2022 due to roads being destroyed by flooding.
However, at a press event in the park Sunday, Sholly and National Park Service Director Chuck Sams said that limited tourism, done with guides, could happen in northern parts of the park in the coming weeks. This will allow visitors to access Dunraven Pass, Tower, Mammoth Hot Springs and Norris opening visitor access to approximately 80 percent of Yellowstone National Park.
While the main northern entrance road to Yellowstone from Gardiner to Mammoth is completely washed out in places, the Old Gardiner Road (a dirt road used in recent years as a "back way into Yellowstone") can still be use to ferry supplies to Mammoth and enable employee access. That route may be used to allow some tourism to proceed.
It does not mean that full tourism can recommence in Gardiner, which relies on visitation to Yellowstone, but it's a start. To see what the Old Gardiner Road looks like, see the video below.
As for the main road between Gardiner and Mammoth, Sholly says it will need to be rebuilt and likely will be routed through a less problematic location.
Meanwhile, regarding the rest of the park, remember that the South Loop, accessible via West, East and South entrances will re-open Wednesday.
EDITOR'S NOTE: Below, verbatim, is a news release distributed Monday morning by Yellowstone.
National Park Service announces $50 million in emergency funding;
expedited plans to reopen 80 percent of Yellowstone
Park also making progress to identify expedient temporary options
to restore access to Gardiner and Cooke City, Montana
MAMMOTH HOT SPRINGS, Wyo. — During a visit to Yellowstone National Park and Gardiner, Montana, on Sunday, June 19, National Park Service Director Chuck Sams with Yellowstone National Park Superintendent Cam Sholly announced $50 million to kick-start recovery efforts from record breaking floods.
They also announced that in addition to the park's
southern loop reopening
on June 22, the park's northern loop is expected to reopen in two weeks or less following completion of clean-up, repairs and final inspection of the northern loop infrastructure. This will allow visitors to access Dunraven Pass, Tower, Mammoth Hot Springs and Norris opening visitor access to approximately 80 percent of Yellowstone National Park. Additional details on access will be announced in the coming weeks.
The initial $50 million will be used to restore temporary access to Gardiner and Cooke City, Montana and other additional sites. Plans are being finalized for improving the Old Gardiner Road for temporary access between Yellowstone and Gardiner, Montana. In partnership with the Federal Highway Administration, road construction crews and materials that were already in the park for a previously scheduled
road project
to repair 22 miles of the Grand Loop Road between Old Faithful and West Thumb Geyser Basin will be diverted to the Old Gardiner Road project.
The NPS currently anticipates the Old Gardiner Road will be substantially improved over the upcoming months, ensuring that essential emergency services, food, supplies and other administrative needs will be available throughout the winter months. As work proceeds through the summer, the NPS will look for opportunities to restore limited visitor access at the park's North Entrance. Emergency environmental and historic preservation compliance is underway in accordance with the National Historic Preservation and Environmental Policy Acts. Permanent reconstruction options are being developed and alternatives will be completed in the upcoming months.
In addition to plans to reopen Yellowstone's northern loop much sooner than initially anticipated, the NPS is working with the Federal Highway Administration on a range of temporary and permanent options to restore access to Silver Gate and Cooke City at the park's northeast entrance. Currently, the Northeast Entrance Road is impassible between Lamar Valley and Silver Gate. Cost, funding and timelines are not yet available for these short or long-term repairs to the Northeast Entrance Road but will be released as soon as possible.
Announced on June 18
, Yellowstone will restore access to the southern loop of the park at 8 a.m. Wednesday, June 22, via the East (Cody), West (West Yellowstone), and South (Grand Teton/Jackson) entrances. Accessible areas include Madison, Old Faithful, Grant Village, Lake Village, Canyon Village and Norris. To balance the demand for visitor access, park resource protection and economic interests of the communities, the park will institute an interim visitor access plan based on license plate numbers. To learn more about the alternate license plate entry system, visit Yellowstone's
flood recovery webpage
.