Back to Stories
May 14, 2020
'Unbroken Wilderness:' Some Call The Porcupine And Buffalo Horn 'Holy Land'As animal highways important to Yellowstone Park, Bart Koehler says they are also the Gallatins' beating wild heart—and deserve protection
Part Two
by Todd Wilkinson
On March 23, 1993, Bart Koehler and Michael Scott went to Capitol Hill together. They flew out from Montana to testify on behalf of the first piece of legislation, House Bill HR 873, that would seek to help consolidate public land ownership in the Gallatin Range, fixing a problem held over from the Old West.
There was little room for error. The situation required making a compelling case before lawmakers from states in the Greater Yellowstone region and beyond—or face the very likely probability that Tim Blixseth and Mel McDougal, the executives of Big Sky Lumber, would follow through on their threat to develop their checkerboard squares in the Porcupine drainage and along the western front of the Gallatins
"It was decided that Michael would testify on behalf of both The Wilderness Society and the Greater Yellowstone Coalition," Koehler said. "I was sitting there with him at the witness table to help answer any questions from the subcommittee members or provide further context since only one of us could testify. It was standard operating procedure to present a joint statement for the two groups since we were working shoulder to shoulder on this important issue. And as I recall, Michael and I pretty much wrote the oral statement together."
What did Scott say? According to the statement written into the Congressional record: "This bill will facilitate future wilderness designations for the Hyalite-Porcupine-Buffalo Horn WSA," Scott said and emphasized that it would "provide an unbroken Wilderness Area from just south of Bozeman to Yellowstone National Park."
There was no question, no confusion, about what the intent of the legislation was in getting the land swaps expedited—
unbroken wilderness
to benefit wildlife, Koehler says. And the sound of that had appeal to
lawmakers, he added.
"The value of the WSA hasn't diminished over time. The opposite couldn't be more true as landscapes like it have become rarer on the planet."
Members of both houses of Congress passed the Gallatin Range Consolidation and Protection Act of 1993 and President Bill Clinton signed it into law.
Scott and Koehler agree that the phrase
unbroken wilderness
wasn't presented solely for impact, to stir the imagination, but it spoke to a deeper ecological function—the Gallatins being a crucial cog in the Greater Yellowstone
Ecosystem
and a continuation of the caliber of unfragmented nature present and hailed in the backcountry of Yellowstone Park. The critical difference, once the mountains crossed the northwest park boundary and leaned northward into Montana is that on the adjacent Custer Gallatin National Forest hunting was permitted whereas in
Yellowstone
it isn't. Hunters understand the premium importance of
quality habitat that transcends borders. And, as noted in part one of this series, they reference the Porcupine-Buffalo Horn as "the Holy land."
"A lot of people contributed to the success of getting the checkerboard lands consolidated," Koehler says. "A person who needs mentioning is Ron Marcoux who had a long career with Montana Fish Wildlife and Parks and went on to work for the Rocky Mountain Elk Foundation. The Elk Foundation came through at a crucial time with bridge funding to keep the deals alive. No one needs to explain to them the historic importance of the Gallatins for elk."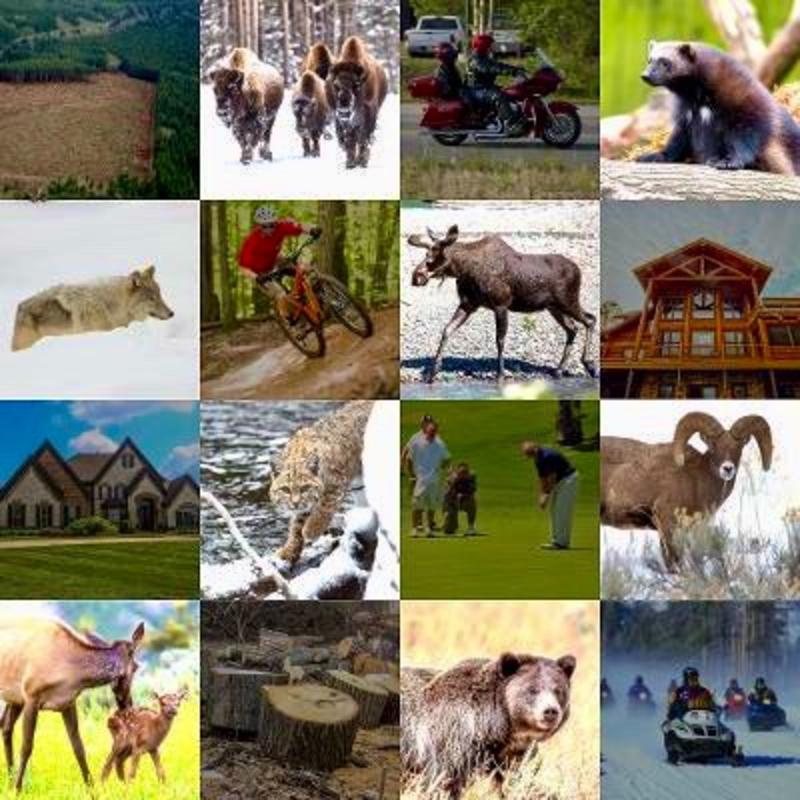 Imagine being wildlife trying to navigate a checkerboard like this. While one checkerboard pattern went away with the land deals that consolidated public ownership in the Gallatin Range, another checkerboard pattern, a different kind, has been growing and taking shape across US Highway 191 in the Big Sky community. There, it is getting tougher and tougher for wildlife to live wild lives. Photo credit: most images public domain. Photo of mansion photo via Flickr user Paul Saberman; and clear photo via Flickr user Sam Beebe
In many ways, Scott and Koehler were a perfectly teamed dynamic duo—each bringing different strengths and both spending parts of their careers with both the Greater Yellowstone Coalition and The Wilderness Society. "We worked as friends with an abiding respect for one another," Koehler said, explaining they "knew what a good fight was and the Gallatins were as meaningful as any."
Known for his expertise in formulating environmental policy and strategy, Scott had worked in Washington DC earlier and was promoted to lead The Wilderness Society's Northern Rockies office in the 1980s because of its high profile and an array of threats to public lands.
Koehler, adept at being able to relate to local people unpretentiously, had earned a master's in outdoor recreation resource management and planning from the University of Wyoming. He isn't just some garden variety greenie. He probably has more experience in the trenches than any staffer working today for any of the dozens of conservation groups in Greater Yellowstone today.
After matriculating the University of Wyoming, he became a young field staffer for The Wilderness Society and fell under the tutelage of Margaret E. "Mardy" Murie and her twin sister, Louise Murie MacLeod in Moose, Wyoming. They had had been married to a pair of half-brothers who were biologists. Mardy Murie's husband, Olaus Murie, was a pioneering elk biologist and Louise's husband, Adolph Murie, was also a federal biologist well known for his studies of wolves and grizzlies in Denali National Park in Alaska and coyotes in Yellowstone.
Olaus Murie, decades earlier, had echoed the advisement from the US Forest Service's first chief Gifford Pinchot, a close friend of Theodore Roosevelt who had ridden a horse through the Gallatins, that the mountains, especially their southern section between present day Windy Pass and the Yellowstone Park border, needed higher protection to safeguard elk and mule deer.
All four Muries—wives and husbands—were friends with people like Aldo Leopold, Bob Marshall, Sigurd Olson and were involved in the growth of the American conservation movement which represented a check against the legacy of robber barons who treated the West as a natural resource colony ripe for thoughtless exploitation.
Notably, Olaus Murie too was a founding member of The Wilderness Society, later becoming its national director. In the lore of the Society, the Murie Ranch in Moose was known as the organization's unofficial national headquarters. Following Olaus' death in autumn 1963, Mardy stood behind President Lyndon Johnson when he signed the Wilderness Act of 1964 into law.
The Murie clan has been closely associated with creation and protection of the Arctic National Wildlife Refuge in Alaska and in 1998 President Clinton awarded her the Presidential Medal of Freedom, the nation's highest civilian honor for her presence as "the grandmother of the modern American conservation movement."
Mardy and Louise in the 1970s mentored many young people, including Koehler and a who's who others, women and men, who are conservation leaders today. "I'll never forget one of my first tasks—of being sent into the lion's den. It was 1975 and I was tasked with going back to Washington DC to testify against Wyoming Governor Stanley K. Hathaway's nomination by President Gerald Ford to become Secretary of the Interior," Koehler shared. "Mardy gave me a hand-written note and told me to read it once I got on the airplane to DC. It says, 'I know you will be calm, objective, non-acrimonious but armed with real facts----this will be hard hitting."
Murie closed it with a question and one sentence was capitalized for emphasis: "Do you remember Sir Galahad's words in Tennyson's Idyll of the King? 'MY STRENGTH IS AS THE STRENGTH OF TEN BECAUSE MY HEART IS PURE'. Fond best wishes travel with you, Mardy."
Mardy Murie closed her hand-written note to Koehler with a question and one sentence was capitalized for emphasis: "Do you remember Sir Galahad's words in Tennyson's Idyll of the King? 'MY STRENGTH IS AS THE STRENGTH OF TEN BECAUSE MY HEART IS PURE'.
Hathaway was confirmed and he only served for the remaining short tenure of Ford in The White House. Besides Murie's gesture of confidence bestowed in the young activist, Koehler says her point was always to stand on principle, to not willingly surrender that which should not be given away or is irreplaceable without first reflecting on what's at stake and resisting needless surrender. "Mardy would repeat this whether it was her arguing for protection of the Arctic or of the few untouched places in the Lower 48," Koehler says.
Her reference to Sir Galahad wasn't superficial. He had been one of the mythical knights of King Arthur's court who found the holy grail, which for her symbolized wildness, Koehler said. "She would always say the world already has plenty of people pushing to take what they want, but it's important to remind people of the animals and places that have no voice in the human world. They are counting upon us to make sure their interests are considered and defended."
"Mardy Murie would always say the world already has plenty of people pushing to take what they want, but it's important to remind people of the animals and places that have no voice in the human world. They are counting upon us to make sure their interests are considered and defended." —Bart Koehler
Following that initiation with The Wilderness Society, Koehler became a co-founder of the Wyoming Wilderness Association and the purpose was rallying grassroots support from citizens.He was at the forefront of efforts that resulted in passage of the Wyoming Wilderness Act in 1984 which brought 800,000 acres of new Wilderness into the National Wilderness System and 300,000 acres as Wilderness Study Areas in the state. Those areas now are embraced in local heritage and prized assets for outfitters and guides in interactions with clients seeking to experience a truly wild backcountry.
Long before natural gas development swept across portions of the Upper Green River Valley in Wyoming, in the Jonah Gas Field and Pinedale Anticline, threatening the migrations of pronghorn and mule deer herds, he got involved with another cause. It's purpose is spelled out in a bumper sticker slogan: "Save the Red Desert: 50,000 antelope can't be wrong."
Then the Far North called him. He was hired by an organization based in Juneau, Alaska—the Southeast Alaska Conservation Council where billions of board feet of timber was coming off the largest national forest in the country that happened to be a coastal rainforest, the Tongass. His stint resulted in landmark legislation that permanently protected over 1.4 million acres of prime old-growth national forest watersheds that are strongholds for some of the last healthy wild salmon populations in the world. The Tongass Timber Reform Act led to a shutdown of two giant pulp mills that were linked to pollution and brought a sea change in stopping unsustainable logging.
From there, Koehler was intrigued by the rapidly emerging challenge layed out for him by the Greater Yellowstone Coalition in part because it was described as an impossible mission. The success of the land swaps in the Gallatins elevated his cachet further still.
Alaska conservationists working with their counterparts in the Lower 48 endured 15 Congressional hearings and successfully opposed 17 different pieces of legislation and amendments aimed at weakening Tongass forest protections.
After that, Koehler returned to the fold of The Wilderness Society. In 1999, he was tapped to be director of the Society's National Wilderness Support Center based in Durango, Colorado, in a stint that lasted seven years. From there Koehler transitioned to be the Society's senior National Wilderness Campaigns Director. Melyssa Watson, who served alongside Koehler as deputy director, is today The Wilderness Society's national executive director.
In all, Koehler has had a strategic role in campaigns that resulted in over 10 million acres of public lands being protected as wilderness, national monuments or conservation areas—equal, when added up, to five Yellowstones.
° ° ° °
"It sure seemed when I left the Greater Yellowstone [region] in 1999 that eventually the Porcupine and Buffalo Horn would get what they deserved and be a lawful part of the National Wilderness Preservation System," Koehler says. "But the lesson is that if the public isn't constantly demanding accountability from federal land management agencies and pushing for protection where it's needed, holding their feet to the fire, you can lose any gains you thought you made."
Within the last few years, a group called the Gallatin Forest Partnership comprised of the two influential organizations Koehler and Scott used to work for—the Greater Yellowstone Coalition and The Wilderness Society—along with the Montana Wilderness Association, the Southwest Montana Mountain Bike Association and a few others, advanced their own plan for the Holy Land. It calls for designating 102,005 acres of the Gallatins
as Wilderness and putting 31,000 acres of Porcupine and Buffalo Horn into a new wildlife management area so that mountain biking can occur.
It would also add another 22,066 acres to the Lee Metcalf Wilderness at the far north end of the Madison Range in an area called Cowboy Heaven. Bozemanites know it as the area between Beartrap Canyon along the Madison River and the Madison Mountains.
Not long ago, MIchael Scott, former Greater Yellowstone Coalition Executive Director Ed Lewis and The Wilderness Society's former Northern Rockies Regional Director Bob Ekey (who followed Scott in the post) wrote an op-ed that endorsed the Gallatin Forest Partnership.
"The [Gallatin Forest Partnership] agreement builds on decades of work to safeguard a wild Gallatin Range for future generations and is our best opportunity to permanently protect the range," they wrote.
Their joint statement alluded to two factors that have hobbled every push for wilderness to date. "Growing recreation pressure throughout the Gallatin Range has also been a barrier," they wrote. "After Congress designated the heart of the range as a Wilderness Study Area in 1977, the Forest Service allowed motorized recreation to expand throughout the range, in conflict with Congress' direction to maintain the wild character that existed in 1977."
Koehler and others, including groups like the Park County Environmental Council based in Livingston, argue that the partnership proposal is not the best plan and that other wilderness proposals are more visionary and offer more for the public to rally around.
Calling the Gallatin Forest Partnership plan "a second-rate wilderness proposal," Koehler says he is speaking up now because he believes the architects of the plan are not doing the Gallatins justice. He says the 102,005 acres being proposed for Wilderness is only two thirds of the original Wilderness Study Area, and notably does not include gains made with the land consolidation.
When he reads the Forest Partnership's website, which boasts that it calls for 40,000 more acres of Wilderness for the Gallatins than was in the 1988 bill Reagan vetoed, Koehler says it is not telling the whole story. "Their math doesn't add up," he says. "The reason the amount of acreage in the 1988 bill was lower is because the land consolidation hadn't happened yet."
Another group, The Sierra Club, has crafted its own separate proposal that has attracted thousands of supporters online. It backs a plan to protect 164,500 acres of the Gallatins as wilderness including most of the Porcupine and Buffalo Horn, plus South Cottonwood south of Bozeman and West Pine Creek in Paradise Valley where mountain biking started initially without approval being granted.
Another group, the Gallatin Yellowstone Wilderness Alliance, which has a large contingent of scientists, notable retired civil servants, and prominent businesspeople supporting it, wants the Forest Service to recommend at least 250,000 acres of the Gallatin Range be elevated to Wilderness status. That may appear big but to put it in perspective, the total acreage would still be less than a quarter of the size of the Bob Marshall Wilderness in northern Montana, a third as large as the Absaroka-Beartooth Wilderness, half as large as the Teton Wilderness along Yellowstone's southern boundary and roughly the same size as the Lee Metcalf Wilderness.
Koehler says he is incredulous the Forest Partnership plan does not push for elevating Porcupine and Buffalo Horn to the top level of protection possible. One reason is that mountain bikers want to ride inside those areas but they can't if the land is Wilderness. But if classified as a special wildlife management area, as the Forest Partnership proposes, they can.
Koehler says mountain bikers should not have political power to determine the m
anagement fate of two drainages like the Porcupine and Buffalo Horn. Back during the days of testimony on Gallatin range consolidation in the 1990s, Forest Service staffers working for the Custer Gallatin acknowledged that whatever was were happening the uses wouldn't disqualify those lands inside the WSA from being considered for full Wilderness status, Koehler says.
"Mountain biking certainly was not a major recreation activity," he says. "I think a key point worth mentioning is that mountain bikes—how we visualize them as expensive backcountry machines today— were first created by a guy in Marin County, California in 1978. The Montana Wilderness Study Act was passed in 1977, before their official invention and even after that they were late to arrive in Bozeman."
Koehler points to Forest Service planning documents pertaining to the Custer Gallatin Forest that never mention mountain biking, not even once, in their description of recreational activities in the 1990s and early 2000s. The argument that mountain biking represents a pre-existing use that could supersede wilderness designation is false, he says. "There were no mountain biking advocates or activists who spoke out about the land exchanges or the wilderness bills in the 1980s and 1990s."
Yet what the courts would deem illegal trespass occurred in the WSA with mountain bikes and motorized users and the Custer Gallatin did nothing to stop it. Only after a lawsuit was filed by environmentalists to uphold the law and a court sided with the litigants, did the Custer Gallatin assemble a "travel plan," i.e. a document that spelled out exactly where certain mechanized and motorized uses could occur.
After the Custer Gallatin resisted closing trails, EarthJustice senior attorney Tim Preso, on behalf of litigants Greater Yellowstone Coalition, The Wilderness Society, and Montana Wilderness Association, brought another suit alleging the Forest Service did not adequately asses the impact of wheeled uses on wilderness character. as required by the National Environmental Policy Act. They won before US District Court Judge Donald Malloy, though the judge acknowledged the Custer Gallatin is confronted with "a Sisyphean challenge."
Dozens of miles of trails were ordered closed, but not all—not those in the Porcupine and Buffalo Horn. A motorized access group called Citizens For Balanced Use sued, seeking to reverse trail closures but in December 2011 the US 9th Circuit Court ruled that the travel plan did not adequately protect wilderness character.
Even then, in the years since the travel plan was completed, illegal trespass has continued on the Custer Gallatin. The Forest Service has welcomed trail improvement projects from mountain bikers and motorized interests that have only increased user numbers, all of it happening without any serious or comprehensive agency analysis of impacts on wildlife.
According to Preso, whose office prepared a memo that lays out legal arguments for assessing compliance with the 1977 Wilderness Study Act statute, the focus really was on motorbikes as they were the mechanized state of the art at the time the law was passed and really doesn't address mountain bikes. Further, the law doesn't strictly require that WSAs be managed like designated Wilderness but it does say any uses allowed to occur cannot degrade wilderness caliber of the lands. Mechanized uses might be allowed in WSAs but neither are they afforded statutory protection that those uses be permanent.
A major criticism of the Forest Service is that it has exacerbated the conflict by allowing uses to occur in areas where, when the law is enforced, the agency must ban them, angering many.
"It's important to note that the Hyalite-Porcupine-Buffalo Horn Wilderness Study Area itself and its 155,000 acres was a result of earlier compromise, a whittling down of acreage. Other lands that might have qualified as wilderness were given away to appease the timber industry and other special interests," Koehler says. "With the WSA, given the law, the Forest Service was responsible for holding the line and obviously, as you can see by the court's finding, it didn't."
Again, Koehler is critical of the Gallatin Forest Partnership because its strategists decided the Porcupine and Buffalo Horn should be open to mountain biking owed largely to its alliance with the Southwest Montana Mountain Biking Association. "Who is being the advocate for wildlife?" he asks.
Many scientists, including Dr. Chris Servheen, former national Grizzly Bear Recovery Coordinator for the US Fish and Wildlife Service, say that mountain biking—because of speed, numbers of riders, quietness at which they travel, blind turns in trails and number of miles covered, is dangerous for people and grizzlies likely to be startled. It also results in displacement of animals from habitat and potentially opens the door for e-bikes, too. Illegal riding is occurring throughout much of the Gallatins, including on the crest. It is distasteful to some outdoorspeople to encounter bicyclists on the tops of mountains.
Colorado, where mountain bike participation has exploded, portends what is yet to come to Greater Yellowstone, wildlife biologists say. Colorado does not have any place that holds the wildlife diversity present in the Porcupine and Buffalo Horn.

In the mountain biking hub of Durango, Shannon Borders, spokeswoman for the Bureau of Land Management, addressed illegal mountain biking trespass and trail building. "We're not talking small connector trails," she told a reporter. "We're talking miles of illegally built trails. And it's not like there's not a ton of recreational opportunities around town."
"Rule number one is you don't negotiate with a group of users who basically say, 'If you don't give us what we want, we're going to take it,' because that is condoning and encouraging lawbreaking. Imagine if poachers made that argument with state fish and game agencies about elk," Koehler said. "Rule number two is you don't compromise away, through collaboration, pieces of the landscape that are irreplaceable and should not be open for barter. Rule number three: if you couldn't trust the Forest Service before and you had to haul the agency into court to do its job, what makes you think things will be better this time around?"
"Rule number one is you don't negotiate with a group of users who basically say, 'If you don't give us what we want, we're going to take it,' because that is condoning and encouraging lawbreaking.
"Rule number two is you don't compromise away, through collaboration, pieces of the landscape that are irreplaceable and should not be open for barter."
"Rule number three: if you couldn't trust the Forest Service before and you had to haul the agency into court to do its job, what makes you think things will be better this time around?" —Koehler
Since his years at the helm of GYC and TWS's regional office, Michael Scott went on to hold a senior role with the Hewlett Foundation in its environmental grantmaking and he now is a leader in assisting First Nations communities dealing with major threats posed by resource extraction industries in Canada. He's been long out of the loop of day to day conservation issues in Greater Yellowstone.
When he is asked why the Gallatin Forest Partnership conceded to the demands of mountain bikers to make Porcupine and Buffalo Horn a wildlife management area instead of Wilderness and as a condition for mountain bikers lending their support, he said, "I don't know. I wasn't there when they developed their plan."
Understanding the difficulty of getting Wilderness legislation for the Gallatins passed in the past, Scott lent his name to the newspaper essay endorsing the Partnership plan because he believes it may be the best hope overall.
The Partnership in its plan cites growing recreational pressure, seemingly anticipating that trail use in the Porcupine and Buffalo Horn will become as busy as the already-crowded Forest Service trails south of Bozeman where there are user conflicts. In fact, the Partnership foresees having to implement "time share agreements" that would alternate different recreational uses in order to prevent congestion on any one given day. "As recreational use increases in the Porcupine-Buffalo Horn Wildlife Management Area, [the Forest Service will] manage trails through time share agreements such as those currently in place for heavily used trails in the northern Gallatin Range to minimize conflicts between different types of recreational uses," authors
write on page 15 of the Partnership plan
.
In the very next line, the Partnership recommends that the Forest Service will need to increase its enforcement efforts in the Porcupine-Buffalo Horn "to ensure that recreational use is confined to those routes and areas where it is allowed." The Forest Service admits that it currently does not have sufficient staff resources to stay on top of illegal trespass and trailbuilding as it is.
Time sharing like going to theme park or the circus. it takes away natural essence of the place.
"What does it say if the proposal advanced by conservation groups involved with the Partnership implies that that kind of recreation pressure is acceptable and that it will need increased enforcement? The notion of having to implement time sharing on trails there is a joke. It takes away the natural essence of the place and makes it comparable to reserving a tee-off time at the golf course," Koehler says. "And if there are conflicts caused by rising levels of human users, which the Partnership admits will happen because of its plan, then what does it mean for wildlife and the sense of solitude?
The Partnership doesn't seem to have put much thinking into that, which is pretty lame."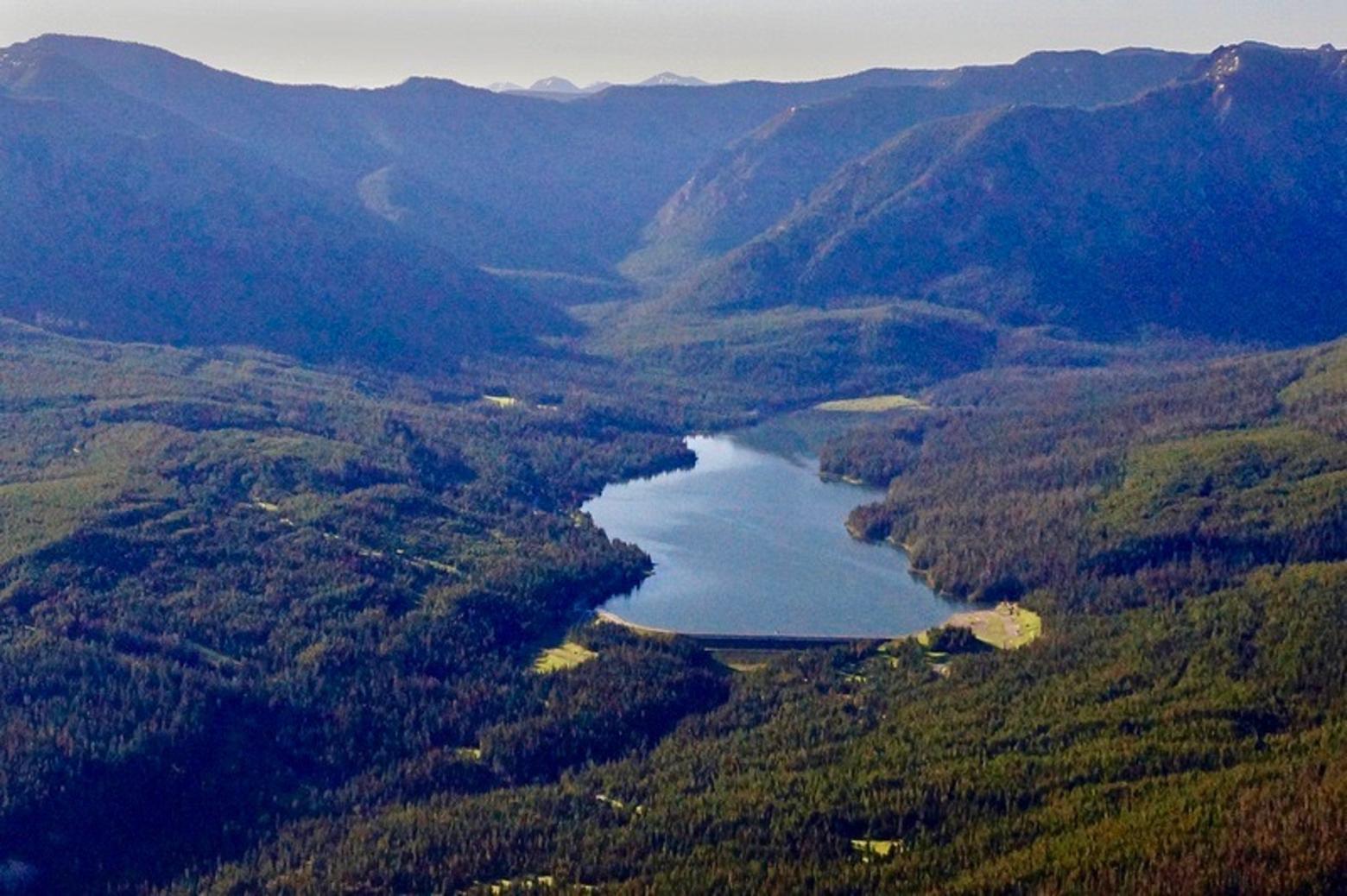 An aerial view of Hyalite Reservoir and a view looking south down the line of the Gallatins that extends into Yellowstone Park. The Custer-Gallatin National Forest is one of the most visited national forests in the country and Hyalite Reservoir south of Bozeman is the busiest recreation complex on the forest. The Gallatin Forest Partnership anticipates that under its plan the Porcupine-Buffalo Horn could generate use levels as intense as those on trails near Hyalite.
Mountain Journal sent the Greater Yellowstone Coalition and The Wilderness Society an extensive list of questions to answer Koehler's assertions. We will publish the questions and the reply.
Scott says that generally he, like Koehler, supports having a variety of human uses on public lands that range from more intense and frenetic utilization, like that at Hyalite Reservoir (one of the busiest Forest Service recreation areas in the Northern Rockies) to low impact areas where fewer people move through the landscape and they do it slowly. "And there are areas that should be designated, foremost, for wildlife," Scott said.
In the spring 2020 issue of Backcountry Journal, the publication of Backcountry Hunters & Anglers, mountain bikes and E-bikes appeared in the center of a bull's eye of scrutiny. "A growing breadth of scientific evidence is showing that recreational disturbance from mountain bikes and other uses is having a significant negative impact on elk populations in Colorado," hunter Timothy Brass, BHA's state policy and field operations director in Colorado, wrote. "Wildlife biologists are sounding alarm bells as wildlife habitat on our public lands is increasingly being fragmented by both sanctioned and illegal user-created trails — in some cases leading to population level declines."
Preso notes that legally the Forest Service cannot simply ignore increasing volumes of users if they are having a deleterious effect on wilderness character that includes solitude and wildlife.
So far, no one from the Gallatin Forest Partnership or Custer Gallatin has provided evidence to refute Servheen's contention about impacts on bears from bikers. Nor has either entity spoken directly, except with vague references, to a significant body of scientific evidence showing the impacts of outdoor recreation on wildlife. It is known that on public lands not many hunters like going where there are large numbers of recreationists and vice versa.
Koehler says the point isn't just mechanized uses are technically illegal today under the terms of the 1977 Montana Wilderness Study Area Act; it's also what the use levels will become with growing numbers of people and short-time vacationers at Big Sky wanting to ride trails without understanding the cumulative consequences of their incursion.
And then there's climate change, which will make parts of the landscape warmer, affecting secure habitat and foraging areas and it means that wildlife will seek out higher elevations and remote backcountry to escape both people and the heat.
The Custer Gallatin does not refute Koehler's conclusions. In fact, in its November 2016 report titled Draft Assessment Report of Ecological, Social and Economic Conditions on the Custer Gallatin National Forest, authors note the Custer Gallatin ranks behind only Yellowstone and Grand Teton national parks in terms of visitor numbers, with more than three million visits annually.
The report states that "…national forest use is rising faster than expected and recreational demands are becoming more varied and intense due to population growth and social changes. Management is also challenged as communities expand closer to the national forest. In the meantime, funding has fallen, reducing the ability to properly manage recreational resources as they currently exist, let alone if they change or if new recreational demands arise. And, of course, recreational demands must be balanced with other resource obligations, such as fish, water and wildlife. Even with an increased reliance on partners and volunteers, the recreation opportunities offered on the Custer Gallatin may change as competing priorities emerge for limited natural and financial resources."
That, scientists say, should warrant caution and analysis and applying the best science possible, even asking hard questions of what the word "balance" really means if more people are being encouraged to use the most sensitive wildlife habitat on the Custer Gallatin but it will knowingly come at the expense of the animals.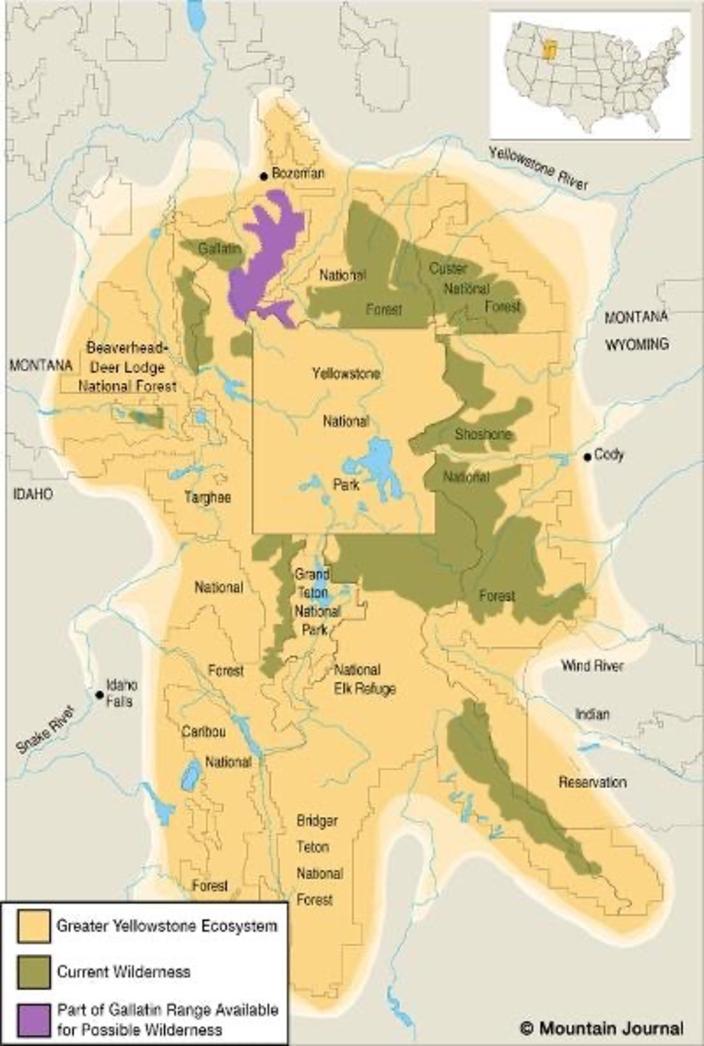 In another report prepared by Backcountry Hunters & Anglers in Colorado, authors documented numerous instances across the state where recreation pressure has led to declines in large game species and it includes problems with mountain bikers entering areas with seasonal closures, which would be one management tool available in the Porcupine and Buffalo Horn.
"To be an advocate for the wild Gallatins does not equate to being broadly anti-mountain biking or anti-recreation. That argument, frankly, is silly, because it's not true. Let the mountain biking community try that argument of being anti-bike on me," Koehler says. "I find it ironic that three groups long associated with wildlife conversation and now affiliated with the Gallatin Forest Partnership would seem to side with bikers over rising impacts from human activity on wildlife," Koehler says. "Fortunately, and I mean this sincerely, bikers have plenty of other places, other than than the Porcupine and Buffalo Horn with lower wildlife values—including in and around Big Sky."
The issue of mountain biking impacts may soon be coming to a head. "The Forest Service takes the position that mountain bikes can use WSAs that were accessed by motorized vehicles (e.g., dirt bikes) in 1977, so long as the aggregate level of use does not result in wilderness character being degraded below 1977 levels," EarthJustice attorney Tim Preso told Mountain Journal. "In practice, this would seem to envision substitution of modern mountain bike use for 1977-era dirt bike use. The courts have yet to squarely address whether this is a legitimate approach."

Many Americans, Koehler explains, do not realize a fundamental fact about Wilderness. All wilderness-caliber lands are not equal. "In terms of the wildlife values at stake, few come close to what you find in the Gallatins," he says. "The west and northwest sides of Yellowstone are the only ones lacking a significant layer of insulation that wilderness in the Gallatins would provide. It would be the last missing puzzle piece essential to protect the interior core of the Yellowstone ecosystem being put in place. If that's not an honorable conservation objective, then what is?"
ALSO READ:
Plus, the two other parts of this Mountain Journal three-part series on wild Gallatins: