Back to Stories
June 14, 2022
Unthinkable Disaster: Sweep Of Yellowstone Likely Closed To Tourism For Remainder of 2022Park Supt. Cam Sholly says damage caused by roaring rivers to roads puts northern part of park out of commission just as busy 150th anniversary/summer season getting under way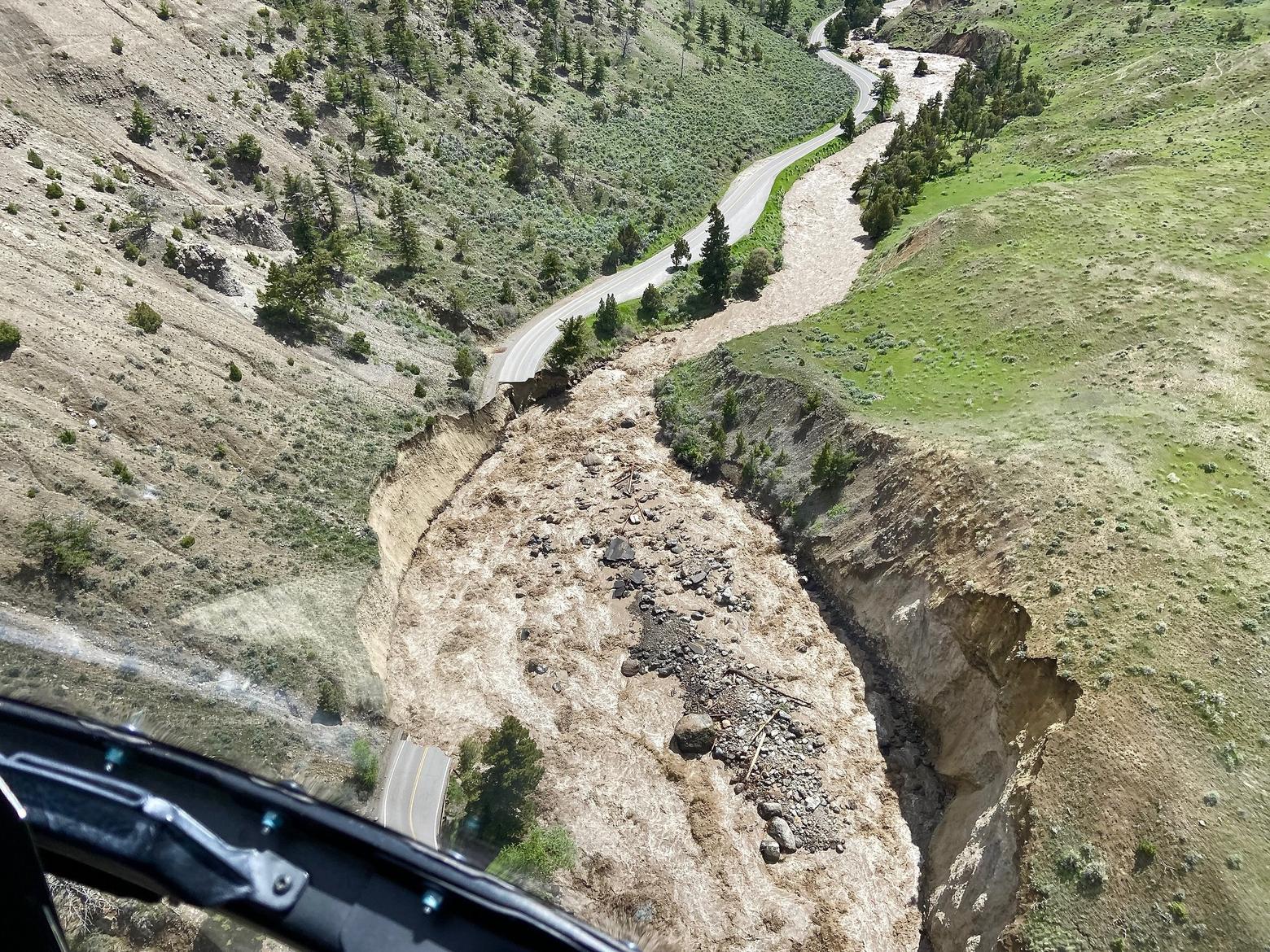 The historic north road leading from Gardiner, Montana to Yellowstone's headquarters at Mammoth Hot Springs was devastated by Monday's floods and may be irreparable. The destruction means that the rest of the 2022 tourist season in the entire northern half of the park is likely done. Photo courtesy NPS
EDITOR'S NOTE
:
Read the update
following press event with Yellowstone Supt. Cam Sholly and National Park Service Director Chuck Sams about their desire to re-open part of Yellowstone's North Loop. Previously, Sholly thought the northern part of the park would not be open in 2022, but they have found a way to make it happen, at least partially to accommodate some tourism.
by Todd Wilkinson
For the first time in its storied history and in a celebratory milestone year marking its 150th birthday, Yellowstone National Park has been knocked out of commission by a weather-related natural disaster.
Raging flood waters Monday, caused by torrential rain and melting mountain snow, sent river levels in and outside the park surging to their highest recorded levels. The torrents obliterated roads and bridges, damaged water, septic and power systems and forced an evacuation of 10,000 visitors from America's oldest national park just when its busy summer tourist season was starting to ramp up.
As a result, Yellowstone Supt. Cam Sholly said at a news conference Tuesday afternoon, the entire northern loop of the park is likely to remain shut down to any public tourism until late this year. It was a devastating and shocking announcement for the tourism industry and people who live in the region and love going to Yellowstone.
Sholly's hope, he said, is to still salvage some semblance of a tourism season by re-opening the less-damaged southern half of the park to visitation through the West, South and East entrances.
If stretches of the southern road loop pass inspection, he said tourists will be allowed back in. Facilities near major destinations such as the Grand Canyon of the Yellowstone, Old Faithful, Hayden Valley and Yellowstone Lake area could re-open within a week.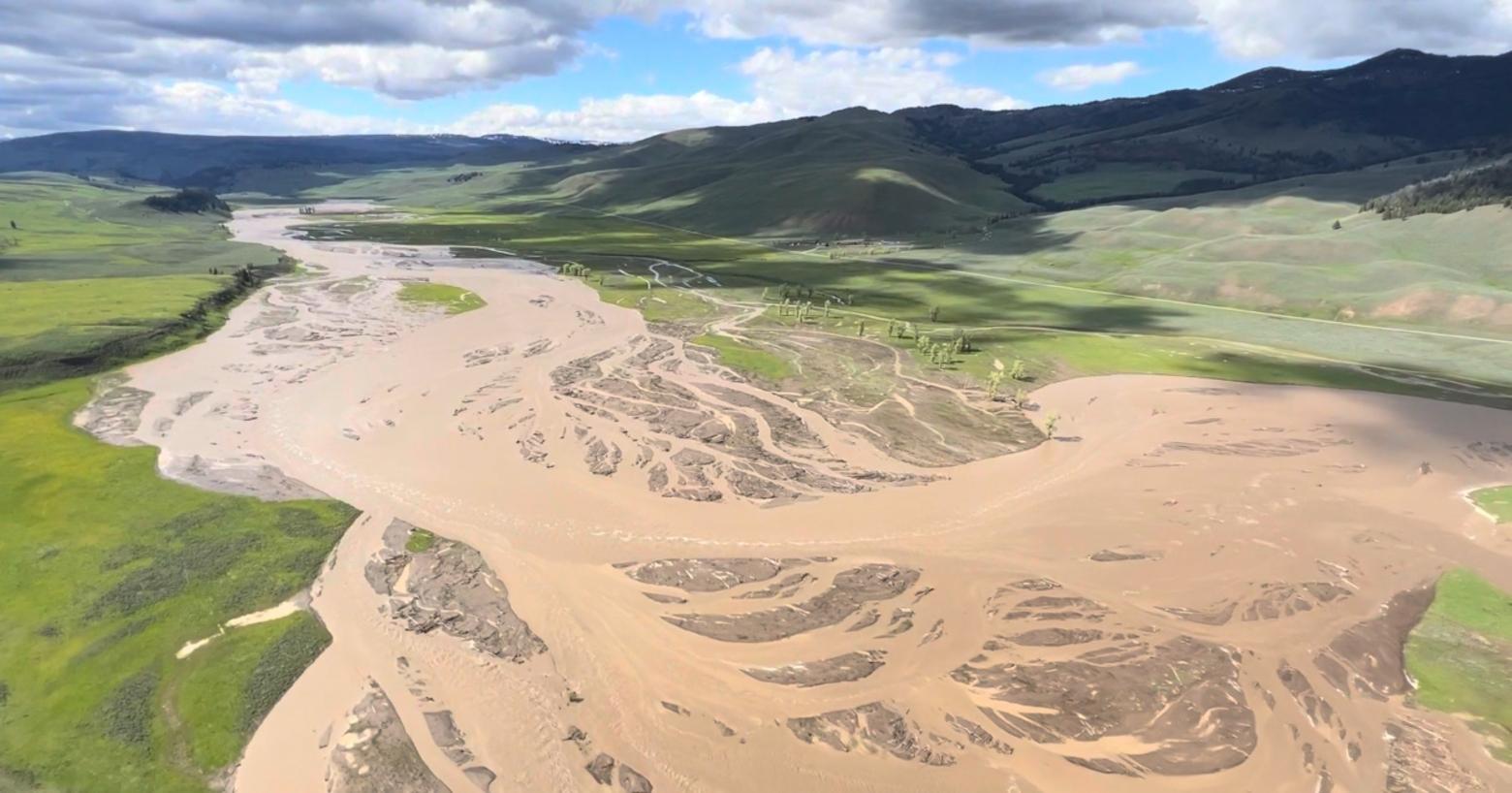 The Lamar River spread across the bottom of the Lamar Valley, one of the best places to watch for wolves in the world. With the northern tier of Yellowstone closed indefinitely, it means this wildlife-rich corner of Yellowstone will not see tourist traffic over many months for the first time in Yellowstone's modern age. Photo courtesy Jacob W. Frank/NPS
Yet Sholly, his voice quivering, announced something that was almost thought unthinkable and none of his predecessors have had to contend with. He painted a bleak picture for travel in several stretches of Yellowstone for the foreseeable future. The popular tier of Yellowstone, including the famous wolf-, grizzly- and bison-watching expanse of the Lamar Valley, will have no people lining the road and no backcountry hiking.
So demolished by the swollen Gardner River is the historic road leading from the gateway town of Gardiner, Montana to Yellowstone Park headquarters at Mammoth, that the existing roadway may be abandoned and instead have to be re-rerouted at huge expense and time delay. Road destruction also happened in the northeast corner of the park at Silver Gate and Cooke City.
The news comes on the heels of a record year for Yellowstone visitation in 2021 when nearly five million visits were notched. As part of its 150th commemoration this year, a major historic gathering of indigenous tribes is scheduled for August near the Roosevelt Arch where President Theodore Roosevelt laid down the structure's cornerstone in 1903.
More than 16 different tribes planned to converge, teepees were going to be erected, and the event was touted as the start of a new era in which areas of the park's age-old connections to native peoples were to be acknowledged and honored, forming the basis for potential co-management.
All of that, however, is now on hold.
Just to the north of the national park, officials in Park County, Montana are completing their own assessment of damage caused by the super-surging Yellowstone River which took out a home, submerged Yankee Jim Canyon, swept away the iconic metal bridge connecting Paradise Valley to Tom Miner Basin, buckled parts of Highway 89 and took aim at the river town of Livingston, Montana 54 miles from Yellowstone Park where a 25-year-old levee held and prevented serious damage.
Park County Commissioner Bill Berg, who joined Sholly in a virtual media event set up by the Park Service's chief of public affairs in Washington DC, Jenny Anzelmo-Sarles, spoke gravely of his own hometown of Gardiner.
Staggered by the economic impacts of Covid the last two years and having suffered a devasting fire in the summer of 2020, Gardiner was on track, Berg said, to have a record season in a town that counts tourism as its bread and butter.
Now, both the highway leading to Gardiner from the north has a number of structural issues and
the route into the park to the south may be unsalvageable. Watch the Park Service video footage below that shows how the road into Yellowstone has been washed out. Berg noted that Gardiner, known for its tough citizenry, is facing a crushing and for some of its businesspeople, an existential challenge that will test their resiliency.
So, too, is park concessioner Xanterra dealing with a stunning turn of events. Xanterra operates the Mammoth Hotel that will now be shuttered at least until major water and sewer systems, connected to the town Gardiner and damaged by floodwaters in the Gardner River, can be repaired.
Xanterra also runs lodging and food services at Canyon, Lake, Old Faithful and Grant Village that will be open. In addition to Mammoth Hotel remaining closed, so too will the rustic guest operation at Roosevelt. Roads will be gated from Canyon northward over Dunraven Pass and closed at Norris, preventing travel to Mammoth.
Earlier this spring, following a lengthy repair of Dunraven Pass, Yellowstone re-opened the Pass and the parking facility hikers use to reach Mount Washburn. Now that could be silent for many months, too.
At the news conference, Sholly opened by asking, "The billion dollar question is what's the damage? The answer is we don't know yet."
Except for the historic wildfire year of 1988 when tourists were evacuated from Old Faithful, temporary shutdowns related to budgetary impasses in Congress and a brief closure caused by the Covid pandemic, Yellowstone has never had to shutter from a flood, Sholly said.
In the heart of summer tourist season, Yellowstone averages about one million visits each month during June, July and August.
What it means for the region in the months ahead is uncertain. Park Service studies have noted that tourism in Yellowstone annually anchors around $600 million in economic activity. Sholly said that the weight of tourism could not be carried on half a park remaining open. In an effort to control visitation, he floated the possibility of a timed entry reservation system.
The result of Yellowstone losing both its northern entrance at Gardiner and northeastern entrance at Silver Gate/Cooke City is that higher visitation will likely appear at West Yellowstone—already the park's busiest entrance, the East entrance that connects to Cody, and the South entrance that is the portal for tourists passing to and from Grand Teton National Park and Jackson Hole. (Grand Teton in recent years also has confronted record visitation and the challenges with large crowds have extended to front country camping and hiking areas on the adjacent Bridger-Teton National Forest).
Dr. Robert Smith, an eminent geophysicist best known for studying the Yellowstone caldera, also dubbed "supervolcano," has always described Yellowstone as a "hydrological park" where the landscape is shaped by water in solid (ice), liquid, and vapor forms. The events of the last few days have proved Smith right in saying that violent natural events are what's responsible for Yellowstone's otherworldly "wonderland" mystique.
In recent years, another scientist, Dr. Cathy Whitlock and colleagues affiliated with Yellowstone and the Montana Climate Assessment, have warned that dramatic shifts in climate had altered what is considered normal weather.
This spring, following a dry and warmer winter, heavy snowfall and more recently, rain, combined to set up breathtaking water torrents. Sholly said experts told him that the previous record runoff in the Yellowstone River, notched at around 31,000 cubic feet per second in 1997, when flood waters bore down on Livingston, reached 51,000 cfs as water gathering from the Yellowstone River Basin converged. Sunday night.
Whether this can be attributed to human-caused climate change is open for discussion but Whitlock has said dramatic shifts in precipitation patterns make extreme events—be it flash flooding or droughts—possible. In the days ahead, very warm temperatures are expected to melt snowpack in the mountains and is expected to spur more high water.
Miraculously, in Yellowstone and Paradise Valley, both Sholly and disaster relief specials in Park County speaking at an earlier press conference, said there were no human fatalities to report.
Sholly said he has received pledges from the governors of Montana and Wyoming, as well as members of the Congressional delegations in those states to help with securing federal disaster relief to rebuild the damaged roads, sewer and system systems. Berg is hopefully too that aid might arrive for Gardiner and thousands of workers in and outside the park, from concession employees to those in the guiding and service industry dealing with the disruption. "We are just getting started," he said.
For now, Highway 89 from Paradise Valley to Gardiner will be open to local traffic only and to entities bringing in supplies. With support pledged from both Interior Secretary Deb Haaland and Park Service Director Chuck Sams III, Sholly said in the coming weeks a team of engineering experts will converge on Yellowstone and help devise a strategy to get the northern road system functional again.
It was fitting that Sholly was joined at the press event by Berg. When his father worked for Yellowstone as its chief ranger, Sholly grew up in Gardiner as a teenager and when he took the Yellowstone job four summers ago, he said "it was like coming home."
Berg, meanwhile, came West from Minnesota in his youth and worked in Yellowstone pumping gas. He says his heart is attached to both the park and Gardiner and he has profound empathy for the workforce that strives to make tourism experiences enjoyable for people who arrive from the around the world.
For Sholly and Berg to see America's most iconic nature preserve brought to a standstill by the forces of Mother Nature is a humbling reminder there are many things humans cannot control.
Still, it's
unclear if news of two of Yellowstone's entrance stations being closed will markedly impact other destinations. And there is fear that it might dissuade tourists from coming to the region this year. The Jackson Hole Chamber of Commerce sent out a memo noting there are motel and campground vacancies.
Reached Tuesday night, Chip Jenkins, superintendent of Grand Teton National Park, located just to the south of Yellowstone, voiced support for Sholly and the challenges of trying to keep tourism going. Jenkins, said fears that displacing the normal flow of visitors to Yellowstone might result in a significant inundation to Grand Teton might be overblown.
After Yellowstone ordered an evacuation of all visitors this week, Grand Teton and local government agencies in Jackson Hole readied themselves for members of the exodus pouring into their community. The Teton County Fairgrounds were offered as a temporary place to land for travelers and only 26 RVs and six tent campers showed up.
"We're fully going to be collaborating and support whatever decision Cam makes. We're not in a position to be implementing some parkwide management areas like a reservation system," he said. He noted that Grand Teton already uses some crowd control methods like having staffers present to manage limited parking at String Lake and at the Rockefeller Preserve where parking is available on a first come, first served basis. "That's already part of the sustainable destination conversation going on around Jackson Hole," he added.
Jenkins believes available lodging, VRBO rentals and campgrounds in Jackson Hole, creates a carrying capacity and protects against an overwhelming increase because people know they need accommodations. He says Wyoming tourism officials in their contacts with visitors emphasize that they ought to know where they're going to stay before they leave home. A significant number, in fact, make day trips into Grand Teton. "Only 17 percent of people who visit Grand Teton spend the night in the park; 83 percent spent the night somewhere else. In our region that capacity is not going to grow dramatically."