Back to Stories
February 21, 2023
It's Too Soon To Delist Grizzly BearsIn this op-ed, longtime grizzly bear conservationist Lance Olsen notes how threats to the bear's fragile ecological recovery are expanding and intensifying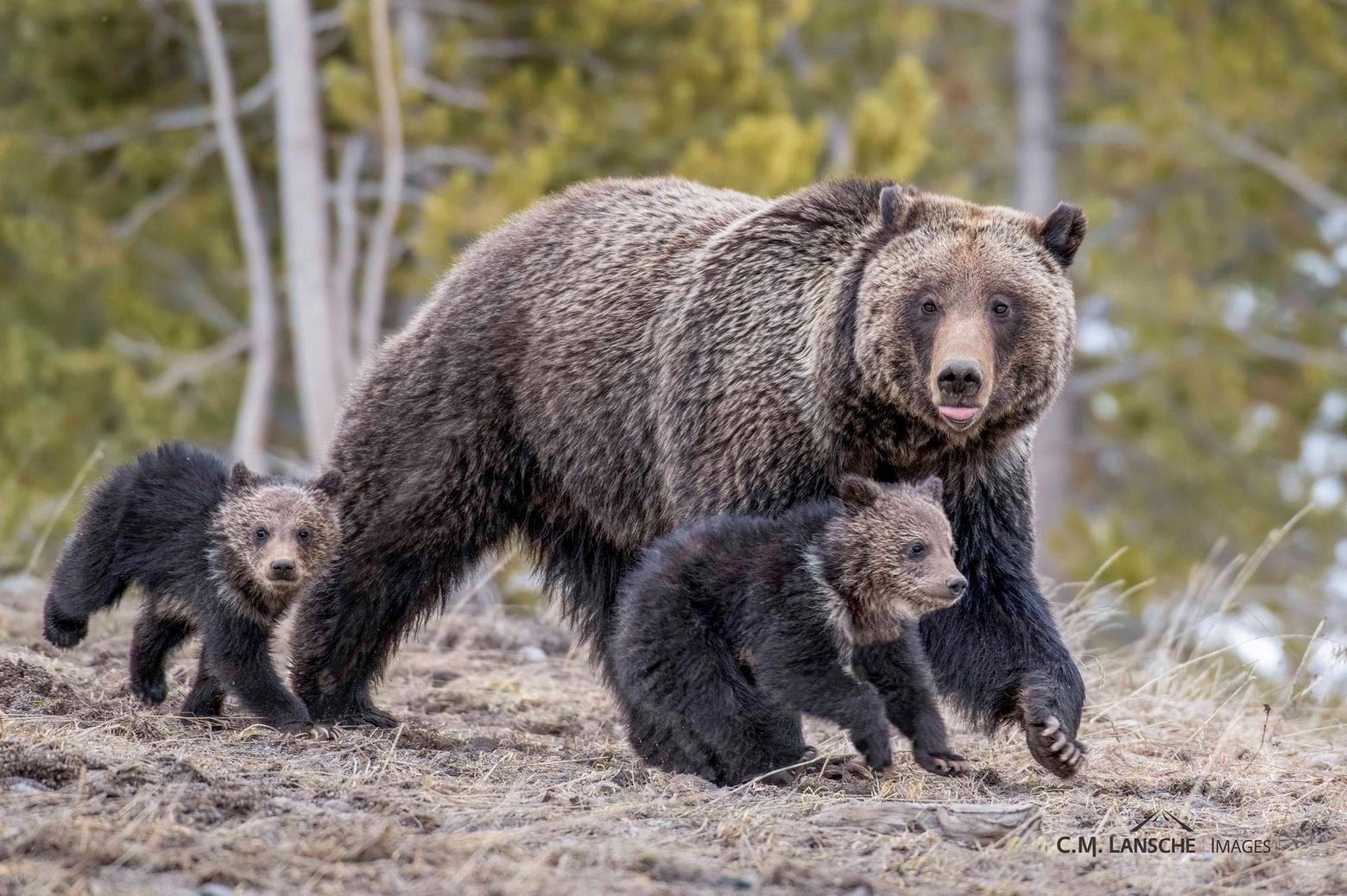 Grizzlies in the Northern Rockies face many ongoing cumulative threats: intense development and outdoor recreation pressure; loss or declines in key foods—some related to climate change; and new laws in states like Montana that experts say severely undermine the bear's prognosis for recovery. Photo courtesy Charlie Lansche. To see more of Lansche's collective fine art nature photography go to cmlanscheimages.com
EDITOR'S NOTE
: For decades, Lance Olsen has been closely following grizzly bear conservation in the Northern Rockies, with special attention paid to scientific research pertaining to bear habitat, key foods, growing human pressures and climate change which is attributed to, for example, the startling decline of whitebark pine (the nuts in its cones have been an important source of bear nutrition). The piece below is an op-ed from Olsen about current effort in states to remove grizzlies from federal protection and the recent announcement from U.S. Fish and Wildlife Service that it will render a finding in the coming year on whether it believes that delisting grizzlies in the Lower 48 is warranted. —
Mountain Journal
by Lance Olsen
As the number of grizzly bears has grown, so has interest in removing them from protection of the Endangered Species Act.
It's too soon. Despite the truth of more bears, some lingering trends have potential to put their still-tentative recovery in reverse.
For example, increasing recreational and residential development are underway at the same time. Each block a variety of critters from freely moving around to meet the demands of life, and can lure bears into trouble.
The impacts of housing look a lot like irretrievable and irreversible loss.
The impact of each expanding demand is often studied separately, when they must also be studied for their combined effects on every animal in the the grizzly's neighborhood.
Reduction of the bear's food supply is another rising threat to recovery
Another pair of threats is unfolding as an ongoing population crash of insect pollinators combines with increasing frequency and intensity of western U.S. drought.
Each alone raises questions about the future of the food supply so basic to animal life and livelihood.
But the risk is widely shared. The National Wildlife Federation white paper on pollinators points out that they "allow wild plants to reproduce and produce the berries, fruits, seeds, and other plant foods that form the base of the natural food web."
Grizzly recovery to date has been supported by this natural, pollinated set of foods.
Huckleberries are an example among others offering support so far. It turns out that western bumblebees pollinate huckleberry flowers.
It also turns out that their numbers are falling, and for more reasons than one. The level of risk for these arguably important pollinators has led the U.S. Fish and Wildlife Service to considering whether they're a candidate for protection under the Endangered Species Act.
This brings the connection from pollinator to berry to bear into sharp focus.
It would be good to know how many other insect pollinators have been supporting the foods that supported the bear's recovery so far. And it would be good to know how those others are doing. Have bear biologists had opportunity to identify which of them help feed the grizzly, and how many of those are doing fine or dying off?
Interestingly then, there isn't even one passing mention of pollinators in the U.S. Fish and Wildlife Service January 2021 Special Status Report on Grizzly Bears in the Lower 48 states.
Then there's drought
Important as they have been in supporting the grizzly's recovery to date, pollinators aren't enough.
Plants need water. Drought pulls down the supply. Drought is capable of killing even the biggest trees, and it does no favor to the crops supporting today's human population.
So it seems pretty reasonable to ask what happens to plant foods if they face both a shortage of water and a shortage of pollinating insects?
Could this pair of shortages add up together as a big deal? And what might that mean for the likes of ground squirrel, grouse, and grizzly? For that matter, what would it mean for bison, elk, deer, bighorn sheep, and pronghorn antelope?
Animals need water every bit as much as they need food. Drought draws down the supply of both.
It's not rocket science.
Alas, same as with pollinators, there is not even a passing reference to drought in the U.S. Fish and Wildlife Service January 2021 Special Status Report on Grizzly Bears in the Lower 48 states. How did that happen?
Combined water and pollinator loss not the only rising threat to recovery
Coming on top of rising threat from the combined drought and a pollinator declines, there's another risky combination taking shape—an increasing demand for both expansion of recreational and residential development.
Either recreational or residential expansion alone can make life that much harder for many a species to move around in meeting life's demands. They add up to a bigger story when, as now, they come down at the same time.
As Dr. Chris Servheen correctly told the Interagency Grizzly Bear Committee, there is no further need for research on the recreation and residential risks, because it's been done. "It's out there," he said, already available.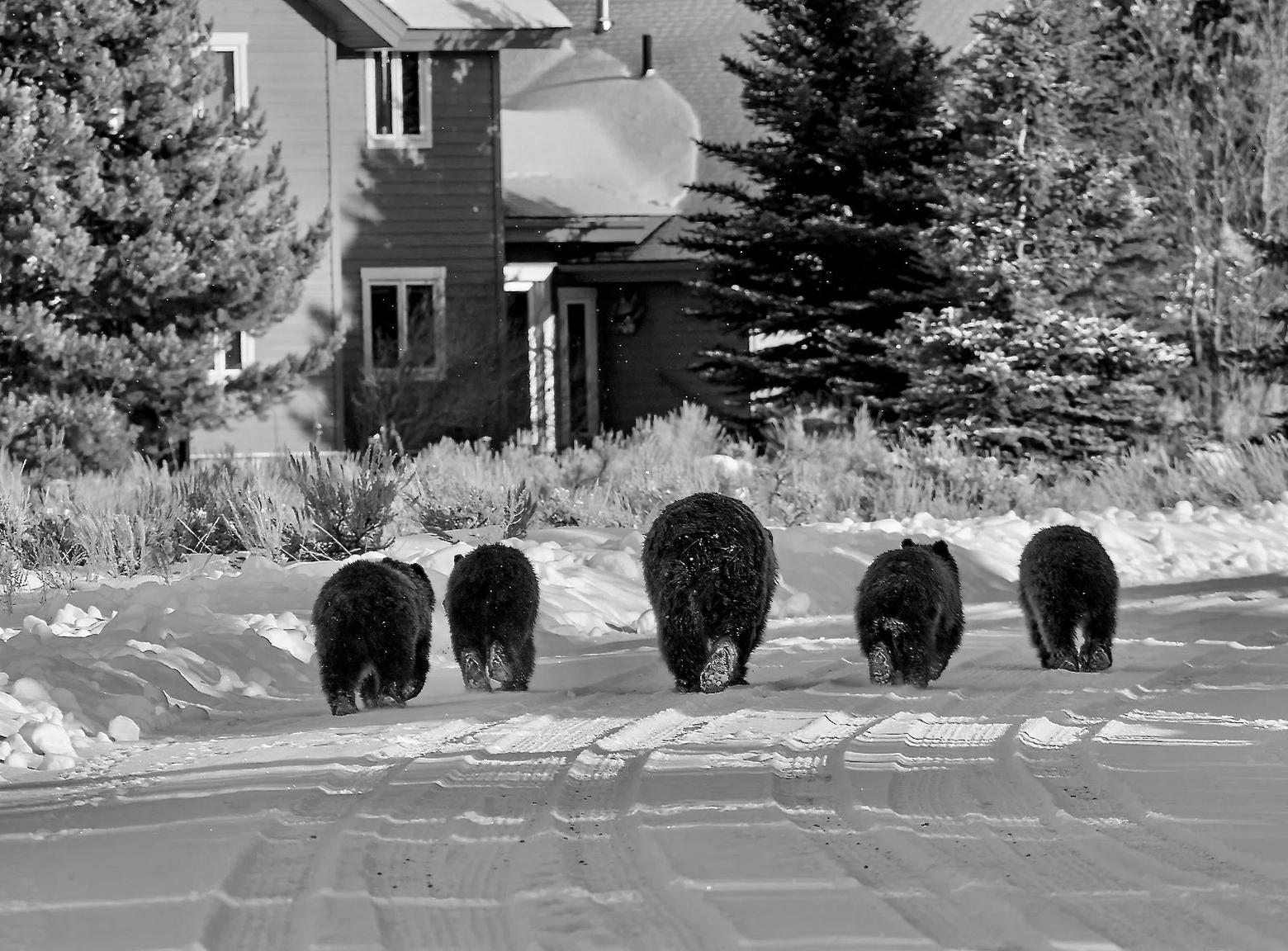 In late autumn 2021, Grizzly 399 and her then four yearling cubs wandered through a residential subdivision in Jackson Hole, among many human-related perils they had to navigate. In recent decades, hundreds of thousands of acres of rural land once thought to provide secure habitat for grizzlies and other species have been lost to sprawl throughout the Northern Rockies. Photo courtesy Thomas D. Mangelsen. To see more of Mangelsen's collectible fine art photography go to mangelsen.com
Servheen is the former national grizzly recovery coordinator for the U.S. Fish and Wildlife Service. He once was a major proponent of removing grizzlies from federal protection but has reversed course in light of growing threats to habitat once thought secure. Today he is president and board chair of the Montana Wildlife Federation.

Servheen couldn't be more right about rapidly expanding human pressures on bears and their habitat. For example, one piece of scientific sleuthing, published in a study, found evidence that "Housing growth in and near United States protected areas limits their conservation value."
The authors reported that
"Our study shows that housing growth in and near U.S. protected areas has been strong for 6 decades, and that lands near protected areas are attractive for development. If development continues unabated, it will further limit the conservation value of protected areas, and biodiversity will be impoverished."
"Our study shows that housing growth in and near U.S. protected areas has been strong for 6 decades, and that lands near protected areas are attractive for development. If development continues unabated, it will further limit the conservation value of protected areas, and biodiversity will be impoverished."
For an example from the sleuthing on the effects of the recreational side, a recent survey of wildlife response to people just walking along trails in Glacier National Park found that, "the dual mandates of national parks and protected areas to conserve biodiversity and promote recreation have potential to be in conflict, even for
presumably innocuous recreational activities
." With people hiking on the trails, and grizzlies among the animals preferring to avoid us, grizzlies gave up use of the nearby food web during the daylight hours.
Grizzly recovery is not a numbers game
For sure, there are more grizzlies around now than in, say, 1900 or even 1950. That much can be legitimately be chalked up as success, but animal numbers have never been the only kid on the block. It's worth keeping in mind that, if there's security in population numbers, the passenger pigeon couldn't have gone extinct.
It's well worth stressing that there's also more people now than in 1900, or even 1905. The growth of both populations hangs especially heavy over the grizzlies, now becoming fugitive in their homeland.
Enter, critical slowing down
Over the years, an argument that there are more bears has become an argument that there are too many, and, interestingly, the de-listing proposal now coincides with calls for slowing and halting the bear's recovery.
Sixteen years ago, I happened to come across this take on a slowing of recovery : " … recovery rates decrease as a catastrophic regime shift is approached, a phenomenon known in physics as 'critical slowing down.'" The article had shown up in The American Naturalist June 2007, under the title, "Slow Recovery from Perturbations as a Generic Indicator of a Nearby Catastrophic Shift."
Because grizzly recovery was already as much a front and center issue for many of us in 2007 as it is for many today, that article took hold with me.
I had no idea then how often the risk of potential for catastrophic shift would be confirmed, again and again, almost every year.
As early as 2009,
Reinette Biggs and teammates found evidence that
if the drivers of shift " … can only be manipulated gradually management action is needed substantially before a regime shift to avert it; if drivers can be rapidly altered aversive action may be delayed until a shift is underway. Large increases in the indicators only occur once a regime shift is initiated, often too late for management to avert a shift."
Subsequent studies reveal much the same story. In reading them, I can't help but remember the combined threat of more drought, fewer pollinators, expanding recreation, and expanding housing sprawl.
ENDNOTE: To learn more read the following:
Below also watch the widely circulated video recording of a public presentation made about the outlook for grizzlies in the Greater Yellowstone Ecosystem and Northern Rockies featuring Dr. Servheen and Mountain Journal founder Todd Wilkinson. The February 2023 event was held in Bozeman and sponsored by Gallatin Valley Earth Day, the Gallatin Wildlife Association and Sacajawea Audubon Society.