Back to Stories
January 13, 2023
Dorothy Bradley: Saving Wildlife Is Conservation Worth Fighting ForIn her own words: Prominent Montana stateswoman and conservationist Bradley, in stirring speech at MoJo event, says courage needed to protect wild Greater Yellowstone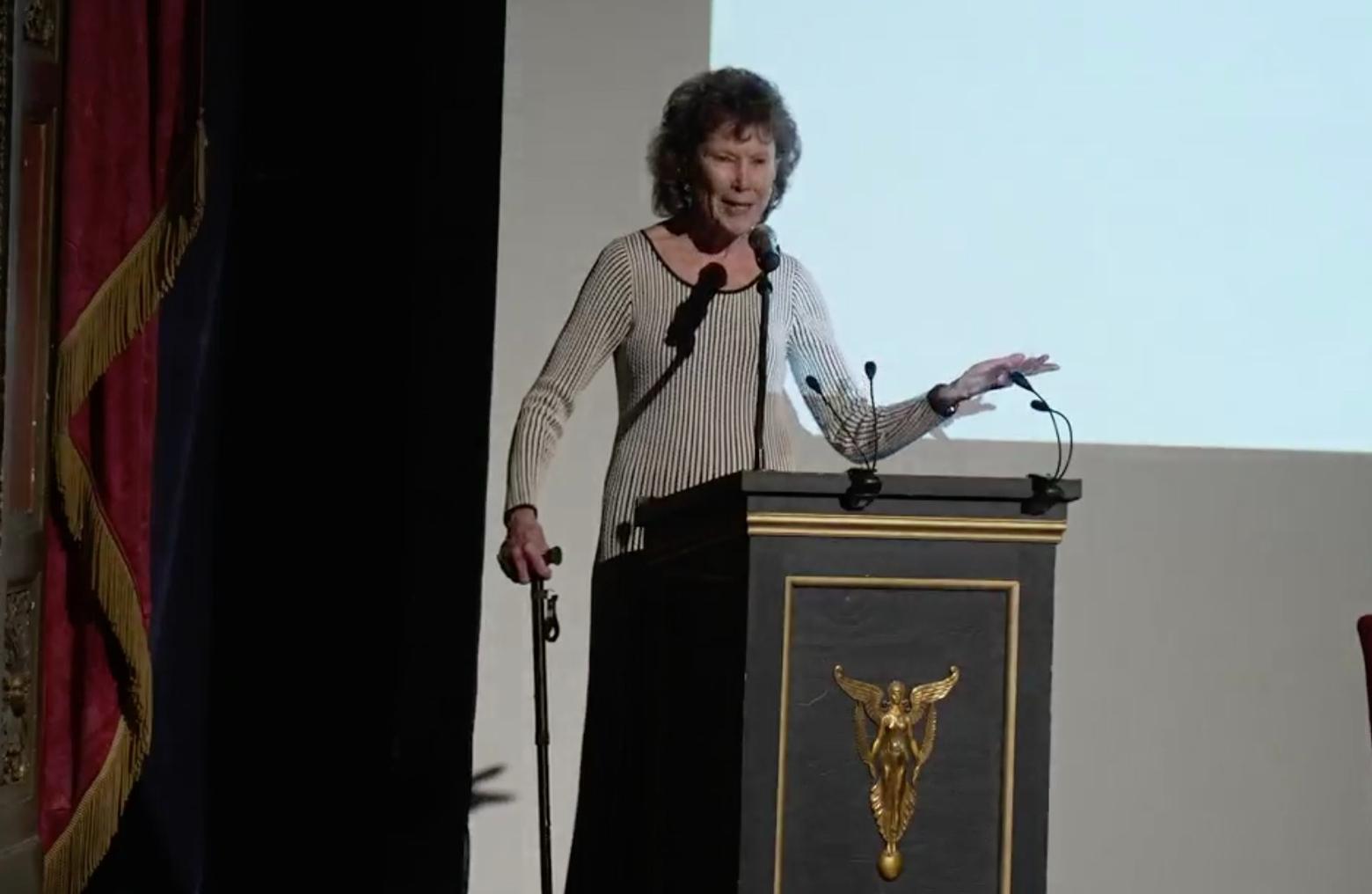 Dorothy Bradley at Mountain Journal's "Night of the Wolves" event on Jan. 10, delivered with grace and vigor a heartfelt call for courage and conservation in Greater Yellowstone and across the globe. Photo courtesy Poindexter's
EDITOR'S NOTE:
Dorothy Bradley brought down the house to conclude Mountain Journal's "Night of the Wolves" event on Jan. 10, 2023, at The Ellen Theatre in downtown Bozeman, Montana. With poise and humor, she stood at the podium and talked about the responsibility we all have—and the courage required—to stand up and fight for the survival of Greater Yellowstone and planet Earth itself.
Bradley, the
highly respected educator, conservationist and former eight-time Montana state representative who nearly became Montana's first woman governor, sees the work purely as "a job to be done." MoJo awarded her one of the first four Conservation Courage awards at the end of the evening.
This is the first of multiple installments highlighting the powerful words from our panelists and guests during the "Night of the Wolves" event. MoJo is calling the series, "In Their Own Words." The following is her speech from that night. – Mountain Journal
by Dorothy Bradley
This is a really beautiful honor, Todd and Mountain Journal. It goes right to the heart. I have had so many opportunities in my life that came forward where I could speak out. And I've always thought that that was a matter to be grateful for and not a matter to be honored for. But this honor from Todd and Mountain Journal is so special. I have come to see this outfit as our North Star, as a kind of luminous nerve center that gives us direction and lights the way, and for that you make us so much more effective. And I thank you for your work and for this honor.
For my friends, please don't mind my cane. It seems that COVID has left me a little lightheaded.
I'm kind of getting fond of it. But I'll learn to live with it.
"We have to get out and run with the wolves. We have to join up with Mary Oliver and love the wild swan. But I want you to know that every one of us is absolutely essential." – Dorothy Bradley, educator, conservationist and former Montana state representative
When I was 12, my geologist father submitted an article to Science Magazine in which he predicted that water would be the first natural resource our planet would run short of and we would feel the impact by the year 2000. And I remember thinking, well, that's pretty grim. I could still be around. And I am. And for a lifetime, I've been driven to try to respond. I find that the question I'm most frequently asked today is whether I have hope; whether I have hope that our planet can survive. And my answer is: wrong question. It's simply a matter of a job to be done. And I would rather fight than watch, as would you.
I've also always been warned about the possibility of burnout, of thinking we're so essential that we're going to work ourselves into a frenzy and then burn on down into a useless nub. We've always had to learn to pace ourselves. We have to get out and run with the wolves. We have to join up with Mary Oliver and love the wild swan. But I want you to know that every one of us is absolutely essential. If it hadn't been for Cecil Garland and a little-known Garland Country Store in Lincoln, Montana, we wouldn't have the Lincoln Scapegoat Wilderness. If it hadn't been for Conservative legislator Harrison Fagg 50 years ago from Billings, and his love affair with the Beartooths, we wouldn't have the Montana Hard Rock Reclamation Act. If you can save a patch of prairie for a bison or some wildflowers for some bees, you are essential. Maybe you can write an article for Mountain Journal and pass forward its inspiration.
For myself, I've come to prefer to work in the shadows and alone. Honestly, I'm so blubbing sentimental that I choke up on television ads for St. Jude's Children's Hospital. And then again I think, well maybe St. Jude, the patron saint of the last resort, is a good one for us to hang our hat on. So, Todd reminded me that it's good to get out and join up with friends. Friends.
A number of years ago, I was part of a delegation from Montana that went to Washington, D.C. to celebrate the placing of the statue of Congresswoman Jeannette Rankin in the Capitol Rotunda, and I was haunted that she was so alone in her crusade for peace. And when she cast her solitary vote against our entering the war, she was berated by her brother, deserted by her fellow suffragists. They threw eggs at her, she had to hide in a phone booth.
I have never had to march alone in this period of pretty crushing sadness over the state of our planet. There are so many of us right on the front line, shoulder to shoulder, right here. This is the moment to believe in ourselves.
They say when you get to the pearly gates, you will see St. Peter there looking at you and he's looking for scars. And if he doesn't see any, he'll say, "What, you didn't find anything worth fighting for?"
Thank you.
EDITOR'S NOTE
: Read
this recap
of
Mountain Journal
's "Night of the Wolves" written by
MoJo
managing editor Joseph T. O'Connor. Also read
this MoJo story
about how Bradley came together with a political rival to call for more civility to better serve American citizens.