Back to Stories
October 11, 2020
Dejection! When Getting Cut From The Team Shatters HopeBozeman's Eddy Prugh played alongside and earned praise from Danny Mwanga, the top player in US college soccer, but still had to survive the short-sightedness of a coach. He didn't
By Eddy Prugh
Seeing my headshot featured on the Oregon State University website was a moment of indescribable pride.
That year, I was the only soccer player from Montana on a Division I roster. There's no time to reflect on how you arrive in a place you've strived your whole life to reach when your mind is pondering all the things you need to do to get there.
Yes, I had reached one of the pitches in my dreams.
Before any of us had even kicked a ball in Corvallis, I studied my new teammates in their street clothes, curious as ever how they would be on the field in training gear. Amongst players mostly from Oregon, California and Washington, my reputation preceded me…usually with more confusion than anything else.
The backchannel scuttlebutt about why I was there went something like this: "Oh yeah I heard we were going to have a guy from Montana, ha."
I supposed the equivalent might be a downhill racer making the US Olympic Ski Team.
Still, my longshot reputation didn't bother me. None of them looked like anything more special than what I had seen in Bolivia or with my club team in Colorado the summer before. None of them except for one…
Danny Mwanga. If you've never heard of him you should.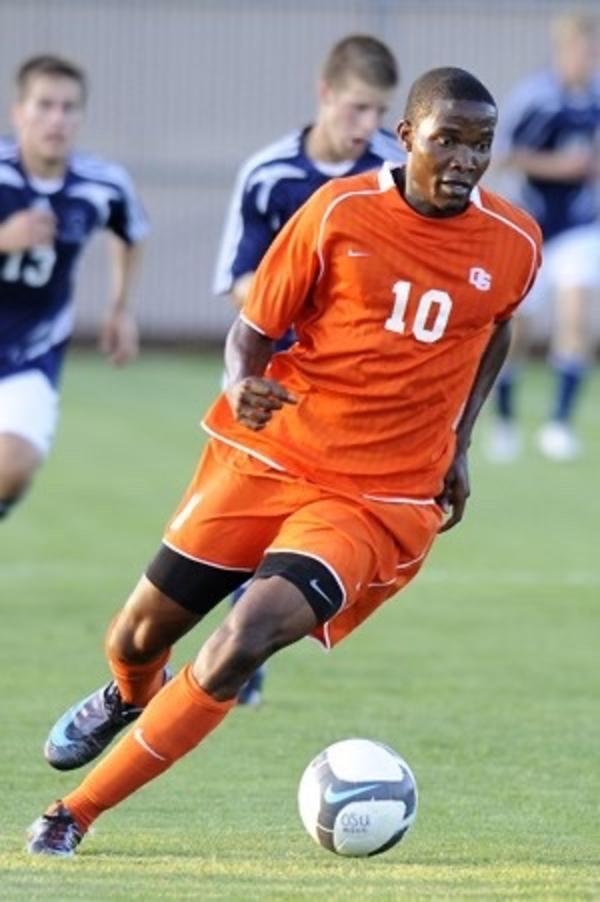 At Oregon State, Prugh played with Danny Mwanga, who became the top pick in the American pro draft. Photo courtesy Oregon State University
Danny joined the team a few days late on account of him spending time training with the Portland Timbers but when he arrived, he carried the seriousness of a larger than life athlete. Returning players clamored to greet him and assert that they were on friendly terms with him while the new players, myself included, introduced ourselves respectfully.
The reigning PAC-10 Freshman of the Year was perfectly polite and soft-spoken almost to the point of being shy. He had immigrated to the US as a 15-year-old after growing up in the Congo. I couldn't wait to see him play.
Throughout the first two weeks of two-a-day practices I paid close attention to how our new coach interacted with each of us—reading into every piece of praise or criticism as if both were as official as law and would clearly indicate who would be playing and starting.
I became paranoid about how rarely I would receive praise even if I was doing things that I knew would garner praise if other players were doing them. I tried not to read into it too much. You need to stay focused on performing, not trying to read minds.
Our first pre-season game arrived. I felt as though I had kept myself in contention for a starting spot in midfield but was disappointed to start on the bench. However after just 25 minutes our coach called down the bench for me to warm up.
"I have to do something to prove that I belong here". I told myself as I stepped onto the field. Our opponent was Trinity Western, a school from Canada.
As the sun set and the lights turned on things became familiar, Oh yeah I remember how to play this game. It would turn out to be a magical night as my first involvement in the game was to receive a pass from our backline, turn and clip a ball over the opposition defense for Danny, who did what Danny does: break away and tuck the ball in the net with comical ease.
Then, in the dying minutes of the game I floated near the back post, hopeful that a cross would go over everybody and find me, which it did.
With modesty, I scored probably the best goal of my career as I swiveled and met the ball on the volley and watched it fly into the top corner. At that point, I knew that I could hang at the Division I level.
Everybody on the team seemed to know it, but still, the coach didn't give me so much as a pat on the back. Inexplicably, I didn't see a minute of action in our season opener against San Jose State. I was confused and frustrated but it gave me confidence to see that I wasn't alone as Danny asked me in the locker room if I was injured, a bit skeptical himself as to why I hadn't seen any time.
Our next game was against Cal State Bakersfield. For whatever reason, I was given about 20 minutes of game time. Whatever I did in those 20 minutes must have been enough to convince the coach that I should see more playing time.
Our next game would be a special one for me. It was away at Gonzaga University. A school that I had tried tirelessly to get to notice me throughout high school but who never returned a single email. After I left Division III Whitworth University, a school located just a few miles away from Gonzaga, I tried again. Still, I didn't hear a peep. Now I would get to step onto their field as an opponent.
I admit it; it doesn't hurt playing with a chip on the shoulder once in a while to prove that those who sold you short were wrong.
I admit it; it doesn't hurt playing with a chip on the shoulder once in a while to prove that those who sold you short were wrong.
Within a few minutes of being substituted into the game I received a long pass from a teammate down the wing. My first touch took me past one of their defenders before I fired a shot just inside the far post. In three games, I had notched 2 goals and an assist.
Nevertheless, the coach wasn't convinced and I only received cameo substitute appearances for the rest of the season. I knew there was something about me that the coach didn't like that had nothing to do with my performances in games and training, which again, were undeniable. Many athletes have been in this position and wonder "what more do you want me to do?"
The support from Danny Mwanga kept me sane—when I wouldn't play, he would come to me in the locker room and tell me that he wished I would be out there as he knew I would be able to find him with the ball.
It was difficult not to become the sulking, whiny player that I had seen so many other players become. Most athletes can relate to this sentiment. At some point in their careers every player has felt the resentment towards their coach for not appreciating what they felt they brought to the table. My only recourse was to work harder.
I decided that being from Montana shouldn't be a weight or an excuse for why I wasn't getting what I knew I deserved, it should be used as a point of pride. I would turn it around: instead of trying to hide the fact that I was from the mountains where I didn't have the opportunities that a player from Portland might have had, I would use it as a fueling the chip on my shoulder and work harder than anybody else.
My attitude became: "Oh you're done running? I'm not. I'm from Montana where we don't stop running."
Confusingly, my work ethic and production of goals in training wasn't enough. At the end of the season I was brought into the office and told that I didn't have what it takes to play at the Division I level.
I was just as furious as I was sad. It had been so difficult to find a way to wedge myself onto a Division I roster. Worse still, I didn't feel as though I had never been given the chance to prove myself, I felt as though I had been given the chance, and I had taken it, but to no avail.
The reason I was given was that I simply didn't "have the quality to compete in the PAC-10 and most likely Division I—maybe a lesser conference, but Division II or III would probably suit me better."
I wanted to yell, spring to my feet and kick my chair across the room and confront him with the fact that I had tallied two goals and one assist in so few minutes of playing time that he was insane to not play me more often.
I wanted to tell him that both our captain and Danny Mwanga had text me throughout the season with condolences and confusion for me not playing. I felt that I needed to educate him on the fact that had my goal tally continued with respect to how many minutes I had played I would have been among the leading scorers in Division I college soccer. But what I wanted to say the most was, "If you didn't know I was from Montana I would have played every game of the season."
Nevertheless, sitting in his office as the school year drew to a close, I couldn't find my voice as my dream seemed to cave in on itself. "I need to find another Division I school. I can't let this be the end of it," I said to myself. I stood and shook the coach's hand and left, nearly blacking out with frustration.
Later that week, before I would have to force myself to leave the situation alone and study for finals, we all gathered in the locker room to watch the MLS SuperDraft after Danny declared that he would be leaving school and entering it himself. Before Snapchat and Instagram, we all still filmed the moment on our cell phones as Danny was taken with the #1 overall pick by expansion side Philadelphia Union. I was very happy for him and for the experience of getting to play with a player of that caliber.
The week after finals as I packed my bags and searched for Greyhound tickets back to Montana, Danny reached out to me with a brief message that would give me all the confidence in the world.
"I can't believe he cut you man. You're a really good player."
That was all. Danny wasn't a man of many words and those two sentences were all the affirmation I needed to pack my bags, say goodbye to all the wonderful people I'd met and start searching for a new school.
As Danny Mwanga headed for Philadelphia and a promising professional career, I was back to square one.
EDITOR'S NOTE
: Can a kid from Greater Yellowstone make it to the pro level of soccer? Read Prugh's dramatic series about pursuing the dream of rising through the ranks of competitive athletics. In addition to playing soccer and writing well about it, Prugh just published his first novel,
Boys With Tattoos
.