Back to Stories
August 9, 2021
The Messages Bears BringPoet Lois Red Elk writes that while bears and people emerged from the same origin dream, it was bruins who came first. Now, to find harmony, we need to be mindful of each other's space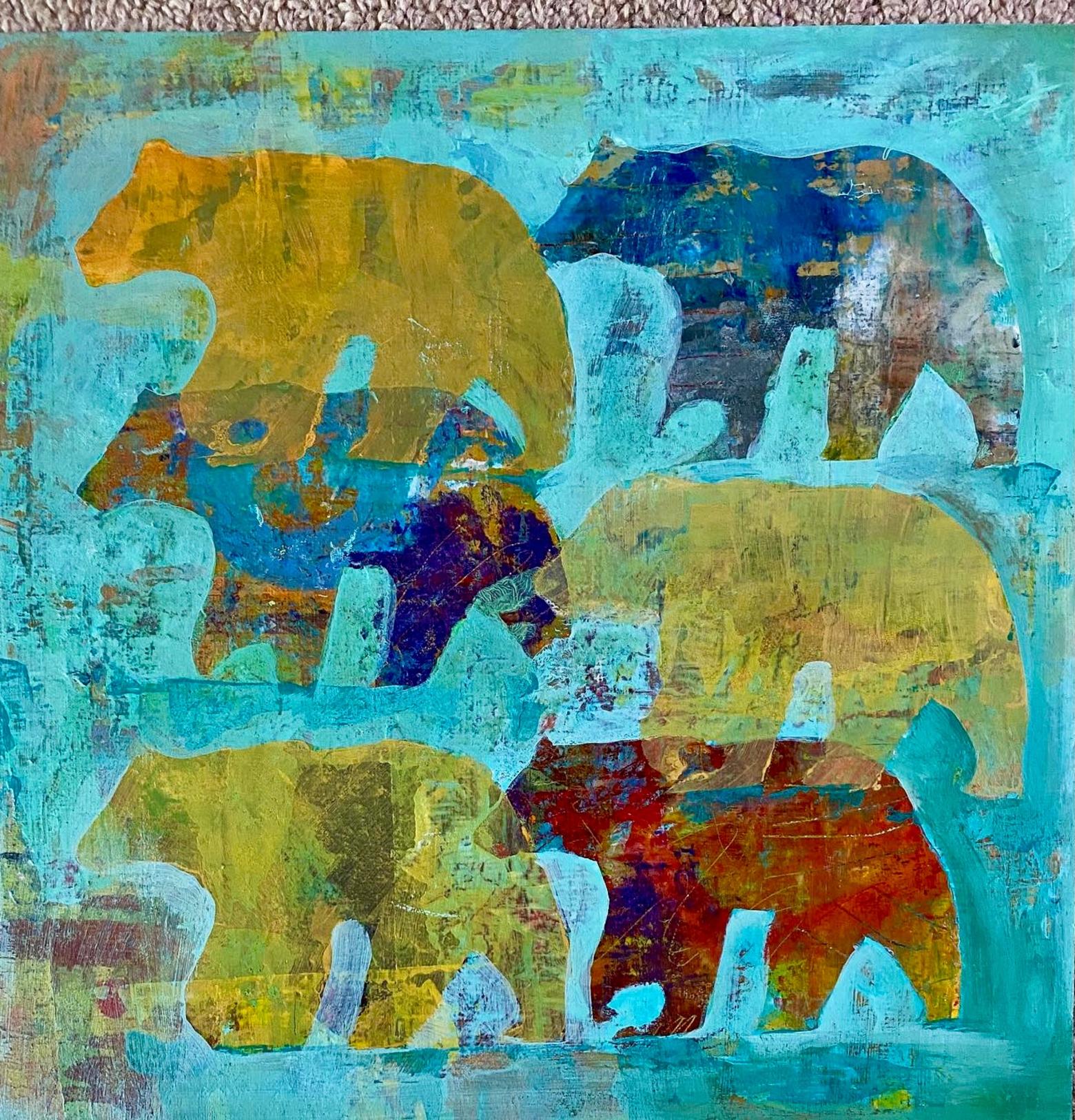 "Bears, bears, and more bears," an original painting, 12 x 12, acrylic on board, by Sue Ewald Cedarholm. To see more of her work, inquire at facebook.com/sue.cedarholm
Greetings MoJo friends from this side of big sky country.
Heavy smoke is making it hard to see and inhale. Reminds me of Los Angeles
city smog, where I worked a few decades ago in the movie industry and as a radio talk show host.
Evenings, fortunately, are clear and the stars are incredible.
I've been thinking and dream of bear a lot these days.
So appreciative I have culture
to aid me in translating.. In Dakota/Lakota culture, bear is one of the lesser gods or gods below.
As beings, they are the messengers of wisdom, medicine and dreams.
We can ask ourselves, "Do animals dream, how long do they
dream, which animal dreams the longest?"
Below is a new poem that will appear in a new anthology.
Lois

Bear's New Dream
by Lois Red Elk
In Bear's new dream, people are reunited
with their Human side, the kind of walk that
greets all breathing as created by the unknown
Gods of the cosmos. Rivers and woods are
speaking and being understood. The 4-legged,
the flying ones and those that swim and those
that crawl are happy to welcome back the
Human. As Human also awakes to this dream
he is reconnected with his spirit and shadow,
he wonders where he has been. A slow moving
of limbs, eyes reconnecting to trees, plants,
feeling forces of wind and energy long forgotten,
are calling him. He acknowledges all his senses,
remembers his own dream time. Earth as vigilant
feels Human's hungry shadow and dwindled
spirit and knows there is a new dialogue to be
held between Bear and Human, they have come
from the same dream, they are now in the same
space. Earth reminds them of their order of
creation—when Stone became spirit and gave
its life to Earth and water, when water birthed
the first beings, the animals, then Humans.
Bear cries out loud, remembering his essence.
A memory drops from Human's mind onto his
tongue, he too cries out in despair for his loss.
Again, Earth hears them drawing close to where
their essence is joining. Earth tells them it is
time to stretch their minds into all the spirits
around them—the plants, water, all breathing
beings, the Earth, stars, thunder and all souls.
After they remember how to do this, come back
to Earth and go out again. Travel deeper into
the spirit of everything. When they are finished
stretching their minds they are to come back to
Earth and tell her what they have learned. In
their new dream Bear and Human can then
share with all humans what they have learned.
©Lois Red Elk
: We are pleased that Lois is working away on a new collection of poems and will let you know when it is published. In the meantime, ask for her other volumes at your favorite local bookseller:
Our Blood Remembers
, winner of the best non-fiction award from Woodcraft Circle of Native Writers and Storytellers;
Dragonfly Weather
; and
Why I Return to Makoce
with a foreword from Montana's recent state poet laureate Lowell Jaeger and nominated for a High Plains Book Award in poetry. Given headlines that continue to appear about the discoveries of new atrocities committed at boarding schools for indigenous children, we encourage you to read Lois' contribution to
MoJo
that appeared in June,
The Unspeakable Past Of Indian Boarding Schools
Make sure you never miss a Lois Red Elk poem by signing up for
Mountain Journal
's
free
weekly newsletter. Click here:
https://bit.ly/3cYVBtK