Back to Stories
February 9, 2022
How Serious Are We, Really, About Protecting The Yellowstone Ecosystem?If the answer is saving America's greatest wildlife region, Catherine Semcer writes, then a more valiant and courageous effort aimed at conserving private lands needs to begin right now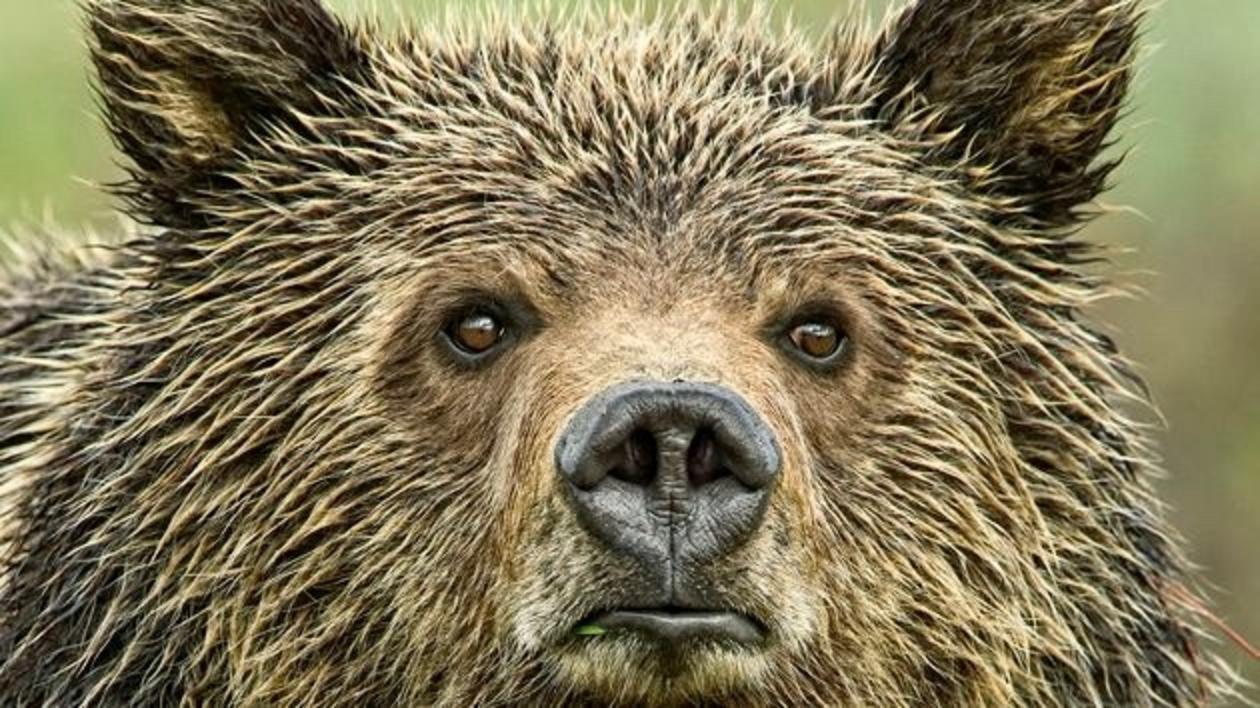 "Eyes of the Grizzly," a photograph of a wild Jackson Hole grizzly bear by Thomas D. Mangelsen. Grizzlies need private lands to move between public lands and they need humans who are not only responsible and smart about how they move through grizzly country but conscientious in the development decisions they make—or approve—that could negatively impact grizzly habitat. Habitat that benefits grizzlies benefits all species in Greater Yellowstone. To see more of Mangelsen's fine art photography, go to Mangelsen.com
EDITOR'S NOTE
:
Mountain Journal
's main thrust of existence as a non-profit, public-interest force devoted to conservation journalism—i.e. stories exploring where humans intersect wild nature—is in the Greater Yellowstone Ecosystem. Greater Yellowstone, the last of its kind in the Lower 48 with all of its major mammals and other species still able to live and move across the landscape, holds many lessons. Those lessons provide insight, in turn, for the the rest of the American West—and the rest of the West has cautionary tales, in turn, for Greater Yellowstone. The following essay is written by Catherine E. Semcer who is not only a friend of ours, but a thought leader who happens to work at the
Property and Environment Research Center (PERC) in Bozeman. PERC is a right-of-political center
think tank funded by conservative entities and it champions free-market, libertarian, property-rights-first approaches to achieving conservation outcomes. Over the years, some of PERC's market approaches have been highly controversial. If the stated outcome of many citizens is achieving lasting protection for Greater Yellowstone's public and private lands, that results in the region better able to maintain its ecological health as represented by thriving wildlife populations, it is essential that all ideas be considered. And the question is: how can private property owners be better incentivized to do right and better by wild nature instead of contributing through their actions to its unraveling? Enjoy Catherine Semcer's essay and if you'd like to share your thoughts, which we may include at the bottom of her piece, you can email them to us
by clicking here
. Please keep them short, on point, civil and factual. —Todd Wilkinson
By Catherine E. Semcer
In 2021,
the U.S. Fish and Wildlife Service announced that 23 species protected under the Endangered Species Act have gone extinct. This was a sobering moment that brought into focus a harsh reality: The destruction of ecosystems and loss of biodiversity is happening at home and not just in far-off tropical forests and distant coral reefs. These extinctions, which followed the obituaries of 11 others in years past, also made clear that for each success delivered by the North American Model of Wildlife Management, there have been many failures.
Unfortunately, the 34-plus U.S. species now confirmed extinct have a long line of creatures that may follow in their footsteps. With over 1,600 U.S. plants and animals currently on the federal list of threatened and endangered species, another 500 awaiting listing, and still another 16,000 identified by state agencies as being in great conservation need, it is clear that our work as conservationists is trending in the wrong direction.
Specifically, we should give priority to how we value private land stewardship and conservation outcomes are financed so more conservation opportunities can be realized. Success will depend on enacting policies and programs that enable property owners to see wildlife conservation as something that adds to their income statement instead of their expense report. It will be measured by the extent to which we are able to increase the area where landowners manage their property primarily for the conservation of biodiversity.
Indeed, making conservation, especially the conservation of biodiversity, profitable will be key to keeping extinctions in the Greater Yellowstone Ecosystem and beyond at bay. One reason so many species have been pushed to and over the brink is because, more often than not, their conservation tallies as a financial cost instead of a benefit.