Back to Stories
July 6, 2021
Summer, 'The Exuberant Season' Of Bison Life In YellowstoneHigh drama: Right out his front door, MoJo columnist Steven Fuller bears witness to new bison life—and death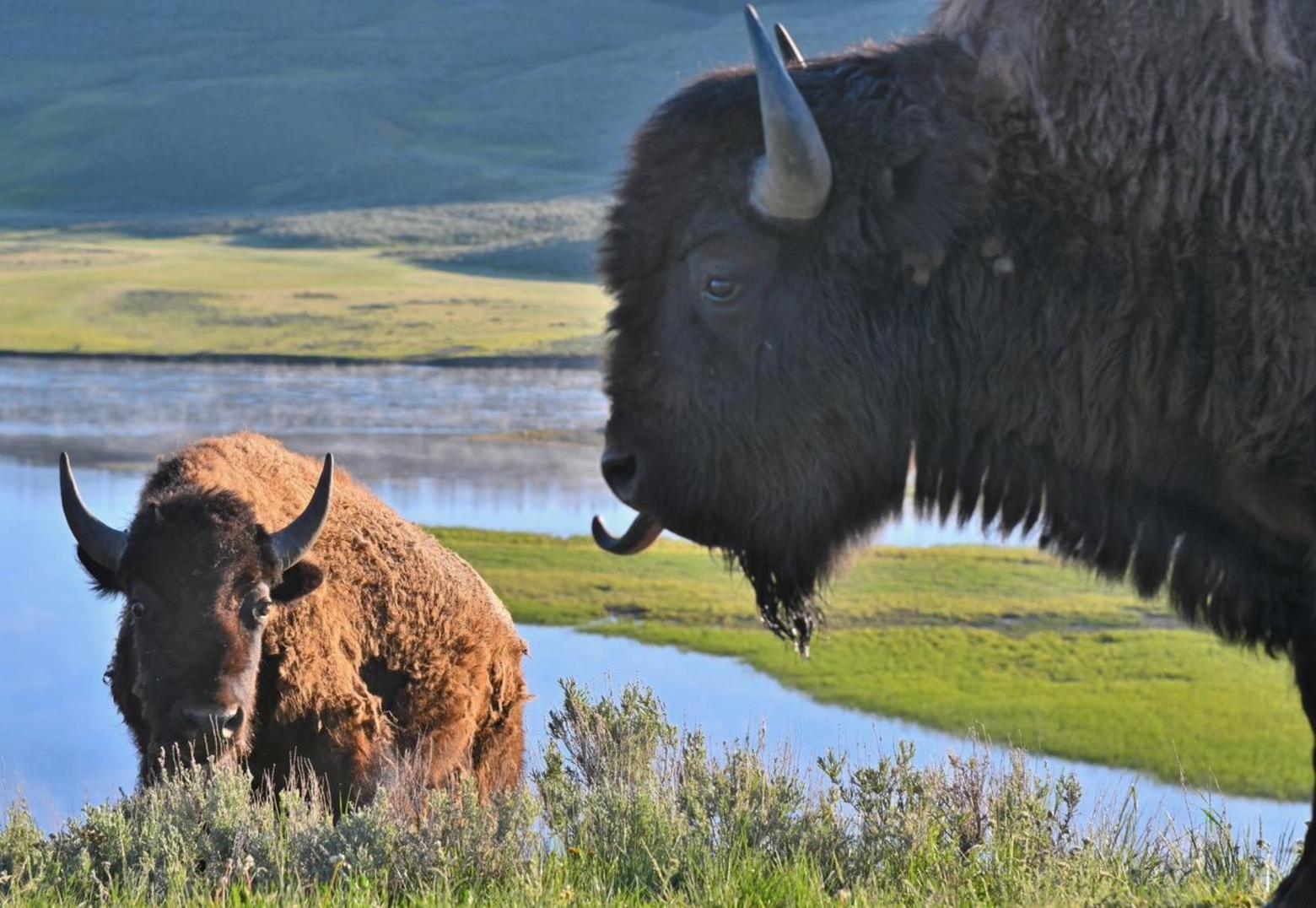 A bison mother uses all of her sensual capabilities to gauge cues of what's happening in the Yellowstone landscape around her—part of animal sentience we humans only modestly grasp. In this case, she is "tasting" the air with her tongue.
by Steven Fuller
Too many photos of bison, you may wonder, looking at this essay? I have hundreds of thousands more from my nearly 50 years assigned to live and work at Canyon and making early morning forays into Hayden Valley.
It is their exuberant season—bison time— here in Yellowstone and they are among the last token survivors of the magnificent diversity of North American megafauna—the vast majority of whom went suddenly extinct just 10,000 years ago. More recently, say only a few human generations ago, we nearly lost bison as a species, the result of deliberate eradication.
At Canyon, I happen to inhabit a bison neighborhood; they live nearby, in the meadows around my home and, of course, in the Hayden.
Every summer lots of truck traffic moves to and fro across park highways as part of the improvement…of Yellowstone's infrastructure. The heavies mix with the congested often high-speed visitor traffic, of which there seems to be record-shattering numbers again this year. Many of the motorists ignore the park's traffic regulations let alone the mandated maximum 45 mph speed limit.
Yesterday morning, as is my daily habit, I drove up river through Hayden at first light to enjoy the sunrise. As usual, especially in places where there are clusters of hot springs, fog filled the valley bottom. Such are some of the atmospherics you find in Yellowstone and few other places on Earth.
Most all Yellowstone visitors come from an urban place, from congested spaces—the U.S. Census Bureau defines an American urban area as having a population density of at least 1,000 people per square mile (386 per square kilometers). Their urban work-a-day highways are bumper to bumper, speed limits are generally ignored, if congestion permits, and if they can get away with it. Aggression is a given.
But their environs do not have bison, grizzlies and black bears, elk, moose in their path or bringing their commutes in stoppage
In Yellowstone I always travel no more than two or three mph above the park speed limit. I drive slower in known high density animal areas, particularly when the fog is thick or the roads are icy, or when all three conditions exist.
Whatever the conditions I am frequently tail-gated, often followed aggressively within a few feet of my rear bumper. Often I am overtaken despite the painted double yellow lines. In the acoustic non-verbal wake of their passing their vehicular body language, "F'you!", is obvious. In reply I say softly to myself, "I hope you don't kill anything."
My home was built on his ancestral meadows 111 years ago, (perhaps several decades earlier @ Aubrey Haines emeritus Yellowstone park historian intimated). This afternoon my access to the front door was a bit dodgy—as it often is.
Particularly when said bison moved even closer to my front door. I made my way round to the back door which seemed less likely to alarm him. My action was not based on fear, rather on respect. I would never dream of disputing his primordialis rights to this place. And if we don't extinguish his genome his people will be here long after my people are gone.
In even the very best case both our descendants will inherit a much degraded planet. Citoyennes, we need to wake up. The canaries are dying!
Below, as a more joyous commentary, here are some recent photos and captions from having the privilege to share a few moments with these fellow sentient beings.
EDITOR'S NOTE
: Make sure you never miss a
MoJo
story by signing up for our
free
weekly newsletter. Click here:
https://bit.ly/3cYVBtK