Back to Stories
March 20, 2018
For Yellowstone And America, Climate Change Brings Our Moment Of TruthThe Greater Yellowstone Ecosystem sits at the epicenter of a huge disruption from rising temperatures. Skiing will be the first of many major casualties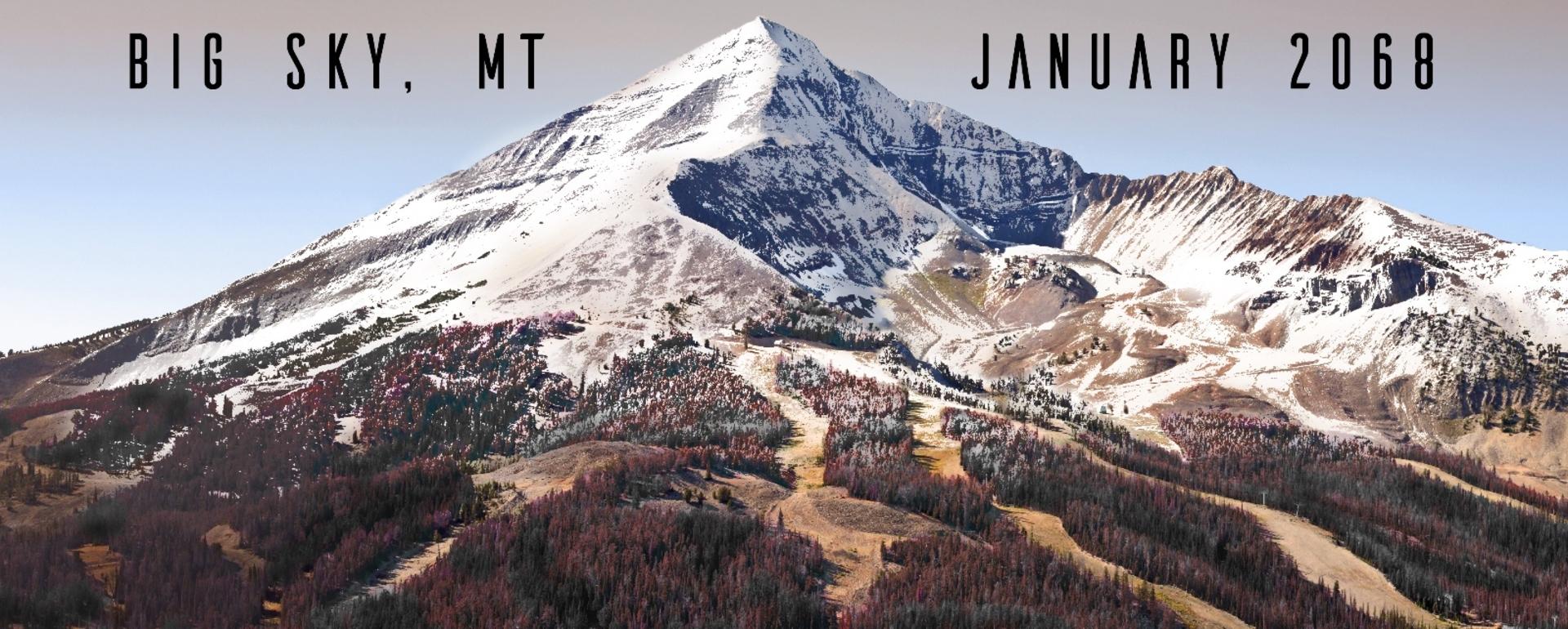 But there your ancestors are: bundled contentedly against the elements, riding packed trams to the legendary powderamas of yore; ascending with their skis and snowboards to destinations like Rendezvous Bowl in Jackson Hole, Wyoming; the black diamond runs of Grand Targhee along the Wyoming-Idaho border; to the crest of Lone Peak towering over Big Sky, Montana, mugging for cellphone cameras along the ridge at Bridger Bowl and the slopes of Red Lodge.
On this afternoon, it's drizzling, same as it was in late January and February; the thermometer is pushing past 60 degrees. The intermittent snow in town, which lasted a couple of weeks, disappeared more than a month ago. Tulip sprigs have been pressing out of the soil for weeks and very soon, lilac bloom.
Intrigued by the haunting white backdrops that met earlier members of your kin, you set out to find the elusive snow line where depth this time of year, according to historic records, was measured in feet.
Dryland agriculture became unworkable in unrelenting heatwaves—square footage and real estate lots worth far more as tradable commodities than beef raised on the hoof or wheat shipped out by the bushel.
Of course, then, too, came the contentious never-ending battles over water—the years when personal green manicured lawns went away with the advent of mandatory water restrictions, when ranchers and farmers made fortunes in the water development business.
Summers with only a few days of temperatures soaring through the nineties past the century mark in your forebears' era now broil over 90 degrees for stretches of a month or more. The haze of woodsmoke that tinged their air in July at the turn of the century wafts in now from the west two months earlier, obscuring views of the mountains on many days.
Nor, correspondingly, could anyone have grasped a different chain of events that linked Greater Yellowstone to the oceans: rising seas pushed by tropical storm surges causing hundreds of billions of dollars in damage to coastal developments, submerging some, sending huge numbers of residents scrambling inland when insurance companies no longer were willing to pay policy owners to rebuild or the companies went bankrupt.
Yet it happened. More than a million desperate "environmental refugees" poured into different corners of Greater Yellowstone on top of the others who originally came seeking the good life. As for what happened to Greater Yellowstone's famous wildlife, well, that will be explored in another story.
Now, along the four-lane highway leading down Gallatin Canyon to Big Sky, a corridor of roadway three times as wide as the Gallatin River itself, you find every bend of the river on this March day crowded with masses of gray-headed diehard anglers waiting their turns to cast; each knows the current will be dipping fast as another short fishing season is brought to a close.
It's an odd ritual they do in remembrance of a pastime that long ago lost its meaning. Just as it is difficult to conceive of a "ski industry" as once being a major pillar of the winter economy in the Rockies, so, too, is it a weird notion to ponder there ever being a thriving multi-million-dollar "flyfishing industry."
On May 1 every year, the state of Montana shutters rivers to angling and rafting because of low flows and an attempt to reduce human stress on what remains of dwindling wild-reared trout populations. No matter, you can still fish simply by slipping in your Virtual Reality contact lenses and catch any species you desire.
° ° °
Back in the real world of 2068, low flows and warm temperatures on the Gallatin are mirrored on every stream in the region—the Madison, Yellowstone, Big Horn, Jefferson, Shoshone, even the Snake in Jackson Hole where calls on water made by farmers in Idaho for irrigation have created huge tensions with federal land management agencies trying to keep enough aqua between the banks for fish and wildlife. Those summer days when a thousand inner tubers cooled off in July and August floating down the Madison River west of Bozeman? A distant memory. Now you can leapfrog the channel without getting your feet wet.
A perk for the Gallatin; its cfs (cubic feet per second) flows are augmented with a perpetual release of treated sewage water dumped into the river channel because Big Sky proper, population 30,000, had no other place to put it.
As you leave U.S. Highway 191 and wend westward toward the old Big Sky Resort, there's another thing up the valley that didn't exist in your great grandparents' snapshots: a road that was pushed through the Madison Mountains as an artery to reach the Madison Valley, hastily blazed to provide a second emergency escape route for panicked citizens dealing with fears of fire and the potential of earthquakes. That, in turn, ignited an onslaught of development that poured into the Madison Valley turning many of the ranches not protected by conservation easements into massive real estate plays.
Such a vision, what some might consider dystopia, isn't a jeremiad coming from the mouth of a radical environmentalist. Rather, it's a prediction made by many experts thinking hard about climate change. Ski and trout towns, whose winter economies were built on the medium of frozen water, and the expectation it would also exist, are very different in the 2060s and their likely transformation, in a warming West, became harbingers.
So now, let's flash back. It is almost the year 2020.
In your great grandparents' era, politicians denied that such a future would ever be possible and citizens, who did not want to contemplate reality, kept re-electing them. In Washington, D.C, members of Congress waged constant war upon scientists who were studying human-caused climate change, denying any serious causal link between pumping carbon dioxide into the atmosphere and rising temperature.
They systematically slashed the budgets of government science agencies. They said nothing when political appointees, who worked previously as lobbyists for the fossil fuel industry, were brought into the U.S. departments of Interior, Agriculture, the Environmental Protection Agency, Federal Emergency Management Administration and others, creating such hostile working conditions in government service that career scientists fled.
Dr. Cathy Whitlock, a professor in MSU's Department of Earth Sciences then, and one of the lead authors, told a reporter the reason for the report was to deliver a regional assessment of likely climate-related outcomes in Montana pertaining to forestry, agriculture and water. Her colleagues said the findings could generally also be extrapolated to the neighboring states of more arid Wyoming and Idaho.
Previously, the International Intergovernmental Panel on Climate Change had prepared a number of global assessments that identified macro-issues but none that drilled deeper into eco-regions like the Northern Rockies and the interconnected high plains. It should be noted that professor emeritus Dr. Steven Running, then at the University of Montana, had been part of a team, separate from Whitlock's, that received the Nobel Peace Prize in 2007 for its pioneering work in pondering the cause-and-effect of climate change.
The Montana Climate Assessment involved a comprehensive congealing of historic temperature, crop and water data, a thorough review of existing peer-reviewed science and it used sophisticated computer modeling, given trendlines, to project likely scenarios as it relates to greenhouse gases entering the atmosphere.
To put this in perspective, even a small rise in temperature can result in "average" low precipitation years plunging into full-on drought conditions; meanwhile, "normal" drought conditions can quickly escalate into the severe category when streams feeding rivers run bone dry or are reduced to trickles. It also affects the "recharge" of underground aquifers that are fed by surface water which normally passes nearly unseen through the landscape.
In the three decades that followed the 1990s, when climate change data first started to accumulate and droughts became called "the new normal" in the West, impacts to farmers' crops and ranchers' livestock inflicted billions of dollars in negative economic impact and costs associated with federal disaster relief. On top of it, billions of dollars annually during the first two decades of the new millennium were spent by the U.S. Forest Service fighting wildfires, consuming half of the agency's operating budget and hobbling its ability to do other things.
Still, some claim that climate change means good news, that warmer temperatures will yield longer growing seasons. That's true so long as it is accompanied by adequate moisture.
With climate change, what happens when the irrigation ditches run dry?
Rivers are destined to chronically have their flows squeezed, Whitlock and colleagues say. Sorting out who will get priority in water use—agriculture/irrigators, municipalities (flows at the tap, lawn and garden watering), developers buying up rights, or ecology (such as keeping enough water in streams to ensure fish populations can persist) could bring major cultural conflict.
Moreover, there will be a lot of tough decisions with which society will need to contend: should, for example, water be pulled out of streams in order to feed non-native cattle by growing alfalfa when that same resource is crucial to the welfare of people and the survival of native wildlife?
Steve Running believes southwest Montana's climate within two human generations will resemble that of Salt Lake City's and arid stretches of the Great Basin. In the rural interior of Wyoming away from the mountains, where summer temperatures can already be scorching, conditions likely will be far more problematic, waterwise. Plus, there are major metropolitan areas, with political influence, already hoping to sink straws into water in the inland West and pipe it, like oil, to serve their needs.
Running scoffs at notions that spending millions of dollars in cloud seeding will make an appreciable difference against declining snowpacks. And, he chuckles at the irony that the same science-denying politicians who embrace manipulative cloud seeding reject the notion that human influence affects climate.
When people talk about "adaptation," he adds, many think of slow incremental—i.e. orderly and measured—responses to climate change, but events could force a more drastic, nonlinear response, particularly if climate change accelerates.
At stake is the very way we think and interact with the landscape around us. Here is just one minor touchstone; the city of Bozeman is rapidly racing toward the point where its water capacity, capable of serving the present population via Hyalite Reservoir and nearby tributaries will be maxed out. There may be pushes made to shore up more water storage capacity that could mean building more impoundments in mountain draws where streams presently flow wild and serve as the last refugia for native wild fish.
Warmer temperatures, as mentioned earlier, mean less snow and more rain. "The snow season we currently have won't last as long and it will likely end abruptly," Whitlock said.
To most people, the changes are still almost imperceptible but it's the gradual deepening effects that could be transformative—in the altered timing of runoff, the pollination of plants, when greenup happens, when trees die or burn, when humans are forced to give up what they used to do.
° ° °
Ski towns because of their location in the higher elevation will be hit hard. As one scientist told me, "For about seven generations, the thinking and identity of the rural West has sprung from its assumed relationship to water, the ability to manipulate it, count on it being there, and that's what had laid the groundwork for economic and social stability. You could set your watch by seasons. But half a century from now that will be gone, replaced by disruptions to routines and then abandoning of them."
What Schendler and others describe as Greater Yellowstone's possible climate-related futureshock can be applied to other hamlets throughout the Rockies. "Climate change isn't coming," Schendler explains. "It's already here; we're at the front-end now. But we can alter the future for those who will be looking back. The only question is: will they be praising us for taking action or cursing us for what we didn't do?"
An ardent recreationist and a family man with bills to pay, Schendler has been called a cognitive dissident, conscientious objector, and, to ski destinations that want to keep pretending there isn't a problem of culpability, a gadfly. He actually gets paid to think defiantly about not only the connection between climate change and business but the relationship between economy and ecology—and how the health of the latter supports the former.
Interior Secretary Ryan Zinke vows to radically alter the management of public lands in the West, gutting environmental laws and unleashing an unprecedented push to extract oil, gas and coal in order to secure "American energy dominance," code for burning a lot of fossil fuels.
President Donald Trump has argued that climate change is a hoax perpetuated by the Chinese. U.S. Sen. James Inhofe of Oklahoma, a dear friend of EPA Administrator Scott Pruitt, has notoriously asserted that climate change "is the greatest hoax ever perpetuated on the American people."
In Wyoming, politicians at every government level, from school boards to state legislature, have moved to strike mention of climate change form text books and ordered the removal of art installations at the University of Wyoming addressing the impacts of climate on forests. Notably, the actual football field turf at the University of Wyoming is called The Jonah Field which honors the largest natural gas field in the state—one that even former Wyoming Gov. Dave Freudenthal said was a sacrifice zone for wildlife and an example of how not to develop fossil fuels. Yet that is exactly the kind of full-field development Zinke envisions.
During an interview with Sean Hannity of Fox News, U.S. Rep. Liz Cheney of Wyoming, who established her residency to run for office in the Jackson Hole town of Wilson, declared that "the science [of climate change] is just simply bogus, you know, we know that temperatures have been stable for the last 15 years."
Fire seasons could become even trickier. How? Grasses may grow tall with spring rain and then dry out, leaving fuel loads on the edge and inside forests even more incendiary. It means that forests will burn
or die
whether they have been "thinned" or not.
How will lifestyles be different? "We are going to be living in an ecosystem that is markedly warmer, with more extreme weather events, including flooding in spring followed by what we would call droughts in early summer and then, of course, fire and smoke," Whitlock said. "The big issue will be water. We need to have more conversations that just aren't happening now. If we want to plot a path forward, we need to be talking."
To use a health care analogy and the pleasure that early smokers and chewers of tobacco get in the here and now: if you knew that smoking a pack or pinching a can of chaw each day would result in a painful, horrible death decades into the future, would it alter behavior and thinking about the immediate present in favor of mid and longer-term horizon lines?
Members of western Congressional delegations have access to the brightest scientific minds in the world working across disciplines in ways that relate to climate. The vast majority of scientists say future generations will pay a price for our own politically-motivated ignorance.
U.S. Sen. Jon Tester of Montana, the lone Democrat among the ten federal legislators serving on Capitol Hill from Montana, Wyoming, and Idaho, says he is not only persuaded by the science but he's witnessed the incremental changes. His neighbors around Big Sandy, Montana where he is a dirt farmer, are keenly attuned to weather/climate vulnerability. "If you ask them, many of my fellow farmers already know that conditions are changing," he said recently. "They know something is different. They just don't want government telling them what to do."
Tester also realizes the paradox that unless government engages in a smart way, action will not happen. Many farmers and ranchers, struggling to make ends meet, want to ride out the present as long as they can. That's why incentives, such as rewarding producers for sequestering carbon in the soil, are necessary.
° ° °
Jason Matthews always considered himself a conservationist but it was economics and becoming a father that made him an activist. Matthews operates a dogsled tourism business in both Big Sky and Alaska. "I'm very concerned about the impacts of climate change on my business, Yellowstone Dog Sled Adventures. We operate in the winter in the Taylor Fork area, north of West Yellowstone. Every year we are starting our season later, and ending our season earlier," he said.
In 2017, there wasn't enough snow to start operating until Dec. 17 and the last trip was March 19 "because unseasonably warm temperatures had destroyed the settled snow base. Our season is now just three months long. We have now lost a full month of operating. That means an approximately 25 percent loss in revenue for us. It also means a significant loss of work for our employees."
In some ways, Alaska is a bellwether of what's coming. During the summer, Matthews guides trips across the Herbert Glacier outside of Juneau. "Sadly, the business I partnered with there is ceasing their summer operations, because of deteriorating conditions on the glacier and unpredictable, inconsistent weather. Last summer the business was down 50 percent because of weather-related issues." He is no longer running trips in Alaska.
Matthews spends a lot of time in the Far North. He's visited the Arctic National Wildlife Refuge 15 times and counts as friends several Iñupiat elders. Between science and the indigenous knowledge, the evidence is undeniable, especially with the connection between disappearing sea ice, which provided a shelf upon which polar bears could hunt seals.
"What's going on is polar bear numbers in that particular region, the Southern Beaufort Sea, are rapidly declining. By some estimates the population has declined nearly 40 percent since the beginning of the new millennium," he says. A recent study, he notes, analyzed data on polar bears in northeast Alaska and the Northwest Territories and documented a 40 percent population loss from 1,500 to 900 bears since 2001.
"Many of us have heard this before—that statistic and talking point has been well shared by environmental and wildlife advocacy groups," he said. "What is lesser known are the anecdotal stories that natives and long-term year round residents are seeing and experiencing first hand at the most northern reach of our continent."
Matthews spoke with Inupiat Robert Thompson of Kaktovik who noted that strange thaw-freezing cycles are now routinely impacting caribou by turning the melting tundra so hard that caribou cannot access natural forage becoming weaker—a phenomenon that rarely happened before. Such ruminations are not abstract.
A recent story in The Washington Post
was titled "North Pole surges in the dead of winter, stunning scientists" and noted that the permafrost is melting and land is sinking, at the same time releasing vast amounts of additional stored carbon dioxide.

"With the mindsets and lifestyles we have, I believe we are on a trajectory we cannot reverse," Matthews says. "I think regions like the Greater Yellowstone region and the Far North of Alaska will be impacted greatly not just by temperatures and ecologically, but also culturally. Sadly, many of the things that make Montana what it is will be so impacted that it won't even seem like Montana here anymore."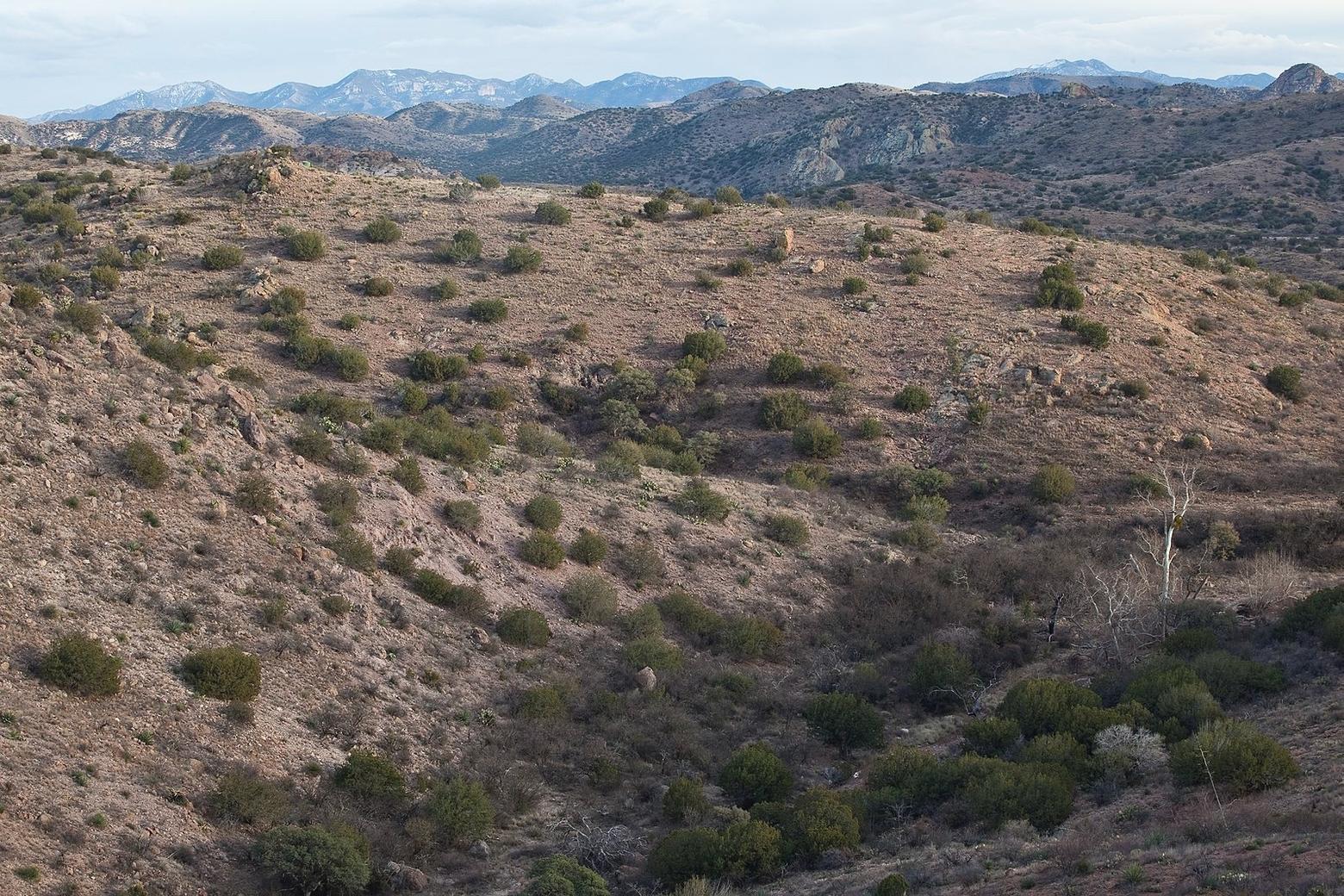 Imagine the cool now-forested Gros Ventre mountains east of Jackson Hole, or the Gallatins, Madisons, Bridgers, Absaraokas, Winds, Tobacco Roots, Gravellys and Crazies looking like this in 50 years. Under climate change predictions, most forests will burn and conditions will be so hot that forest succession as we know it—and being taught in forestry schools—will cease to exist.
Both U.S. Sen. Daines and Congressman Gianforte—as well as the Congressional delegations in Wyoming and Idaho— have conspicuously avoided holding town hall meetings in which climate change is certain to be a topic of constituent concern. All have backed legislation that would unleash waves of logging projects ostensibly to prevent forests from burning. Given that Daines, Gianforte and their cohorts in neighboring states claim to represent science, it would be interesting to see what expert opinion they trot out to counter experts from the National Academies of Sciences, the foremost collection of scientists in the world.
° ° °
With regard to their assertion that logging can rescue forest health, they might spend a few hours in the backcountry with Dr. Jesse Logan.
Logan, a retired Forest Service entomologist, a national authority on mountain beetle outbreaks (and a Mountain Journal columnist), describes the unprecedented scale of insect attacks occurring on western forests.
His opinion is echoed
by entomologist Diana Six at the University of Montana.
Some 80 percent of whitebark pine trees in Greater Yellowstone are gone from death by blister rust and epic infestations of mountain pine beetles fueled by warming temperatures that allow them more easily reproduce. Seeds in whitebark pine cones have been an important food source for grizzly bears prior to denning and the collapse of whitebark pine is causing bears to range more widely, increasing conflicts with humans and could be resulting in smaller cub litter sizes and rates of reproduction in female bruins.
The evidence is irrefutable, Logan notes. It's caused by rising average temperatures. But he also points to something even more insidious: snowpack is melting during winter itself. Snowpack has functioned like massive natural reservoirs. Glaciers millennia old are fast winnowing away in Glacier Park and could be gone by the 2030s. Read a 2017 overview from the U.S. Geological Survey
here
.
Logan is also a passionate angler. Sooner or later, he says, lack of snowpack will register in the recharge occurring for natural underground aquifers, which are being pumped faster than they're being replenished in some valleys with rising human population. "Water is what drives everything in the arid West, from ecology to recreation and, in many ways, our economy," he says.
The reality is that it's Mother Nature's great natural water reservoirs and it's been the foundation for how the inner West functions ecologically and economically: it's skiing, fishing and hunting, rafting, fire prevention, irrigated alfalfa for cattle, livestock production, crop harvests, forest health, survival for wildlife and the unquestioned foundation of the multi-billion-dollar agriculture and tourism industries. And it's the lifeblood of major metro areas like Denver, Phoenix, Las Vegas and Salt Lake City. Literally, the impact of climate trickles down from snowpack in profound ways—mountain summits to the shops on Main Street in the New West. "We blindly assume that snowpack will always be there," Schendler adds.
The altered West of the 2060s, experts note, will involve a steady transformation. Snow levels are retreating up mountains and for ski areas in the Rockies to remain economically viable, they will have to move lifts and snowmaking capacity above their current base operations.
Even then, they will struggle as climate change devastates skiing found at lower elevations such as in New England; skiing conditions in the Sierra and Wasatch will in decades to come no longer be reliable. That will have ripple effects in the Rockies, too.
"We are already watching the decline of coastal, drive-market ski resorts. And this is where future Western skiers cut their teeth," Schendler says, noting that recruitment of younger skiers is not keeping up with the aging ski population.
"This is a crisis of our own creation that will not go away on its own," wrote a panel of authors who completed a report on climate change, titled Unnatural Disaster, for the National Parks Conservation Association. "It will require decisive action to reduce greenhouse gas emissions through conservation and development of carbon-free power sources. There is growing scientific consensus that greenhouse gas emissions will need to fall by at least 80 percent below 1990 levels by 2050 to avoid some of the most catastrophic effects of climate change."
The question is: what can society do? Apart from phasing out old coal-fired power plants, regulating methane emissions and shifting to more renewable fuels, humans must change their attitudes, experts say.
"We are bearing witness to a catastrophe," Metcalf warns. "In light of the profound, uncomfortable, and challenging truths and policy implications we have to come to grips with, incrementalism will not suffice. It's a delusion being reinforced by a well-funded fossil fuel industry to distort the science. What we need demands leadership, guts and a forward-looking attitude that goes deeper than what's convenient for us in the immediate now."
"Incrementalism will not suffice. It's a delusion being reinforced by a well-funded fossil fuel industry to distort the science. What we need demands leadership, guts and a forward-looking attitude that goes deeper than what's convenient for us in the immediate now." —businessman, mountaineer and conservationist Peter Metcalf
The ski industry, by striving to be carbon neutral, can reduce its fossil fuel footprint, Schendler says. But equally as valuable is the intergenerational message it sends to society, namely that recreationists need to stop behaving apathetically and focused on their own individual selfishness. Skiing isn't cheap to maintain.
Adherents of the sport who own second homes in the vicinity of mountain towns live luxurious, influential lives. But they don't live behind fortresses. The change that needs to happened must be systemic. The affluent have something more important than a luxurious lifestyle: they have, because of their money, political influence. They can call on political leaders they know to take action. Before any shift can occur, especially one that results in carbon reduction occurring on a large scale, the collective mindset must stop its denial.
A profound irony of dwelling today in a "post-fact" era, in which the credibility of science is under siege by fossil fuel industries trying to discredit it, is that science has been a north star for the ski industry. The very same scientific experts responsible for weather predictions, which have given the ski industry a framework for constructing successful business models, say the evidence of climate change is overwhelming.
The National Academies of Sciences
, the gold standard in science, has refuted arguments advanced by climate change deniers. NAS was on the leading edge of confirming that smoking tobacco causes cancer, and it helped inform public policy used to combat acid rain (caused by burning sulfur-bearing coal) and depletion of the ozone layer (owed to using chlorofluorocarbons which were banned).
The battles to bring about change are often hard won, Schendler notes, pointing to the tobacco industry's ploys to discredit scientists even while people were getting sick and dying from smoking, causing billions of dollars in medical costs, lost job productivity and human misery every year.
"Instead of addressing tobacco's carcinogenic effects in the '60s when we knew about them, the industry obfuscated the problem, knowingly, for years, so they could bank more profit before the curtain came down on tobacco," Schendler says. "They have very effectively injected doubt into the conversation. Speaking truthfully when it comes to the corporate sector, especially companies that affect the opinions of millions of people, is really important."
The paradox of knowing what lies ahead is this: Even if we wake up and become aware, how can we confront a problem and alter the course of its effects? That's where Schendler speaks of trajectories. Do you invest the resources or just plan to adapt? The latter, he says, condemns future generations to a lesser world of environmental, economic and social turmoil.
"The farce of those advancing the argument 'we'll just adapt' is that you can't adapt to a four or five degree rise because it's a pathway to a 9-, 10- or 11-degree rise," Schendler says. "All bets are off if you believe that adaptation can be easily managed in order to assure some kind of orderly transition."
Saying this, Schendler is actually optimistic that systemic changes, if driven from the top of America's public policy makers in Washington and by the business community, can prevent the worst from happening. Switching from coal to a bigger mix of renewables will not be economically devastating—in fact it is already happening widely in the US. He notes that renewable electricity from wind and solar is already coming in below the price of coal and gas. As a result, utilities are deploying more renewables just to bolster the bottom line. It's happening all over.
"I've learned that you can't be shrill and come off as a hand-wringing crazy," Schendler says. He explains that despite noble talk about "the future" residing in the center of America's civil vocabulary, thinking ahead is actually too much of an abstraction for most people to handle.
"On the other hand," he notes, "if you understate reality, then it will result, at best, in half measures that don't come close to the actions that are necessary."
Schendler, thinking about his own family, refuses to be cynical. He lives for hope. "The good news is that while we're admittedly facing a big problem, we have both the policy tools and the technology on the shelf today to fix the problem. What we really need is for leaders in government to realize the benefits of moving now—both in terms of international competitiveness and avoided cost. Some of the biggest bipartisan policy solutions—like carbon taxes—have bipartisan support."
° ° °
Yes, it is the 2060s. Your self-driving vehicle arrives in Big Sky in the middle of winter to vacant stretches of broken asphalt with weeds poking through what held thousands of cars daily into the early 2030s. You see handfuls of diehards.
In a rain jacket, you catch a chairlift up Lone Peak and still are on barren ground a mile and a half in elevation. Eventually, you reach the slush zone where artificial snowmaking has been deployed, using treated sewage water, in a decade-long losing battle against perpetual thaw.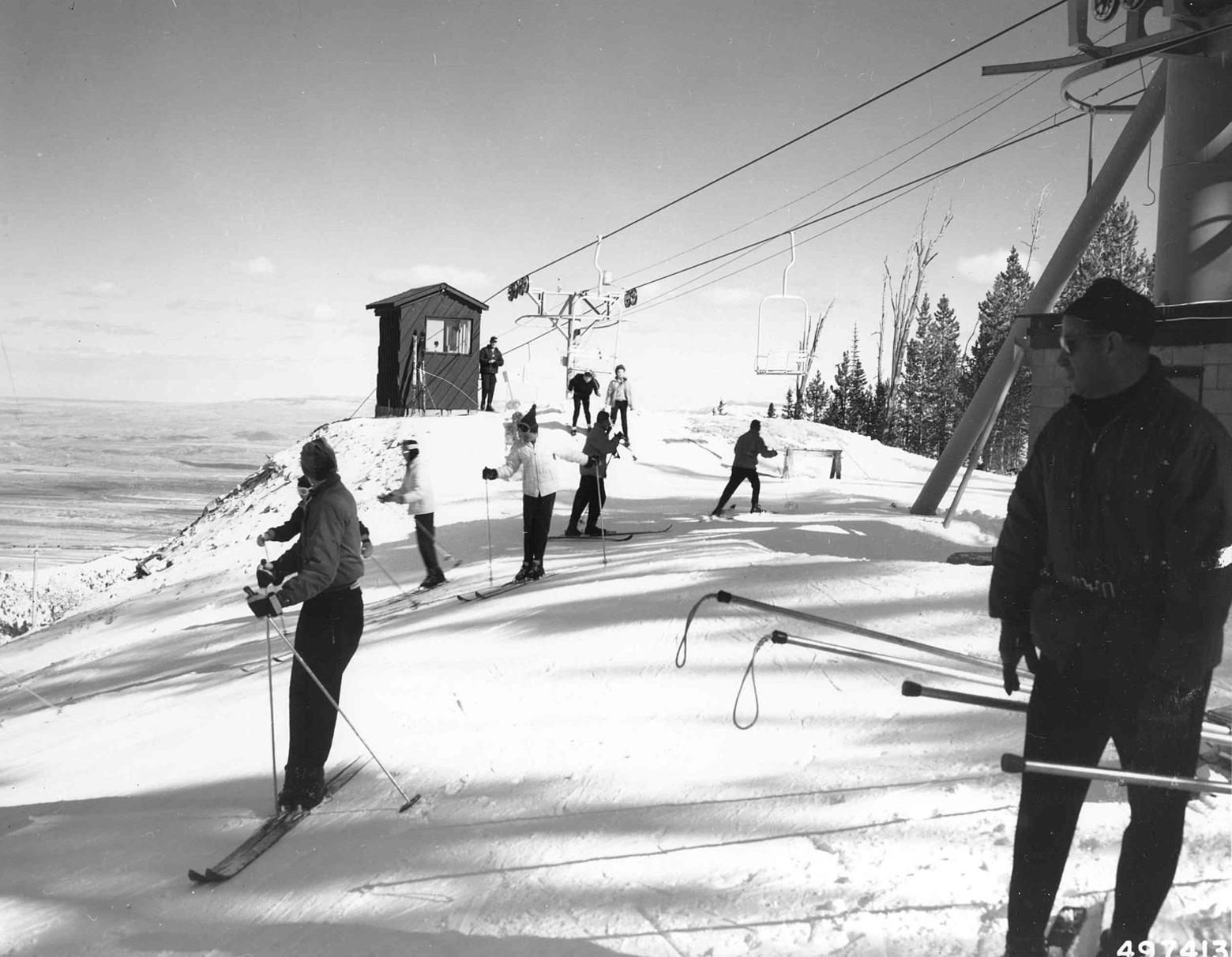 To our descendants, will scenes like this one, taken on a slope in Greater Yellowstone, seem like only a distant dream? And while we talk nobly about doing things for the good of future generations, what kind of world are we creating? Photo courtesy Forest Service Northern Region
Finally, above 9,000 feet, you find the artifact known as winter—a rocky stretch of wild natural snow. Here on the summit, the base is
20
hardpacked inches (a tiny fragment of what existed in your grandparents' time). Still, you let out a whoop of half-hearted euphoria.
Experts with the National Academies of Sciences warned that what's frightening are the unknowns, including the possibility of domino effects feeding warming even faster, such as melting of the Arctic permafrost that releases more carbon or even compounding extreme weather events wreaking havoc and causing unrest.
They recently wrote, "Humanity's effect on the Earth system, through the large-scale combustion of fossil fuels and widespread deforestation and the resulting release of carbon dioxide into the atmosphere, as well as through emissions of other greenhouse gases and radiatively active substances from human activities, is unprecedented. There is significant potential for humanity's effect on the planet to result in unanticipated surprises and a broad consensus that the further and faster the Earth system is pushed towards warming, the greater the risk of such surprises."
And the NAS authors added, "There are at least two types of potential surprises: compound events, where multiple extreme climate events occur simultaneously or sequentially (creating greater overall impact), and critical threshold or tipping point events, where some threshold is crossed in the climate system (that leads to large impacts). The probability of such surprises—some of which may be abrupt and/or irreversible—as well as other more predictable but difficult-to-manage impacts, increases as the influence of human activities on the climate system increases."
On the other hand, the authors conclude: "With significant reductions in emissions, the increase in annual average global temperature
could be limited
to 3.6°F (2°C) or less."
Schendler refuses to capitulate. He notes the legendary selfless attitude of "The Greatest Generation" during World War II. And he points out that when Earth's essential protective ozone layer was vanishing two generations ago, policymakers took action based on the science, and phased out the chemicals imperiling our survival at the time. "They took brave action because they refused to accept the prospect of doomsday," he says.
With gallow's humor, he laughs at Zinke's characterization that not burning fossil fuels is un-American and immoral. The worst kind of moral sin, in Schendler's mind, is for elders who consciously knew better, who knew they needed to sacrifice in order to give their children the best world possible, to walk away from their personal responsibility.
Fifty years from now, five months of winter—and the human economies and outdoor traditions built on it—could be melted back significantly; summers, meanwhile, will be radically different. Oh yeah, that allusion to great grandparents in the twenty teens? Those people in the photographs, Schendler notes,
are us.
EPILOGUE
Some findings—verbatim— from the most recent National Climate Assessment released in 2018 by the National Academies of Sciences:

° Human activity, especially emissions of greenhouse gases, are the dominant cause of observed warming since the mid 20th century;

° We are living in the warmest time in the history of modern civilization and it is heating up; Some 16 of the warmest years on record globally occurred in the last 17 years, with 1998 being the exception;

° Since 1980, the cost of extreme weather/climate events for the US has exceeded $1.1 trillion; therefore, better understanding of the frequency and severity of these events in the context of a changing climate is warranted;

° Global average sea level has risen 7 to 8 inches since 1900 with half of the rise occurring since 1993 and is greater than any rise going back 2800 years. Global average sea levels are expected to continue to rise—by at least several inches in the next 15 years and by 1 to 4 feet by 2100. A rise of as much as 8 feet by 2100 cannot be ruled out. Sea level rise in the future will be higher than the global average on the East and Gulf coasts of the U.S;

° Northern Hemisphere spring snow cover extent, North America maximum snow depth, snow water equivalent in the western US, and extreme snowfall years in the southern and western US have all declined, while extreme snowfall years in parts of the northern US have increased.

° Substantial reductions in western U.S. winter and spring snowpack are projected as the climate warms. Earlier spring melt and reduced snow water equivalent have been formally attributed to human-induced warming and will very likely be exacerbated as the climate continues to warm. Under higher scenarios, and assuming no change to current water resources management, chronic, long-duration hydrological drought is increasingly possible by the end of this century Future decreases in surface soil moisture from human activities over most of the United States are likely as the climate warms under the higher scenarios;

° The world's oceans are currently absorbing more than a quarter of the CO2 emitted to the atmosphere annually from human activities, making them more acidic with potential detrimental impacts to marine ecosystems. Higher-latitude ocean systems typically have a lower buffering capacity against changing acidity, exhibiting seasonally corrosive conditions sooner than low-latitude systems, especially for plankton, a key building block of the ocean food chain. The rate of acidification is unparalleled in at least the past 66 million years;

° Arctic sea ice loss is expected to continue through the 21st century, very likely resulting in nearly sea ice-free late summers by the 2040s.