Back to Stories
November 14, 2021
Yellowstone Winterkeeper Bids Adieu To Final Weeks Of AutumnWith big crowds now gone from America's oldest national park for awhile, MoJo columnist Steven Fuller pays tribute to the quiet lull

The desiccated skeleton of a cow parsnip overlooks a late autumn sunrise above an S-curve in the Yellowstone River. The lingering funk of smoke from regional late season wildfires tints the early morning light.
EDITOR'S NOTE
: For Yellowstone winterkeeper Steven Fuller the last stretches of autumn bring weeks of expectation—and transition. The medium of water is shifting from fluid to solid, plant and animal life is slowing down and entering dormancy, the flood of humans has dramatically tapered and all around him, Fuller is taking note of changing textures, atmospherics and starker contrasts. Below is the latest photo-essay from Fuller, who is a
Mountain Journal
columnist and good friend.
All Words and Photos by Steven Fuller
Grand Prismatic Spring is the most vivid expression of Yellowstone's color and in winter it appears brighter but it is not the rule that applies to most of the national park environs. The magic of Yellowstone is found in her subtlety.
Around 80 percent of the Central Yellowstone Plateau, where I live, is forested and most of the forest is lodgepole pine so autumn colors here are mostly in the meadows or on the floor of the forest. The day to day vividness of the autumn colors is dependent on the various qualities of the light at the time.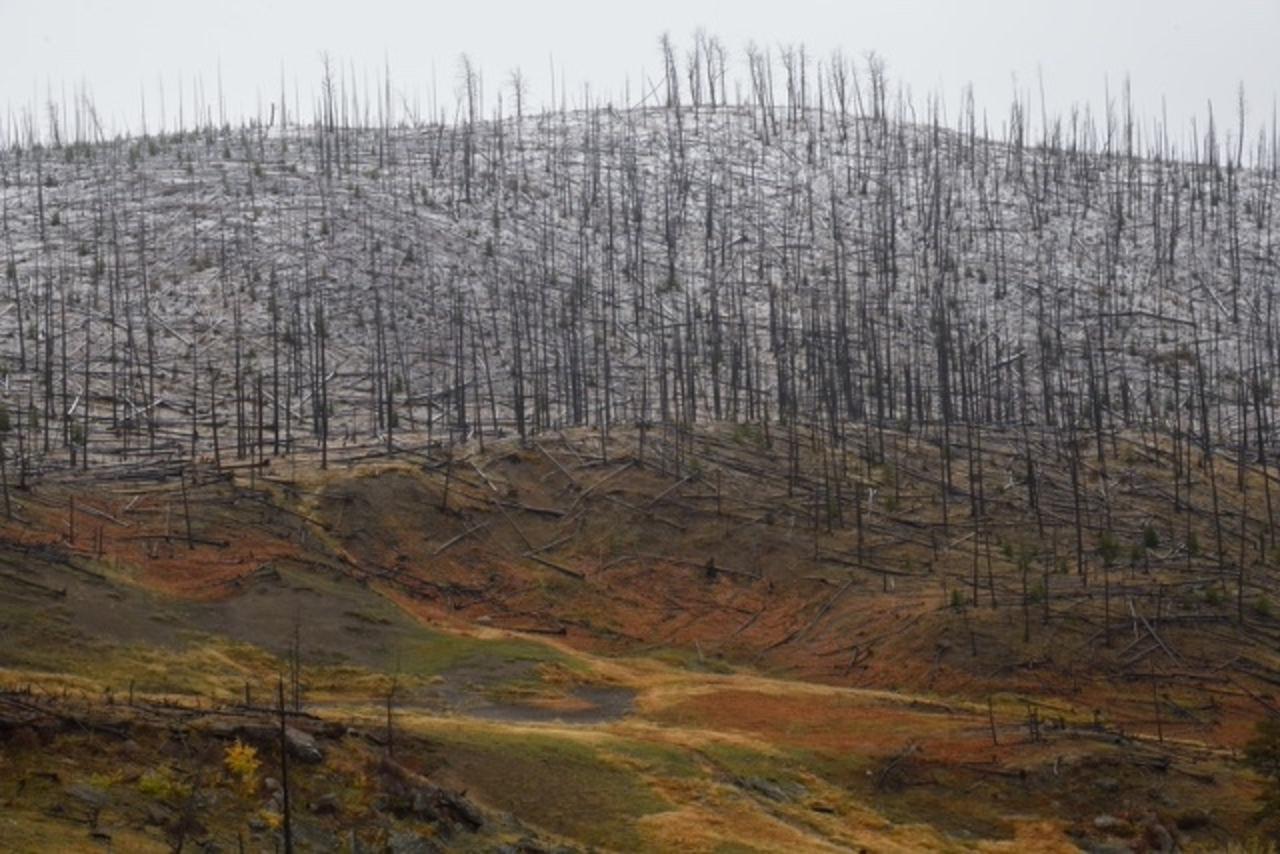 Above the stark snowy landscape of a decades ago wildfire while below the autumn colors are vivid and richly saturated beneath a thinly over caste bright sky. The same scene on another day under a different sky and the colors might be washed out or even bland.
Or, on a dark and stormy morning even forlorn.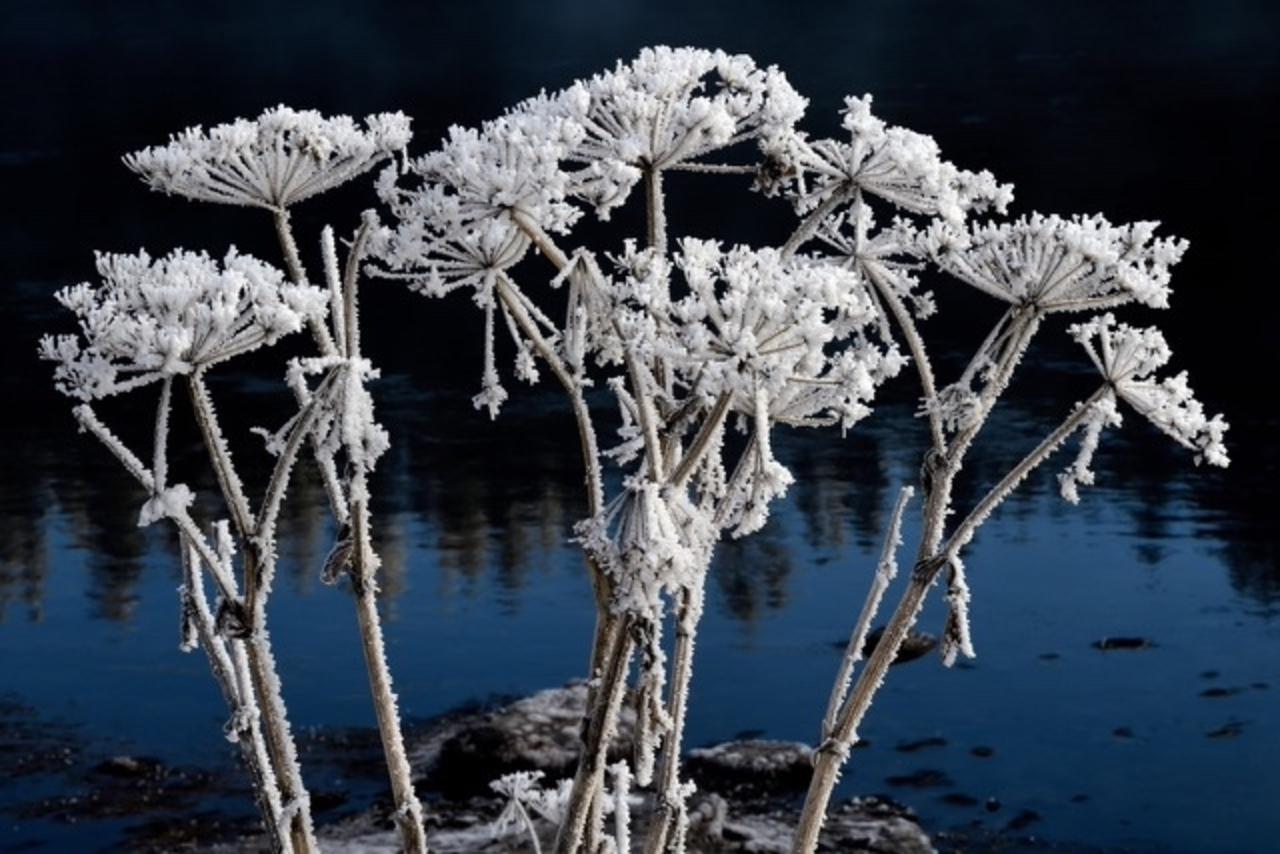 The skeletons of this summer's cow parsnip provide complex armatures on which super cooled water vapor rising overnight off the Yellowstone River has accumulated as frost.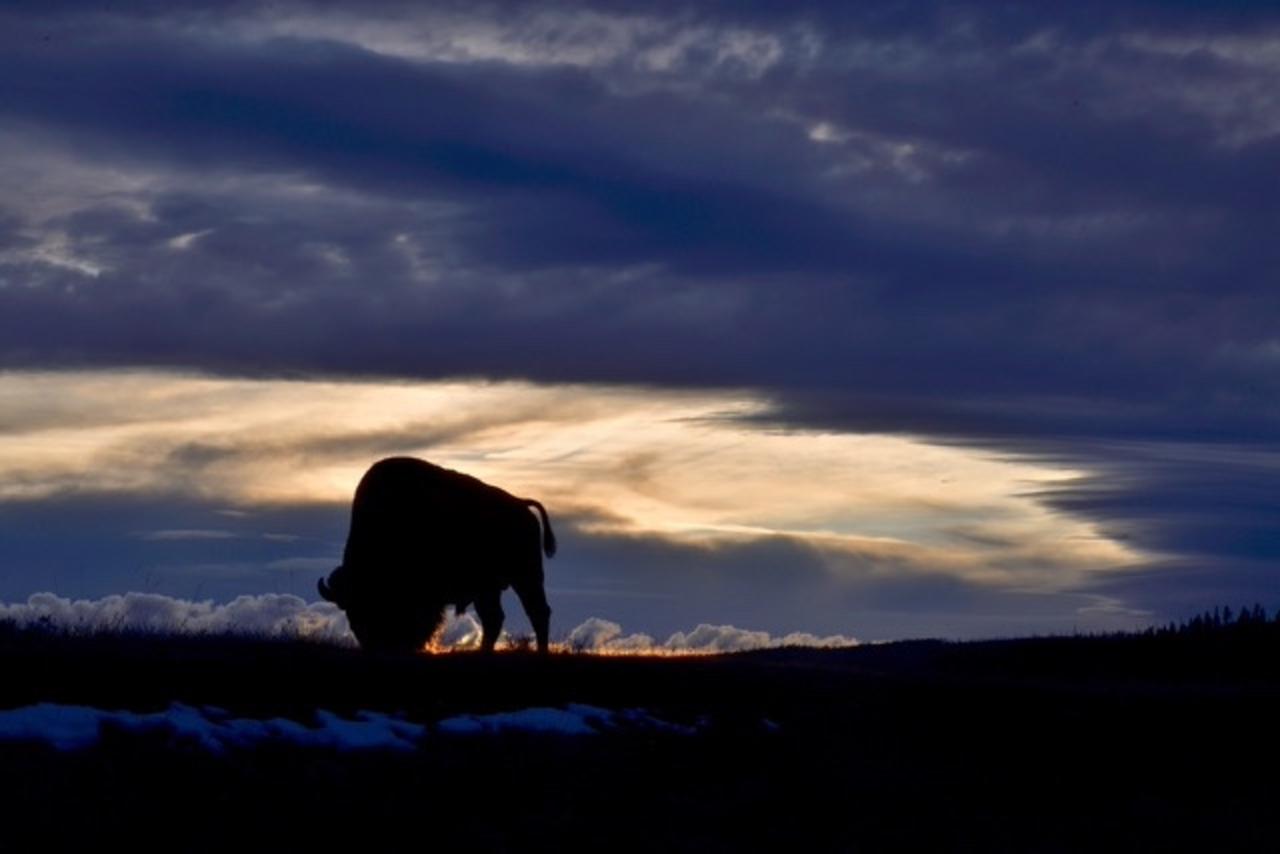 Sunset as a weather system moves out of the southwest up onto the Yellowstone Plateau.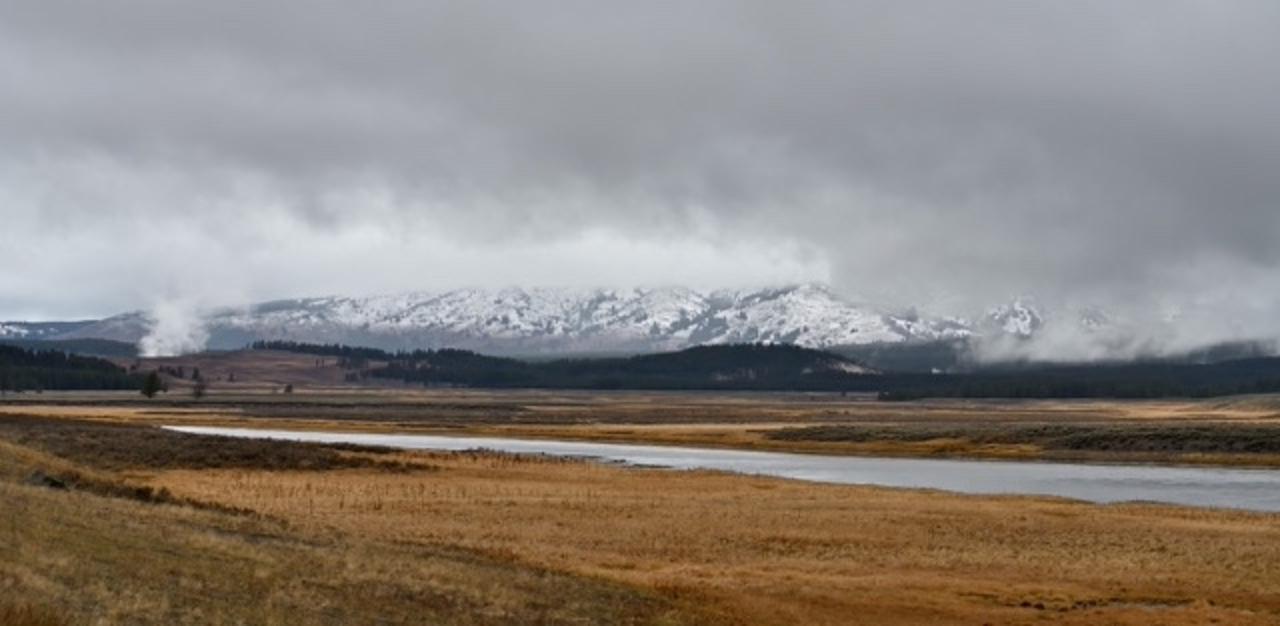 Mostly cloud shrouded my home range of mountains on a damp chill early morning. In the middle foreground on the left
a plume of vapor rises up out the the Grand Canyon from the Lower Falls. On the far right a bank of vapor marks thermal
area on the south rim of the Grand Canyon.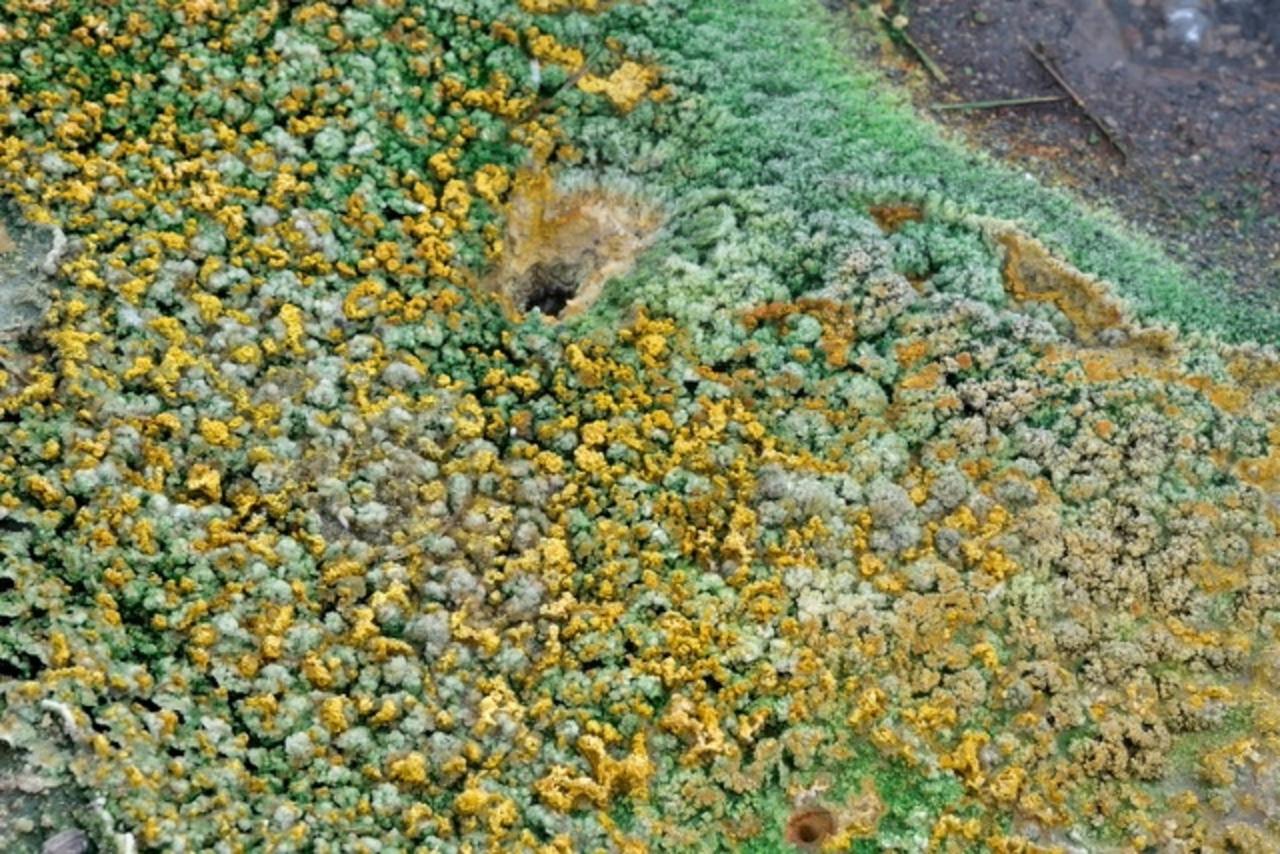 Surrounding bubbling hot springs extravagant colors, textures, and nodules of mineral salts proliferate on the surface of
the ground as saturated geo-thermally warmed water vapor nourishes crystals when the vapor meets the cold surface air.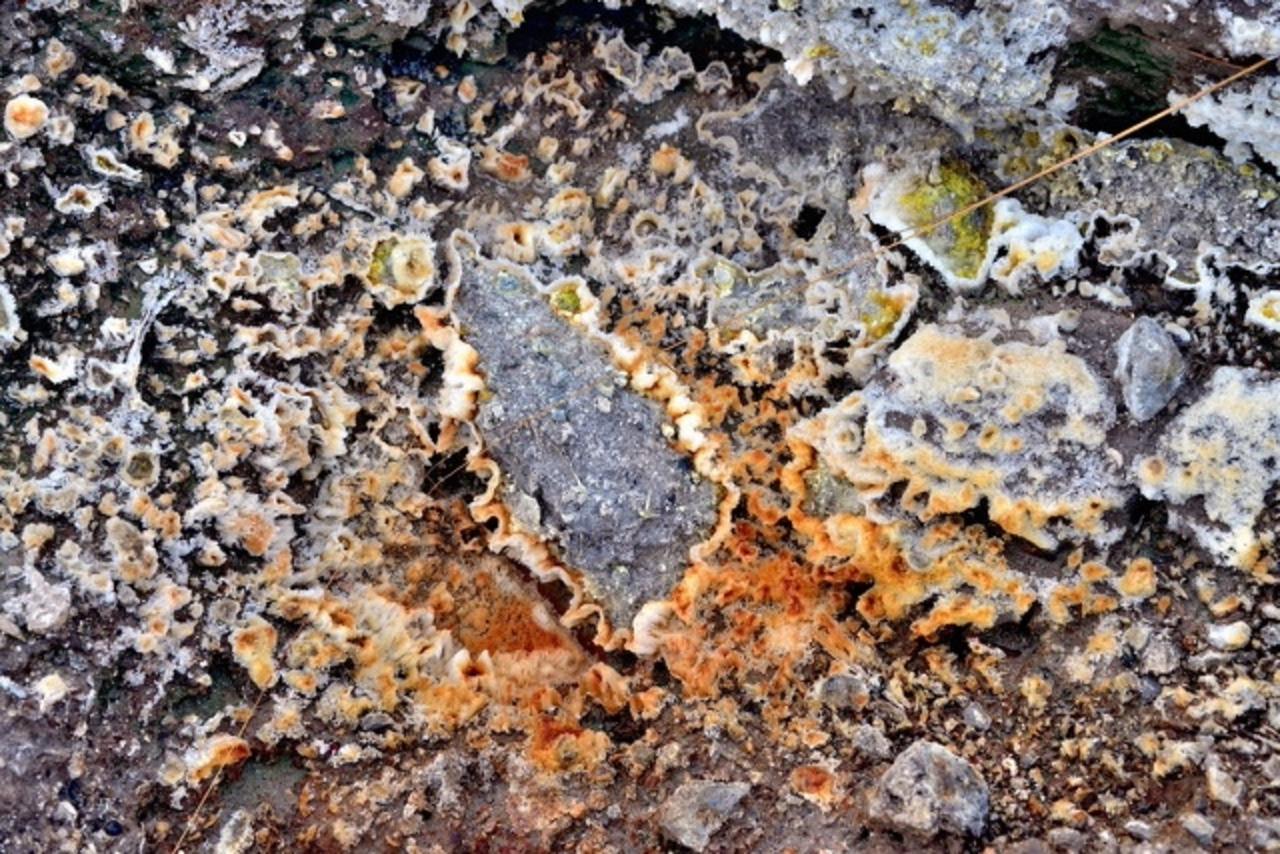 Mineral salts in saturated geo-thermally warmed ground precipitate when the water
meets the cooler air at the surface.
detail. Surface objects provide "seeds" around which the minerals precipitate.