Back to Stories
April 19, 2023
Big Sky, Montana: A New West Mountain Town Primed For Its Own 'Big Burn'?This high-profile resort community is at 'very high risk to wildfire' and an emblem for the dangers of building in the Wildland-Urban Interface. Part 3 in MoJo's ongoing series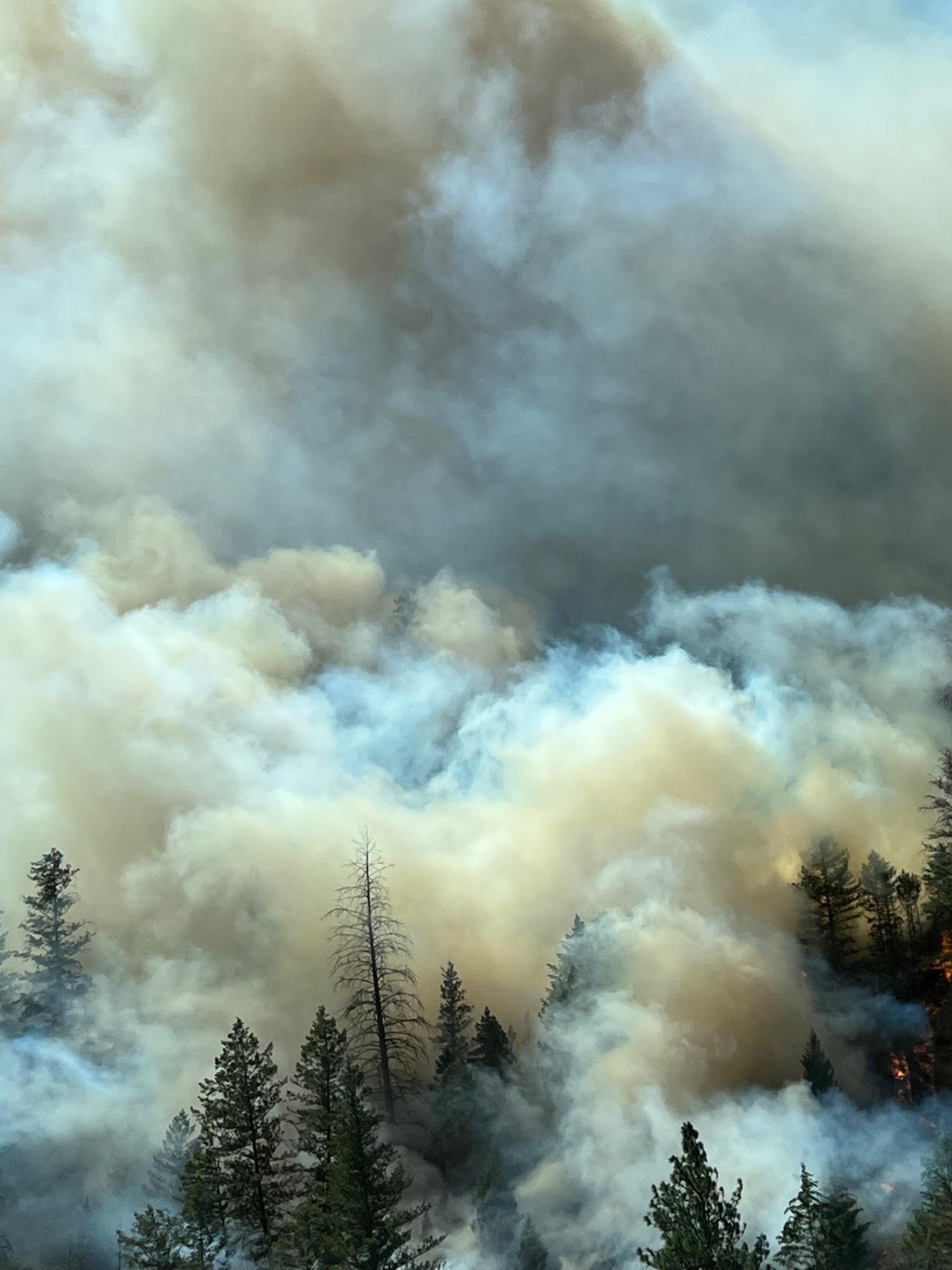 Wildfires are inherent to the American West. A warming planet along with a century of human fire suppression have contributed to bigger, hotter and more frequent wildfires but expanded growth into the wildland-urban interface is increasing the risk factors exponentially. Photo by Audrey Cadwallader
by Joseph T. O'Connor
Driving south on Highway 191 from Bozeman, Montana, the earth is dry and cracked along the dropping Gallatin River. Fly fishers stand in shallow pools casting to rainbow trout but it's already hot and fishing restrictions will force anglers off the water at 2 p.m. The Gallatin is low in late August, and state-imposed "hoot owl" measures are in effect to protect fish when the river warms and trout are most vulnerable.
As you turn west onto Highway 64, Lone Mountain looms over the community of Big Sky like an ancient monolith in the Madison Range keeping a watchful eye. The road opens revealing a broad alpine valley, its community spilling into forested hills sloping skyward on three sides. Homes and condo complexes dot the landscape, peeking out from stands of Douglas fir, lodgepole and remnant whitebark pine, the latter receding in part from climate change.
In winter, no one says much: the skiing is phenomenal. In summer during Montana's lengthening wildfire season, talk returns to a familiar concern: Big Sky is a one-way-in, one-way-out unincorporated community that's praying the big one doesn't hit. Studies based on factors identified by the U.S. Forest Service show it has a greater risk of wildfire than 93 percent of communities in America. Many believe Big Sky could be a harbinger for the rest of Greater Yellowstone and similar mountain towns in the Rockies.
Here, Dustin Tetrault is deputy fire chief. Big Sky, like many lifestyle outposts, is witnessing a surge in growth and is in a race to build fast, some say so developers can avoid future regulation. Big Sky isn't really a town or an official municipality and, as such, it has no local building code or inspection measures.
Part of the issue thwarting the natural occurrence of fire is human suppression. On one hand, identifying and extinguishing wildfire starts early before they grow out of control can save lives and property. On the other hand, when a landscape doesn't see wildfire for long periods of time, forests and their floors become overgrown with vegetation; fuels that are primed to burn and burn hot. The amount of dead-and-down trees in Big Sky is growing as the forest ages, as brush fills in and as fires continue to be knocked down early. Tetrault and his 32 firefighters face a conundrum.
"We've kind of painted ourselves into a corner," he says. "What do we do? [The landscape] needs fire in it, but at this point it's going to be such high-intensity fire due to fuel loading that it's just going to nuke the whole thing out."
The Humanmade Danger Zone
Your eyes water when you stand at the base of a wildfire, staring through blinding heat at 60-foot walls of flame. Your nose drips from the smoke. I worked on wildland fire crews in 2010 and '11 and have seen the power of wildfires. While they are life-giving forces critical to maintaining ecological health and creating wildlife habitat, when it comes to the intersection of human development with forested wildlands, wildfires can exact devastating impacts to humans: property damage and potential loss of life in an aftermath of charred tree snags, ash, hollowed out car frames; houses with nothing but chimneys standing like soldiers, resolute and alone.
Land where combustible vegetation intersects with human development is known as the wildland-urban interface, or WUI. It's a space where homes or other structures invade wildfire-prone landscapes like private lands located next to national forests and grasslands. It's where federal firefighting agencies find the crux of their challenge and where private wildfire-prevention companies are finding opportunity.
Nearly half of the population in the American West lives in the wildland-urban interface in some form, according to a study by Bozeman-based Headwaters Economics, and it's the fastest growing land-use type in the country. Humans cause, intentionally or not, about 97 percent of all fires in the WUI, says Kelly Pohl, a former wildfire ecologist turned analyst with Headwaters. Lightning starts the rest, but it tends to strike trees higher on hills and a resulting fire would back down the hill slowly. Human-caused fires typically start in lower elevations where people have homes and spend most of their time. Fire runs uphill and it happens fast. Add wind at its back and you've got an inferno.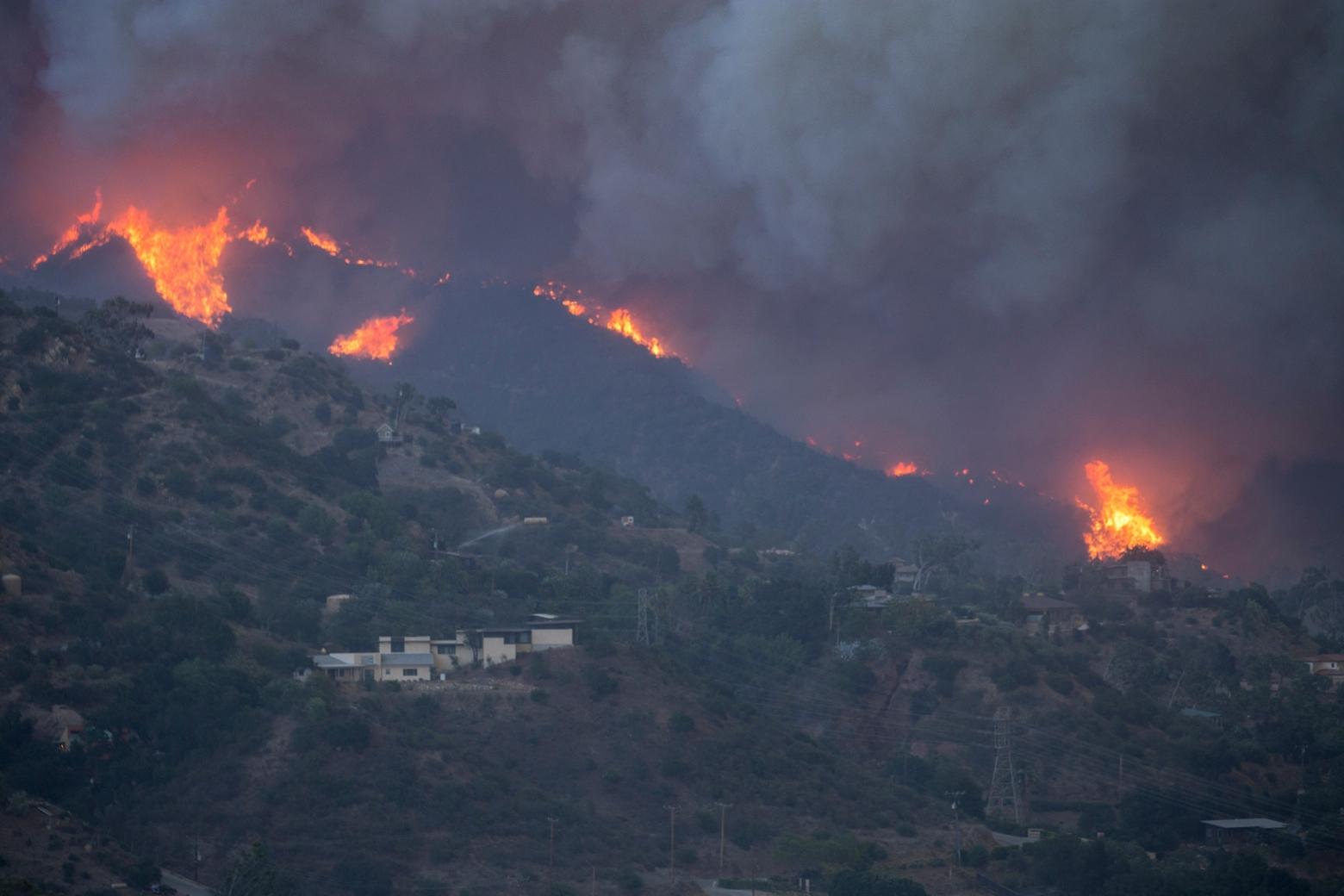 The wildland-urban interface is the fastest growing land-use type in the country. With further growth comes further risk of wildfire. Here, the Thomas Fire approaches Montecito in Southern California. Photo by Kari Greer
"The fact that there are more people in these places causing more ignitions is a reason that wildfires are becoming more dangerous," Pohl says.
And more expensive. The U.S. Forest Service spends more than half its annual budget fighting wildfires, and in the last five years these efforts cost taxpayers an average of nearly $3 billion per year, according to the National Interagency Fire Center. The majority of this cost is focused on protecting private property in the high-risk wildland-urban interface.
"We've kind of painted ourselves into a corner. What do we do? [The landscape] needs fire in it, but at this point it's going to be such high-intensity fire due to fuel loading that it's just going to nuke the whole thing out." —Dustin Tetrault, Deputy Chief, Big Sky Fire Department
A separate
Headwaters study from 2020
brings Montana's fire risk into sharp relief. Most homes in the Treasure State's 94 million acres are at some risk of wildfire, and approximately one-third, some 120,000 homes, are in moderate or high fire-hazard zones. Since 1990, Gallatin County alone saw a 367 percent growth in houses built in high-risk areas of the WUI. Bozeman, the county seat, is one of the fastest growing cities in the country and in March was named among
Time Magazine
's "World's Greatest Places." Three years ago, the 8,000-acre Bridger Foothills Fire just north of Bozeman destroyed 68 structures, among them 30 homes.
Big Sky, 45 miles south of Bozeman and halfway to Yellowstone National Park, has dodged several wildfire bullets in recent years. None of the three blazes in 2020 and 2021, however, sparked up in July or August, the hottest and driest months of the year when tourism numbers balloon, growing the community population from 3,500 year-round residents to upwards of 20,000 people. The time-lapse video below shows Big Sky's growth from 1985 to 2020. Some say the pattern of sprawl itself resembles a wildfire sweeping across the landscape.

But it's happened nearby. When Ted McClanahan peered out the window of the small Dornier 228 twin-prop airplane in August of 2012, he could see a puff of smoke wafting from the trees halfway between Bozeman and Big Sky.
In the dry heat of the southwest Montana summer, a lightning strike had kicked up a one-acre wildfire near Storm Castle in Gallatin Canyon. The year 2012 was the worst wildfire season Montana had seen since 1910, and McClanahan's Region 1 smokejumpers out of West Yellowstone were the only resources
McClanahan sent four jumpers out of the plane to land near the fire. Two days later, they flew over the Millie to gauge its size. McClanahan grabbed the radio. "'Bozeman dispatch, [this is] jumper one-three. We got a size up for you: Your Millie Fire's at 10,000 acres.' And there was this awkward silence on the radio. No one wanted to believe it."
One day after McClanahan spotted the Mille, which topped out at 10,500 acres, an excavator 25 miles due east threw a spark that started a wildfire near the town of Pine Creek along the Yellowstone River in Paradise Valley. Fanned by wind gusts up to 40 mph, the conflagration ripped east through Pine Creek and up into the Absaroka Mountains. More than 8,500 acres later, the fire had swallowed five homes.
"The place looked like the moon after the fire," said one Pine Creek homeowner during a 2019 Montana Supreme Court testimony.
The Millie and Pine Creek fires—igniting one day apart—are not far north from Big Sky. The Millie spared structures, burning on national forest land where homes can't be built. The Pine Creek didn't, burning homes built in the wildland-urban interface. Big Sky, 16 miles south from where the Millie started, has the same fuels, similar topography and a community born in the heart of the WUI. McClanahan's words speak to the speed in which wildfires can erupt, catching people and communities off guard.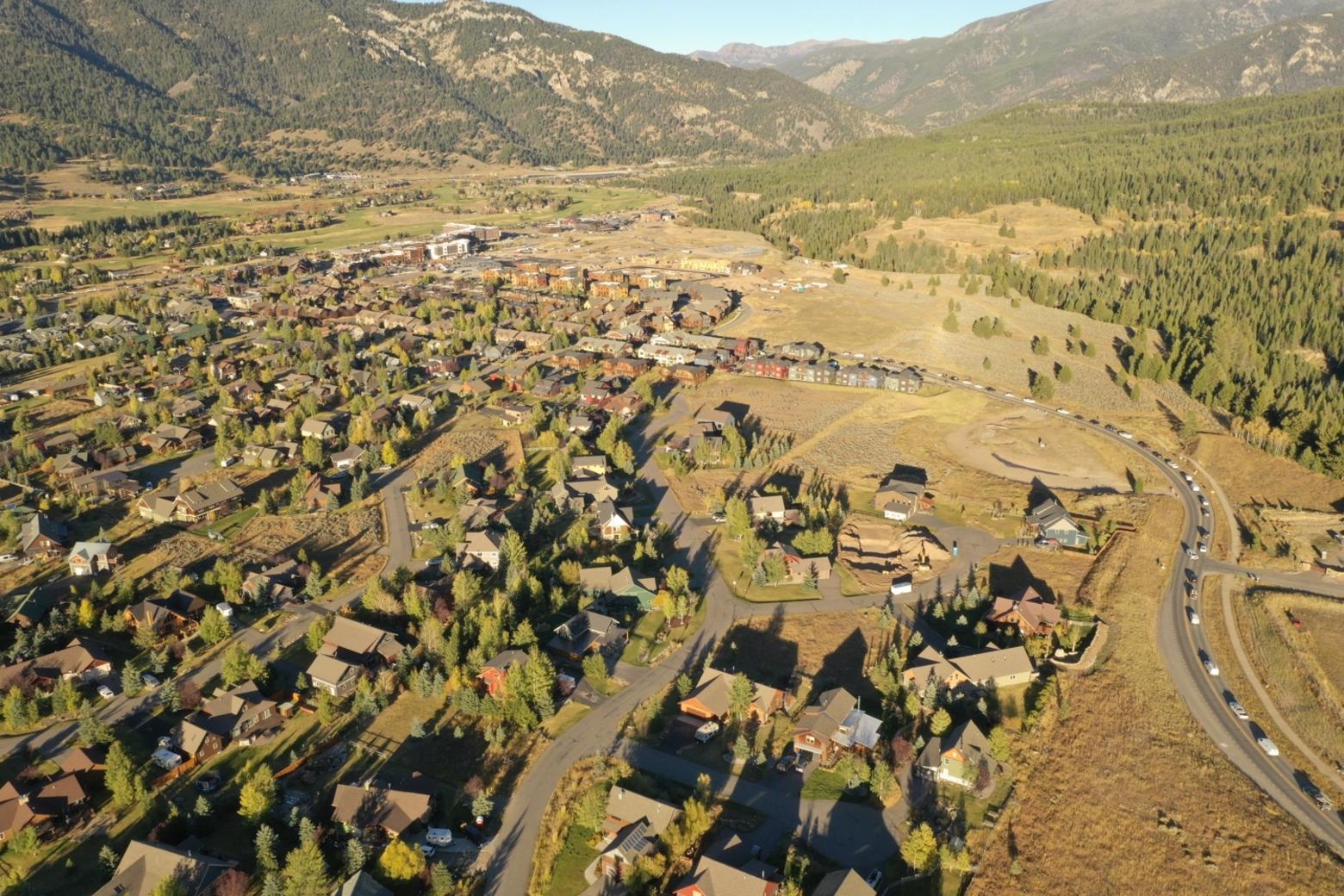 Big Sky, Montana has a greater risk of wildfire than 93 percent of communities in America. It sits squarely in the wildland-urban interface. Photo by Chris Kamman
A Hard Conversation—and Better Land-Use Planning—Long Overdue
Built on the dreams of famous newsman Chet Huntley back in 1973 and anchored by Big Sky Resort for decades, Big Sky was once a company town. At that time, a consortium of businesses led by Chrysler Realty made up the ownership group called Big Sky Montana, Inc. As a means to pay off loans fast, opportunistic homebuilders began a flurry of construction. Over the years, condos and houses popped up on forested inclines and in drainages. With no municipal government and minimal oversight save county planning officials, construction was a free for all.
In a 1997
High Country News
article called
"Big Sky, Big Mess in Montana,"
reporter Ray Ring sat in on a Big Sky Owners Association meeting where it wasn't clear who, if anyone, was conducting building inspections. "A fair amount of Big Sky, dating back to the early days, was built as if caffeinated monkeys had been turned loose with hammers and shovels," Ring wrote.
Jim Pepper is a retired professor who taught a course called
Land Use in Ecology at UC-Santa Cruz for 25 years.
Pepper, also an environmental planning consultant who grew up in Bozeman and whose father was the head of Montana State University's zoology and etymology department, was hired as a private consultant to help Big Sky property owners approve plans for the downtown area. In fact, Pepper came up with the name Town Center.
I asked him how Big Sky has planned for building in the wildland-urban interface.
"If it was anything it was an afterthought," Pepper told me from his home in Arizona. "Bob Stober was the fire chief at the time and strictly followed all the regulatory framework, but they didn't have much on the books so it was kind of a token gesture. It was never a guiding principle."
Big Sky today has a much different feel than it did 50 years ago. The private land is filling in but many see it as a speculative real estate boomtown looking to build out as fast as possible. July Fourth fireworks have been banned here since 2021, but private fireworks stands still hawk bottle rockets and Roman candles. Locals still wait in the tram line, fish and float the Gallatin River and frequent area watering holes, but many would-be buyers are getting priced out by a housing market geared toward wealthy second and third homeowners.
The adjacent gated communities of exclusive clubs like Yellowstone, Spanish Peaks and Moonlight house some of the wealthiest people in the world in some of the largest and most expensive homes in the country. Billions of dollars in real estate have exchanged hands over the years and structures today proliferate in the forested WUI. Driving through Big Sky, skeleton frames of new homes and hotels provide evidence that the trend isn't slowing.
"If it was anything [planning for wildfire in Big Sky] was an afterthought ... kind of a token gesture. It was never a guiding principle."

– Jim Pepper, former professor and environmental planning consultant
Turn left from Lone Mountain Trail onto Ousel Falls Road and you'll drive through the mostly treeless Town Center, an explosion of construction that didn't truly exist even 10 years ago. Five miles up the winding road sits the Spanish Peaks Mountain Club, a private community that now houses the largest building in Montana: The Montage, a half-million-square-foot luxury resort that backs up to a golf course and the ski runs of Big Sky. Many structures are surrounded by either forest or grasses that grow tall from spring precipitation and then can turn tinder dry.
Continue past Spanish Peaks and you arrive at the gate to the Yellowstone Club, the exclusive gated community that bills itself as "the world's only private ski, golf and adventure community." A $300,000 membership deposit and $36,000 in annual dues gets you in the door, and if you buy or build a home here before the club hits its approximate 900-member cap, you'll get protection from the YC's private fire department that serves its members in its own fire district.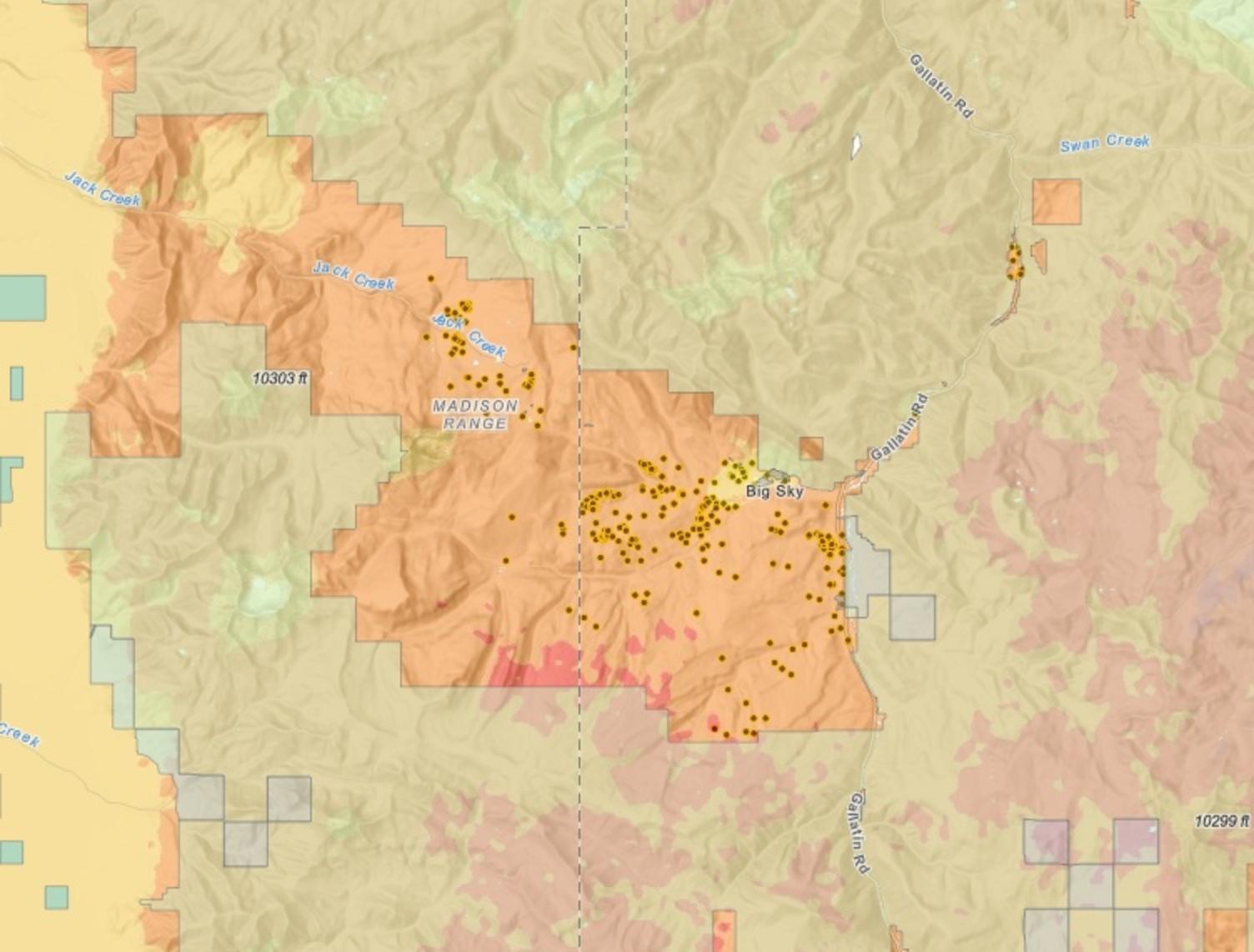 This map depicts 2020-2022 new construction in Big Sky (black dots). The colors indicate wildfire risk to structures: Yellow is moderate, orange is high, red is extreme. Ninety-six percent of new buildings being constructed in Big Sky are considered in "high" or "extreme" wildfire risk areas. That's on top of structures already built in forested areas that house thousands of people. Map courtesy Big Sky Fire Department
When timber baron Tim Blixseth founded the Yellowstone Club 26 years ago after acquiring a 100,000-acre parcel of land, he engineered a land swap with the federal government. Architectural guidelines then mandated a design flourish on all homes built in the club: cedar shake roofs. Fire danger was not a priority then and no regulatory agencies mandated that realtors and developers minimize fire danger by avoiding hilly terrain or certain building materials.
Long the king of roofing material, cedar shake shingles have been embraced by homebuilders and HOAs for their uniformity and affordability since the 19th century. In the 1980s, they were widely used and only in the last 20 years have builders and elected officials sought to limit this highly combustible material. In 2003, a fire marshal from San Bernadino, California banned their use, calling them "burning frisbees" in a 2006 Washington Post article.
"The idea was to have them look like the natural environment and blend in," says Matt Kidd, today the managing director for CrossHarbor Capital Partners, which owns the Yellowstone Club. "Now they're not allowed."
"I think there's a high probability of there being a fire that requires attention. I think there's a very low probability of there being a fire that creates a catastrophe." —Matt Kidd, CrossHarbor Capital Partners
"Look at the investment and the people who own big expensive properties. They don't want anybody tinkering with their lifestyle, but they'll certainly squeal if there's a big fire. And then there'll be finger pointing and plenty of people saying, 'Why didn't we plan for wildfire safety?'" —Jim Pepper, former professor and planning consultant who tried to advise Big Sky about the need for smart planning

Andy Dreisbach has lived in Big Sky since 2003. A member of the local Search and Rescue team and a self-described "hypocrite" moving to beautiful remote places, building peoples homes then complaining when the area becomes overcrowded, Dreisbach has been building new homes and remodeling old ones for decades. He founded the construction company Cornerstone Management Services in 2000, and wildfire is a concern he and his team discuss regularly. CMS was contracted by developers in the early days of the Yellowstone Club to install shake shingle roofs on homes.
Because of the low-grade quality, Dreisbach says he warned against using this product, combustible roofing material, but many used it anyway because of the natural look, the low cost, or both. Now these shingles are degrading and need to be replaced to the tune of millions of dollars, according to Dreisbach, and CMS is being hired to replace a number of roofs on YC and Big Sky homes.

Kidd, who began with CrossHarbor in 2008 and moved to Big Sky full time in 2019, points to several techniques the Yellowstone Club is employing to mitigate wildfire risk: builders are using composite shingles, metal and other noncombustible building materials and Kidd says ski runs, like those at the club, serve as fire breaks. With the club's investment in fire-prevention efforts from tree thinning to AI cameras that can spot fire starts immediately, he says the risk of a large-scale wildfire event is negligible.
"I think there's a high probability of there being a fire that requires attention," says Kidd. "I think there's a very low probability of there being a fire that creates a catastrophe."
Of course, having the right shingles or putting on a metal roof do not ameliorate the fact that merely being inside a forest envelope—inside homes made of wood— can put dwellers at high risk to fire. Tetrault takes into account fuel loads and fuel types in the Big Sky area and says that when combined with strong winds, these factors can be a recipe for a large wildfire. "Sooner or later, we're going to get one on a bad day with high wind," he says. "And we're not going to be able to catch it."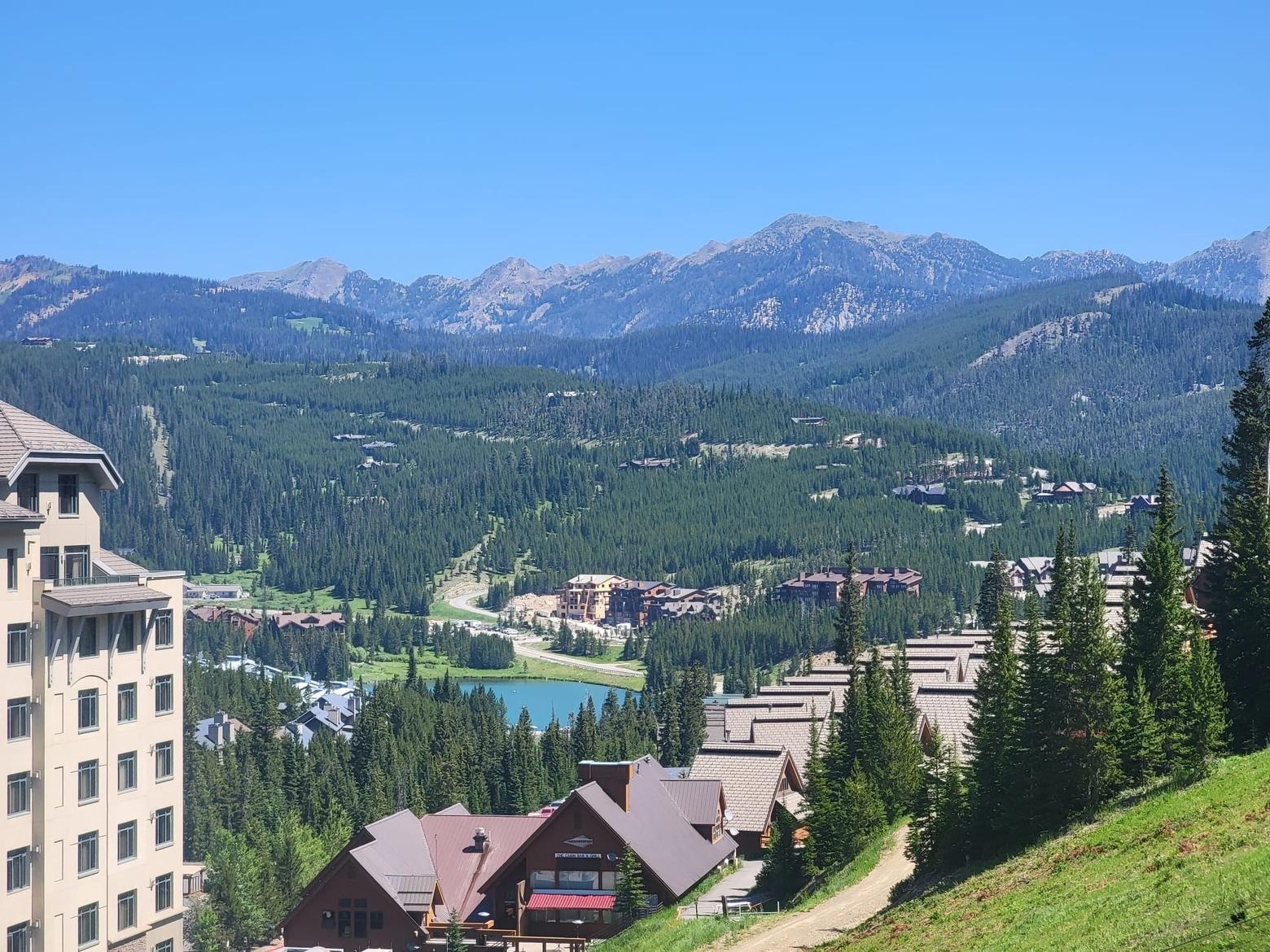 The view from Big Sky Resort looking north at the Mountain Village and beyond to the Spanish Peaks. July 2022. Photo by Dr. Mohammad Shamsuddoha, Western Illinois University
Kidd contends that living in the wildfire-prone WUI is akin to living in other danger zones and demands an understanding of the risks involved. "If you never want to be in a hurricane … don't live in New Orleans," he says. "We all have a degree of personal responsibility to decide whether or not we want to accept those risks. If you're so concerned about wildfire, maybe this isn't the place for you."
But how often have realtors warned prospective clients of the risks? In real estate ads going back decades, that is never highlighted.
Accountability on the part of homeowners, developers and real estate agents is critical to being prepared for a worst-case scenario. Defensible space, using noncombustible building materials and having clear evacuation plans can help address safety issues down the road as well. But Sean O'Callaghan who heads the Gallatin County Planning Department says Big Sky may be a day late and a dollar short.
"The time for the conversation was when the plan, an idea for Big Sky, was envisioned [decades ago]," he says.
A still looming question is why growth isn't being regulated in a way that forces communities and developers to make the smartest decisions possible.
"Look at the investment and the people who own big expensive properties. They don't want anybody tinkering with their lifestyle, but they'll certainly squeal if there's a big fire," says Pepper, the former professor and planning consultant. "And then there'll be finger pointing and plenty of people saying, 'Why didn't we plan for wildfire safety?'"
The Backdrop of History
The year 1910 was the driest anyone could recall. That summer, lightning storms and trains sparked thousands of small wildfires that converged into what's known as the Big Burn or the Big Blowup. On August 20, hurricane-force winds whipped the flames and lit up three states at once. Within two days, the fire had burned more than 3 million acres in western Montana, Washington and Idaho.
"No living person in the United States had seen anything like the flames that roared through the Bitterroots in the summer of 1910," wrote Timothy Egan in his 2009 bestseller, The Big Burn.
McClanahan, as a smokejumper and wildland firefighter of nearly 30 years, says three main components are leading to larger, more intense and more destructive wildfires in the country. First, over-suppression of fires, as was the priority nationwide for over a century, is leading to a buildup of fuels in fire country; second, a lack of planning and urban sprawl in the wildland-urban interface is putting more people in harm's way; and third, climate change is warming the planet.
The government's response to the fires of 1910 was to put out every wildfire out immediately, or at least try to. It wasn't until 1968 that this approach began to change. The National Park Service that year began recognizing the ecological benefits of fire and changed its policy to what national media termed a "let it burn" approach, meaning resources would manage certain fires in wilderness or national parks with few structures and let them run their course accordingly.
When the Yellowstone wildfires of 1988 affected nearly 800,000 park acres and more than 10,000 firefighters were called in to battle the flames, the park came under national scrutiny. Management officers and administrators called on firefighters to map and manage several of the fires and some blew up. But even those high-intensity burns in Yellowstone proved to yield ecological forest benefit in the park, including lodgepole pine whose cones only release seeds when they're subject to extremely high temperatures like those brought on by wildfire.
National forests and the federal government today abide by wildfire policies that prioritize firefighter and public safety while allowing for management and monitoring when possible. Among other efforts, this approach calls for low-to-medium intensity prescribed burns—now called "managing for resource benefit"—to keep vegetation from growing out of control and, together with the warming climate, leading to the megafires we've seen across the West in recent years.
In Big Sky, Tetrault says these techniques won't work due to increased suppression measures over the years and the fact that thousands of homes exist in the WUI. "Here, because of the fuel type and because of the fuel load in the forest, you can't introduce ecological fire in a prescribed way very easily without getting too high-intensity fire," he says. "That's not really an option."
Alternative approaches to wildfire mitigation focus on defensible space, noncombustible building materials and triaging point protection—in other words assessing how defensible any building is during a wildfire.
"We can't dictate fire," Tetrault says. "If it's going to come, it's going to come. What we can dictate is where homes are built, how homes are built, so they can coexist with fire."
But is that really possible?
Enter the county planning departments. Since Big Sky is unincorporated, its residents don't have a city government to count on for safety and guidance and instead rely on specific entities. One is the Big Sky Fire Department. The second is the county. Yet Big Sky straddles two: Gallatin and Madison. Madison County oversees planning for the resorts—Big Sky, Moonlight, Yellowstone Club—and residents living on that side of the county line.
"This type of economic boom with no check system (building inspections) is widely recognized as 'buyer beware' real estate. A homeowners [sic] should have some comfort in knowing that their investment is protected against shoddy, unsafe construction and that their families are protected against severe injury."

– Gallatin Countywide Building Permit Task Force Minority Report, 2003
In Gallatin County, the commissioners via the planning department hold the cards in the remaining portion of Big Sky, which as an "unincorporated census designated place" with no government can't impose its own building code. Aside from the state of Montana, Gallatin makes the rules. Or doesn't.
O'Callaghan, Gallatin County's chief planner, says the county could create more oversight for where and how developers build homes, a move that would help prevent structure loss due to wildfires in places like Big Sky, but it thus far has chosen not to.
"Local governments have the ability to adopt a building permit system," says O'Callaghan, who has been with the planning department for more than 20 years. "And Gallatin County has not done that."
This leads to perhaps the most vital question: Who, then, is to blame if a major fire erupts in a setting like Big Sky, resulting in loss of life and potential billions of dollars in property? These issues have largely gone unreported in the local media and they've been known for decades.
The state controls building permit systems outside of those instituted by a municipality or a county and Big Sky has county-imposed zoning requirements but building code is limited since Gallatin never instituted its own building permit system. The county formed a task force in 2003 to examine the issue of a countywide inspection and building permit program and recommended against it.
"From an ideological standpoint, we shouldn't be promoting development in areas that are risky. It's short sighted to do so." —Sean O'Callaghan, Chief Planning Officer, Gallatin County
Following a yearlong review process, documents obtained by Mountain Journal indicate that some task force members expressed deep concern over not creating a program of checks and balances for construction.
In the task force's Minority Report, those in favor of implementing countywide building permits addressed the safety concerns and rapid growth of Gallatin County even in 2004. Minority members wrote: "This type of economic boom with no check system (building inspections) is widely recognized as 'buyer beware' real estate. A homeowners [sic] should have some comfort in knowing that their investment is protected against shoddy, unsafe construction and that their families are protected against severe injury."
Additional comments from minority members and dozens of letters from the public brought up issues ranging from seismic activity and the potential for landslides to the fact that "anyone can be a builder...No experience is required."
The majority voted to not implement county inspections or building codes, referencing complications in acquiring permits and not wanting regulatory oversight. "We do not need more government," said Gallatin County resident Sam Hoffman, according to minutes from a January 6, 2004 meeting. "The existing regulations are adequate."
Pepper, the private consultant for Big Sky Town Center, is concerned that perspectives like Hoffman's promote an uninformed laissez-faire approach. "Big Sky doesn't want to be a city," Pepper says. "That would add government to the mix. [People say] it's good enough to just have Gallatin County and their planning department that, incidentally, I think is terribly overmatched against the development money and skills in the private sector."
For his part, O'Callaghan, who attended the meetings as a public citizen, was in favor of inspections and building codes that would in part keep homeowners safer when it comes to wildfire in Gallatin County. He says it was a missed opportunity and one that could compromise safety. "From an ideological standpoint, we shouldn't be promoting development in areas that are risky. It's short sighted to do so."
Alternative Fire Plans
From respected ecologists to wildland fire experts, the consensus isn't if a wildfire could erupt in Big Sky, but when. They say it is inevitable owed to factors humans cannot control but tied to location.
Without countywide regulations, places like Big Sky operate from a patchwork series of local and county policies, plans and strategies. One is the county's Gallatin Canyon/Big Sky Zoning Regulation. In one of just a few mentions of the word "wildfire" in the document, section 23.10 states the document's Wildfire Protection Requirement: "All Structures shall have a minimum of five (5) feet of fire resistant ground cover around all exterior walls."
I asked O'Callaghan what the requirement would do for human safety and structure protection in the event of a serious wildfire incident.
"Not much," he said. "I wasn't involved in the [2020] update or in the development of those standards, but that's what came out of the process. It's not meaningful or impactful."
When wind drives a fire, it blows what are called firebrands from treetop to treetop or from roof to roof. An article following the wind-driven 8,000-acre Pine Creek Fire in 2012 spells it out. "Usually it's not the fire on the ground or in the trees [that cause rapid spread], it's burning embers that are blowing out in front of the fire," one fire official told a Billings Gazette reporter at the time.
The Big Sky area hasn't seen a major wildfire in more than 100 years, much of that due to suppression. But should a major fire event occur in Big Sky? "I think it would be pretty catastrophic for that whole valley," says wildfire expert Bruce Suenram, who helped write Big Sky's Fire Management Strategy in 2000
"Fortunately or unfortunately, depending on someone's perspective, state law is pretty clear that we can't put building code-type standards in zoning regulations," O'Callaghan said. "So our ability to develop and adopt meaningful construction standards related to wildfire risk is very limited."
The probability that a landscape-level wildfire could sweep through the terrain is a logistical problem for Big Sky's fire department, which can make recommendations and sign off on wildfire safety measures for home construction, but O'Callaghan says its criteria has no teeth. "It's not necessarily regulatory," he said.
Indeed, this points to an irony: State building codes have tight regulations that aim to prevent fires from starting inside structures and require clear escape routes in order to prevent loss of life. As such, Tetrault and his crew of firefighters are trying to educate the community, including Big Sky's citizenry, developers and those from out of town hoping for a piece of a dwindling pie. In December, he presented at the Building for Wildfire Summit in Bozeman, focusing on building supplies and techniques that can help reduce the likelihood that a home will burn.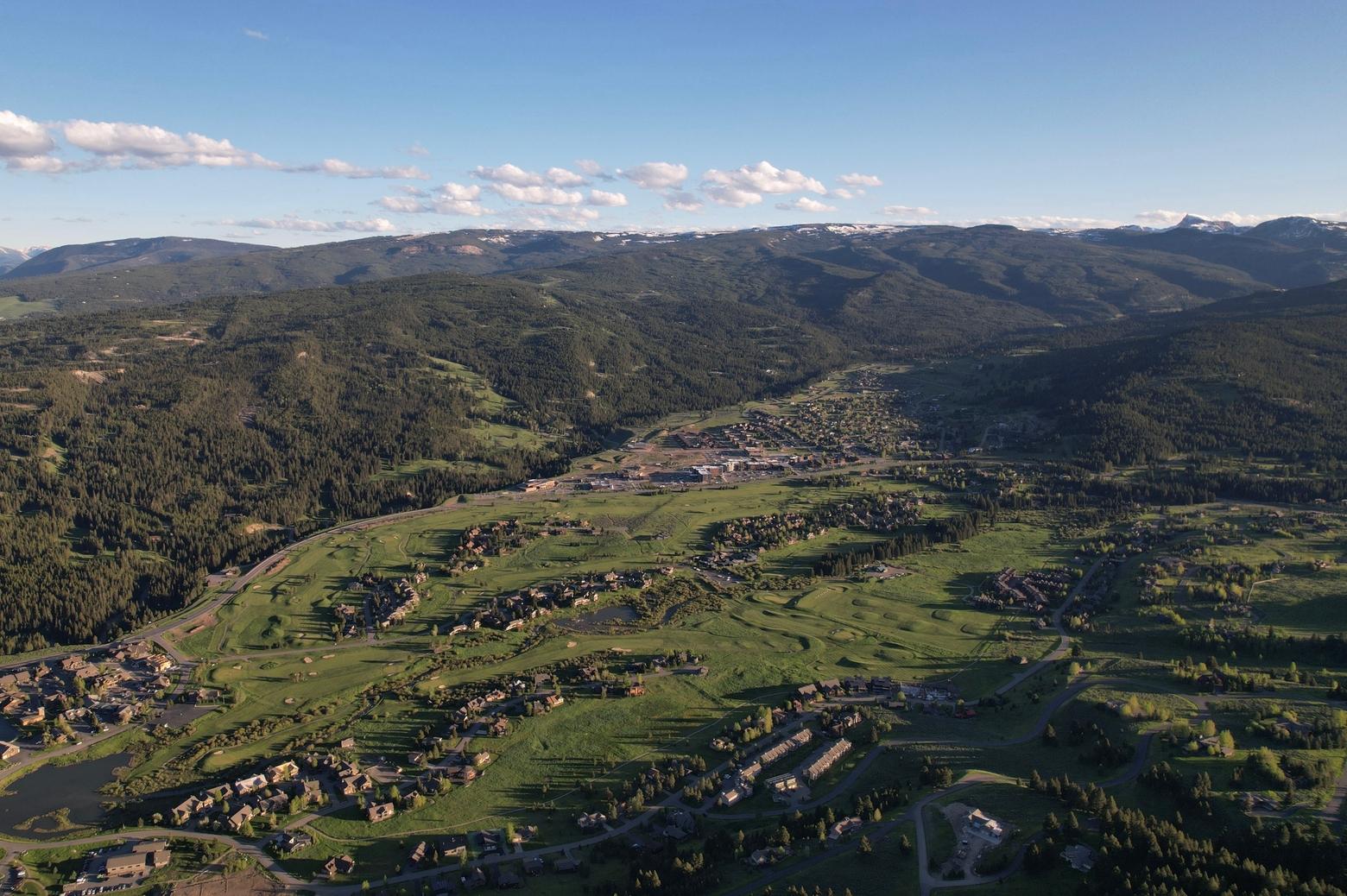 Looking to the southwest, Big Sky is nestled in an alpine valley between the Lee Metcalf Wilderness and two national forests. Photo by Chris Kamman
Displaying a map of development in Big Sky over the last four years, Tetrault explained how building practices using wood beams and siding with large wooden decks needs to change. Noncombustible building materials are available and are essential to helping mitigate wildfires in the WUI, he said. In fact, he added, not using these specialty materials is making it increasingly difficult for owners to even insure their homes. And this may jeopardize whether firefighters save your house at all.
During rapid triage with a large wildfire approaching, the department won't send its firefighters into an area where there's poor access lacking safety zones or escape routes, or if a home is built with combustible materials, a tinder box, essentially. "If they … say, 'I've got good access,' and they go into a home … and it's got a wood deck, shake wood siding, wood roofing, they're literally going in, turning around, coming back out and saying 'nope,' and that's as quick as it is," Tetrault says. "They're not doing anything past that."
Education is the key to preparedness that can unlock the door for change. A group of community stakeholders, including Tetrault, formed Fire Adapted Big Sky in 2022, an effort to utilize national resources to educate Big Sky residents and visitors about the dangers of wildfire and what to do in the event of an emergency. The initiative's revamped website indicates how community members can prepare their homes for fire by clearing defensible space, the importance of using noncombustible building materials in construction, and procedures for egress in the event of an evacuation. Still, many experts say agencies and land managers should prevent the problem of having abundant structures in the WUI from getting worse and keep development from continuing to expand into forested areas. And it should happen before a problem occurs.
"Big Sky's [development is] not going to slow down because someone's worried about wildfire, though they'll slow down after a wildfire," says Jim Pepper. "There seems to be no shred of evidence that people have sufficient forethought about these disasters."
Trouble in Paradise
The Camp Fire in Northern California was the deadliest and most destructive wildfire in the state's history. Killing 85 people and destroying nearly 19,000 structures in the town of Paradise, the blaze started on Nov. 8, 2018 when strong diablo winds blew sparks from power lines owned by electrical company PG&E. The fire was contained on Nov. 25 but not before Paradise had lost 95 percent of its buildings. Although Big Sky and Paradise are different from one another, it is instructive to look at what happened in Paradise when considering Big Sky's risk.
A third-party emergency management firm, Constant Associates, completed an After Action Report to determine what went so wrong during the Camp Fire. Town council members and law enforcement had determined the fire was spreading too rapidly to suppress it—the report said at points it was growing at a rate of "a football field per second"—and decided instead to evacuate the 5,000 people living in Paradise.
In the bedlam that ensued, 50,000 residents in greater Butte County were displaced and those in Paradise made for the only available evacuation route out of town: Skyway Road. As CAL FIRE air attack planes dropped water from above, officials made both Skyway lanes available for southbound traffic—an evacuation practice known as "contra-flow"—toward the town of Chico but traffic jammed up the road and blocked emergency vehicles from accessing the fire and those people and buildings that remained.
An evacuation, Tetrault says, is chaotic. People panic, they jam the roads trying to flee in cars, and oftentimes communication breaks down. "When you look at how people die in wildfires," he says, "most of the time it's in the evacuation process."
Lone Mountain Trail winds seven miles up to Big Sky Resort and beyond to Moonlight Basin where it dead ends. Beyond this point, a private dirt road known as Jack Creek leads west to the town of Ennis in Madison County.
"In some ways to me, Big Sky is a little bit like Paradise in California," said Dr. Cathy Whitlock, a paleoecologist and Regents Professor at Montana State University who studies wildfire and was the lead author on the Montana Climate Assessment.
Whitlock has studied tree-ring cores in Greater Yellowstone to gauge fire trends
. "It doesn't have a lot of ways off the mountain and it's not unimaginable to think of a fire starting at lower elevations and just sort of roaring up the hill slopes around Big Sky."
"In some ways to me, Big Sky is a little bit like Paradise in California. It doesn't have a lot of ways off the mountain and it's not unimaginable to think of a fire starting at lower elevations and just sort of roaring up the hill slopes around Big Sky." — Dr. Cathy Whitlock, paleoecologist and Regents Professor at Montana State University who studies wildfire and was the lead author on the Montana Climate Assessment
In terms of its limited egress (human evacuation) routes, Big Sky could face an evacuation situation similar to the town of Paradise should a large-scale wildfire blow in. Jack Creek Road is the property of Moonlight Basin, yet another private community and club owned by CrossHarbor, and permission must be granted to anyone traveling on it. Kidd, from CrossHarbor, says they will open the road to the public in case of an emergency evacuation, but questions remain.
Is the road wide enough for emergency vehicles to drive up to Big Sky from Ennis while upwards of 20,000 people are evacuating in the opposite direction? If an accident occurred on Jack Creek during a major event, how would that be resolved?
Bruce Suenram was a lead author for Big Sky's Fire Management Strategy, the area's guiding wildfire document written in 2000. A wildfire veteran of more than 50 years, Suenram was Montana's state fire marshal in the mid-'90s and has worked at nearly every level of fire prevention and protection since 1969. He still works as a wildfire and structure fire consultant for developers in Big Sky along with the Yellowstone Club and its fire department.
Suenram knows the Big Sky area hasn't seen a major wildfire in more than 100 years, much of that due to suppression. But should a major fire event occur in Big Sky? "I think it would be pretty catastrophic for that whole valley," he says.
There are distinctions between Paradise, California and Big Sky, Montana. The Camp Fire started from power line sparks. Montana requires power line designs that can handle heavy snow loads and winds, so the state doesn't see many wildfires resulting from power line failures, Suenram says. As well, the orientation is different between the two towns—hills to the west in part shield Big Sky from prevailing southwest winds—and vegetation also differs.
"You're talking about high-alpine timber versus mid-elevation brush pine with lots of grass and brush," says Suenram, referencing vegetation that can't grow at Big Sky's 6,500-foot elevation.
But that doesn't mean he doesn't see a similarity. A wildfire could approach Big Sky from any direction and, depending on dryness and winds, could advance with breakneck speed.
"Evacuation in Big Sky is a big challenge, especially if you have to bring them all out to the east and go over Jack Creek," he says. "I mean, there's a pile of bottlenecks. And the person that figures that out is going to be a lot smarter than me."
Even evacuating to the east via Highway 191 would be a challenge, Suenram says. "If you run all the Yellowstone Club people out through the meadow, there's a huge bottleneck there … then you get down to the bottom at the stoplight at 191. Man, what a mess. And I wouldn't want to be the cops standing there to direct traffic because it's gonna be a rodeo."
In the event of an evacuation in Big Sky, Gallatin County Sheriff Dan Springer would make the call. Patrick Lonergan, county chief of fire and emergency management, would facilitate communication and connect with Big Sky and Yellowstone Club fire departments during their suppression efforts.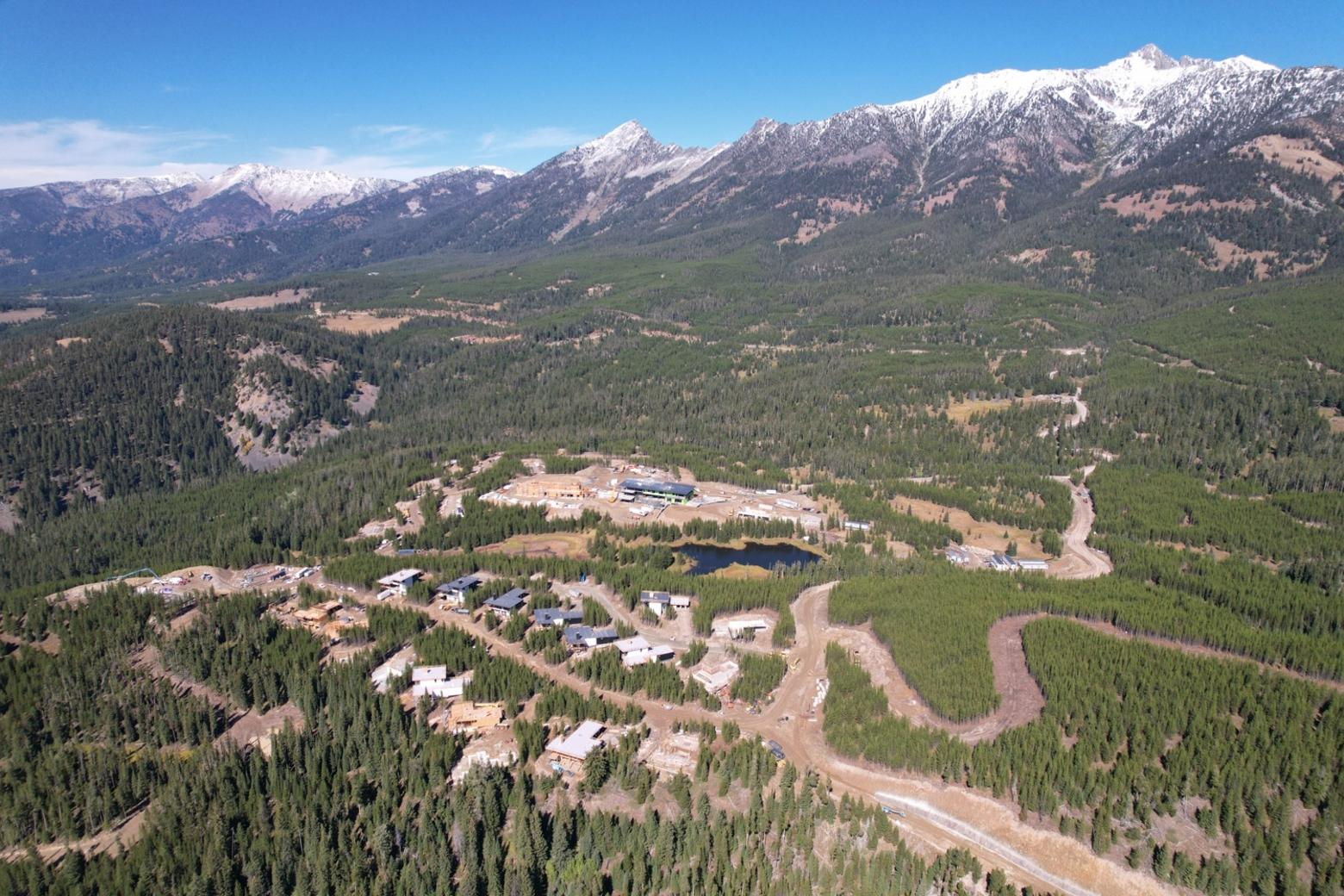 The luxury resort One and Only in Moonlight Basin is under construction as the company's first resort in North America. Beyond, Jack Creek Road, the private unpaved route between Big Sky and Ennis, stretches horizontally across the photo, and is a would-be evacuation route west from Big Sky. While a complete simultaneous evacuation of Big Sky is unlikely, in the event of a wildfire many say it would present major egress challenges for emergency managers. Photo by Chris Kamman
The Big Sky Fire District spreads across the county line to include Big Sky Resort and Moonlight Basin. While Springer lacks jurisdiction in Madison County in most cases, the counties signed an interlocal agreement in 2022 giving Gallatin County's sheriff jurisdiction in the event of a potential Big Sky evacuation.
They agree that while evacuating all of Big Sky would be complicated, the probability of a full-scale evacuation of all residents simultaneously, such as occurred in Paradise, is less likely.
"The assumption that you always evacuate the entire community probably isn't realistic," Lonergan says. "But that seems to be the perception of what the number one concern is. The reality is there's some stuff in the middle there."
Myriad tools are at the disposal of emergency managers like Lonergan, Springer and Tetrault. They can employ "shelter in place" directives or staged evacuations by neighborhood, depending on where a wildfire is in the community and the direction it's moving.
If a home is threatened and it's built with combustible materials like a wood deck, wood siding and wood roof, firefighters are less likely to protect it in a triage wildfire situation. "They're literally going in, turning around, coming back out and saying 'nope,' and that's as quick as it is," Tetrault says. "They're not doing anything past that."
"We have to appropriately use the concept of shelter in place," Lonergan explains. "The fire you're most likely to see in Big Sky is probably coming from the forest into you guys, but rarely would you see it sweep the entire community. So likely there'll be some areas where people could wait out the fire and you wouldn't need to bump everybody to a different location or out of the community."
During emergency events, communication is the most important component, outside of preparedness, emergency managers say. In Big Sky, mass communications are made through the Everbridge app, which the public can download to be alerted if a wildfire is approaching or in the area. Emergency managers also urge households to develop an emergency plan to identify critical items to take in the event of an evacuation, and to understand where egress routes are located.
It Takes Just One
It's August in southwest Montana. Humidity is low and the mercury is pushing 90 degrees on a clear sunny day in Big Sky, Montana. Up and down Gallatin Canyon, campers dot riverside campgrounds, and it seems like every homeowner and visitor—all 20,000 of them—are grilling out.
The grass is tall and brown along the Gallatin River, which has slowed and dropped with little rain here in late summer. Construction work is in full swing causing bumper-to-bumper traffic snaking through Big Sky as visitors and second homeowners crank the A/C in their cars. On the Forest Service sign at the corner of highways 64 and 191, Smokey Bear indicates that fire danger today is "extreme."
You hope tourists are putting out campfires completely, that no one bumps over a charcoal grill or parks their Subaru with a hot undercarriage in the tall, dry grass; that a kid's bottle rocket doesn't errantly find its way into the dense forest of lodgepole pine; that lightning doesn't strike.
Standing atop a breezy ridgeline along Highway 191 south of Big Sky, you watch lines of traffic as tourists flock south to Yellowstone National Park, north to Bozeman. The wind gusts hot, shifting erratically as a cold front blows in from the southwest. It's bone dry, the landscape electrified as if the scenery itself might crack and explode. It takes just one spark.
EDITOR'S NOTE:
Read the first two installments of
MoJo
's ongoing series on wildfire. In the next installment, we'll examine the ecological impacts of wildfire and how development in the wildland-urban interface is negatively affecting wildlife and the wildlands it inhabits.
And, for further reading:
A Reader Responds:
As a resident of Big Sky, Montana, I give a well-deserved bravo to Joseph O'Connor for his spot-on, long-overdue feature on the fire risk in our community. It's only a matter of time, yet the economics, politics and voracious, blind human greed opposing common sense planning for the inevitable--all were covered with sincerity, insight and excellent research in O'Connor's story. Outstanding journalism.
Ashley McEnroe
Big Sky