Back to Stories
August 30, 2021
What 'Modern Wolf Management' Looks Like In The Northern RockiesCartoonist John Potter says Montana, Idaho and Wyoming have turned one of the greatest wildlife conservation achievements in history into shameful expressions of ignorance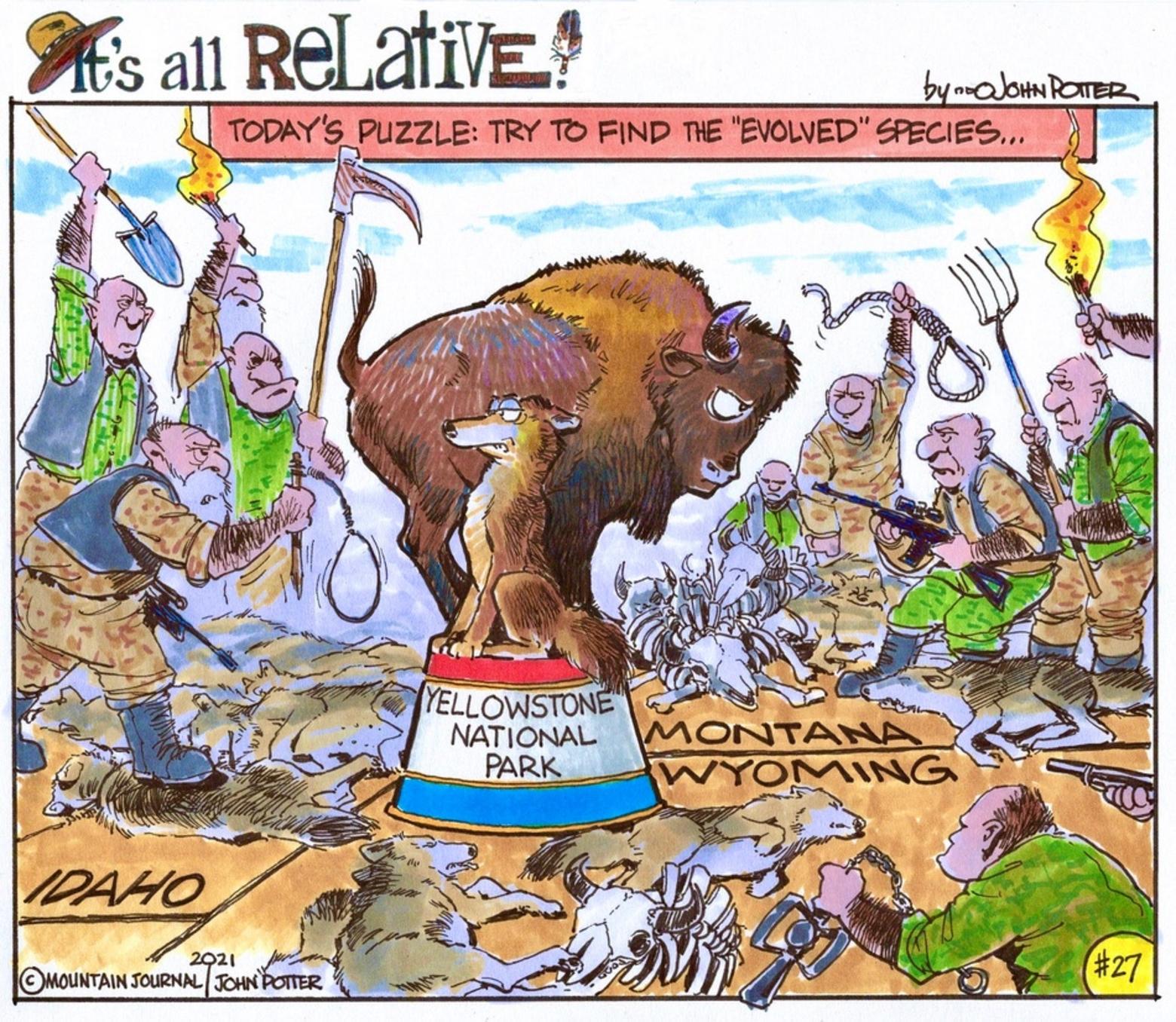 "It's All Relative," a nature cartoon
by Potter,
erstwhile
a fine art painter
, appears exclusively at
Mountain Journal
(mountainjournal.org) every week. The weekly cartoon is available for delayed syndicated reuse but only via express written consent and licensing from
Mountain Journal
. For more information, contact sarah@mountainjournal.org
Make sure you never miss a John Potter cartoon
by signing up for
Mountain Journal
's
free
weekly newsletter. Click here:
https://bit.ly/3cYVBtK
Related Stories
October 2, 2021
Scientists Say Gianforte's Anti-Wolf, Anti-Grizzly Policies In Montana Have No Scientific Basis
Prominent group of wildlife professionals with 1,500 years of experience condemn Montana's new laws targeting wolves. Already pups from popular Yellowstone...
July 23, 2020
The Big-Hearted Wolf
Ted Kerasote reviews Rick McIntyre's paen to lobos 'The Rise of Wolf 8: Witnessing The Triumph of Yellowstone's Underdog'
September 9, 2021
Montana Defiantly Puts Yellowstone Wolves In Its Crosshairs
In unprecedented move, new hunting and trapping regulations would allow every wolf coming into state from America's first national park to...