Back to Stories
September 11, 2021
Bozeman, Montana: Capital Of The New Unwild West?As nature becomes a casualty to growth, cartoonist John Potter would take cows over condos, ranchers over realtors, and wildlife over the blight of "progress" any day. What about you?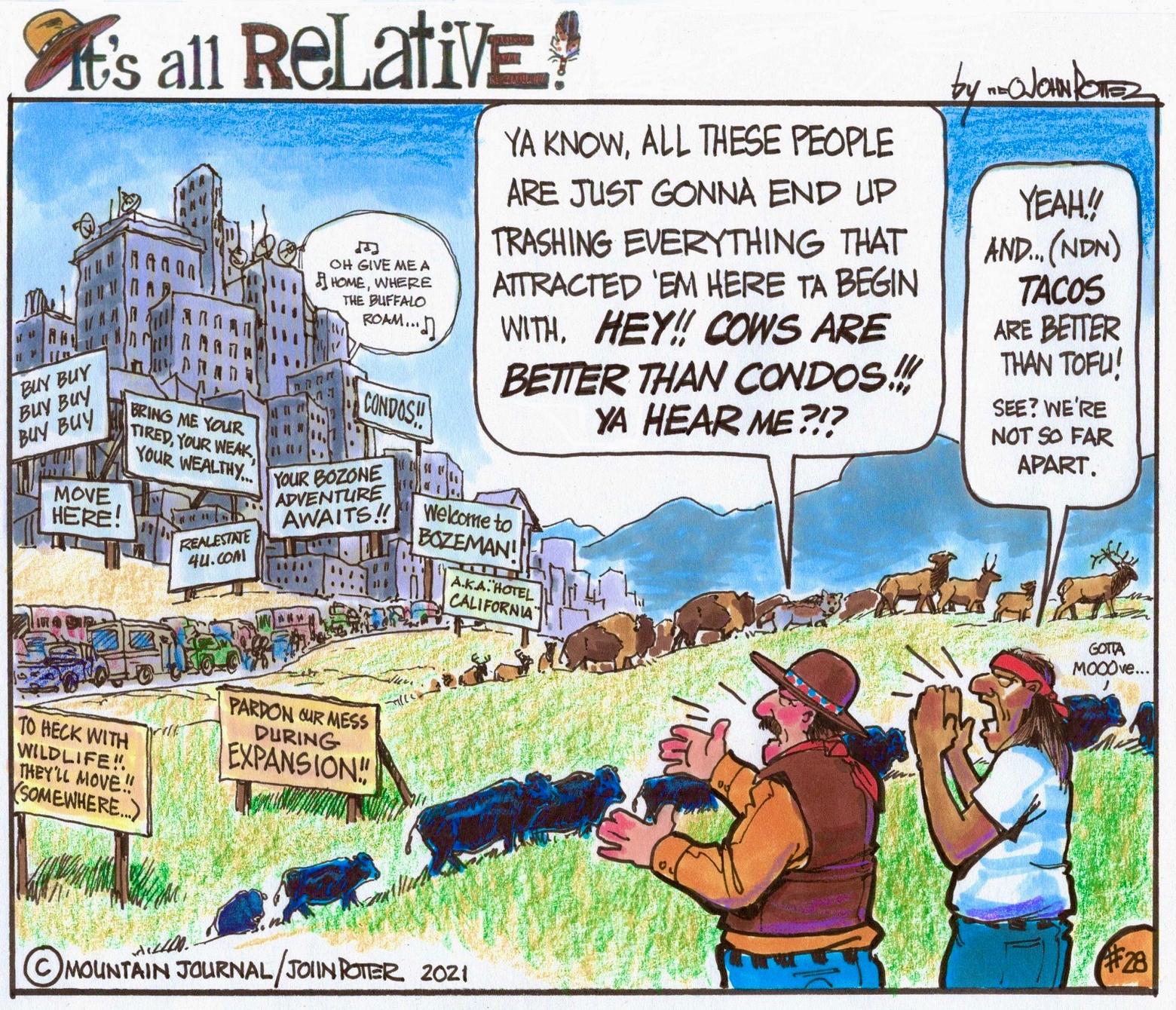 "It's All Relative," a nature cartoon
by John Potter
—erstwhile a respected
fine art painter
of wildlife and Western landscapes—appears exclusively at
Mountain Journal
(mountainjournal.org) every week. The weekly cartoon is available for delayed syndicated reuse but only via express written consent and licensing from
Mountain Journal
. For more information, contact sarah@mountainjournal.org
Make sure you never miss a John Potter cartoon
by signing up for
Mountain Journal
's
free
weekly newsletter. Click here:
https://bit.ly/3cYVBtK
Related Stories
September 17, 2021
Wildlife Management By Fairy Tale
Cartoonist John Potter says Montana Gov. Greg Gianforte, with his spiteful attitude toward Yellowstone National Park and its wolves, proves he...
August 14, 2017

Citizen Crawford Doesn't Believe In Mincing Words
Defying labels: Whether he's in his office on Main Street in Bozeman or farming in the Gallatin Valley, columnist T.H. Crawford...
October 4, 2017
It's Election Season And The Future Of Bozeman Is At Stake
Bozeman is the fastest-growing city in Montana and Tim Crawford questions whether its elected officials are capable of dealing with the...