Back to Stories
June 7, 2020
Paying Forward A Wild Mountain: Perspective Of A Seasoned Montana LeaderDorothy Bradley says wilderness campaign for Gallatin Range deserves better than Gallatin Forest Partnership offers. She says Forest Service needs to have bigger vision too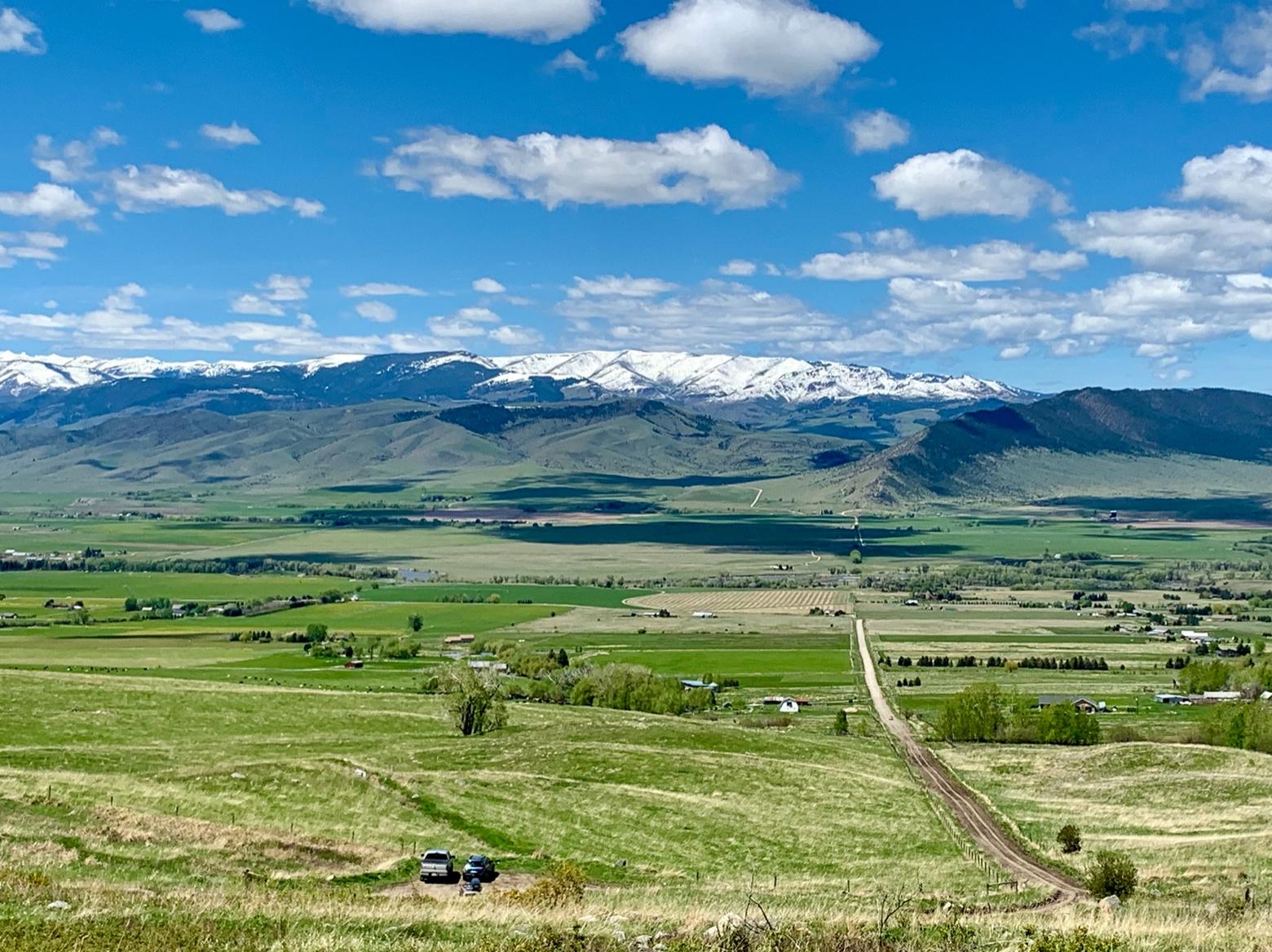 With its snow-covered ridgeline in the distance, the Gallatin Range rises above the western side of Paradise Valley and extends from the backyards of Bozeman and Livingston southward into Yellowstone National Park. As human impacts and presence grow on the other side of the Gallatins in Big Sky and as Paradise Valley fills in with more people and climate change brings hotter and drier conditions, the Gallatins will become even more important as a place of refuge for wildlife, scientists say. Photo by Todd Wilkinson
By Dorothy Bradley
As a life-long Bozemanite (until retirement), I am compelled to put the spotlight on the upcoming US Forest Service recommendation for land use designation of our northern Greater Yellowstone Ecosystem.
Our Gallatin Range is its last, large, unprotected roadless area. What an immense assignment falls into our laps as we debate its future. We are the very last decision-makers. Then it is done, other than eternal vigilance, of course.
The thing is, if the land use decision is made according to the proposal of the Gallatin Forest Partnership (GFP), we will have given up something matchless and unique that future generations will never even experience; and most certainly, we will have ensured the demise of some of the species for whom this habitat is home.
This whole Gallatin Range area has been a focus of conservation efforts for decades upon decades. I remember the interest it evoked from the time my father helped found the Montana Wilderness Association in the 1950s—in part because those visionary people hoped to protect this very range. They hoped to protect it for its extraordinary natural qualities, and for us.
In the Gallatin Range, including but not limited to the WSA, there are between 250,000 and 270,000 acres that qualify for wilderness. If the animals, habitat, and wildness come first, their ongoing security is paramount. So some of us old-timers, and new-timers, and all the lovers of this extraordinary land, are calling for its maximum protection.
The central difference of opinion concerns the uses allowed in the lower elevation valleys of the Buffalo Horn and Porcupine drainages. The Gallatin Forest Partnership is willing to cede these wildlife-crucial drainages to mountain biking.
The GFP's proposed compromise: (1) doesn't recognize that half the Gallatin Canyon Is already citified and open to every imaginable form of recreation; (2) ignores the new, almost unimaginable population pressures (vividly exemplified by the metamorphosis of our little Gallatin Airport into Bozeman Yellowstone International) which are already pressing in on this last natural landscape, indicating the absolute necessity of a tried and tested wilderness designation with clear rules; and (3) doesn't acknowledge that what will be lost can never be regained, or mitigated, or relocated, or restored, or replaced.
"The Gallatin Forest Partnership's proposed compromise doesn't acknowledge that what will be lost can never be regained, or mitigated, or relocated, or restored, or replaced." —Dorothy Bradley
This debate should not sink into a fight for the right to practice our favorite sports. We can work on that together. Rather, it is about our responsibility—our opportunity—to try to save a corner of high mountain Montana for species that have nowhere else to go. And I honestly believe, when confronted with reality, that most Gallatinites and Montanans are as grateful as I am for the natural beauty we inherited, and would agree that it is the best of all gifts we can pay forward.
Yes, there are all kinds of users who want their activities and their freedoms. If our human activities are sometimes incompatible, let's find alternative places to practice our passions. We have them in abundance. We have old logging roads, abandoned rail lines, roadside paths, and I'm grateful for the movers and shakers in Bozeman and Livingston working tirelessly to create trails right out our front doors.
Custer-Gallatin National Forest will most probably release its final Forest Plan decision in early summer. This will reveal what is being proposed for management strategies on the national forest for the next 30 years or so. And it will reveal how much wilderness status is being proposed for the roadless areas of the Gallatin Range.
This is a plea that we lovers of this special wild mountain work together as my father's generation did 50 years ago for us, as vigilant caretakers of this amazing place whose future is in our hands.
EDITOR'S NOTE
: More stories on efforts to protect the Gallatin Mountains in the Greater Yellowstone Ecosystem below (click on links)
Plus, the three other parts of this Mountain Journal three-part series on wild Gallatins: